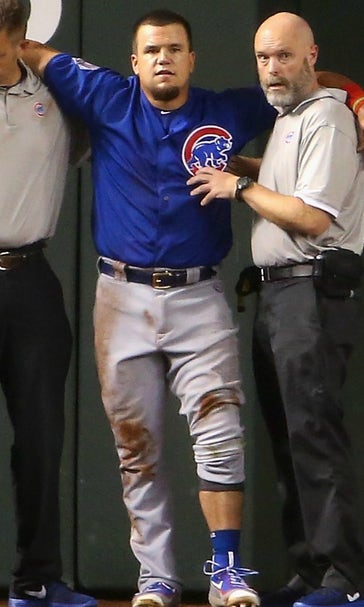 Fantasy Headlines: Schwarber out for the year with torn ACL, LCL (UPDATE)
April 8, 2016

UPDATE 6 PM EST: Kyle Schwarber will miss the entire 2016 season with a torn ACL and LCL.
From earlier ...
If you haven't seen the Cubs' Kyle Schwarber + Dexter Fowler collision here it is:
The writhing in pain, time it took to get him up on his foot and carted off made the initial report of an ankle sprain - pre-MRI - a diagnosis hard to believe. His leg whipped in the collision and any DL stint is going to be longer than 14 days. We'll update the MRI results here when they become available. Fantasy baseball owners in search of a replacement in the outfield and/or catcher need look no further than D.J. Foster's waiver wire column. With catchers at a premium in a shallow position pool, I do agree with Foster's target on the Pirates' Francisco Cervelli. You could do a lot worse.
Fellow Cubs' prospect Jorge Soler – owned in less than 50 percent of FS.com leagues – is expected to get most of the work in left field. He struck out 30 percent of the time in 101 games for the Cubs last season – his rookie campaign. Only 24 years old, he was projected to hit 15-20 HR in part-time role.
Miguel Montero should get most of the starts behind the plate. He's a .260 hitter with a .340 career-OBP and some pop – 10-to-15 HR potential. Available in 86 percent of leagues.
St. Louis Cardinals
The Cardinals' got banged around by the Pirates to start the season. St. Louis starts the season 0-3 with two starters – Leake, Wacha – failing to reach five innings pitched. The offense batting average through three games - .168 with a .540 OPS – only the woeful Padres are worse.
The good news is a three-game weekend slate against the Braves should help ease some of those bumps in the road. We get our first look at Carlos Martinez on Saturday in a great matchup vs. Julio Teheran. His 2015 K/9 rate north of 9.00 had a lot of people chomping at the bit during drafts last month.
Down on the Cardinals farm, fantasy owners should be keeping tabs on the franchise's No. 1 prospect, Alex Reyes. However, he's serving a 50-game suspension because he likes weed.
Fellow prospect Marco Gonzales is dealing with elbow issues and is seeing another version of Dr. James Andrews - Dr. Neal ElAttrache. That can't be good.
The minor league 2016 regular season kicked off on Thursday. We'll have plenty of farm reports in the Friday editions of this notebook as the season progresses.
Pittsburgh Pirates
David Freese banged out five hits against the Cardinals to co-lead the Pirates through three games. He also struck out five times, but c'mon, admit it, you forgot about him.
The Pirates are one of only three teams without a homer this season (Padres, Royals).
Juan Nicasio and Francisco Liriano both picked up quality starts against the Cardinals and struck out 17 in 12 innings pitched.
Ace Gerrit Cole will make his first start of the season Saturday against the Reds. He was held back and missed some of spring training due to inflammation in his rib cage.
#Pirates Jung Ho Kang (knee) played 5 innings of defense, took 4 ABs in extended spring training. Kang is running to 1B, but no left turns.

— Rob Biertempfel (@BiertempfelTrib) April 6, 2016
Down on the Pirates' farm, Tyler Glasnow makes the start for the AAA Indianapolis Indians. If the back-end of the rotation experiences any hiccups, he would get first crack at a promotion. At the dish, 23-year-old, Josh Bell is a guy to watch. He hit .347 with low strikeout rate (10.3 percent) in 35 AAA games last season. He should get a full helping in 2016.
Cincinnati Reds
Todd Frazier who? Granted Eugenio Suarez faced the Phillies to start the season, but two homers in three games isn't too shabby.
Speaking of dingers, Jay Bruce pushing his trade stock up with two homers and seven RBI in the opening series.
Brandon Finnegan, one of the assets acquired in the Johnny Cueto trade, picked up a quality start with nine strikeouts in his first start. Fellow prospect Raisel Iglesias also with the QS and seven strikeouts.
Brandon Phillips will returned to the Reds lineup on Friday after battling the flu. With winter temperatures around Ohio this week, it's no surprise he caught something after spring training.
Michael Lorenzen is on the DL with sprained UCL, now this …
Down on the farm, Robert Stephenson made his big league debut Thursday before returning to Louisville. He lasted five innings, yielding five runs in the process, but picking up the win behind the bats of the Reds' offense.
Top prospect, 22-year-old Jesse Winker picked up two hits in the Louisville Bats first game. Winker carried a .390 OBP with 13 homers at Double-A last season.
Milwaukee Brewers
If you have yet to see Scooter Gennett's laser home run, take a look:
The 108 MPH exit velocity is 20 mph higher than the MLB average in 2015. The 423-foot shot is 18th-longest early on in the season (through 4/7). He hit six homers in 114 games last season.
Jimmy Nelson was the only Brewers' starter to pick up a quality start in the opening series and he still lost with three strikeouts.
Down on the farm, all eyes are on top prospect Orlando Arcia. He's the reason they felt OK trading away Jean Segura to Arizona. Segura is red hot to start the 2016 season, while the Brewers hope their shortstop of the future – who graded out at 65 on MLB Pipeline prospect guide – can keep up the five tool features.
Oh, Jacob Nottingham and Brett Phillips are two prospects to follow, too. Phillips is the clubhouse leader in laughing.
> Continue Reading More Fantasy Baseball Divisional Notebooks
---
---