Fantasy Football Starts and Sits: Week 1
BY foxsports • September 7, 2016
It's Week 1 of the 2016 NFL season and that means it's time to start making a decision on who to start and who to bench on your fantasy football team. Each week, I'll list a player to start (outside of the predictable options) and a player to bench at the QB, RB, WR, and TE positions. If these suggestions still don't help you with your roster, feel free to ask more team-specific fantasy questions on Twitter (@FOXSportsMeyer).
Week 1 Rankings
Starts
QB - Derek Carr, OAK (@ Saints)
Las Vegas might be the Raiders' future home, but it's currently a great place to pick your fantasy football starts and sits. The odds-makers produce accurate over/unders and you need to take advantage of their research. The OAK/NO game has an O/U of 51 total points, which is the highest of all the Week 1 games. Last year, New Orleans allowed the most fantasy points to opposing quarterbacks (28.1 ppg). The Saints also allowed an NFL-high 29.8 points per game during the 2015 regular season.
Other notables: Matthew Stafford (DET), Eli Manning (NYG) and Kirk Cousins (WAS)
RB - Ryan Mathews, PHI (vs. CLE)
Rookie Carson Wentz will likely start for Philadelphia in the opening week, which is a good thing for Mathews. The offense will now revolve around the running game. He's already benefiting from DeMarco Murray's departure and will now face a weak defense to begin his 2016 campaign. Last season, the Browns allowed their opponents' RB to rush for at least 90 yards in seven of the first eight games. 
Other notables: Spencer Ware (KC), DeAngelo Williams (PIT), and Carlos Hyde (SF)
WR - Marvin Jones Jr., DET (@ IND)
Remember how I mentioned that you should utilize Vegas for their over/under predictions? Well, the DET/IND game is also pegged with a total around 50 points. The Lions no longer have Megatron in their arsenal, so new weapons need to be exploited. Golden Tate actually finished last season with two more catches than Calvin Johnson, but his yards per catch total was the lowest among those in his reception rankings (9.0 ypc). Also, he only scored six TDs. With the Bengals, Jones' TD total was lacking, too. Though he only scored four touchdowns, A.J. Green and Tyler Eifert hogged the endzone, as they tallied 24 TDs between them. For Detroit, Johnson scored nine TDs in 2015. If Tate's total doesn't increase, it will be Jones who is next in line to earn Matthew Stafford's attention.
Other notables: Sammy Watkins (BUF), Donte Moncrief (IND), and Michael Floyd (ARI)
TE - Dwayne Allen, IND (vs. DET)
First of all, let's all agree that the 2015 season for Indianapolis was a disaster. Andrew Luck only played in seven games and the offense suffered mightily. So, for reference, let's look back at the 2014 regular season. That year, Luck compiled 40 passing TDs. Allen scored eight TDs on only 29 receptions. That's a touchdown every 3.6 catches. With Coby Fleener out of the picture (he also scored eight TDs in 2014), Allen should get more targets and potentially even more touchdowns.
Other notables: Zach Ertz (PHI), Clive Walford (OAK), and Jason Witten (DAL)
Sits
QB - Philip Rivers, SD (@ KC)
The Chiefs recorded the second-most interceptions in 2015 (two INTs behind Carolina). Rivers threw 13 picks last year (tied for ninth-most). Also, in 2015, San Diego scored a measly three points in each of the two games against Kansas City. In fact, Rivers hasn't thrown a touchdown pass against the Chiefs in his last three games against them, yet has four interceptions during that span.
Others include: Marcus Mariota (TEN), Ryan Tannehill (SEA), and Jimmy Garoppolo (NE)
RB - Jeremy Langford, CHI (@ HOU)
Houston allowed 99.8 rushing yards per game in 2015 (10th-best). As for Langford, he had the third-worst yards per carry average among qualified running backs (3.6). Those two stats don't mesh well for the new starting RB in Chicago. There will be a time and a place to insert him into your lineup, but this isn't the week.
Others include: Matt Jones (WAS), Thomas Rawls (SEA), and Jay Ajayi (MIA)
WR - Jarvis Landry, MIA (@ SEA)
With DeVante Parker dealing with a hamstring issue, you would think it's a great time to start Landry since he'll be the primary target for Ryan Tannehill. However, Seattle's secondary has that information, too. Richard Sherman will be the man covering Landry and Adam Gase will call the plays for the Dolphins. The last time Gase's offense faced the Seahawks, it didn't go well (Super Bowl XLVIII).
Others include: Kelvin Benjamin (CAR), Vincent Jackson (TB), and Stefon Diggs (MIN)
TE - Jimmy Graham, SEA (vs. MIA)
I received plenty of start/sit questions regarding Graham during my Tuesday fantasy football chat. Frankly, I don't understand why so many people drafted him on their fantasy teams. He isn't the goal-post-dunking Saint anymore. He tore his right patellar tendon last November. However, Graham scored only two touchdowns in 11 games, before the injury ended his season. While Pete Carroll has Graham listed as the starter for Week 1, without any injury designation, I am still skeptical of starting him.
Others include: Kyle Rudolph (MIN), Virgil Green (DEN), and Austin Seferian-Jenkins (TB)
Week 1 Rankings
---
---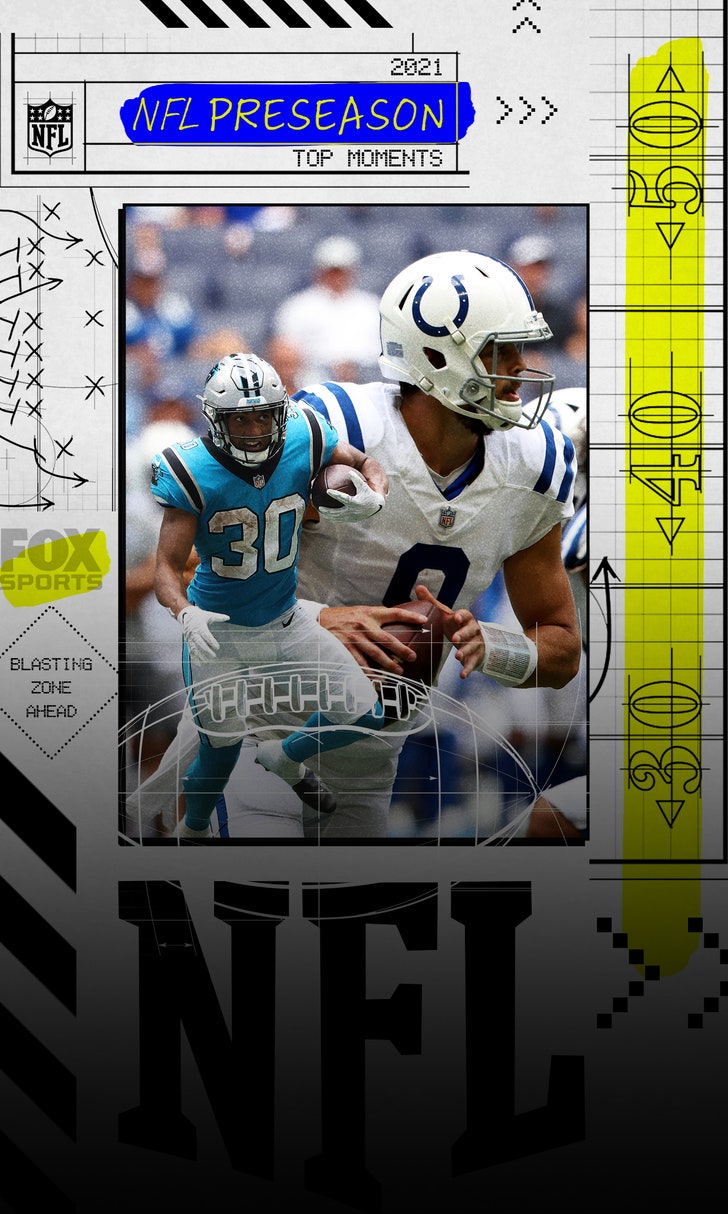 NFL preseason: Top moments from Colts vs. Panthers to wrap up weekend