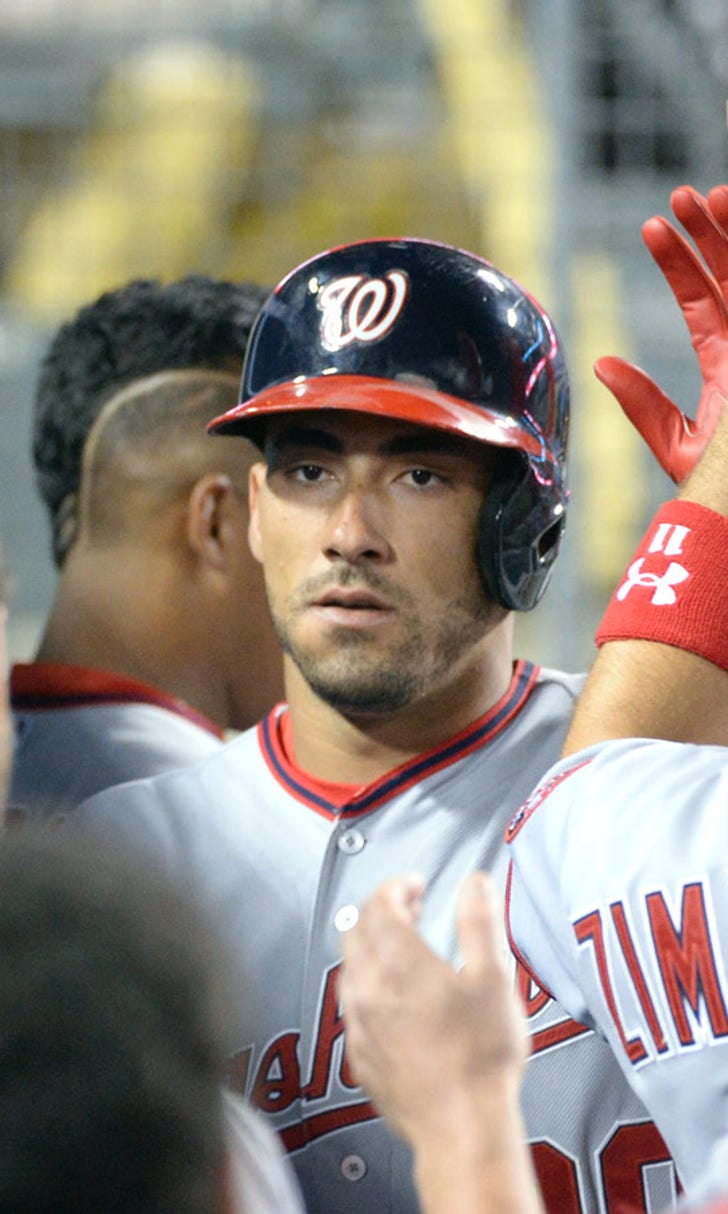 Fantasy baseball's hottest bats in August, waiver wire options
BY foxsports • August 14, 2015
This week, let's look at a handful of players off to hot starts in August. Are they showing improvement in one particular skill that is driving good results? Is it a case of dumb luck? Essentially, how believable are these hitters' results August 1-11? For the pitchers, we'll focus on second-half numbers, as most pitchers have made just two starts in August, not leaving us with much of a sample size. These guys, of course, aren't the only players off to hot starts, but for the most part I tried to keep away from the obvious superstar types.
Now that's a solid slugging percentage. Cruz somehow hit just one home run last month but in his other four months, he's tallied 10, eight, eight, and seven so far in August. The four-year deal the Mariners gave him this winter looked like a massive overpay, but so far so good as Cruz's 34 home runs lead the league. When he gets on a roll it's a pretty sight and you could do worse in DFS leagues, even given $5,000 FanDuel salary. Sponsored Note – Compete against 50 experts in the RotoWire Baseball Championship presented by FanDuel. Play in a weekly qualifier each Friday to earn a seat in the $15,000 Final on July 10th. Sign up now!
Solarte wrestled the third base job from Will Middlebrooks months ago and he's never looked back. He's shown below-average power for a corner infielder in the minors and he doesn't run much, but he's not going to hurt you too much either, and in deeper leagues that is valuable. Solarte strikes out just 11.2 percent of the time and when the ball is put in play, good things can happen. It's also worth noting that all of his seven home runs have come on the road, so keep that in mind in DFS leagues. We saw a similar hot streak from Solarte early last year before he crashed back down, and I'd expect the same here.
Duda is on pace for his second consecutive 30-homer season, and his numbers are nearly identical to last year with an .822 OPS versus 2014's .830. Duda had hit in the .180s versus southpaws the last couple years, but in 2015 he has his slash against them up to .304/.355/.539 although he's then hit just .227 versus RHP. The lefty swinger could certainly even out those splits and bring up his .247 BA by year's end, though his 26.3 percent K-rate isn't going to allow for much more than a .270 BA.
A poster child for a post-hype sleeper, Polanco hit just .235/.307/.343 in his rookie year, a line that has improved somewhat to .253/.327/.379 this season. Much of that improvement has come via a great start to this month, but even going back 30 days he's batting .304/.389/.496 over that time span. Batting leadoff despite an OBP that still sits at a rather low .327, Polanco is on pace to steal 30 bases and hit 10 home runs, making him incredible valuable for fantasy owners. If he can hit .300 the rest of the way and finish strong, Polanco could possibly get looks as early as the fourth round next year. I'd love to own him in all keeper formats.
One of the more underrated players in the game, Peralta entered Wednesday's action batting a healthy .301/.366/.520 with 11 homers and five steals. He also had 10 hits in his last three games to raise his average 19 points to .301. Peralta has really improved over last year against lefties, batting .286 against them versus .197 in 2014. He's also improved his walk rate dramatically, from last year's 4.6 percent to 8.7 percent while improving his ISO 58 points. Converted from the mound, Peralta has improved each year and is now right in his prime. There's no real reason to think he'll fall off dramatically.
Zimmerman's OPS still sits at just .704 and he's been particularly inept against RHP, batting just .205/.276/.350 while batting .317 against southpaws. He's seen his strikeouts climb and walks decline while a .261 BABIP certainly hasn't helped. Dragging around a balky shoulder the past few years, Zimmerman was once a 30+ homer guy, but he'll be lucky to reach 15 this year. That said, he's come out of the gates strong in August and the power is especially good to see, as 10 of his last 15 hits have gone for extra bases. Ride him while he's hot, but expecting the Zimmerman of 2009 (33 HR) to be there the rest of the way is foolish.
Belt homered twice on Tuesday and now has seven long balls already this month. He's fanned in 34.9 percent of his PA's already this month, but the seven homers make that digestible. Belt is my new Rickie Weeks, a guy I've predicted to break out for years only to be disappointed. Maybe this is really the year though. His 17 home runs tie a career high while his BB rate has improved from 7.7 percent to 9.6 percent compared to a year ago. He's still striking out in 27.1 percent of his PA's, though a .349 BABIP is propping up his .275 BA somewhat. Belt has the natural ability for a huge second half, and when facing poor RHP at home, he makes a great play in DFS leagues.
There appears to be life in Desmond's bat after all. He has seen his K rate steadily increase over the years, from 19 percent his first full season in 2010 to this year's 28.6 percent. His walk rate has held steady and is at its usual low 5.6 percent in 2015, but the high strikeout rate combined with a BABIP 34 points off his career mark of .324 have Desmond batting a career-low .224. Even stretching out the sample size over 30 days has Desmond at .263/.330/.535, making him again one of the top five or so shortstops to own the rest of the way.
Improved control plus increased velocity equals an improved Chris Bassitt. After posting a 6.4 K/9 and 3.9 BB/9 in 29.2 innings with the White Sox a year ago, this product of the Jeff Samardzija deal has improved those numbers to 7.3 and 2.7 this year, resulting in a 2.48 ERA in 54.1 innings. He's been very consistent since moving to the rotation, as Bassitt has allowed three or fewer runs in all seven of his starts. It's probably safe to say he's pitching over his head, and expecting results more in line with his 3.46 FIP would be advisable. That's not to say he's going to crash and burn though, as Bassitt's stuff and location give him a No. 3 starter type upside.
Not the most impressive stat line, but focus instead on his 2.90 FIP and the results in his last two starts: 14.1 IP, 9 H, 3 ER, 11:1 K:BB. Fresh off Tommy John surgery, if you take out one disastrous outing against the Yankees, Perez has a 3.20 ERA in his other four starts. With a fastball averaging 92.1 mph and a GB/FB rate of more than 2.8:1, Perez appears poised for second-half success. It's tough to see him reaching the heights predicted back when he reached Double-A as an 18 year-old, but in a rotation that includes Cole Hamels and (next year) Yu Darvish, Perez shouldn't have a lot of attention thrown his way. That could work to your advantage in next year's drafts/auctions.
Part of the package for David Price, Boyd has stepped right into the Tigers' rotation and made a pair of solid starts against the Royals. In one he fanned six in 5.1 IP and in the other, just two in seven innings. Boyd had an 8.5 K/9 in the minors this year so he'll miss a few bats, but his calling card has always been his excellent control, including this year's minor league 2.1 BB/9. He usually sits in the low-90s with the fastball. MLB.com had Boyd ranked as Toronto's No. 21 prospect back in April, but he's taken a solid step forward and now projects as a big league back-of-the-rotation type of arm. Boyd's fly ball tendencies (minor league 0.51 GO/AO this season) could eventually hurt him, but he's got a chance to stick as a No. 5 level starter. Just don't expect anything more.
Brooks came over in the Ben Zobrist deal, and has paid immediate dividend for the A's. After a 3.71 Triple-A with the Royals, his two big league starts have resulted in this: 14.1 IP, 1 ER, 12 K. The 25-year-old averages a relatively modest 91.2 mph with his fastball, but elite control of three pitches has got him where he is today. Brooks will never be a huge strikeout guy, but he should be able to find a spot in the back end of a rotation for the next few years if he can continue to throw strikes. Brooks is probably going to have a couple outings that hurt you now and then, but he should provide some value in deeper formats.
Nelson has a 3.65 ERA overall so he's rung up a solid year in totality, but might he be making a push to be a No. 2 level starter? It may be a bit early to go there, but he's always had very good stuff including a fastball that averages 93.3 mph. In 111 Triple-A innings last year, Nelson's ERA was a microscopic 1.46 that rose to 4.93 in 69.1 innings for Milwaukee. Last year though, his FIP was a solid 3.85, so his success this year isn't surprising. Nelson has a 2.26 ERA in his last 10 starts and while there may be some bumps on the way, he's arrived as at least a solid mid-rotation type of arm.
Back and ankle injuries have limited Tillman at times this year but up until his last outing, the right-hander had been lights out since the All-Star break. Tillman's 6.4 K/9 and 3.3 BB/9 ratios are a bit of a step back (though not a big one) over last year, though with a 4.29 FIP, his 4.66 ERA probably continues to trend down overall. He was touched for five runs in 2.1 innings last time out, with the two home runs he surrendered being the first long balls he'd given up since June 21. Tillman may still be dealing with a sore ankle, and then taking a liner off his pitching arm in his last start may both have been contributing factors to his poor outing. Look for a strong finish assuming he's fully healthy.
Regan is a five-time Fantasy Sports Writers Association award winner.
Follow @vtadave on Twitter.
Get a FREE RotoWire 10-day trial (no credit card required) at RotoWire.com
---
---