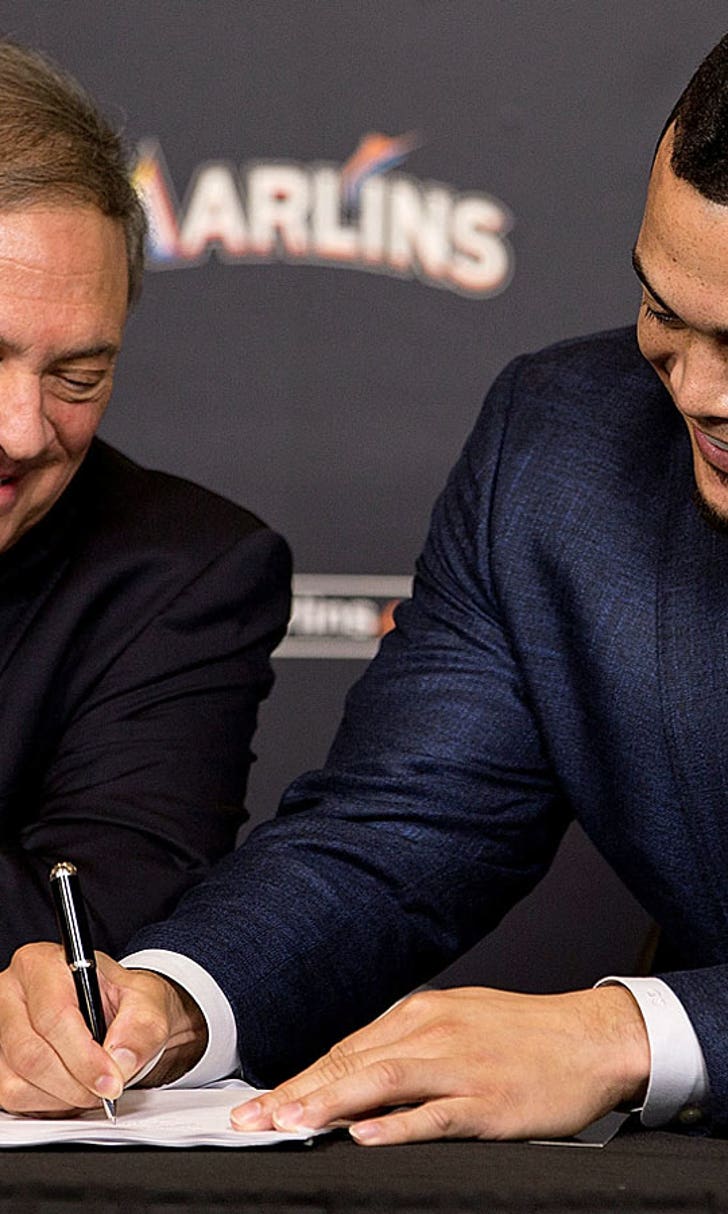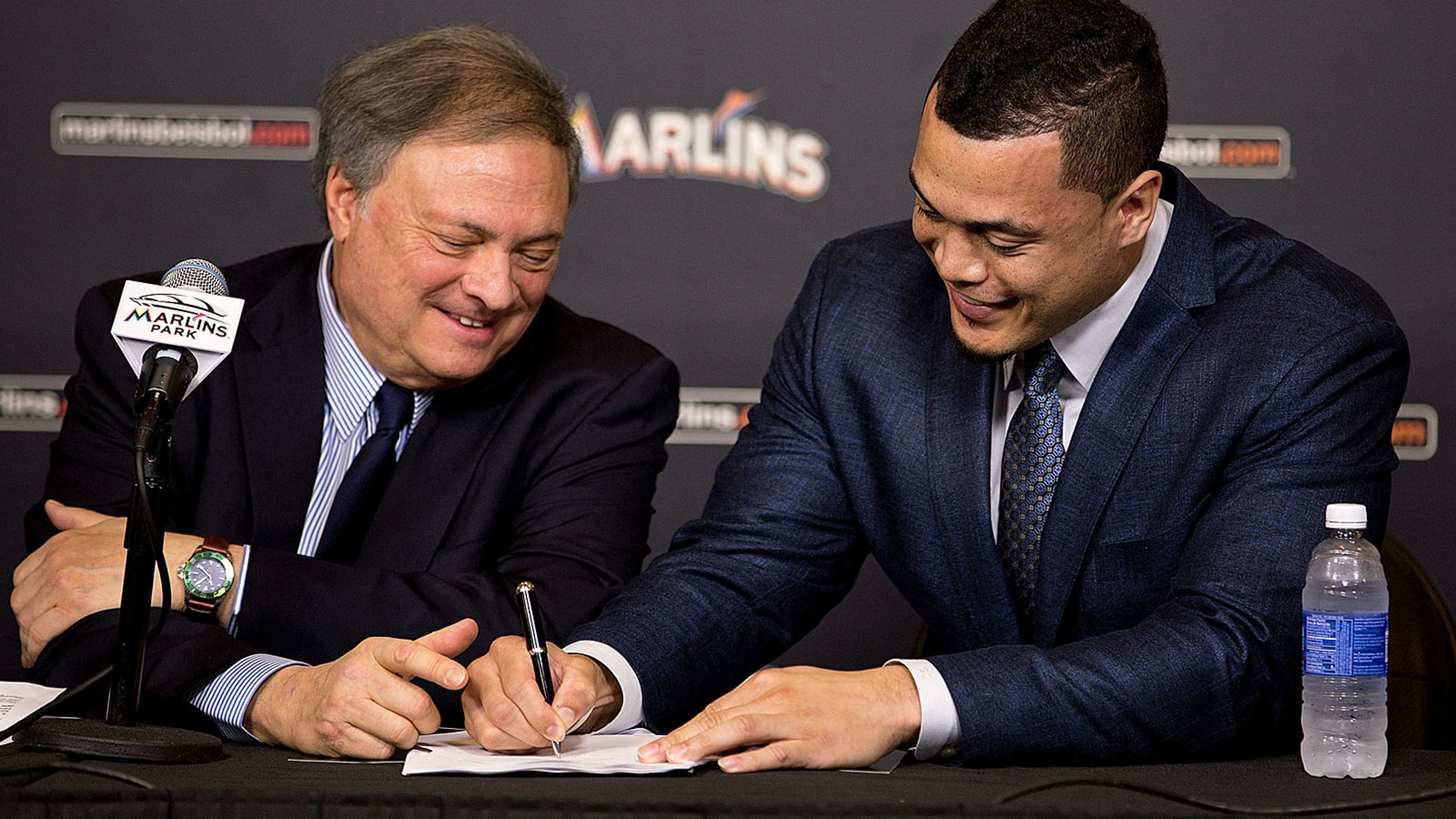 Fantasy Baseball Team Preview: Miami Marlins
BY Fox Sports • February 5, 2015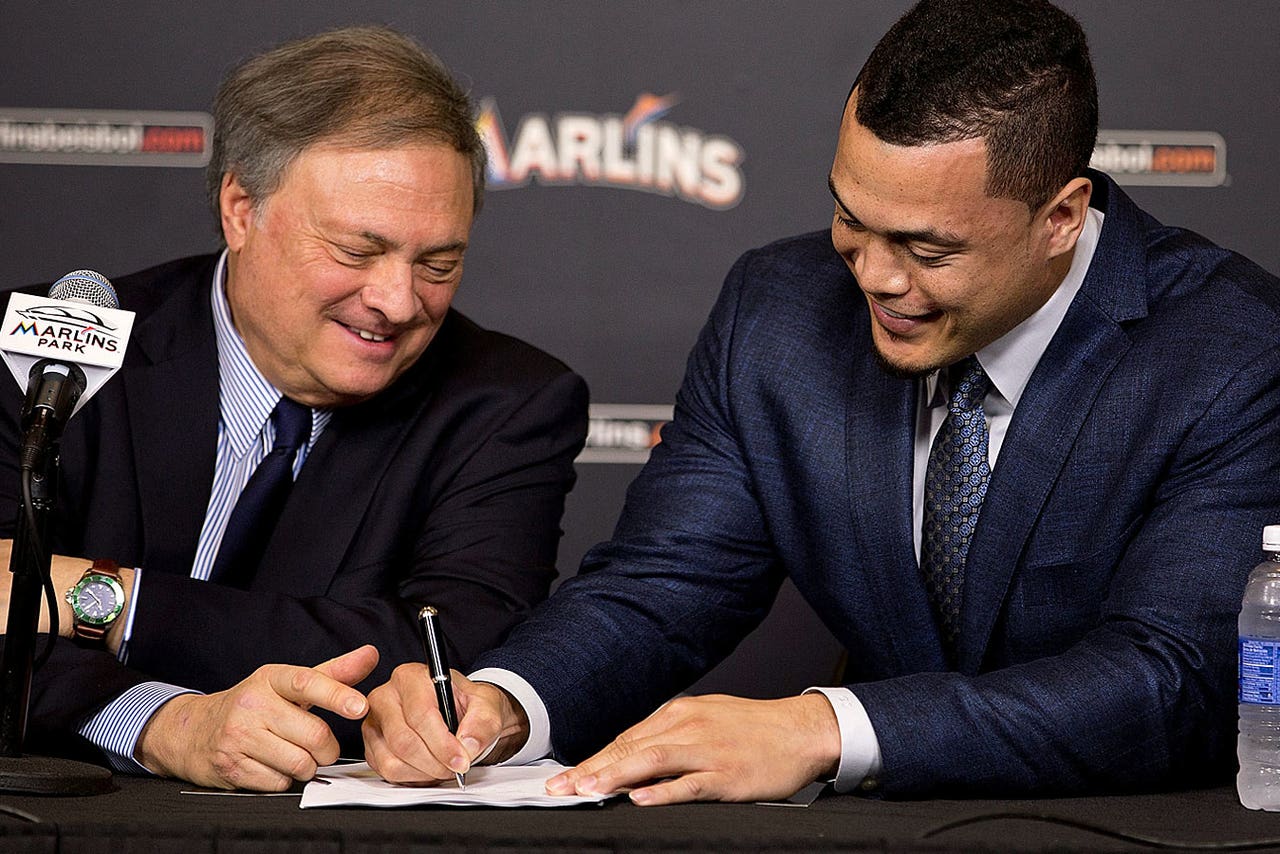 When the Marlins win 90 games, they win the World Series. They won 92 games in 1997 and 91 games in 2003. They haven't won more than 87 games in any other season. It seems as though they are making a push for 2015. First, they signed their NL MVP runner-up, Giancarlo Stanton, to a 13-year, $325 million extension. Then they traded for Mat Latos, Dee Gordon, and Martin Prado. Add in the young talent from last year's club (Christian Yelich and Marcell Ozuna) with the possibility of Jose Fernandez returning to action and 90 wins could be on the horizon.
ALSO SEE: TEAM PREVIEWS ARCHIVES
Key additions: Ichiro Suzuki, Dan Haren, Dee Gordon, Michael Morse, Martin Prado, and Mat Latos
Key losses: Casey McGehee, Garrett Jones, and Nathan Eovaldi
Projected Lineup
1. Dee Gordon, 2B
2. Christian Yelich, LF
3. Giancarlo Stanton, RF
4. Michael Morse, 1B
5. Martin Prado, 3B
6. Marcell Ozuna, CF
7. Jarrod Saltalamacchia, C
8. Adeiny Hechavarria, SS
Miami was middle of the pack in runs scored last year (645 runs, 16th in MLB). Dee Gordon looks to expound upon 2014's phenomenal season. In 148 games, Gordon batted .289 and scored 92 runs. He also stole 64 bags…Michael Morse is bringing his World Series experience from San Francisco to Miami. In 2013, he tallied 122 hits in 131 games (.279 AVG). Morse will also be expected to protect Stanton in the lineup…Speaking of the highest paid player in professional sports, Stanton could've won the NL MVP in 2014, if it wasn't for Clayton Kershaw's dominance. Stanton's 37 HR, 105 RBI season made it the third time in four years where he's surpassed the 30 home run, 80 RBI plateau…Christian Yelich is now entering his junior year into the MLB, but just his second as a starter. In his 2014 campaign, Yelich recorded a .284 AVG in 144 games. This year, he will likely have the opportunity to bat between Gordon and Stanton. That trio could be responsible for a plethora of offense in 2015.
Projected Rotation
1. Mat Latos
2. Jarred Cosart
3. Henderson Alvarez
4. Dan Haren
5. Tom Koehler
Closer: Steve Cishek
First and foremost, the 2013 NL Rookie of the Year, Jose Fernandez, is expected to return from Tommy John surgery around June or July this season. In eight starts last year, Fernandez went 4-2 with a 2.44 ERA and 70 Ks. Until he returns, Mat Latos will serve as the ace for Miami. The Reds dealt Latos in return for Anthony DeSclafani and Chad Wallach. Latos won 14 games in three out of four seasons before 2014. Last year, he tore cartilage in his left knee during spring training. Latos didn't return to the Reds roster until June 14th. He finished with a 5-5 record (3.25 ERA) in 16 starts. Jarred Cosart was traded to the Marlins in July of 2014. In 10 starts with Miami, Cosart earned a 4-4 record, but a most impressive 2.39 ERA.
Fantasy Sleeper: Marcell Ozuna, OF
It's easy to label the Marlins with the best outfield in MLB when they have the most expensive athlete in the world roaming around right field. Ozuna is the third-best outfielder of the bunch, but I believe he's very under-rated because of the company he keeps. In the final month of the 2014 regular season, Ozuna batted .316 (25-79) with four home runs and 13 RBI.
Top Prospect
J.T. Realmuto, C – Though he is blocked by Jarrod Saltalamacchia and Jeff Mathis on the depth chart, Realmuto has the potential to be the backstop of the future and could make that a reality as soon as this year. In 2014, he received 29 official at-bats in the bigs and tallied nine RBI in that span. In AA, Jacksonville, Realmuto batted .299 and delivered 62 RBI in 97 games.
ALSO SEE: TEAM PREVIEWS ARCHIVES
---
---