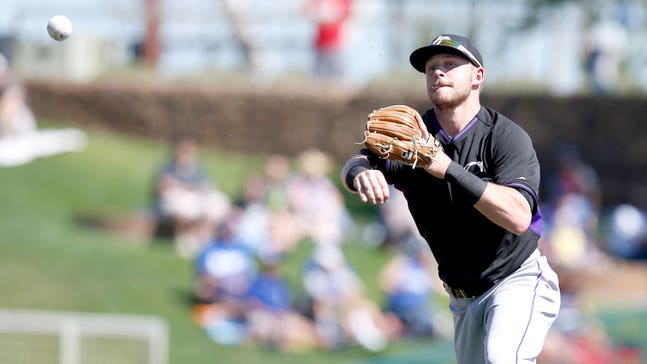 Fantasy Baseball Draft Strategy: players to buy, players to sell
Updated
Mar. 4, 2020 1:47 p.m. ET

I'm pinch hitting for Vlad Sedler this week, a welcomed opportunity for someone who worked in baseball for more than 10 years. No lead in for me, however, we'll just dive right in and look at some players who are rising and falling as spring training enters the homestretch.
Risers
Trevor Story, SS, COL - No one will come out and say it, maybe as a motivational ploy to keep Story focused, but Story has hit his way into being the heavy favorite to start at shortstop during Jose Reyes' TBD suspension. He's hitting a cool .350 with four home runs, eight RBI and four walks through eight games, and the Rockies have also moved him around the diamond to expose him to other positions, suggesting they're ready to promote one for their top prospects.
Story has rebounded from a disappointing 2013 season at High-A Modesto when he hit .233 with 183 strikeouts in 497 at bats. Since, he's hit at least .277 at each extended stop, showing enough power and speed to make him a valuable commodity as a middle infielder. True, he's played just 61 games at Triple-A and the Rockies could send him back down for more seasoning, and sure, there will be growing pains as Story still figures to have his share of swings and misses. But for an up-and-coming talent, his ADP of 333 seems far too low.
Jose Peraza, 2B, CIN - The Reds want Peraza to play daily, regardless of whether that's in the majors or at Triple-A. Recent complaints from center-fielder Billy Hamilton of pain in his surgically repaired shoulder could be just want fantasy owners needed for Peraza to remain with the parent club in April. Peraza went 2-for-3 with a stolen base in his first start in the leadoff position while playing center field, and Hamilton remains without a definitive timetable for return. Peraza could be sent back down once Hamilton is healthy, but appears to be worth a speculative grab toward the end of your draft. At worst, especially in rotisserie leagues, Peraza could jump start your squad in steals.
Holding Steady
Steve Cishek, RP, SEA - Cishek is making a quick return from a biceps injury and is slated to throw in a Cactus League game Thursday. That puts him well on track for Opening Day, where he'll assume closing duties in pitcher-friendly Safeco Field. Cishek saved 34 and 39 games for a bad Marlins team, so there's certainly 30-save upside for a guy coming off the board around pick 247.
Rougned Odor, 2B, TEX - Odor's breakout hype briefly stalled due to an oblique injury that has now cost him a week. He is set to begin on-field workouts next Tuesday and could appear in a Cactus League lineup by the weekend. There's much more power and speed upside to Odor at an ADP of 98 than there is for a player like Jason Kipnis, who's going a round and a half earlier. Odd how injuries in this section aren't scaring me off in the slightest, while others below have resulted in pressing the panic button.
Corey Seager, SS, LAD - I'll be curious to see what happens with Seager and his ADP over the next week. Currently at 57, Seager is no guarantee to be ready for Opening Day due to a mild knee sprain. Maybe the hope is Seager isn't quite ready by April 3 and it pushes his cost down a round or two, at which point he'll be a bargain. There's a pretty steep drop at shortstop following Seager in my eyes, taking a calculated risk that Seager is available a round later is what makes for a championship season.
Fallers
Jered Weaver, SP, LAA - This is short and sweet, Weaver is dealing with "mild degenerative changes in his cervical spine." No thank you. Weaver claims it isn't effecting his pitching, and that he doesn't anticipate starting the year on the disabled list. But his fastball was 79 or 80 miles per hour in a start last week, and he's coming off of a year in which he produced his lowest strikeout ratio (5.09 per nine innings) and highest era (4.64) in his career. That Weaver is even being drafted is somewhat surprising, and while he is the owner of a 484 ADP, Weaver is showing as high as 281. That seems asinine for a pitcher with little left in the tank.
Ryan Zimmerman, 1B, WAS - A lot can happen in two weeks. Our incumbent columnist, rightly so, was buying on both Zimmerman and the next player on this list given their ADPs. Those ADPs were a result of injury histories, while the buy-in centered on their talent, when healthy, to vastly outperform their modest costs. Zimmerman's ADP has risen steadily over those two weeks, all the way to 231, a pretty substantial move given that he hasn't played much during that stretch as he continues to battle plantar faciitis.
It's an injury that Zimm dealt with a year ago and is partly to blame for playing only 95 games. Zimmerman has seen only 546 total at-bats the last two seasons after seeing at least that many in five of his previous eight. The Nats seem intent on batting him in the heart of their order, giving him a great shot to still outperform his cost, and every indication is that they're merely being cautious with their veteran. But that he's dealing with an injury that's been an ongoing issue since last season, Zimmerman seemingly offers little more than depth to your corner infield slot, and I am inclined to gamble on someone like Justin Bour (ADP 242) a round later.
Matt Wieters, C, BAL - True, Wieters' recent MRI came back negative, and the backstop is listed as day-to-day. But that the MRI was to Wieters' surgically repaired elbow immediately has me pumping the brakes. This is a guy who has played no more than 75 games in any of the last three seasons. With an ADP of 158, he's coming off the board ninth among catchers. In a position many will punt altogether, this seems like a very high price. I side with Stephen Vogt (ADP 162) in the same round, or possibly buying into Wilson Ramos' recent Lasik eye surgery as a value at 237.
Yasmany Tomas, OF, ARZ - Tomas has been held out for more than a week due to a sore knee, and while there was no structural damage, his absence has allowed Socrates Brito to open eyes, and the two are now in a battle for the starting left-field job. Brito won't come with the same position flexibility that Tomas has, and has only 34 plate appearances above Double-A, but he offers considerably more speed than Tomas, and arguably as much power following Tomas' disapointing 2015 debut.
Jonathan Singleton, 1B, HOU - Singleton has been given every opportunity to win the team's first base job, and he continues to do everything he can to give it right back. He's hitting just .111 (3-of-27) while striking out 11 times, while other candidates (A.J. Reed, Tyler White, Colin Moran) are hitting .318 or higher.
It's important to remember Singleton is still just 24 and has only 420 major league plate appearances under his belt. But the Astros aren't in a position to allow him to work out his struggles in their lineup, and he has little left to prove at Triple-A. General Manager Jeff Lunhow has openly stated that the team's lineup will look different in May and in September than it does in April, suggesting they may give Singleton a bit longer of a leash. Even under that scenario, a platoon out of the gate seems likely, and the little reward Singleton could have offered as cheap power at the end of a draft now seems unlikely to materialize.
Get a FREE RotoWire 10-day trial (no credit card required) at RotoWire.com
---
---