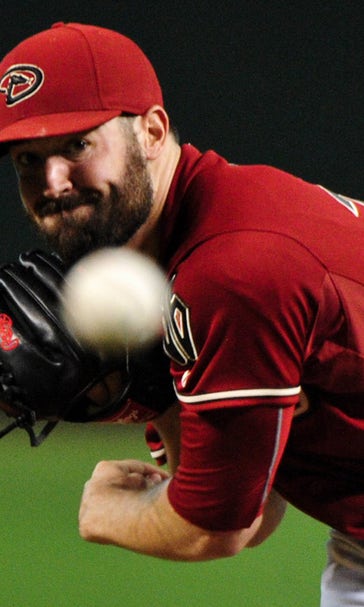 Dodgers make Ray pay for rocky start, hold off D-backs, 4-3
July 2, 2015

PHOENIX -- Robbie Ray might be classified as a major-league rookie, but he's already well versed in the fickle nature of the baseball gods.
And so he was not flummoxed to have suffered through the worst start of his Diamondbacks tenure on Wednesday night vs. the Los Angeles Dodgers.
"That's baseball," said Ray, who saw his record slip to 2-4 with a 2.55 ERA. "It's going to happen. This game will humble you real quick. I will just try to stay on an even keel, and I know what I have to work on going into the next outing."
Ray had given up no more than six hits and three earned runs in his first six starts with the D-backs, but the Dodgers roughed him up for four earned runs and five hits in the first three innings. Ray settled down to pitch three more scoreless innings, but the Dodgers held on for a 4-3 win at Chase Field to beat the Diamondbacks for the ninth time in their last 10 meetings.
Kike Hernandez led of the game with a triple down the right-field line and scored on a sacrifice fly by Howie Kendrick.
L.A.'s 1-2 hitters were prominent in the third inning as well, with Hernandez doubling home the second run, then scoring on a single by Kendrick, who followed him home on a double by No. 3 hitter Justin Turner. The top three hitters in the order combined for three runs, five hits (three by Hernandez, who had been 0 for 10 in his career against the D-backs) and four RBI.
"Just one bad inning," Arizona manager Chip Hale said. "Just couldn't stop the bleeding that one inning when they got the hits.
"Other than that he pitched pretty well. Gave us a chance to win."
The D-backs battled back with a run in the sixth on Aaron Hill's first home run since May 10, then made a game of it after the Dodgers pulled starter Brett Anderson after the seventh inning. With runners on first and third and one out in the eighth, Hill just got under a pitch from Yimi Garcia and flied out to deep left, scoring A.J. Pollock with the second run.
David Peralta hit his seventh homer with one out in the ninth off Dodgers closer Kenley Jansen, but Jansen retired Danny Dorn and Nick Ahmed to nail down his 13th save.
The Diamondbacks squandered a chance to answer the Dodgers' first inning run when their first two batters were thrown out on the bases. Ahmed led off with the single but was picked off by Anderson and thrown out as he tried to steal second. Pollock then followed with a single to shallow right but was caught napping after he making the turn and straying too far off first base. L.A. catcher A.J. Ellis snuck in behind him and took a throw from Scott Van Slyke to tag him out.
"That wasn't very good," Hale said. "Nick's an eager guy, he's a young player, he thought he saw something on video that he could exploit. It turned out that it just backfired on him.
"A.J. just went a little too far around the bag and didn't realize that A.J. Ellis did a nice job of coming behind him. We gave away two outs right away; against a good team, it's not easy to overcome."
Pollock went 3 for 4 to raise his average back to .300.
Paul Goldschmidt was hitless in three at-bats, ending his hitting streak at 11 games.
---
---