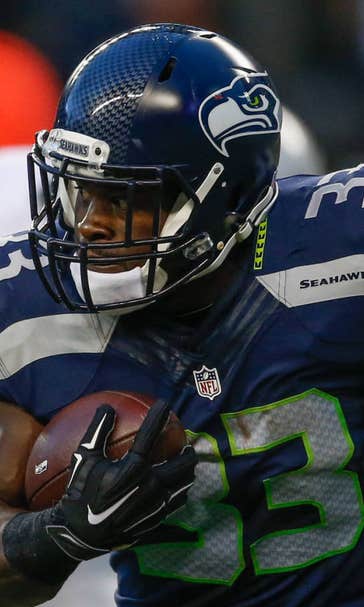 Cowboys VP: Adding Christine Michael just another option at RB
September 8, 2015

The trading of a 2016 seventh-round draft pick for Seattle's third-year running back Christine Michael could be seen as a sign of doubt by the Cowboys in their three-man running back rotation, but executive vice president Stephen Jones insists the team is merely creating options at running back.
"I think we just want to make sure that we got a lot of options there," Jones told "Shan & RJ" on Dallas-area 105.3 The Fan. "Obviously [Darren] McFadden had some injury issues and has had some injury issues in the past. [Lance] Dunbar, the same way in terms of him being more of a change of pace back and felt like to have Christine Michael here to come in and have another back who can certainly bring something to the table we felt like was the right thing to do for this year."
Along with the injury histories of eight-year veteran McFadden and four-year pro Dunbar are questions surrounding third-year back Joseph Randle. Though the former Oklahoma State product last year had a 6.7 yards per carry, the best among backup running backs with a minimum of 30 carries, Randle only garnered 45 yards on 13 carries for a 3.5 yards per carry this preseason -- hardly a stat line to instill confidence in a back the club has hoped would take up the mantle left by now-Philadelphia Eagle DeMarco Murray.
What the Cowboys like about Michael are his experience and his physical style.
"He's obviously got experience in the league," said Jones. "He's been on winning teams, and the thing about him is he's a physical back. He seems about 5-10, 220-plus pounds and I think can really complement what we already have in what McFadden does, in what Joe Randle does, what Dunbar does in terms of running behind our offensive line. So, I think he brings another skill set to the table that, depending on what's working and what seems to be the best fit for us as we move into the season, then we can certainly use those skills."
In 2015, Michael had 5.2 yards per carry, the sixth-best among backup running backs with a minimum of 30 attempts. He gained 175 and fumbled only once. Out of 32 possible regular season games, Michael has missed 18: four to injury and 14 to being inactive on game day.
MORE FROM FOX SPORTS SOUTHWEST: 
- PHOTOS: Cowboys Cheerleaders Auditions
- Ranking NFL quarterback salaries
- Highest paid player on every NFL team
- College football's biggest video boards
---
---