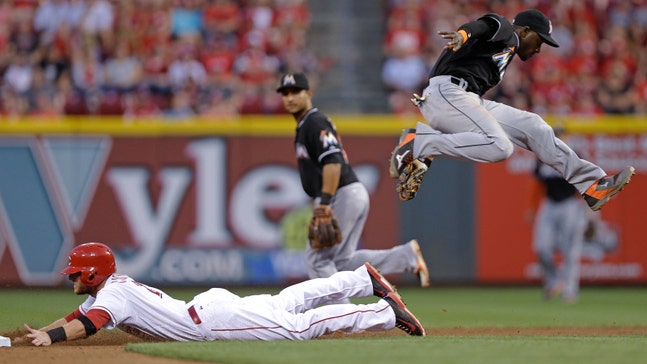 Cincinnati Reds start a four-game series vs. Miami Marlins
Updated
Mar. 4, 2020 8:07 p.m. ET

Jose Fernandez shook off a lackluster opening inning and put himself on the verge of a modern-era record in his highly anticipated return from Tommy John surgery for the Miami Marlins last week.
In his encore, Fernandez will try to improve to 14-0 in his own park Thursday night against the Cincinnati Reds.
Fernandez gave up a pair of runs in the first inning in his first major league start in nearly 14 months last Thursday against San Francisco, but he settled down to allow one in his final five innings in a 5-4 victory.
The right-hander also hit his second career homer in his first win since April 29, 2014, and is one of only five pitchers since 1914 to win their first 13 home decisions. Fernandez trails only Johnny Allen of the 1932-33 New York Yankees and LaMarr Hoyt of the 1980-82 Chicago White Sox -- they both won their first 16 decisions at home, but unlike Fernandez, also made relief appearances during their respective streaks.
Fernandez's three earned runs and seven hits allowed were his most in Miami.
"We got a win. I think that's all I can ask for. I'm healthy. That's all I can ask for," said Fernandez, seeking to become the first pitcher to go undefeated at home over his first 22 starts. "Obviously, I would have love to have pitched a little better. ... Hopefully, the next one will be better, but it's exciting I got the first one out of the way."
While seeking to make history, Fernandez (1-0, 4.50 ERA) will try to lead Miami (35-50) to a fourth consecutive home win and end its four-game overall losing streak. The Marlins wrapped up their two-game stay in Boston with a 6-3 defeat Wednesday and made three errors to finish with five in the series, one more than in their previous nine games.
"Just sloppy," manager Dan Jennings said. "It's really uncharacteristic of who we've been. We have to do a better job of taking care of the ball. There's no excuse for that."
Fernandez will face a Reds team that's totaled 15 runs in its first six games this month. However, Cincinnati (38-44) claimed a 5-0 win in Washington on Tuesday before Wednesday's finale was rained out.
"We've had some really strange issues," manager Bryan Price said. "I think we've done fairly well dealing with the challenges. ... I don't think it's been an issue - certainly not an excuse for being six games under .500."
The rainout means that Michael Lorenzen (3-3, 3.58) will likely get an extra day of rest, but the Reds might choose to call up David Holmberg for his season debut.
"We'll get together collectively and discuss our options," Price told MLB's official website. "There could be a lot of moving parts in this. A lot of things that may change because of this. We'll see."
Lorenzen is 2-1 with a 2.78 ERA in his last four starts but lasted just four innings in a 12-1 loss to Milwaukee on Friday, his first since June 11. The rookie was a 5-2 winner against Miami on June 21, yielding two runs in seven innings, and helped Cincinnati take two of three in that visit from the Marlins.
The Reds have won seven of their last eight games in Miami and claimed three of four in their most recent trip July 31-Aug. 3.
Fernandez gave up two runs in seven innings in his only home start against Cincinnati, a 5-3 loss in 10 innings May 16, 2013. He's 0-1 with a 5.73 ERA in two lifetime matchups.
---
---