Cardinals have neither lost nor gained ground in Molina's absence
BY foxsports • August 15, 2014
ST. LOUIS -- Since losing their most valuable player July 9, the Cardinals have had to reboot their lineup, bolster their rotation and sign a veteran catcher not known as one of the game's more likable guys.
Without Yadier Molina, the offense actually has shown improvement -- a little --€" but the pitching, which ranked fifth in the majors with him (3.29 ERA), has been next to last in the NL without him (4.57). Opponents also have taken liberties with the running game. They stole 18 bases on Molina in 81 games, which is the same number they've swiped in 28 games without him.
As for the bottom line, the Cardinals have gone 14-14 without Molina. They enter the weekend in second place, two games behind the Brewers -- exactly where they were before Molina tore up his right thumb sliding into third base.
Talk about treading water.
Precisely how much Molina's absence has impacted the club isn't something that can be found in a stat. But somewhere between "quite a bit" and "a heckuva lot" would be in the ballpark. Molina brings an immeasurable intangible that perhaps no other player in the game offers his team.
What also remains uncertain is how much longer the Cardinals will be without their six-time All-Star catcher, though encouraging signs have been emerging at Busch Stadium. At this point, it's fair to say Molina should return during the lower end of the eight-to-12-week forecast, with early September still the best-case scenario.
He had his cast removed and replaced by a brace a week ago, which was about a week ahead of schedule. On Thursday, Molina took another step forward when he caught a bullpen session. His throwing hand remains in a brace, so his throws to the pitcher hardly were game speed. "You could almost take a jai alai scoop and throw it back to the pitcher," was how manager Mike Matheny described the velocity of Molina's tosses.
Still, it's progress. "He's getting back there using his hands, getting a feel for it," Matheny said. "Sounds like, as expected, he is pushing this as fast as the medical team will allow. That's encouraging to see."
For good reason. Initially expected to stay in a cast for five weeks, Molina already had been cleared for some baseball activities by the five-week mark.
Molina hasn't been seen around Busch Stadium much since his injury, at least not by the media. Matheny says Molina has visited plenty but also has taken the manager's advice and used this downtime to see more of his family than he does during most seasons. Molina also has been traveling back and forth to his home in Jupiter, Fla., where apparently he is putting the training facilities to good use at Roger Dean Stadium.
"He's worked out a lot. As far as overall conditioning, he looks great," Matheny said. "He looks almost like lighter than he did in spring training."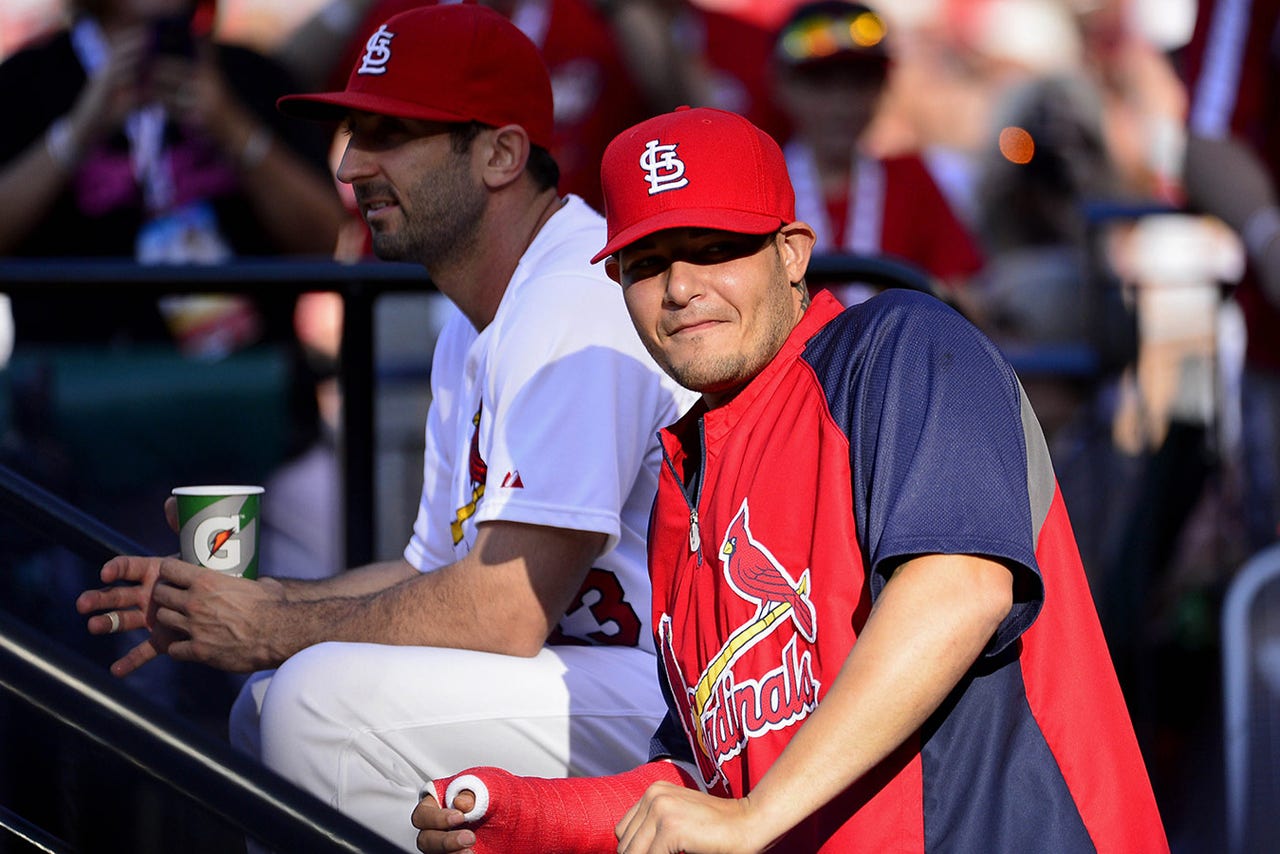 Yadier Molina looks on before a July 23 game against the Tampa Bay Rays at Busch Stadium.  
As tempting as it must be for Matheny to think about adding a fit and refreshed Molina to his lineup, the manager refuses to look too far ahead. "I'm not even going to touch all that," he said when asked about a possible return.
Watch the Cardinals Live pregame and postgame shows before and after every St. Louis Cardinals game on FOX Sports Midwest.
Matheny allowed the final checkpoints will be gripping a bat and hitting, and to this point Molina "hasn't picked up a bat," he said.
Considering the rotation's recent issues and the season-long sputtering of the offense, the Cardinals have done well to remain in the playoff chase without Molina. As Matheny predicted in early June, it has been a grind. The Cardinals have yet to enjoy a winning streak longer than five games this season, but neither have they endured a long slump. St. Louis has yet to be swept in a three-game series.
The optimistic Matheny sees the fact they haven't gotten hot as a positive. It means their turn is coming. "I think just statistically that tends to happen to most clubs," he said.
But Matheny also knows there is the possibility they could go on a run in the wrong direction or that one of the other NL Central contenders could take off.
"If we don't show a little more consistency, there could be some gaps that could be hard to overcome," he said.
So far, though, they've held their season together without Molina. And really, they could not have been expected to do much more than that.
You can follow Stan McNeal on Twitter at @StanMcNeal or email him at stanmcneal@gmail.com.
---
---