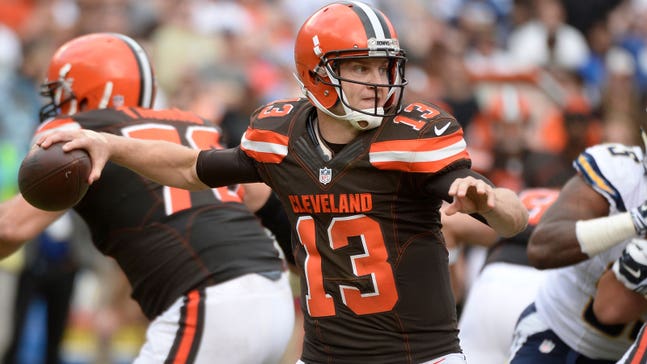 Browns' McCown feels better, hopes to start vs. Cardinals
Published
Oct. 30, 2015 4:39 p.m. EDT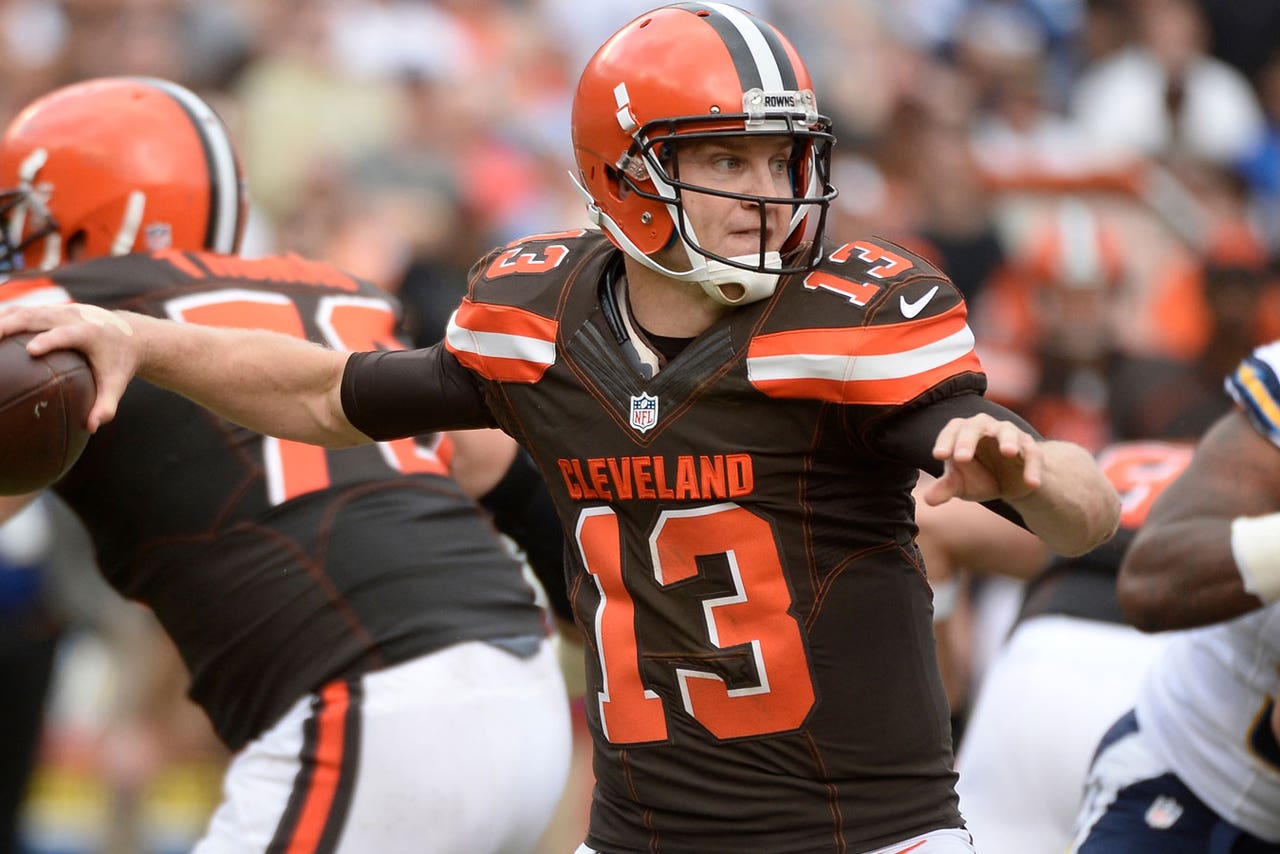 BEREA, Ohio -- Browns quarterback Josh McCown's right shoulder has improved enough that he'll likely start Sunday against Arizona.
Although McCown was limited in practice again Friday, the 36-year-old has progressed throughout the week and all signs point to him taking the field to face the Cardinals.
"Threw the ball around today, felt a little better," said McCown, who stopped in the Browns' media room to provide an update to reporters. "We'll see Sunday, but felt better so that's kind of where it's at."
McCown is listed as questionable on the team's injury report, and coach Mike Pettine said a decision could go all the way up until game time.
While it's possible the Browns (2-5) are simply keeping things close to the vest to keep the Cardinals (5-2) guessing, McCown is not 100 percent after injuring his shoulder and ribs last week when he was pounded by St. Louis' defense. He didn't practice Wednesday as the Browns gave all the snaps with their first-team offense to backup Johnny Manziel.
"It's still truly day to day," Pettine said of McCown's availability. "We'll see where he is tomorrow. Quarterbacks typically do some light throwing on Saturdays. The passing time is helpful with him, but it'll still likely go right up to the game."
During the portion of Friday's practice open to the media, McCown threw the ball with more speed and distance than he did Thursday.
If McCown can't play, backup Manziel will make his second start this season. Pettine said the injuries make it difficult to plan for a game, but not impossible.
"We're always dealing in circumstances like that and that's just stuff that you have to learn to operate, deal with things like that," he said. "So it was good that Johnny got the full rack on Wednesday and some plays yesterday and today, so we'll see."
Browns guard Joel Bitonio believes McCown will start, but said Manziel is prepared to go if needed.
"I think he's ready," Bitonio said of McCown, who has impressed his teammates with his toughness and desire to play. "I know Johnny's ready, too, though if his number gets called. He's had a good week of practice."
It's been an interesting week for Manziel. Along with taking snaps with Cleveland's starters, the 2012 Heisman Trophy winner met with an NFL investigator looking into whether he broke the league's personal conduct policy during an Oct. 12 argument with his girlfriend.
Manziel spoke on Wednesday night to NFL senior advisor Lisa Friel, a former New York prosecutor who often handles the league's off-field inquiries. Colleen Crowley told police in that Manziel hit her several times and pushed her head into a car window when they argued while driving on a highway. On an Avon, Ohio, police dash-cam video, Crowley can be heard saying she feared for her life.
Witnesses said Manziel was speeding when he passed cars on the shoulder and crossed several lanes to exit Interstate 90. Manziel admitted drinking before the incident but police determined he was not intoxicated. Manziel, who didn't receive a field sobriety test and wasn't arrested, spent 70 days during the offseason in a rehab facility specializing in alcohol and substance abuse.
The league could fine or suspend Manziel if he violated the personal conduct policy. Because of privacy issues, it's not known if he is entered in the league's substance-abuse program.
Pettine said he has not received word from the league on when its investigation on Manziel will be completed. He said the prospect of starting didn't seem to affect the 22-year-old.
"I have not seen any noticeable difference in this week than any other week," he said.
NOTES: WR Andrew Hawkins (concussion), TE Rob Housler (hamstring) and DB Jordan Poyer (shoulder) were all ruled out for Sunday. With Hawkins out, WR Dwayne Bowe, who has not caught a pass and been a healthy scratch four times this season, could be active. Bowe signed two-year, $12.5 million free-agent contract with Cleveland in March. 
---
---