Brewers trade righty Estrada to Blue Jays for first baseman Lind
BY foxsports • November 1, 2014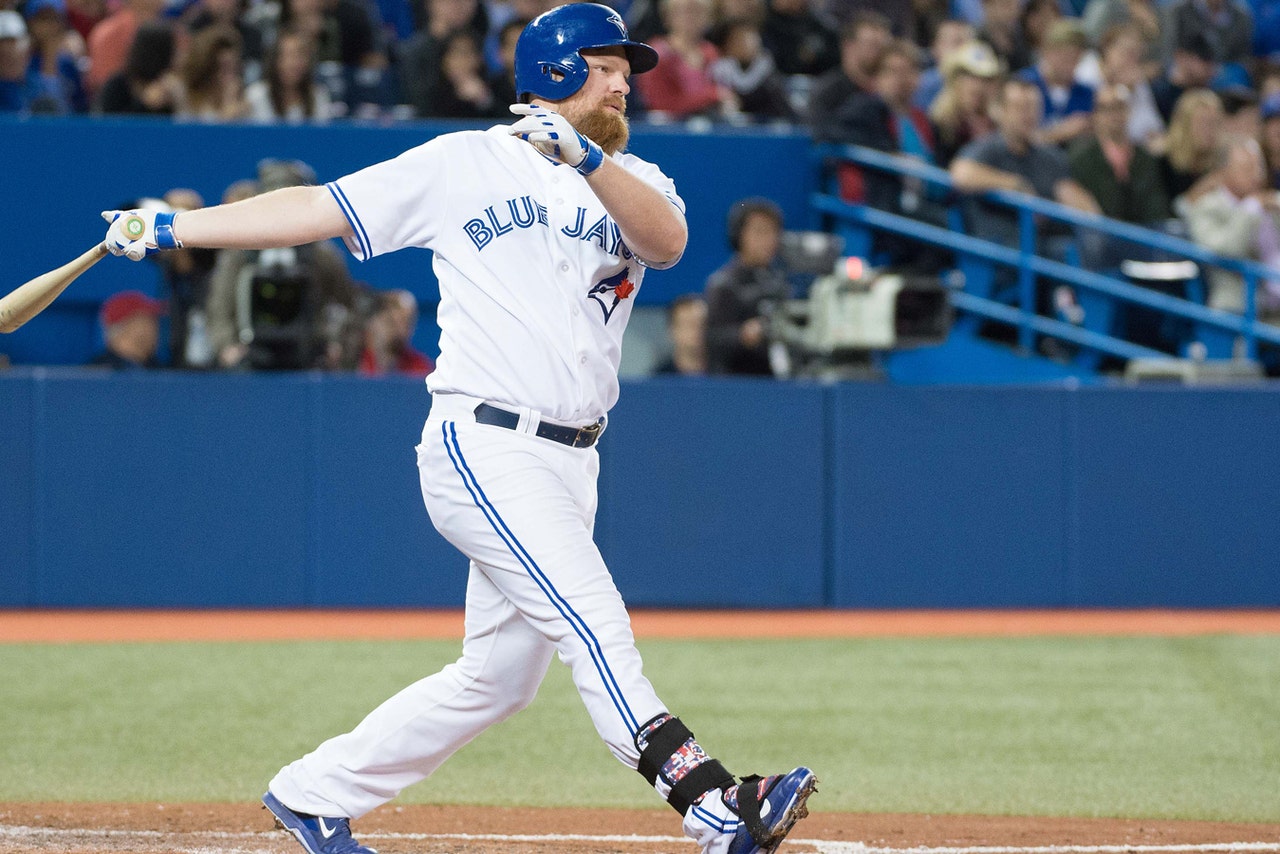 Quickly addressing their biggest offseason need, the Milwaukee Brewers acquired first baseman Adam Lind from the Toronto Blue Jays in exchange for right-hander Marco Estrada.
Lind recently had his $7.5 million option for 2015 picked up by the Blue Jays and has an $8 million team option for 2016.
The 31-year-old is a career .273 hitter with 146 home runs and 519 RBI over nine seasons with Toronto. Limited to 96 games in 2014 due to a broken foot, Lind hit .321 with six home runs and 40 RBI.
"Adam brings us a productive left-handed bat at a position of need with the ability to hit in the middle of the order," Brewers general manager Doug Melvin said.
After two straight seasons of receiving little production out of the position, Melvin didn't waste much time in landing his primary first baseman for 2015. The Brewers used a position of strength to address a need.
Lind, a left-handed hitter, has a career .293 batting average against right-handed pitchers, with 125 of his 146 home runs coming against righties. He's just a .212 career hitter against left-handed pitchers, which means the Brewers will likely need to find a right-handed hitting platoon partner for Lind.
Milwaukee's first basemen put up an OPS of .629 in 2013 and .642 in 2014, while Lind's OPS in 2013 was .854 and .860 in 2014. Even if he needs a platoon partner, Lind should see the majority of playing time at first base and help balance Milwaukee's right-handed heavy lineup.
A third-round pick out of the University of South Alabama in 2004, Lind made his big-league debut with the Blue Jays in 2006. His best season came in 2009 when he hit .305 with 35 home runs and 114 RBI, finishing 15th in the American League MVP voting and winning a Silver Slugger.
Lind has put up 162-game averages of 25 home runs and 88 RBI over his career, belting 20 or more home runs in every season he's played at least 100 games in.
Estrada is eligible for arbitration and may have not been tendered a contract by the Brewers. The right-hander began 2014 in Milwaukee's rotation but was moved to the bullpen in favor of rookie Jimmy Nelson after going 7-6 with a 4.96 ERA in 18 starts.
The 31-year-old adapted well to a long-relief role, posting a 2.89 ERA in 21 appearances out of the bullpen. Home runs hurt Estrada last season, as he led baseball with 29 home runs allowed.
"Marco performed well for us with his versatility to start or pitch out of the bullpen," Melvin said.
Estrada would have entered 2015 behind Nelson and Mike Fiers in the competition for the fifth spot in Milwaukee's rotation and likely would have had to earn a bullpen role in spring training.
The Brewers claimed Estrada off waivers from the Washington Nationals in February of 2010. Estrada began 2011 in Milwaukee's minor-league camp but made the team out of spring training after Zack Greinke was injured.
Estrada went 3-2 with a 3.70 ERA in seven starts while filling in for Greinke in 2011 before sliding into a relief role for the National League Central champions.
A season-ending injury to Chris Narveson in 2012 moved Estrada into Milwaukee's starting rotation for the majority of the season, as he went 5-7 with a 3.64 ERA. Estrada made 21 starts with a 3.87 ERA in 2013.
Follow Andrew Gruman on Twitter
---
---