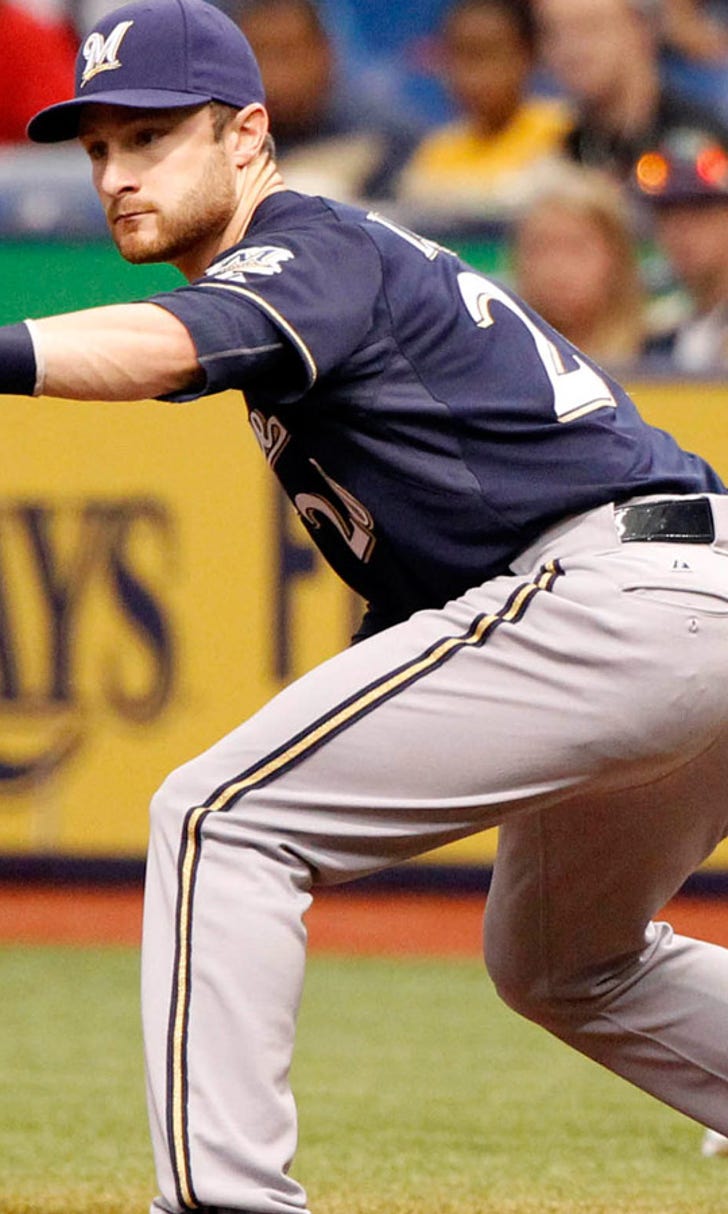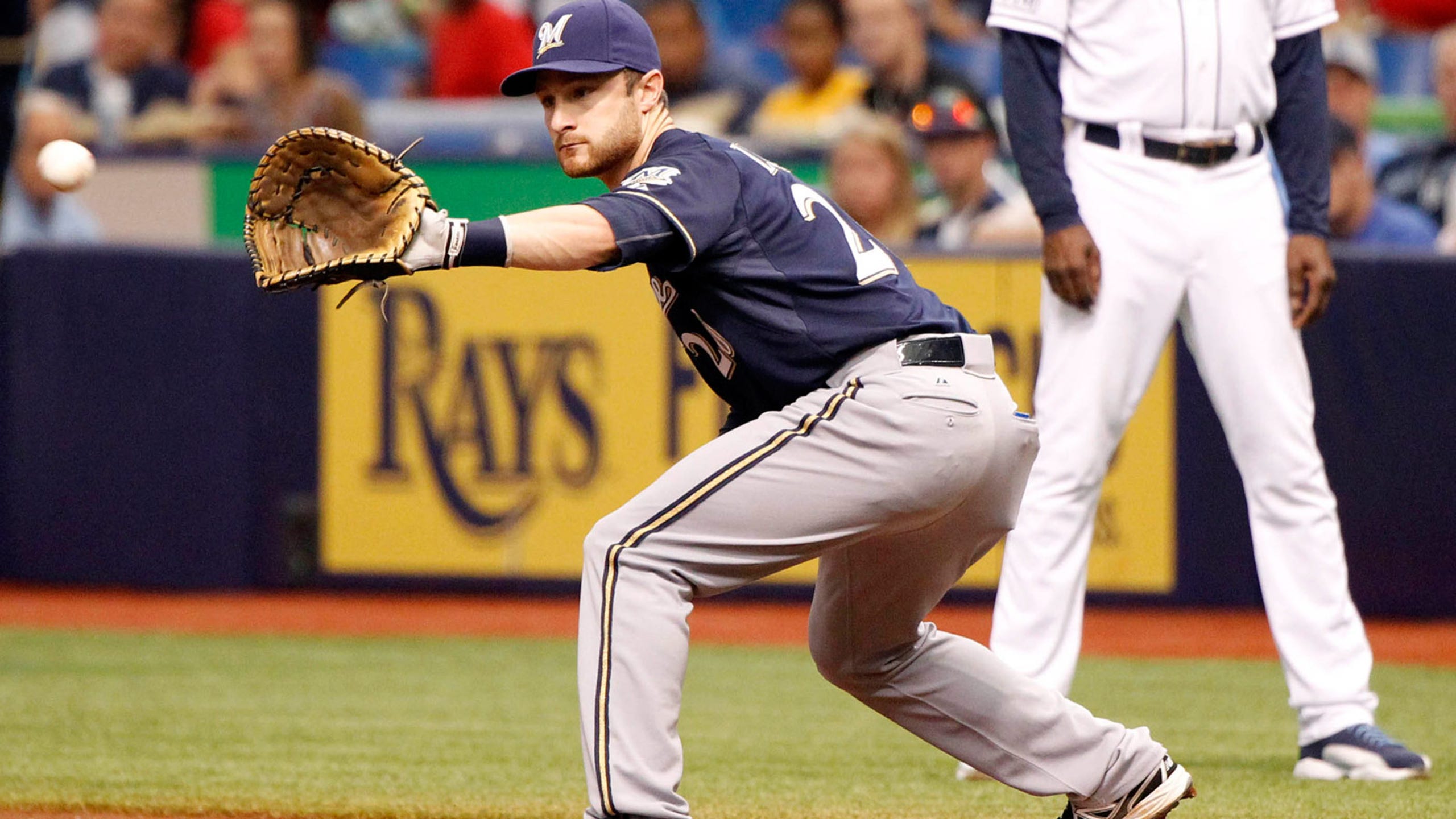 Brewers to use Lucroy at first base against lefties this season
BY foxsports • February 2, 2015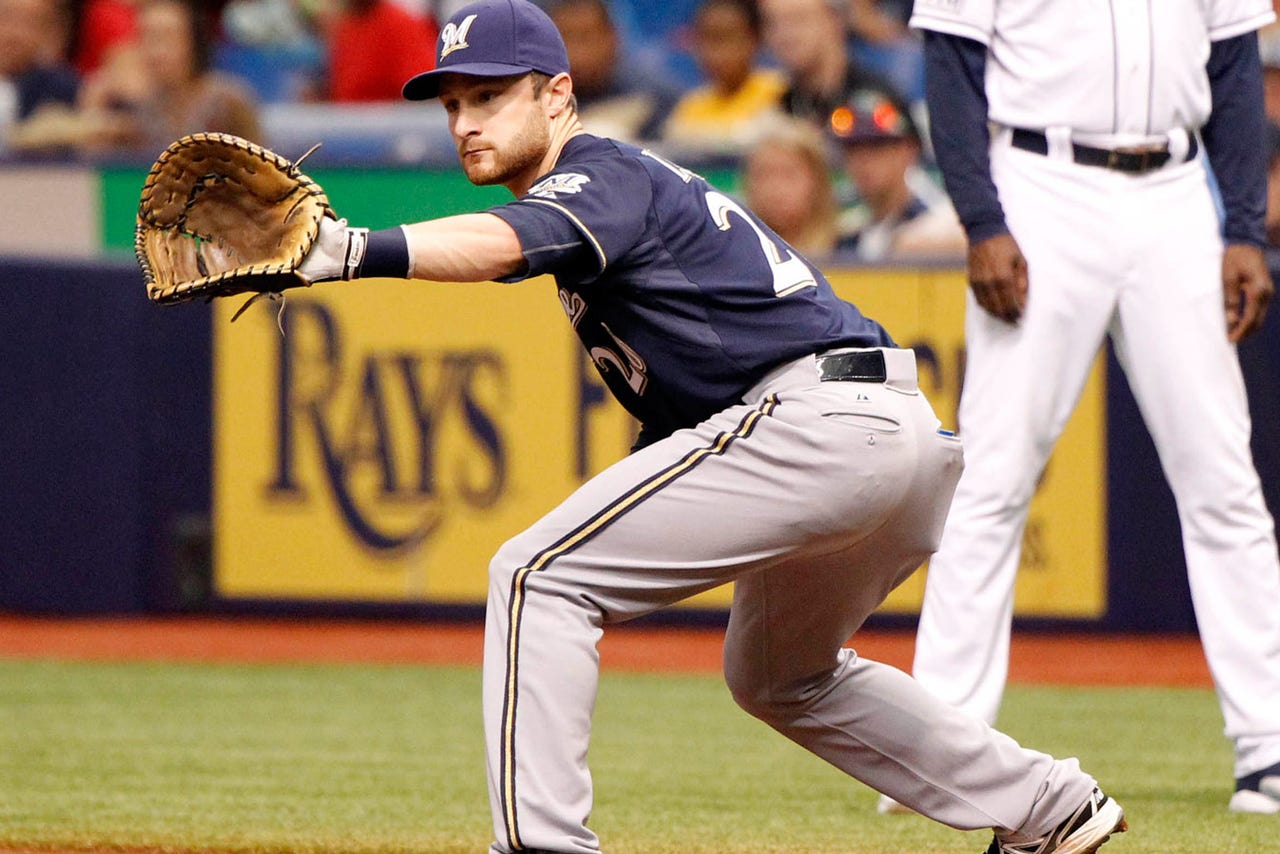 MILWAUKEE -- The speculation as to if the Milwaukee Brewers would acquire a platoon partner for Adam Lind began immediately after the club acquired the left-handed-hitting first baseman from the Toronto Blue Jays.
But after watching how players who can only play one position hamstrung Milwaukee's bench last season, general manager Doug Melvin opted not to pursue another first baseman.
Instead, the Brewers are expected to use catcher Jonathan Lucroy at first base with Martin Maldonado behind the plate as an alternative to Lind against left-handed pitchers.
Lucroy will work at first base during spring training, as he will use the six weeks to become as comfortable as he can at what is now his second position.
"Just more tools to put in the bag," Lucroy said. "It'll enable me to be a little more versatile and to move around.
"Obviously (I want to be) able to contribute wherever I can and whenever I'm needed. It's just a matter of being comfortable and being able to contribute whenever I go out there. That's what extra work is."
There weren't many first-base options on the free-agent market. Melvin elected not to chase right-handed hitting options like Gaby Sanchez or Kyle Blanks, while Michael Morse was seeking a chance to play every day.
The Brewers were hurt last season by having Rickie Weeks and Lyle Overbay as bench players only able to play second base and first base, respectively. It is hard to platoon in the National League when both halves of the job share are limited to one position.
Mark Reynolds would have been a more versatile option, but he signed with the St. Louis Cardinals. Even if there were better options on the market, convincing an established hitter to play a platoon role isn't easy.
All things considered, having Lucroy play some at first base made the most sense for the Brewers.
"He's played some games there," Melvin said of Lucroy. "If he plays 25 games there, that might be (OK). Robinson Cano had the most at-bats (as a left-handed hitter) against left-handed pitching and that's 210. That's what you have to look at. There are not a lot of left-handed pitchers, especially in our division. There's more right-handed pitching today."
Moving over to first base for a handful of games should only help save some of the wear and tear on Lucroy. It was difficult for manager Ron Roenicke to take the MVP candidate out of the lineup last season, which led to Lucroy catching 136 games, the second-most of any catcher in baseball.
The Brewers will also be able to utilize backup catcher Martin Maldonado more. Recently signed to a two-year contract extension, the 28-year-old defensive stalwart has only started 69 games behind the plate over the last two seasons.
"Maldy is a great catcher, he is," Lucroy said. "He has one of the best arms in the league from behind the plate and he can definitely hold his own back there. I was happy to see him get that contract because there aren't many backup catchers out there that can do what he does."
In the past, Lucroy has been hesitant to play many games at first base because of how hard it is to adapt to and learn a new position on the fly during the season. He's hoping to eliminate any potential problems by getting out in front of the issue during the six weeks of spring training.
Lucroy has played 211 1/3 innings at first base in his career. Over the past two seasons, the 28-year-old has played 33 games and made 25 starts at first base.
"Just the situational stuff," Lucroy said. "Sometimes it is hard to read the ball. You have to really visualize the ball being hit at you to judge if you can go get it or not. I'm not used to seeing that, so it's difficult.
"But basically, it's just getting some reps over there and covering each situation as much as you can to try and be ready for it."
After receiving a historically bad WAR of minus-4.8 out of first base in 2013, Milwaukee was 20th in baseball with a 1.1 WAR at first base last year.
Although Reynolds and Overbay stabilized the position a bit, the Brewers are hoping a combination of Lind and Lucroy will help them receive more production out of what has been a black-hole spot since Prince Fielder left after 2011.   
Lind hit .354 against right-handed pitchers last season but was just 2 for 33 against left-handers in 2014. His career splits are no different, as he is a .293 hitter against righties and a .212 hitter against lefties.
For now, permanently moving Lucroy to first base is not an option. He's still Milwaukee's primary catcher, while Lind is the starting first baseman.
"Even if he's just a platoon guy, he's going to get 500 at-bats," Roenicke said of Lind. "He's going to be our guy. I've seen him in the American League; I saw when he came up, he had a monster year. The guy can really hit.
"First base, I talked to (Blue Jays manager) John Gibbons about him and he said he has good hands. It's just a matter of getting him out there every day, getting him comfortable at that spot and hopefully playing adequate defense for us. We don't expect him to be a Gold Glove winner but if he's got good hands, he should be a good defender."
Follow Andrew Gruman on Twitter
---
---