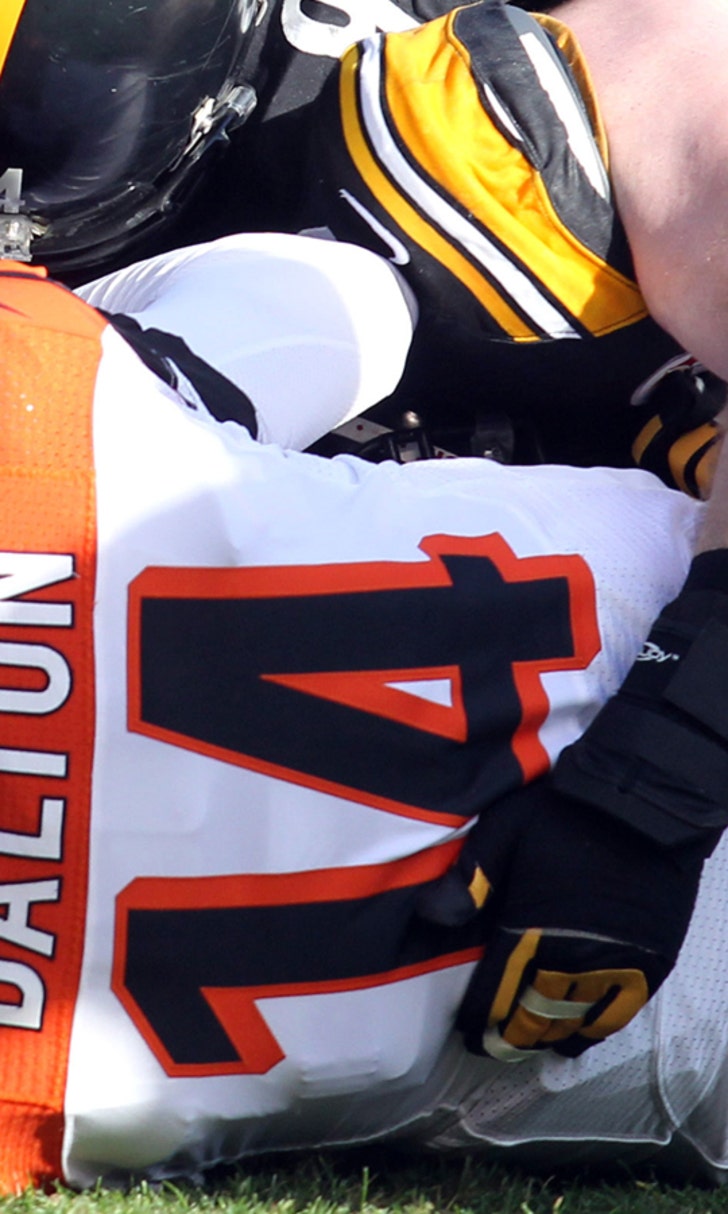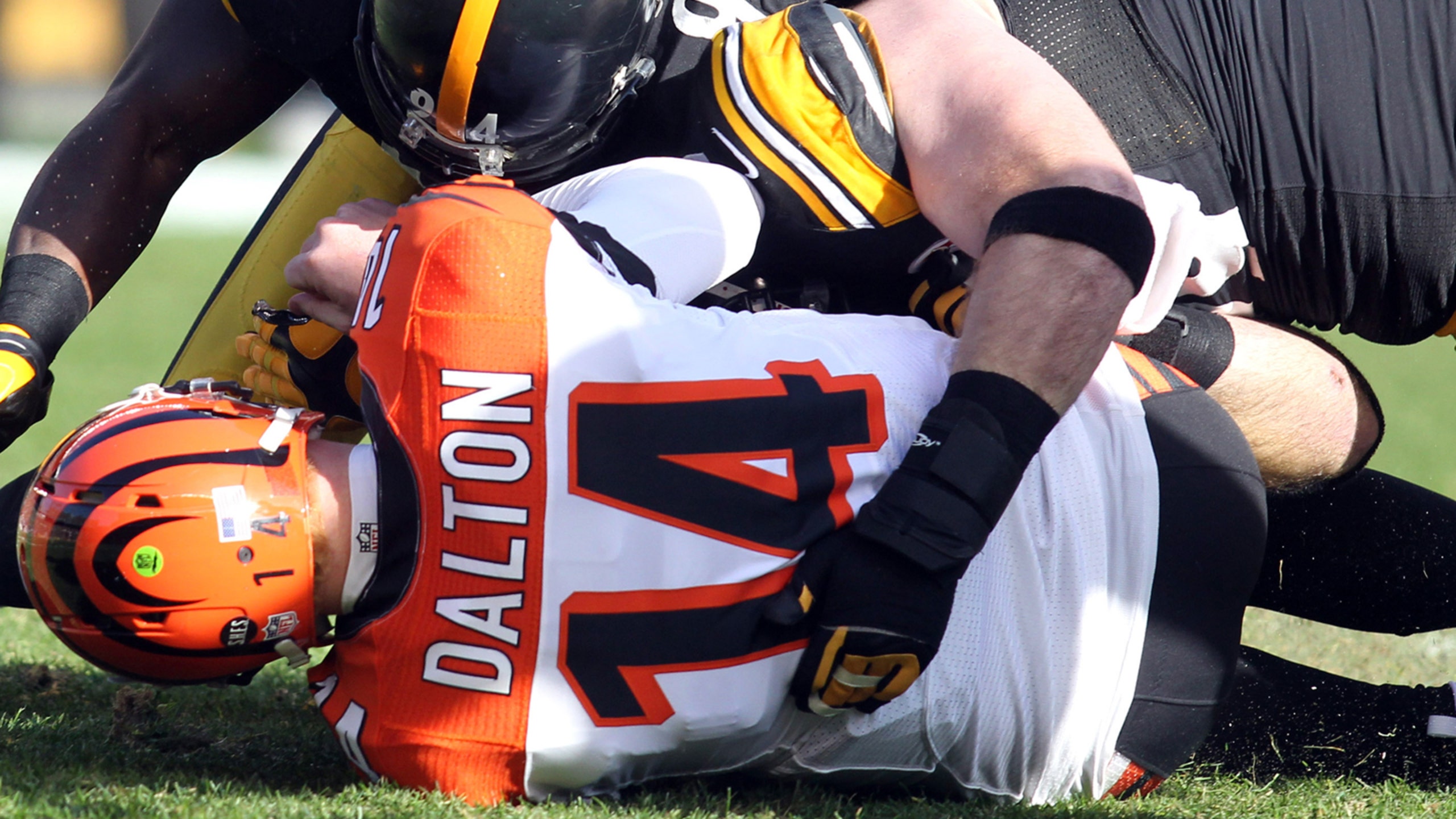 Bengals looking to keep Dalton clean
BY foxsports • October 23, 2014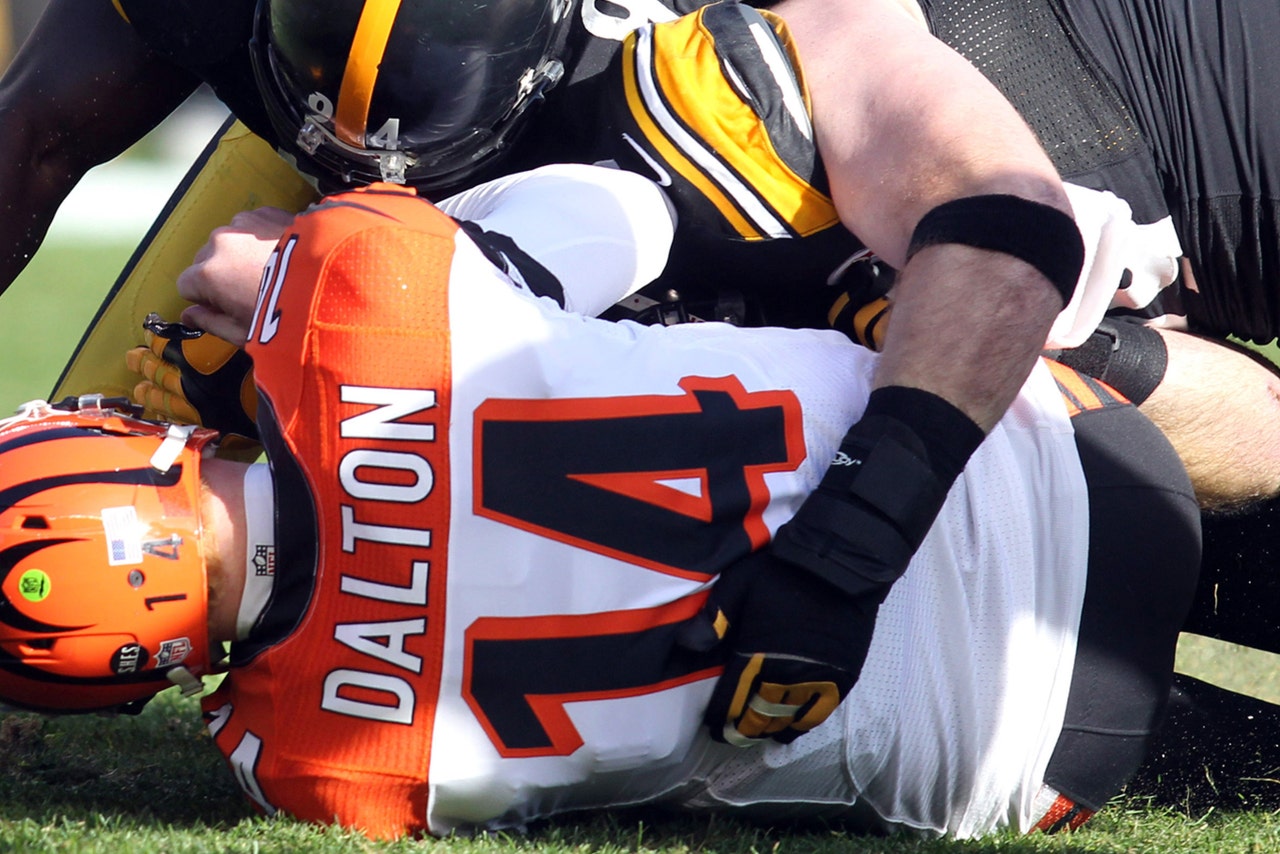 CINCINNATI -- Quarterback Andy Dalton Ravens wasn't sacked the first time the Bengals played Baltimore. If Dalton can be kept clean again this Sunday it would go a long way to the Bengals sweeping their AFC North rivals.
Baltimore's defense has produced 10 sacks in the last two games as the Ravens handily defeated Tampa Bay and Atlanta and improved to 5-2 on the season. Those 10 sacks resulted in 89 yards of negative plays and one safety.
"You've got to find the different looks, see what they're doing and make sure you're good on all your blitz pickups and adjustments and protection responsibilities and things like that," said Dalton. "I think we'll be prepared. I've already watched a bunch of film, making sure we've got our keys on certain looks."
Dalton completed 25 of 38 passes for 301 yards and one touchdown against the Ravens on Sept. 7 in the season opening 23-16 win. It was the first time that he wasn't sacked and didn't throw an interception in seven career games against Baltimore. He's thrown 11 of his 52 career interceptions to Ravens defenders and been sacked 14 times for minus-69 yards.
Elvis Dumervil leads Baltimore with seven sacks and has 80 for his career. Terrell Suggs is just three sacks shy of 100 for his career and just six sack yards shy of 700. Pernell McPhee has had a sack in three straight games. The three outside linebackers have combined for 33 quarterback knockdowns.
"They're very strong and explosive, and they've been playing with the lead, and it makes them hard," said Bengals head coach Marvin Lewis on a conference call with Baltimore media.
The Ravens play a 3-4 defense that's similar to what Indianapolis showed the Bengals last Sunday. The Colts sacked Dalton three times in their 27-0 defeat of the Bengals after Dalton had been sacked just twice in the first five games. Two of the sacks came in the second half after Indianapolis had built a 17-0 lead and the Bengals were put into a pass-first situation. The Bengals were also facing second- and third-and-long situations where the Colts defense could focus on rushing the passer.
"They've been able to stop some of the teams on first and second downs and they get themselves kind of like what Indy did to us last week, get us in third-and-long and where you can really tee-off," said left tackle Andrew Whitworth. "In the league, that's one stat that's never changed; you have a lot of third-and-longs, you're not going to have a very good day. They've been able to do that, so I think it's going to be important for us, again, this time, what we did well last time was first and second down we put ourselves in good position."
Suggs has 7 1/2 career sacks against the Bengals. He and Whitworth have faced off numerous times throughout the years. Suggs has been with the Ravens since being picked No. 10 overall in 2003. The Bengals took Whitworth in the second round of the draft in 2006.
"He's huge. You don't get too many left tackles that big, you can't run around the guy because he's so big and you can't run through him because he's so big," said Suggs of Whitworth. "He's a rare tackle that poses those kinds of problems. Yeah, we had our share of battles, and if you ask me, he's gotten the best of them. We'll just have to see how things shake out on Sunday."
Dumervil is the most constant threat to the quarterback for Baltimore. He's had four games with at least 1 1/2 sacks this season, giving him 26 for this career. That's the third-most of any player in the NFL since 2006 behind only Jared Allen of Chicago (30) and DeMarcus Ware of Denver (29).
The Bengals were able to keep Dumervil and Suggs and the rest of the Ravens off of Dalton the first time around this season. Doing so again on Sunday will be a key to any success.
---
---