Baseball's best clashes with baseball's worst in the City of Brotherly Love
BY foxsports • June 18, 2015
Mike Matheny didn't sound worried that the pending investigation into the St. Louis Cardinals would affect his players, though they certainly haven't played their best over the last few days.
They'll try to avoid matching a season high with a third straight loss Friday night when they visit the Philadelphia Phillies in a matchup between baseball's best and worst clubs.
St. Louis (43-23) had won five straight before falling 3-1 on Wednesday at Minnesota, and lost 2-1 to the Twins on Thursday on Kennys Vargas' walkoff solo shot. The Cardinals had been 34-0 when leading after seven innings but are now in danger of dropping three in a row for the second time this year.
They've totaled five runs while batting .211 in three games since news broke Tuesday regarding a federal investigation into whether the Cardinals illegally hacked into the Houston Astros' player database. The team announced Wednesday it was confident that no high-level executives were involved upon completing an internal review.
"There's going to be extra questions, there's going to be extra attention," Matheny said. "We've got a good group of guys who have been around and had potential distractions that they've stayed the course. And that's all we're asking them to do."
Philadelphia (23-45) snapped a nine-game skid in a 2-1 win over Baltimore on Thursday, getting a two-run homer by Ryan Howard. The Phillies still have just 20 runs over their last 10 games, though Howard is a .351 career hitter against the Cardinals with 20 home runs and 61 RBIs in 61 matchups.
"It feels good to get off a losing streak," said Jonathan Papelbon, who recorded his 13th save in as many chances. "It's tough losing. Nobody wants to lose. Nobody likes losing. We do anything we can to prepare to win a game, but things haven't been going our way."
Cole Hamels will miss this scheduled start because of a mild hamstring strain. Expected to be one of the hottest commodities at the trade deadline, the Phillies are hopeful the injury won't be serious enough to affect his value in the eyes of other teams.
Phillippe Aumont will be recalled from Triple-A Lehigh Valley to make his first major league start in Hamels' place. Aumont is 3-4 with a 2.35 ERA in 14 minor league games this year, including 10 starts. He struck out a season-high nine over 5 2-3 scoreless innings Sunday against Norfolk.
Aumont is 1-5 with a 6.13 ERA in 45 big-league relief appearances and struggled in five games last year, giving up 12 runs in 5 2-3 innings.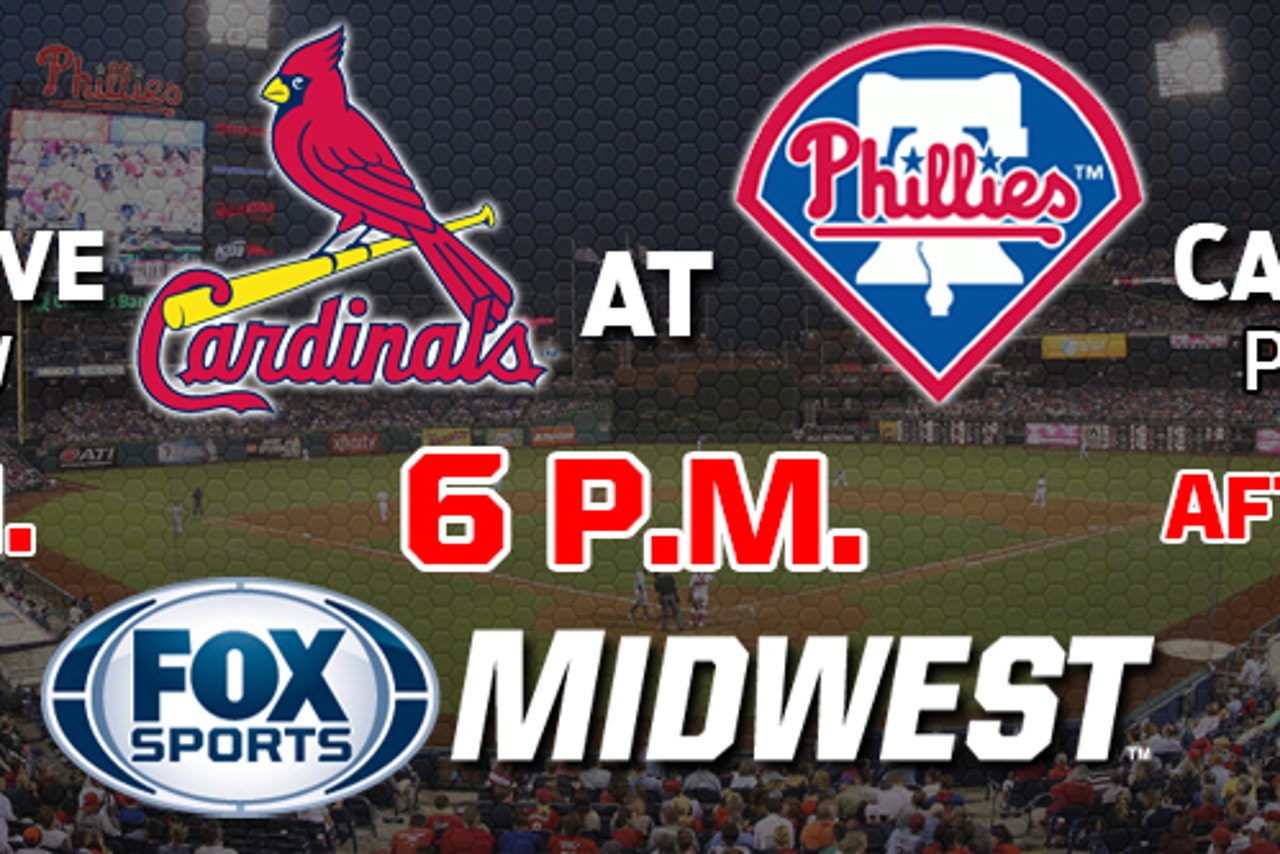 Starting for the Cardinals will be Tyler Lyons (1-0, 5.00 ERA), who recorded his first win in 14 starts going back to 2013 on Saturday. He gave up two runs - both on homers - over five innings of a 3-2 victory versus Kansas City in his return to St. Louis after another stint in the minors. The left-hander posted a 5.54 ERA in three starts last month in his first turn up from Triple-A Memphis, but has another chance to impress Matheny and company as he fills in for the injured Lance Lynn.
"I don't think he was overthinking things here today," Matheny told MLB's official website. "I think it's frustrated him in the past when he starts almost doubting himself when he gets into the big situations, and today it just looked like he was able to shut it out and continue to make pitches. It was impressive. He did a real nice job."
Howard is 7 for 47 with 18 strikeouts off lefties.
The Phillies lost three of four at St. Louis from April 27-30, giving up 26 runs. The Cardinals, though, have averaged 2.6 runs in their last 11 games.
---
---