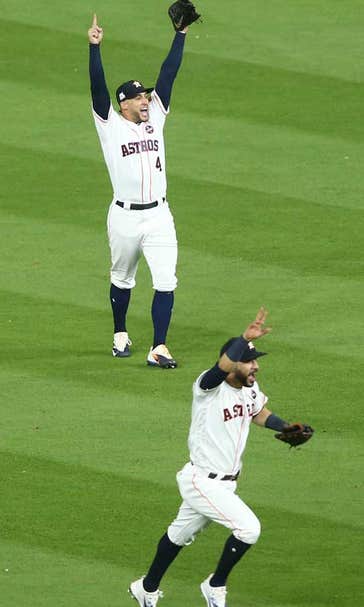 Astros shutout Yankees 4-0, advance to World Series
October 22, 2017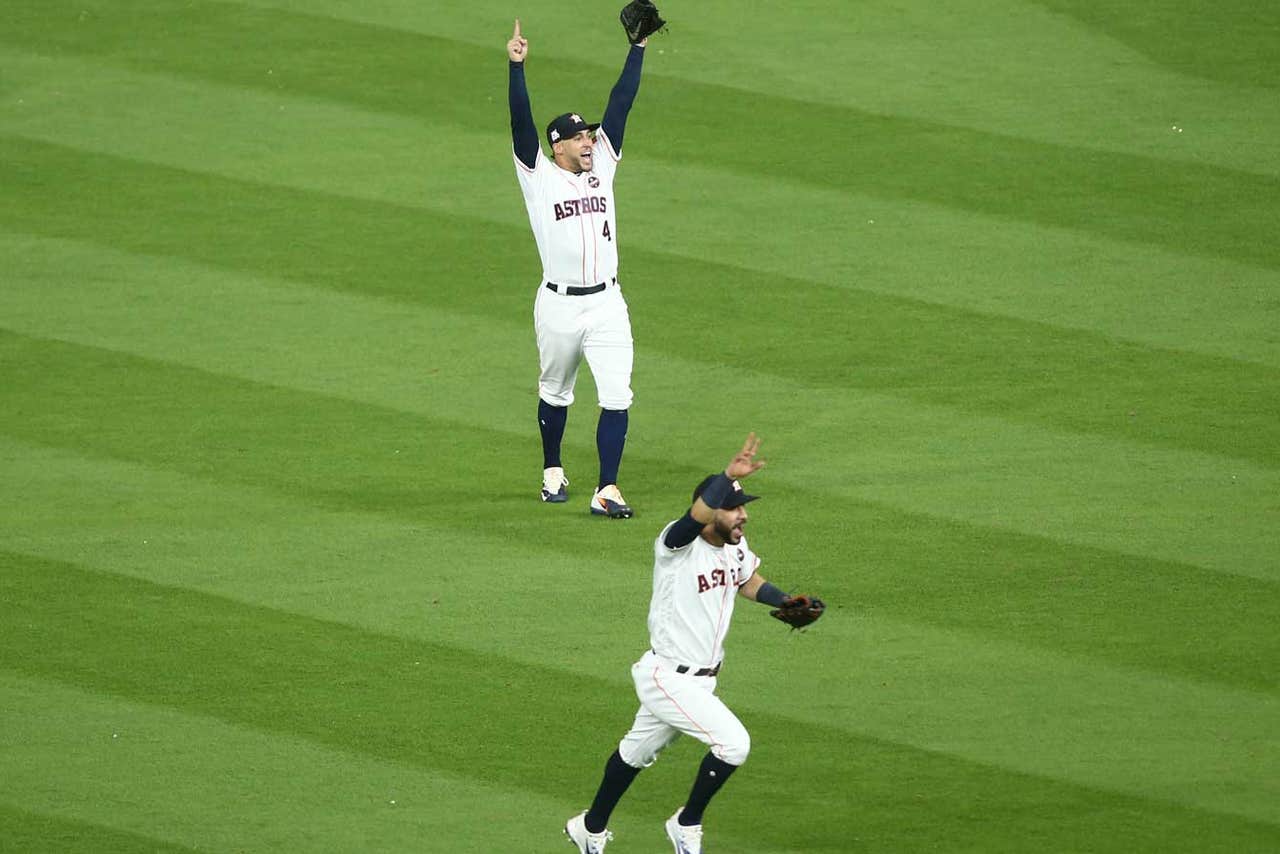 HOUSTON (AP) -- Jose Altuve embraced Justin Verlander as confetti rained down. An improbable thought just a few years ago, the Houston Astros are headed to the World Series.

Charlie Morton and Lance McCullers Jr. combined on a three-hitter, Altuve and Evan Gattis homered and the Astros reached the World Series for only the second time by blanking the New York Yankees 4-0 Saturday night in Game 7 of the AL Championship Series.

Next up for the Astros: Game 1 against the Los Angeles Dodgers on Tuesday night. Los Angeles opened as a narrow favorite, but Verlander, the ALCS MVP , and fellow Houston ace Dallas Keuchel will have plenty of rest before the World Series begins at sweltering Dodger Stadium.




"I love our personality," Astros manager A.J. Hinch said. "We have the right amount of fun, the right amount of seriousness, the right amount of perspective when we need it. This is a very, very unique group. To win 100 games and still be hungry is pretty remarkable."

The Astros will try for their first World Series title, thanks in large part to Altuve , the diminutive second baseman who swings a potent bat, and Verlander, who switched teams for the first time in his career to chase a ring.

Four years removed from their third straight 100-loss season in 2013, the Astros shut down the Yankees on consecutive nights after dropping three in a row in the Bronx.

The only previous time the Astros made it this far, they were a National League team when they were swept by the Chicago White Sox in 2005.

Hinch's club has a chance to win that elusive first crown, while trying to boost a region still recovering from Hurricane Harvey.

"This city, they deserve this," McCullers said.




Clutch defensive plays by third baseman Alex Bregman and center fielder George Springer helped Houston improve to 6-0 at Minute Maid Park in these playoffs and become the fifth team in major league history to capture a seven-game postseason series by winning all four of its home games.

Morton bounced back from a loss in Game 3 to allow two hits over five scoreless innings. Starter-turned-postseason reliever McCullers limited the Yankees to just one hit while fanning six over the next four. A noted curveballer, McCullers finished up with 24 straight breaking pitches to earn his first major league save.

Combined, they throttled the wild-card Yankees one last time in Houston. Aaron Judge, Gary Sanchez and their New York teammates totaled just three runs in the four road games.

"I know people are going to talk about how we didn't win many games on the road. There were some other teams that haven't won many games on the road, either. We just happened to run into a very good team that just beat us," Yankees manager Joe Girardi said.

The Astros also eliminated New York in the 2015 postseason, with Keuchel winning the AL wild-card game at Yankee Stadium.

CC Sabathia entered 10-0 with a 1.69 ERA in 13 starts this season after a Yankees loss. But he struggled with command and was gone with one out in the fourth inning.

Houston was up 2-0 in fifth when former Yankees star Brian McCann came through for the second straight game by hitting a two-run double. He snapped an 0-for-20 skid with an RBI double to give Houston its first run on Friday night in a 7-1 win.

The Yankees, trying to reach the World Series for the first time since 2009, lost an elimination game for the first time this season after winning their first four in these playoffs. New York went 1-6 on the road this postseason.

After going 0 for 5 with runners in scoring position through the first three innings, the Astros got on the board with no outs in the fourth with the 405-foot shot by Gattis.

Altuve launched a ball off Tommy Kahnle into the seats in right field with one out in the fifth for his fifth homer this postseason. It took a while for him to see that it was going to get out, and held onto his bat until he was halfway to first base before flipping it and trotting around the bases as chants of "MVP" rained down on him.

Altuve finished 8 for 25 with two homers and four RBIs in the ALCS after hitting .533 with three homers and four RBIs in the ALDS against Boston.

Carlos Correa and Yuli Gurriel hit consecutive singles before Kahnle struck out Gattis. McCann's two-strike double, which rolled into the corner of right field, cleared the bases to push the lead to 4-0. Gurriel slid to avoid the tag and remained on his belly in a swimming pose at the plate for a few seconds after he was called safe.

It was just the second Game 7 in franchise history for the Astros, who lost to the Cardinals in the 2004 NLCS exactly 13 years earlier.

Sabathia allowed five hits and one run while walking three in 3 1/3 innings. He wasn't nearly as sharp as he was in a Game 3 win and just 36 of the 65 pitches he threw were strikes.

Morton got into trouble in the fifth, and the Yankees had runners at the corners with one out. Bregman fielded a grounder hit by Todd Frazier and made a perfect throw home to allow McCann to tag Greg Bird and preserve Houston's lead. McCann held onto the ball despite Bird's cleat banging into his forearm. Chase Headley grounded out after that to end the inning.

A night after Springer kept Frazier from extra-bases with a leaping catch, Judge returned the favor on a ball hit by Yuli Gurriel. Judge sprinted, jumped and reached into the stands to grab his long fly ball before crashing into the wall and falling to the ground for the first out of the second inning.

Springer had another nifty catch in this one, jumping in front of Marwin Gonzalez at the wall in left-center to grab a ball hit by Bird for the first out of the seventh.

With McCullers in charge, the Astros soon closed it out.

"It's not easy to get here. And I don't take any of this for granted. And this is what we play for," Verlander said. "These are the experiences that you remember at the end of your career when you look back, winning these games, just playing the World Series. Hopefully winning the World Series."a
---
---