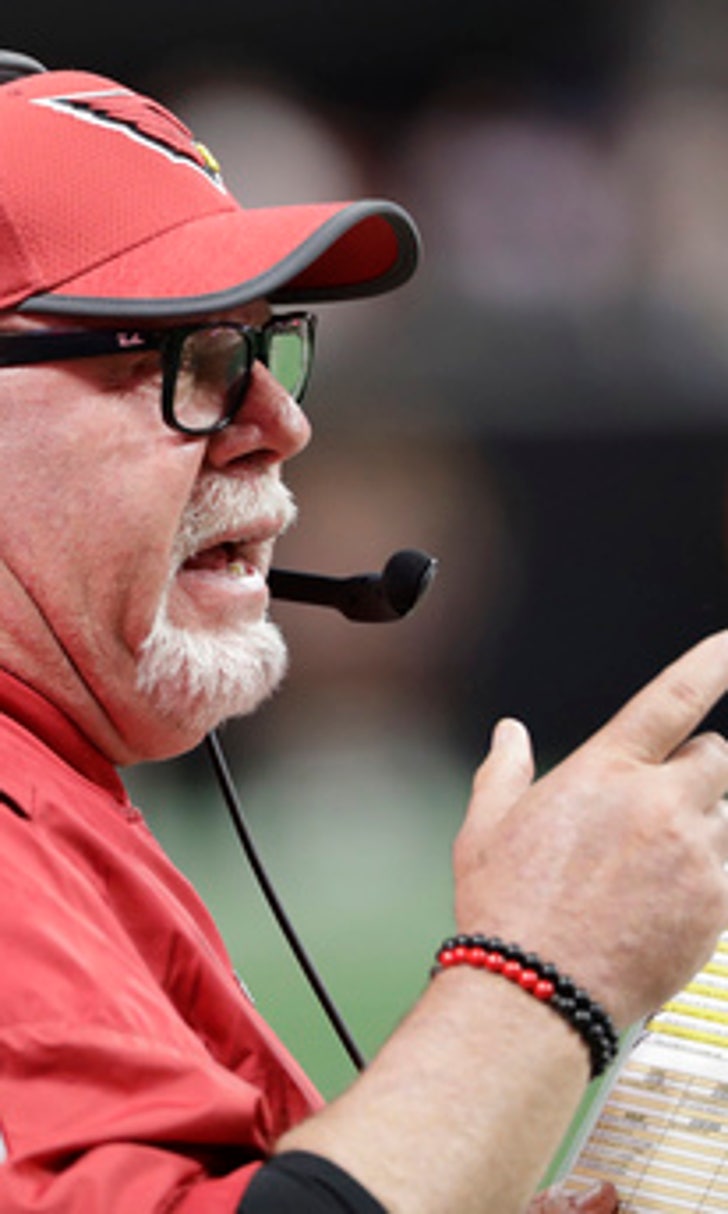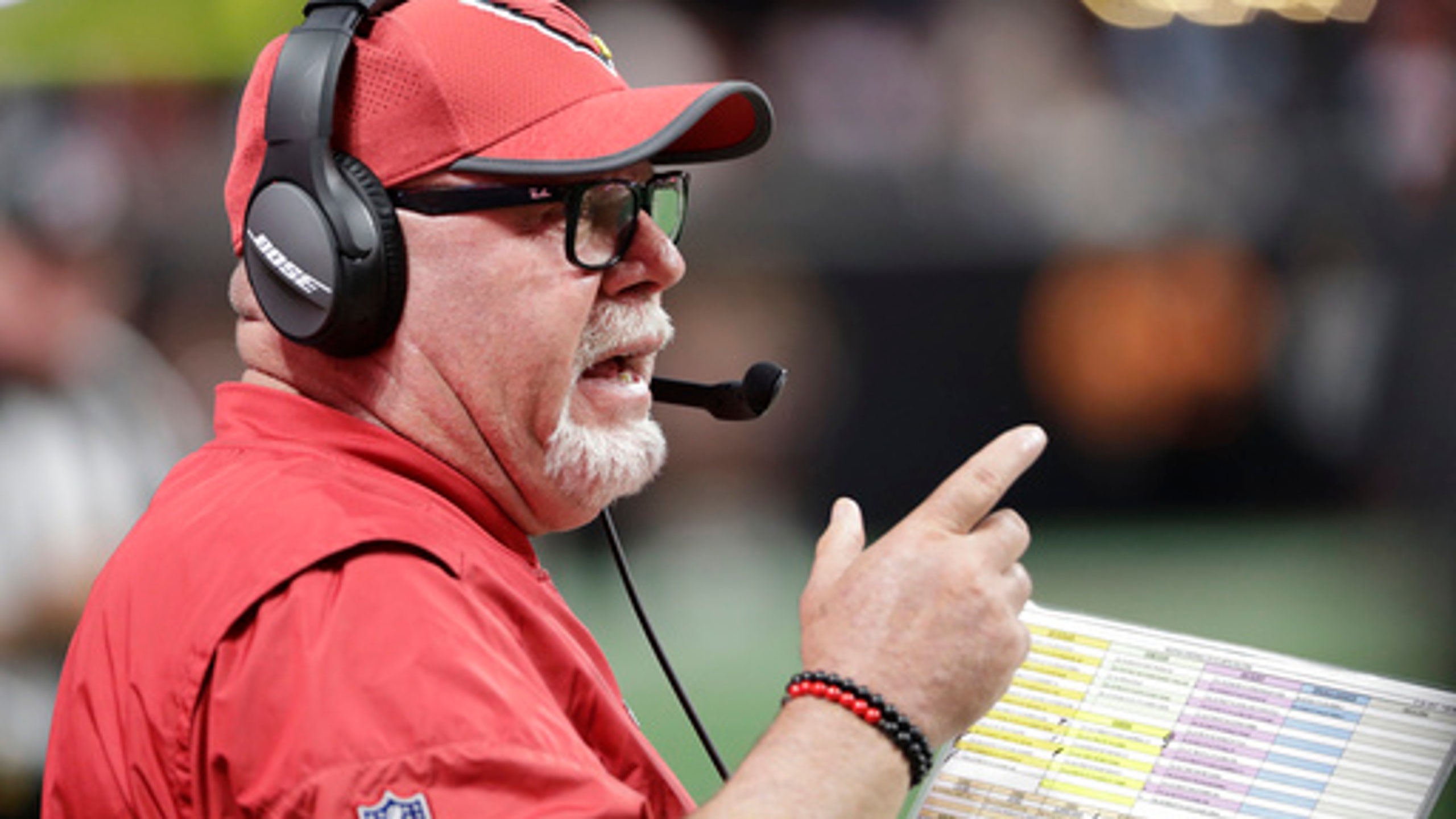 Arians returns to Indy: 'I've always had a great spot in my heart for that blue horseshoe'
September 14, 2017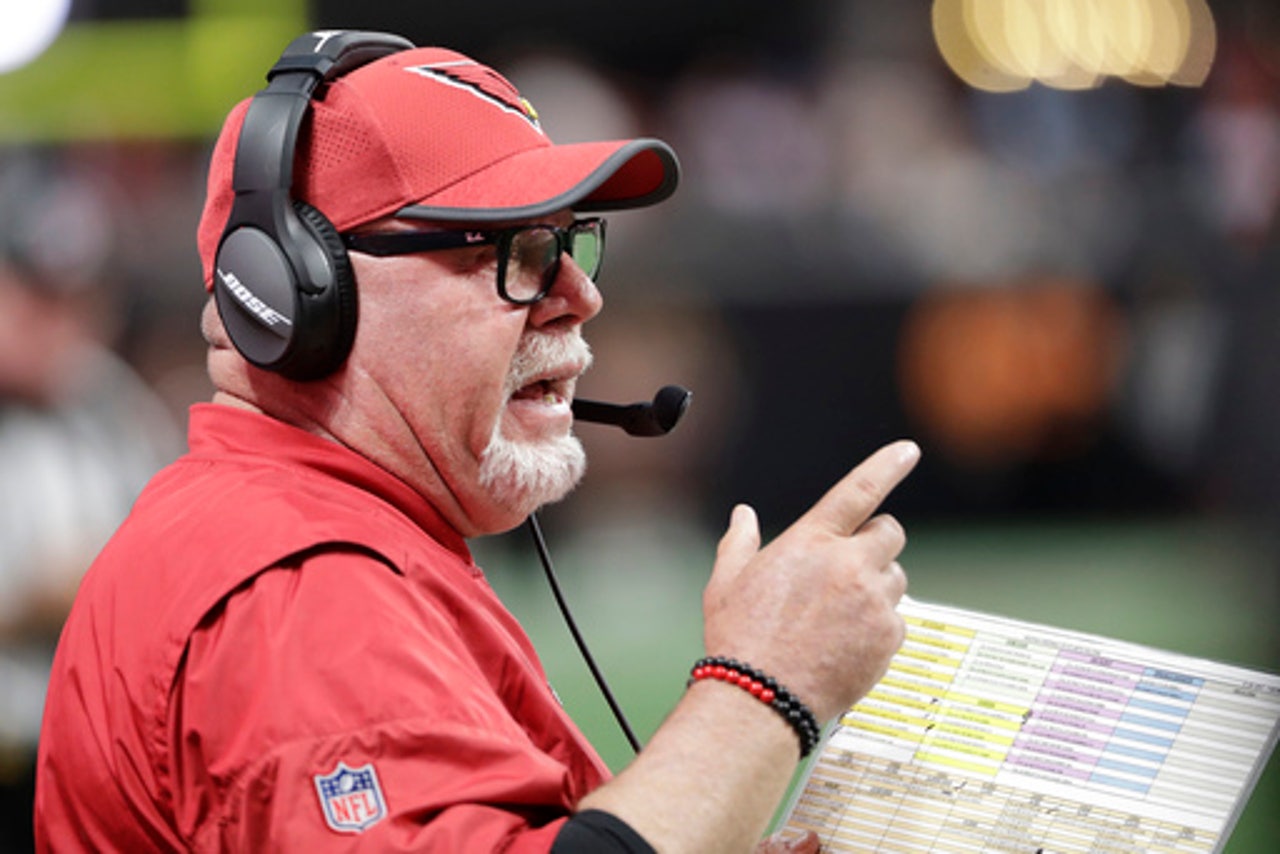 INDIANAPOLIS -- In early 2012, Bruce Arians was out of a job and thought he was out of football.

One phone call got him back in the game.

Chuck Pagano, the newly hired Indianapolis Colts coach, asked his old friend if he would come back to Indy and help rebuild the franchise around a new, young quarterback. Arians never imagined it would be like this.

At the time, Arians wasn't sure if he'd be working with Robert Griffin III or Andrew Luck, never anticipated filling in when Pagano was diagnosed with leukemia and never imagined an interim head coaching job would make him one of the hottest commodities on the market.

On Sunday, Arians will cap one of the league's most amazing and inspiring tales by returning to the Lucas Oil Stadium sideline for the first time since taking the Arizona Cardinals job after that season.

"It'll be different than going to the (scouting) combine," Arians said Wednesday. "The place will be packed, and I've always had a great spot in my heart for that blue horseshoe. I grew up loving Johnny Unitas, so it's always emotional playing them whether I was a Steeler or whoever."

It's the memories that will really tug at Arians' heartstrings.

Here, on Oct. 7, 2012, the orange-gloved Reggie Wayne almost single-handedly rallied the Colts from a 21-3 halftime deficit to defeat Green Bay 30-27 in the first game Pagano missed.

Here, on Dec. 23, 2012, the team that was supposed to be the NFL's worst clinched a playoff spot with a 20-13 victory over Kansas City.

Here, on Dec. 30, 2012, Arians turned the team back over to Pagano for a 28-16 victory over Houston. The win in Pagano's first game back completed one of the league's greatest single-season turnarounds from 2-14 to 11-5.

Not long after that, Arians was rewarded with the first of two NFL Coach of the Year awards.

But those three moments can't compare to the one few saw. When Arians, a prostate cancer survivor was told Pagano was ill, he turned the light on in Pagano's office and kept it on.

"Turning that light off on Christmas Day, or Christmas Eve I think it was," Arians said, describing favorite memory from that season. "Turning that light off and Chuck was back in the office."

Time and distance have not changed the friendship.



They still talk and text and sometime in the near future may even trade similar stories about this season.

Both are coming off lackluster, non-playoff seasons, both are dealing with injuries to star players and both can get their teams going with a milestone win.

A win Sunday would allow Arians to tie Don Coryell (42) for No. 2 on the franchise's career list. Pagano's next win will be No. 50.

It won't be easy.

"He's a damn good football coach and knows the game inside and out," Pagano said. "Great communicator, great teacher. He's tough, he's hard-nosed and he's a great play-caller. He builds relationships with guys and is a great motivator to get guys to play hard."

And oddly, it's possible neither would be coaching Sunday without the other's help.

"I'd have a hell of a lot better golf game, but I'd be at the lake retired," Arians said, reflecting on where he'd be if Pagano hadn't called. "I don't think my wife would have let me (coach). She loved Indy, so it was easy."

Here are some things to watch:

QUARTERBACK QUANDARY: The Colts could use Arians' quarterback mentoring skills right now. Luck (shoulder) remains out, Scott Tolzien struggled badly in an embarrassing Week 1 loss to the Los Angeles Rams and fans have spent the week clamoring for newly acquired Jacoby Brissett to start. Pagano has been contemplating a change, but his decision probably will be a game-time one.

PALMER ON REBOUND: Arizona quarterback Carson Palmer had one of the worst games of his career in the season opener, going 27 of 48 passes for 269 yards with a touchdown and three interceptions. Arians said of all the quarterbacks he's been around, Palmer is the best at bouncing back. Palmer insists it comes from experience. "Just get up and come back firing," he said.

BACKS APLENTY: With the loss of a quality running back such as David Johnson (wrist), the Cardinals are opting for quantity. Arizona re-signed Chris Johnson and former Arizona State standout D.J. Foster from the New England practice squad. That gives Arizona five running backs on its 53-man roster, four of whom will likely be active. Kerwynn Williams will make his first career start. Andre Ellington will get some snaps and will play on third downs. Expect Chris Johnson to get carries, too.

OLD GUYS ON THE BLOCK: Colts kicker Adam Vinatieri and Cardinals kicker Phil Dawson have been two of the best in the NFL for a long time. The former teammates in New England also have something else in common: They are the league's only active players still around from the 1990s.
---
---