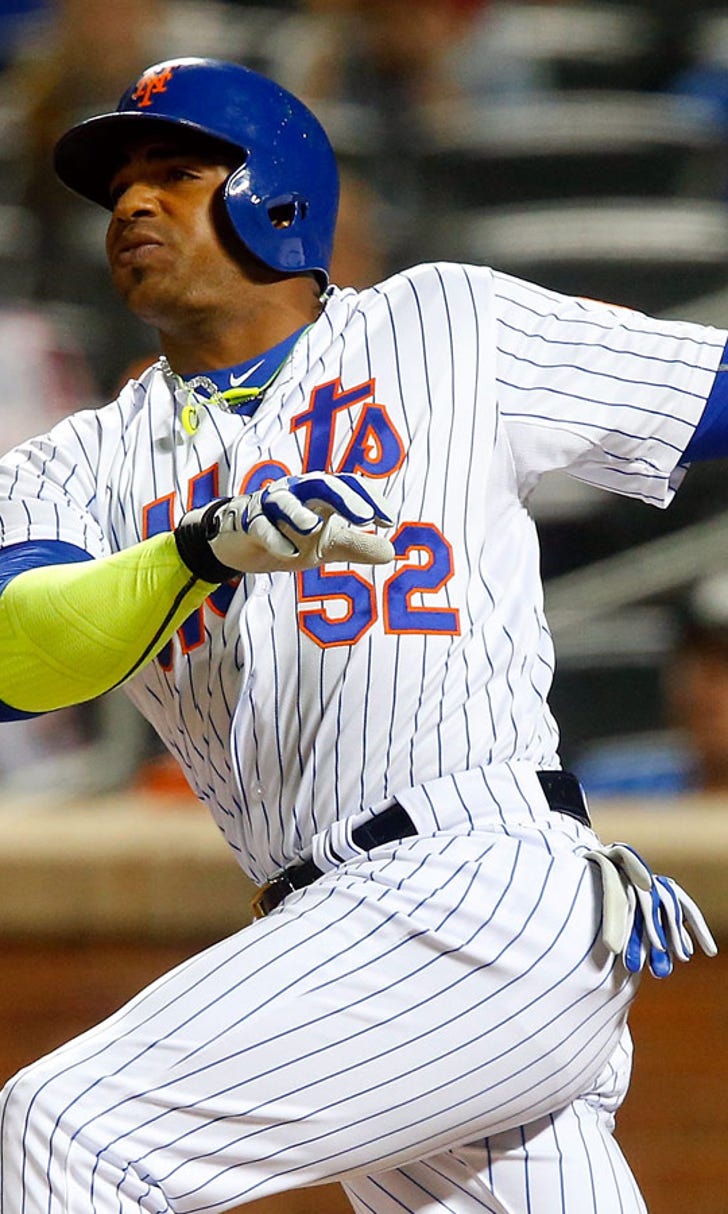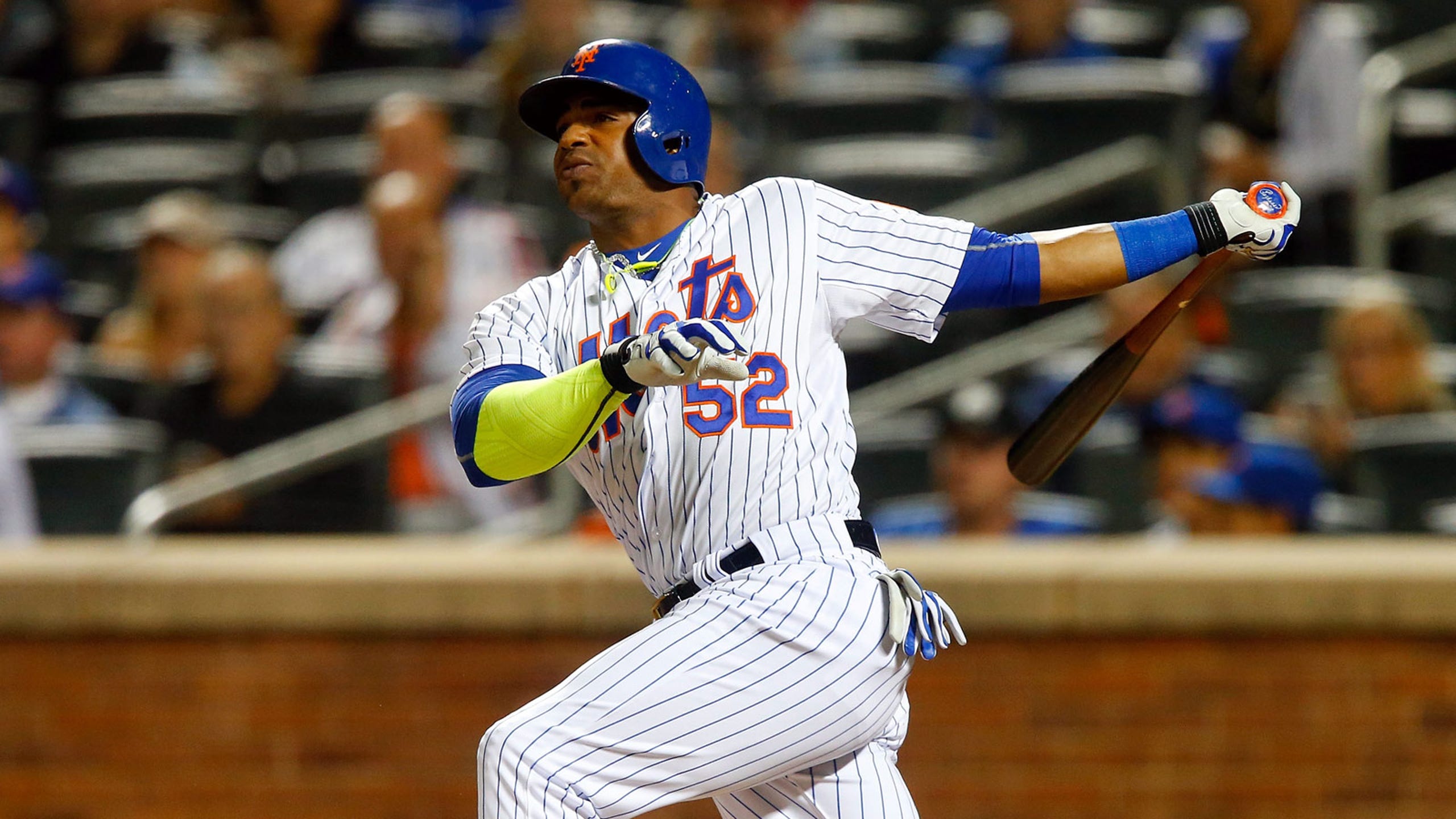 2016 Fantasy Baseball Draft Prep: "Did you know...?" NL facts
BY foxsports • February 1, 2016
Over the next two months, fantasy pundits - present company included - will share dozens of fantasy baseball draft predictions and projections. Tea leaves will be read, magic eight balls shook and coins flipped. Not to worry, if the lines of baseball stats and information are published, the space between will be analyzed.
To help you prepare for your 2016 fantasy baseball draft, here are MLB player and team facts from the 2015 season.
Also Read: American League MLB and fantasy baseball team and player facts
New York Mets
-          If you include Zack Wheeler (Tommy John – expected mid-2016), the average age of Mets' starting pitchers is 25.7 years old. Current SP5, Bartolo Colon, is 42.
-          As a team, the Mets 51 stolen bases were second fewest in MLB in 2015 (44 – Orioles). Curtis Granderson stole 11 to lead the team.
-          Travis d'Arnaud spent most of the season on the DL (broken finger / hyperextended elbow). However, playing all of August / September, he ranked sixth in home runs by catchers (8) and doubles (11) in addition to 10th in RBI (24) after the All-Star break. Whispers of a 2016 catcher platoon d'Arnaud / Kevin Plawecki have swirled around the Mets clubhouse, too.
-          David Wright has averaged 108 games played per season since 2011. Career .298 hitter.
-          In 348 AB, Lucas Duda hit 20 of his 27 homers against RHP, but only hit .230 vs. RHP overall (.358 OBP).
Washington Nationals
-          Free agent second baseman Ian Desmond's splits 2012-2014 compared to 2015 production:
-          Bryce Harper's 9.5 WAR for 2015 is fourth-best for a single season since 2005 (Trout 2x, 2007 Alex Rodriguez)
-          New leadoff hitter Ben Revere – acquired in trade with Blue Jays – has averaged 35 SB per season since 2011. This includes only playing in 88 games during the 2013 season, yet stealing 22 bags.
-          In case you forgot about Anthony Rendon …
-          Stephen Strasburg 6-2 with 1.90 ERA, 0.75 WHIP and 12.48 K/9 rate in second half of 2015 season. The K/9 rate was best in big leagues post-All-Star break (min. 60 IP)
Miami Marlins
-          Friendly reminder about converted first baseman-turn-catcher, J.T. Realmuto. He stole eight bases in 126 games in 2015, but based on minor league production, has potential to hit 12-15 HR along with 15 SB in 2016. For in-depth notes on Realmuto, read this FanGraphs feature.
-          Was Dee Gordon's 2015 lucky? His .383 single season BABIP compared to .346 career BABIP suggest some, but not significant regression and ranks second in our pre-draft second base rankings.
-          Christian Yelich, 24, hit .342 after the All-Star break last season
-          Justin Bour owned the 11th-highest K% among first basemen (22.6 percent). The 13th-highest was owned by Paul Goldschmidt.
-          A.J. Ramos converted 32 of 38 save opportunities and was one of seven closers with 30+ saves and a K/9 rate of 11.00 or better.
Philadelphia Phillies
-          DFS Fact: Cesar Hernandez was often a bargain! Finished .272 / .339 / .348
-          Ryan Howard made $25-million in 2015. He hit .229 with a .277 OBP. His 23 homers ranked 14th among fantasy first basemen.
-          Aaron Nola, 22, finished 6-2 with a 7.88 K/9 and 3.59 ERA (3.58 xFIP) in 13 starts in the second half of 2015.
-          Good chance we see several Phillies' prospects in 2016. Keep tabs on Roman Quinn and his stolen base totals. Stole 29 bases in 58 games (AA) last season. Injuries have slowed his minor league development.
-          Closer role still undefined despite David Hernandez, 30, penciled in for now.
Atlanta Braves
-          Braves ranked dead last in runs scored (573). That was 40 fewer runs scored than the 29th ranked Marlins.
-          Despite the 67-95 record, Braves relief pitchers finished with 44 saves – 13th in MLB. Manager Fredi Gonzalez said Jason Grilli, not Arodys Vizcaino, will get first crack at his old gig this season.
-          Due to a good problem of outfielder depth, former Diamondbacks speedster Ender Inciarte will now lead off for the Braves. He stole 21 bases in 132 games and carried a 10.3 K% – seventh-lowest in MLB (min. 560 PA)
-          In one of the worst deals in recent history, the Dodgers signed, then 29-year-old third baseman, Hector Olivera to a six-year, $62.5-million deal. They ate the $28-millioin signing bonus (plus part of his salary) before trading him to the Braves. He turns 31 on April 5. Don't expect much.
-          Pitching prospect Aaron Blair (acquired via trade with Diamondbacks) has seen his K/9 rate dipped nearly four strikeouts per nine as he was promoted from High-A ball to AAA between 2014 and 2015. He posted a 6.55 K/9 in 12 AAA starts last season.
Chicago Cubs
-          I'm a fan of Kyle Schwarber and the power he brings to the table, but to bring him down to Earth, his 67.8 contact percentage in 2015 ranked 36th out of 37 catchers with a minimum of 270 plate appearances last season. His strikeout rate – 28.2 percent – was fourth-highest among catchers.
-          I'm a fan of Kris Bryant and the power he brings to the table. He struck out 98 times after the All-Star break – tied for second-most in MLB.
-          Anthony Rizzo stole 17 bases in 2015. At no point before last season, in his Major/Minor league career, had he swiped more than seven bases in a season.
-          Jake Arrieta's K/9 rate has jumped two strikeouts (9.28 in 2015) and has shaved two runs off his ERA (2.61 xFIP in 2015) since 2013.
-          Hector Rodon converted 30 of 34 saves in 2015
Pittsburgh Pirates
-          Gregory Polanco hit .190 vs. LHP last season. His batting average jumped 40 points after the All-Star break. So, he finished with a strong kick.
-          Alen Hanson could start season with Pirates with Jung-Ho Kang still rehabbing. Hanson stole 35 bases in 117 AAA games last season.
-          Catcher Francisco Cervelli finished third in hits and second in OBP among catchers last season.
-          Jon Niese, Ryan Vogelsong and Jeff Locke are the tentative back end of the rotation #trending:
-          Prospect Josh Bell hit .347 in 35 AAA games. Pirates are notorious for being patient with minor league development. However, their current options at first base are John Jaso and Michael Morse.
St. Louis Cardinals
-          Stephen Piscotty's post-All-Star break production raised some eyebrows .305 BA / 39 RBI / 29 R / 7 HR / 2 SB
-          Randall Grichuk "grips and rips" as he smacked 17 homers in 103 games, but also owned a 31.4 percent K-rate
-          Matt Carpenter finished top seven in runs, home runs and RBI among third basemen in 2015
-          Trevor Rosenthal has converted 93 of 102 save opportunities over the last two seasons
-          Based on projected lineups and loss of Jason Heyward, Cardinals top speed option is Kolten Wong. He stole 15 bases in 150 games last season.
Cincinnati Reds
-          Billy Hamilton stole 57 bases in 2015. Imagine if he improved upon his .274 OBP
-          Relatively healthy Devin Mesoraco from 2014 reminder …
-          Raisel Iglesias posted a 9.82 K/9 with a 3.28 xFIP compared to 4.15 ERA in 2015, which makes him an intriguing option for 2016
-          If Brandon Phillips is moved, keep tabs on Jose Peraza. He stole 64 bases in 2013 (Single A), 60 bases in 2014 (High-A, Double-A) and 33 stolen bases in 2015.
-          Anthony DeSclafani was a little unlucky in 2015. He picked up 17 quality starts, but only "earned" nine wins in 31 starts.
Milwaukee Brewers
-          Ryan Braun is behind schedule following back surgery
-          Chris Carter's 2013, 2014 and 2015 strikeout rates – all above 31 percent – all rank inside the top 10 highest during the three-year stretch. He's averaged 30 HR during the same stretch.
-          Brewers in rebuild, youth movement mode should force owners to pay attention to shortstop following Jean Segura-to-Diamondbacks trade. Jonathan Villar and prospect Orlando Arcia share similar talents in terms of stolen base potential, but Villar strikes out more than 20 percent of the time. This could lead to seeing Arcia sooner rather than later.
-          Jonathan Lucroy may get traded, he may not, but remember when healthy, he's a top catcher option:
-          Khris Davis hit 21 homers after the 2015 break, but only managed a .249 BA and .317 OBP
Los Angeles Dodgers
-          Joc Pederson hit .258 with 13 HR in April and May of 2015, but only hit .186 with 13 homers June – October.
-          You kind of know what you're going to get out of Adrian Gonzalez:
-          I admit I'm a Yasiel Puig fan and, at times, apologist, but Dave Roberts said he's getting a fresh start. Hopefully, with the clean slate comes at least 140 games played. He can hit .285 with 20 HR and 15-20 SB at full blast.
-          Scott Kazmir sneaky good last three seasons with a 32-29 record. Just let it be known, his pre-All-Star ERA is 3.04 compared to 4.21 after the break. Sell high candidate?
-          Kenley Jansen's K/9 rate is consistently above 13.00. Not fair.
Arizona Diamondbacks
-          A.J. Pollock's 5 x 5 in 2015 was incredible with a .315 BA / 20 HR / 76 RBI / 111 R / 20 SB
-          Don't forget about Patrick Corbin as a starting pitcher option. He missed all of 2014 and started 2015 late, but was 14-8 with 7.69 K/9 rate and 3.48 xFIP in 32 starts in 2013.
-          Shelby Miller's 2015 ERA was 3.02. His xFIP was 4.07. Tread lightly.
-          Jean Segura has averaged 30 SB over the past three season, but only 23 SB over the past two.
-          Zack Greinke is 6-2 with a 3.34 ERA in 10 starts at Chase Field
San Diego Padres
-          Tyson Ross' 9.73 K/9 rate ranked eighth in MLB last season
-          James Shields K/9 rate jumped more than two strikeouts per nine innings pitched – 9.61
-          If Fernando Rodney does indeed close, know that his 2015 K/9 rate was the lowest since 2011 and his ERA the highest since 2008.
Colorado Rockies
-          Nolan Arenado hit 20 HR at Coors Field and 22 HR away from Coors Field last season
-          Charlie Blackmon averaged 18 HR and 35 SB the last two seasons.
-          DJ LaMahieu's 23 SB finished tied for third among second basemen last season behind Dee Gordon, Jose Altuve and tied with Brandon Phillips. Brandon Phillips?!?!
-          Mark Reynolds is on the Rockies' bench for now. Reynolds + Coors + Pinch Hitting / Platoon? DFS value?
-          After a hot summer at the plate, Gerardo Parra hit just .239 and .178 in August and September, respectively.
San Francisco Giants
-          Nori Aoki led the Giants in stolen bases in 2015 with 14. They signed Denard Span who only played in 61 games in 2015 (hip). In previous two "full" seasons, Span averaged 25 SB per season.
-          Brandon Crawford's 21 dingers ranked only behind Carlos Correa in home runs by a shortstop. Granted, Correa hit his 22 HR in 120 fewer at bats.
-          Johnny Cueto pre-All-Star break ERA was 2.73 and after 4.34.
-          John Halpin believes Jeff Samardzija is a fantasy baseball bounce back candidate.
Also Read: American League MLB and fantasy baseball team and player facts
---
---