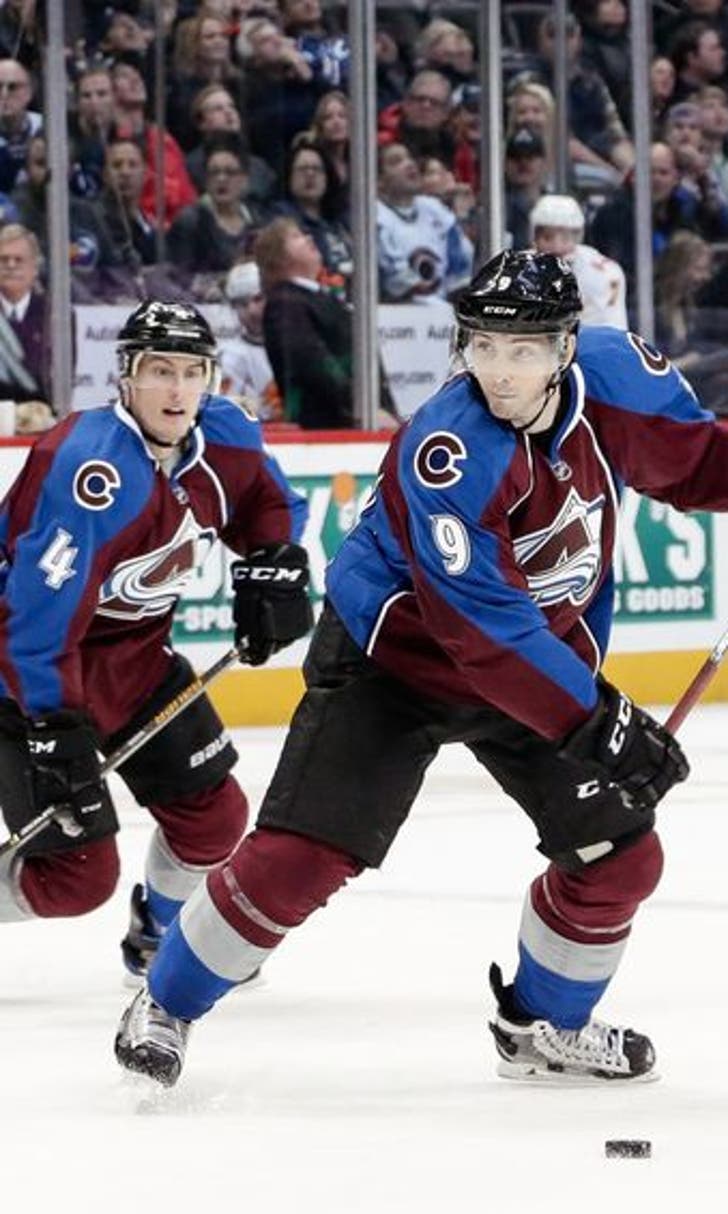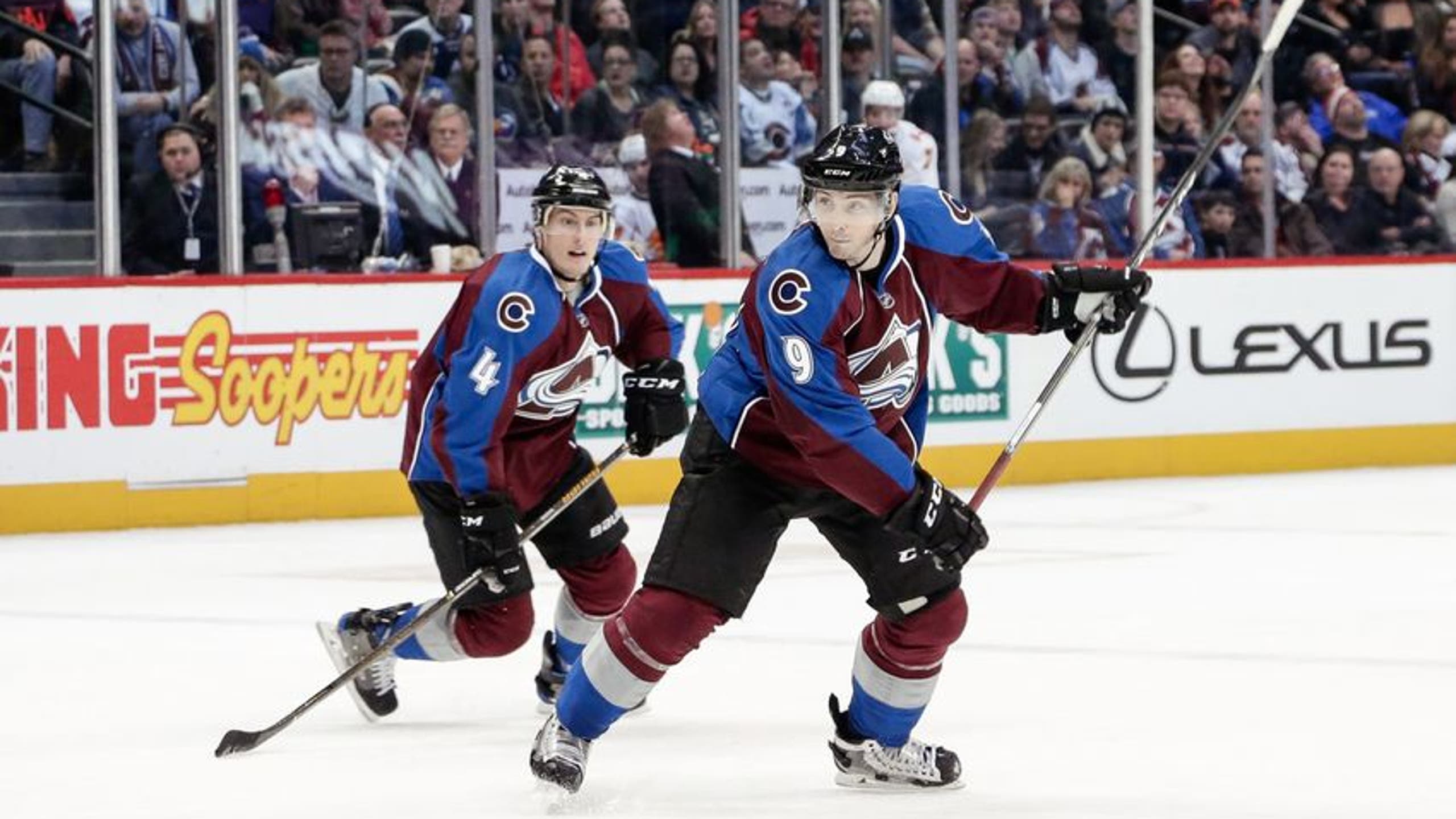 NHL Trade Rumors: Colorado Avalanche Need to Re-Tool
BY Fansided and Ryan Ritchie/FanSided via Puck Prose • January 3, 2017
NHL Trade Rumors: Colorado Avalanche goalie Semyon Varlamov (1) watches a shot go wide in the first period against the Toronto Maple Leafs at the Pepsi Center. The Maple Leafs won 6-0. Mandatory Credit: Isaiah J. Downing-USA TODAY Sports
NHL Trade Rumors: The Colorado Avalanche are a mess right now and need to shake up their roster. They've got some great incoming prospects in the near future, but the depth chart has a few glaring holes that need to be addressed.
NHL trade rumors continue to swirl around the 30th placed Colorado Avalanche. They dropped to 12-24-1 (25 points) following their loss to a less than stellar Canucks squad on Monday night.
Well, I took a lot of heat from Avs fans at the start of 2016-17 when I predicted Colorado finish dead last in the Western Conference. It's far from a certainty with the likes of Arizona sputtering along, but there's a reason I predicted they do so poorly. Simply put, this club has been completely mismanaged under the guidance of Joe Sakic.
Between his insistence to keep the team core together and failed attempt to address holes in free agency, it's understandable why Patrick Roy resigned so late in the offseason. The time to re-tool was last year and thinking you can fix your problems with other teams unwanted scraps is a pipe dream.
Fortunately for the first time GM, Sakic has plenty of time to redeem himself and make up for his errors. He has enough quality pieces in place that Colorado doesn't need to go through the painful process of a rebuild. Instead, they can re-tool on the fly and help make this team competitive again in the very near future. There's just one catch. It may mean taking a small step back in order to take that giant leap forward.
In today's piece, we'll explore the future depth chart, problems/or issues that need to be addressed, trade options, and potential solutions surrounding the Colorado Avalanche:
Future Bright Spots
Jun 24, 2016; Buffalo, NY, USA; Tyson Jost poses for a photo after being selected as the number ten overall draft pick by the Colorado Avalanche in the first round of the 2016 NHL Draft at the First Niagra Center. Mandatory Credit: Timothy T. Ludwig-USA TODAY Sports
Impact Prospects on the Way
C Tyson Jost
LW A.J. Greer
C/W J.T. Compher
Tyson Jost is currently on full display at the World Juniors. His dominating presence comes as little surprise given his progression over the past year and a half. This is the same guy that broke Connor McDavid's scoring record at the U18 Championships. Pretty safe to say, Jost should be an impact top-six center in the near future. If the Avs don't look to sign him in a few months from now after his first year of NCAA hockey, it'll be top priority the following spring.
Both Greer and Compher have NCAA experience as well, although Greer joined QMJHL Rouyn-Noranda mid-season in 2015-16. The pair began their pro career in 2016-17 with AHL San Antonio, with each scoring at a near point-per-game pace as rookies. I'd call them potential 2nd/3rd liners in the near future. Greer is strictly a LWer, while Compher is listed as a RH shooting C/LW.
NHL Trade Rumors: Colorado Avalanche defenseman Chris Bigras (3) keeps the puck away from Dallas Stars center Jason Spezza (90) during the second period at the American Airlines Center. Mandatory Credit: Jerome Miron-USA TODAY Sports
Fringe Prospects Expected to Have NHL Impact
C Rocco Grimaldi
D Chris Bigras
Grimaldi came over in the Reto Berra deal with Florida. The 23-year-old center is a highly-skilled prospect standing just 5'6 180lbs. A top-six future in the NHL seems unlikely, but he could fit somewhere in the bottom six playing more limited minutes.
It's still too early to project LHD Chris Bigras. He got his feet wet with 31 games of NHL experience in 2015-16, but the 21-year-old is still two or three years away from making the full-time jump. At best, he may fit into a no.4 role playing around 18-20 minutes/night, but it wouldn't be surprising to see him settle into a third pairing as a no.5 d-man.
NHL Trade Rumors: Colorado Avalanche right wing Mikko Rantanen (96) controls the puck during the third period against the Dallas Stars at the American Airlines Center. The Stars defeat the Avalanche 4-2. Mandatory Credit: Jerome Miron-USA TODAY Sports
A Look at the Future Depth Chart
1/2 Center Locked Down With MacKinnon, Jost, Rantanen Locked into 1RW
Why do we keep hearing Matt Duchene's name in NHL trade rumors? Well, with the likes of Nathan MacKinnon, Tyson Jost, Carl Soderberg, and others in the mix, there's not a lot of room for a guy who best excels playing up the middle.
Let's take a look at that future depth chart with the best options at each forward slot (top nine):
Rough sketch of future depth chart (some players have more positional availability):
Landeskog – MacKinnon – Rantanen
Greer/Grigorenko – Jost/Duchene – Compher/Grigorenko
Greer/Grigorenko/Colborne – Soderberg/Grimaldi – Compher/Grigorenko/Colborne
Martinsen/Comeau/McLeod – Mitchell/Grimaldi – Martinsen/Comeau/McLeod
Colorado has a rare luxury. It's not often that teams can afford to move such a valuable center, but such is the case with Duchene. His trade value is high enough that the Avs should be able to address at least one major issue, if not multiple.
NHL Trade Rumors: Colorado Avalanche defenseman Tyson Barrie (4) controls the puck in the second period against the Toronto Maple Leafs at the Pepsi Center. Mandatory Credit: Isaiah J. Downing-USA TODAY Sports
LHD vs RHD
The Avs blue line has been a joke for awhile now. Why Joe Sakic thought he could patch the holes with Tyutin and Wiercioch is beyond me. The problem is simple, they're without a true no.1 defenseman, and instead their top two defenders are better classified as no.2's or 2/3's (that are both right-handed by the way). Meanwhile, there's a huge drop-off for LH shots. Don't get me wrong, Zadorov has served admirably in his elevated role, but fans shouldn't get too excited about a guy who will probably eventually settle into a 5/6 spot on a winning team.
Below is a list of RH vs. LH shots and projected roles on a much-improved Avalanche squad:
Left-Handed: Francois Beauchemin, Nikita Zadorov, Fedor Tyutin, Patrick Wiercioch, Eric Gelinas, Chris Bigras, Duncan Siemens
Right-Handed: Erik Johnson, Tyson Barrie, Cody Goloubef
No.
1 – none
1/2 – none
2 – Tyson Barrie
2/3 – Erik Johnson
3 – none
3/4 – Francois Beauchemin
4 – none
4/5 – Nikita Zadorov, Chris Bigras (projected potential), Fedor Tyutin
5 – Patrick Wiercioch
5/6 – Duncan Siemens (projected potential)
6 – Eric Gelinas
Depth – Cody Goloubef
Between Zadorov being passed off as a top four LHD and Beauchemin's diminishing play, it's pretty clear that Colorado has a gaping hole on the left side on their blue line. This is something that will need to be addressed via trade.
Want your voice heard? Join the Puck Prose team!
NHL Trade Rumors: Colorado Avalanche goalie Calvin Pickard (31) reacts following a timeout to review the sixth goal scored in the third period against the New York Rangers at Pepsi Center. The Rangers defeated the Avalanche 6-2. Mandatory Credit: Ron Chenoy-USA TODAY Sports
Pickard the Future in Goal
It seemed the writing was on the wall for Russian netminder Semyon Varlamov before the season even began. An inevitable expansion draft made the older, more expensive goaltender the likely one to go unprotected. Maybe that rattled Semyon psychologically, and perhaps explains his poor play prior to going down with a recent injury?
Either way, it seems Calvin Pickard has played himself into the starter role. The jury is still out on whether Pickard can be a quality NHL starter, but one thing is for sure, that extra $5.9 million dollars/year would be valuable money to get off the books – whether Varlamov is traded or taken by Vegas in the expansion draft.
NHL Trade Rumors: Colorado Avalanche goalie Semyon Varlamov (1) against the Minnesota Wild at Xcel Energy Center. The Wild defeated the Avalanche 2-0. Mandatory Credit: Brace Hemmelgarn-USA TODAY Sports
Guide to Fixing the Avalanche
Moving Varlamov's Contract Won't Be Easy
As mentioned above, Varlamov carries a $5.9 million dollar cap hit and is signed through the 2018-19 season. Moving a big expiring contract isn't usually a problem, but finding someone to bite on three years is difficult. The fact is, no one is lining up to acquire the contract as is, and if they are, it's because they're looking to unload another bad contract the other way.
That means that Colorado will likely need to eat a bit of salary to find a trade partner for the Russian goaltender. If the Avs are willing to retain even $900k to $1.4 million through 2018-19, a deal at $4.5-$5 million/year is a lot more attractive.
Who might be interested in Semyon Varlamov at a reduced cost?
Arizona Coyotes, Buffalo Sabres, Calgary Flames, Philadelphia Flyers
NHL Trade Rumors: Colorado Avalanche forward Matt Duchene (9) against the Minnesota Wild at Xcel Energy Center. The Wild defeated the Avalanche 2-0. Mandatory Credit: Brace Hemmelgarn-USA TODAY Sports
Trade Matt Duchene (LHD Top Priority in Return Package)
In all honesty, this is a move that should have occurred well over a year ago. Luckily, Duchene has remained productive enough to maintain high-end trade value. Some folks have used the Columbus situation from 2015-16 with Ryan Johansen as a potential comparable for a deal. Duchene is far more established, so depending on the returning blueliner, I'd expect he garners more than a quality defenseman.
NHL Trade Rumors: Colorado Avalanche right wing Jarome Iginla (12) in the second period against the Toronto Maple Leafs at the Pepsi Center. Mandatory Credit: Isaiah J. Downing-USA TODAY Sports
Trade Expiring Contracts: Iginla, Mitchell, Bourque, Tyutin
Time to move out the expiring contracts. 2016-17 is a loss and there's no point to holding on to players who are leaving anyways. Although finding a trade partner for Jarome Iginla and John Mitchell might prove easier than Rene Bourque and Fedor Tyutin, who both signed one-year deals last summer.
NHL Trade Rumors: Colorado Avalanche left wing Gabriel Landeskog (92) controls the puck in the second period against the Toronto Maple Leafs at the Pepsi Center. Mandatory Credit: Isaiah J. Downing-USA TODAY Sports
Explore Potential 1st Line Left Wing Upgrades (Landeskog only legitimate 1LW on the roster)
When you look at the future depth chart, the LW position stands out. Landeskog is the only capable 1LW and truth be told, he probably serves on the 2nd line on a Cup winning team. Then, we're dealing with hypotheticals with guys like A.J. Greer. Long story short, the Avs might be wise to explore an upgrade at LW. If they're real lucky, they might get their hands on a guy like Gabriel Vilardi at the NHL Draft.
NHL Trade Rumors: Colorado Avalanche defenseman Nikita Zadorov (16) and right wing Jarome Iginla (12) and center Mikhail Grigorenko (25) and center Matt Duchene (9) celebrates a goal by Grigorenko against the Dallas Stars during the third period at the American Airlines Center. The Stars defeat the Avalanche 4-2. Mandatory Credit: Jerome Miron-USA TODAY Sports
3 Hypothetical Deals to Help Fix the Colorado Avalanche
Below, I've put together three seperate hypothetical deals surrounding the Avs biggest names. Colorado shouldn't have a problem finding clubs with interest for Matt Duchene or Semyon Varlamov. Making the dollars work could be another story all together, though.
NHL Trade Rumors: Carolina Hurricanes defenseman Noah Hanifin (5) controls the puck against Calgary Flames during the third period at Scotiabank Saddledome. Carolina Hurricanes won 4-2. Mandatory Credit: Sergei Belski-USA TODAY Sports
Colorado trades F Matt Duchene and to Carolina in exchange for D Noah Hanifin (Canes may need to add prospect(s)/draft pick(s)
Some of the recent rumors tend to link Justin Faulk to Carolina. Unfortunately, it would make little sense for Colorado to add another quality RHD. At the same time, it doesn't make a whole lot of sense for the Canes, either.
Instead, Carolina is rich in depth on the left side with the likes of Haydn Fleury and Jake Bean still on the way. At some point, Ron Francis may need to choose between Jaccob Slavin and Noah Hanifin. It's not a knock on Hanifin, who is just starting to scratch the surface in terms of development, but Slavin is the complete package, solid in all three zones.
NHL Trade Rumors: Minnesota Wild defenseman Jonas Brodin (25) and forward Mikael Granlund (64) wait for the faceoff in the first period against the Boston Bruins at Xcel Energy Center. Mandatory Credit: Brad Rempel-USA TODAY Sports
Colorado trades F Matt Duchene to Minnesota in exchange for D Jonas Brodin, F Mikael Granlund, and draft pick(s)/prospect(s)
Give the Minnesota Wild a lot of credit. Their deep defensive group is largely responsible for the team's success in 2016-17 so far. That being said, this is not a recipe for winning a Stanley Cup Championship. At some point (probably closer to the deadline), this club will need to make an important decision.
More from Puck Prose
With an impending expansion draft on the way, it'll be the last time for GMs to get top return value for their players.
For those GMs like Bob Murray in Anaheim who are expected to make moves after the playoffs, they might be surprised at what's being offered as other teams smell the desperation to unload players before losing them for nothing.
At this point, it seems both Jonas Brodin and Marco Scandella stand to go unprotected. Minnesota needs to decide whether they're okay losing Brodin, keeping Scandella. Or, they can trade the better defender (Brodin) and risk likely losing Scandella instead.
It's a bit of a lose-lose situation, but Brodin at least carries more trade value and the Wild have a number of quality blueliners at the ready for more minutes. Guys like Mike Reilly, Gustav Olofsson, and Christian Folin are more than capable of filling the vacant holes.
NHL Trade Rumors: Philadelphia Flyers goalie Michael Neuvirth (30) during the second period of the game against the Montreal Canadiens at the Bell Centre. Mandatory Credit: Eric Bolte-USA TODAY Sports
Colorado trades G Semyon Varlamov ($900k retained for remainder of contract) to Philadelphia in exchange for G Michal Neuvirth, D Michael Del Zotto, and prospect(s)/draft pick(s)
Instead of choosing between Steve Mason and Michal Neuvirth, Philly can get a quality stop-gap option in Varlamov until one of the numerous goaltending prospects emerge.
Get the FanSided App
At $900k retained, the Flyers get the Russian at a more affordable $5 million dollar cap hit.
The option would always remain to still re-sign Steve Mason and form a tandem similar to what many other teams have constructed in recent years.
For Colorado, Neuvirth comes in on an expiring deal and could always be re-signed to serve as backup to Calvin Pickard. 26-year-old Michael Del Zotto would also be coming in as an impending UFA. He fits a need on the left side and could be a decent no.4/5 on a winning team. If the chemistry is there with the Avs, they have plenty of time to re-sign Del Zotto.
Fans in Colorado won't love the return value here, but would you prefer this (getting something in return) or losing him for nothing to Vegas? This is more about clearing nearly $5 million dollars/year in cap space.
---
---