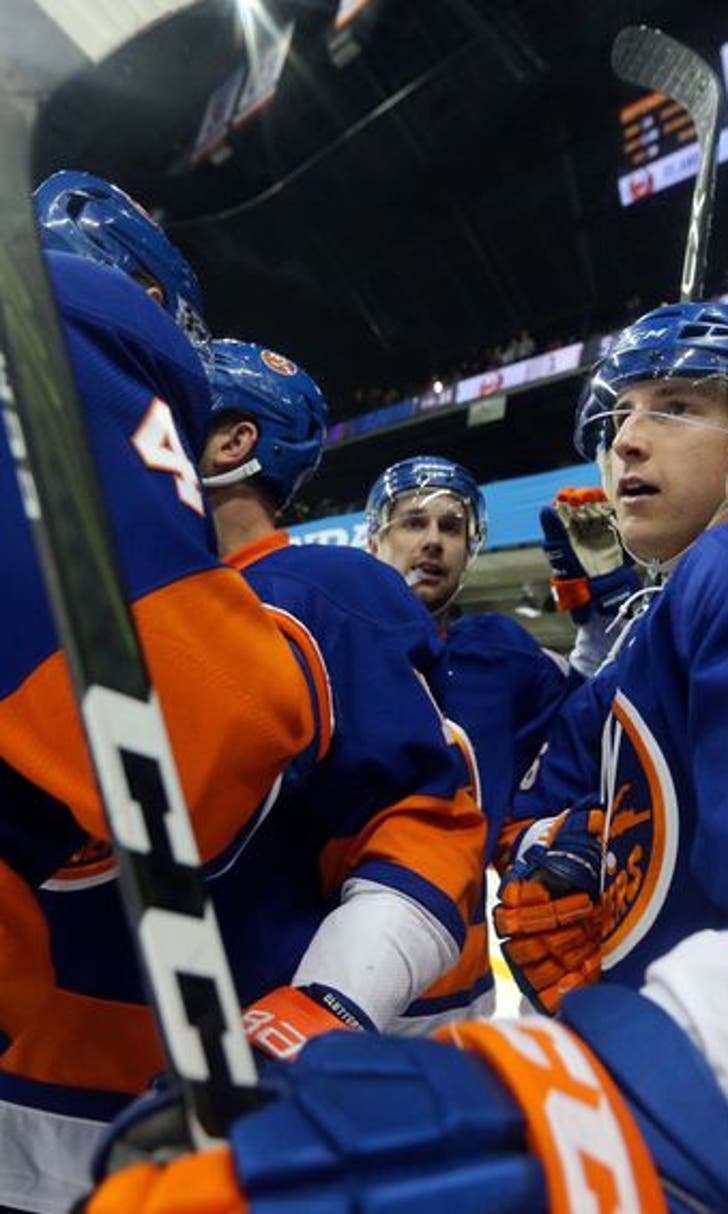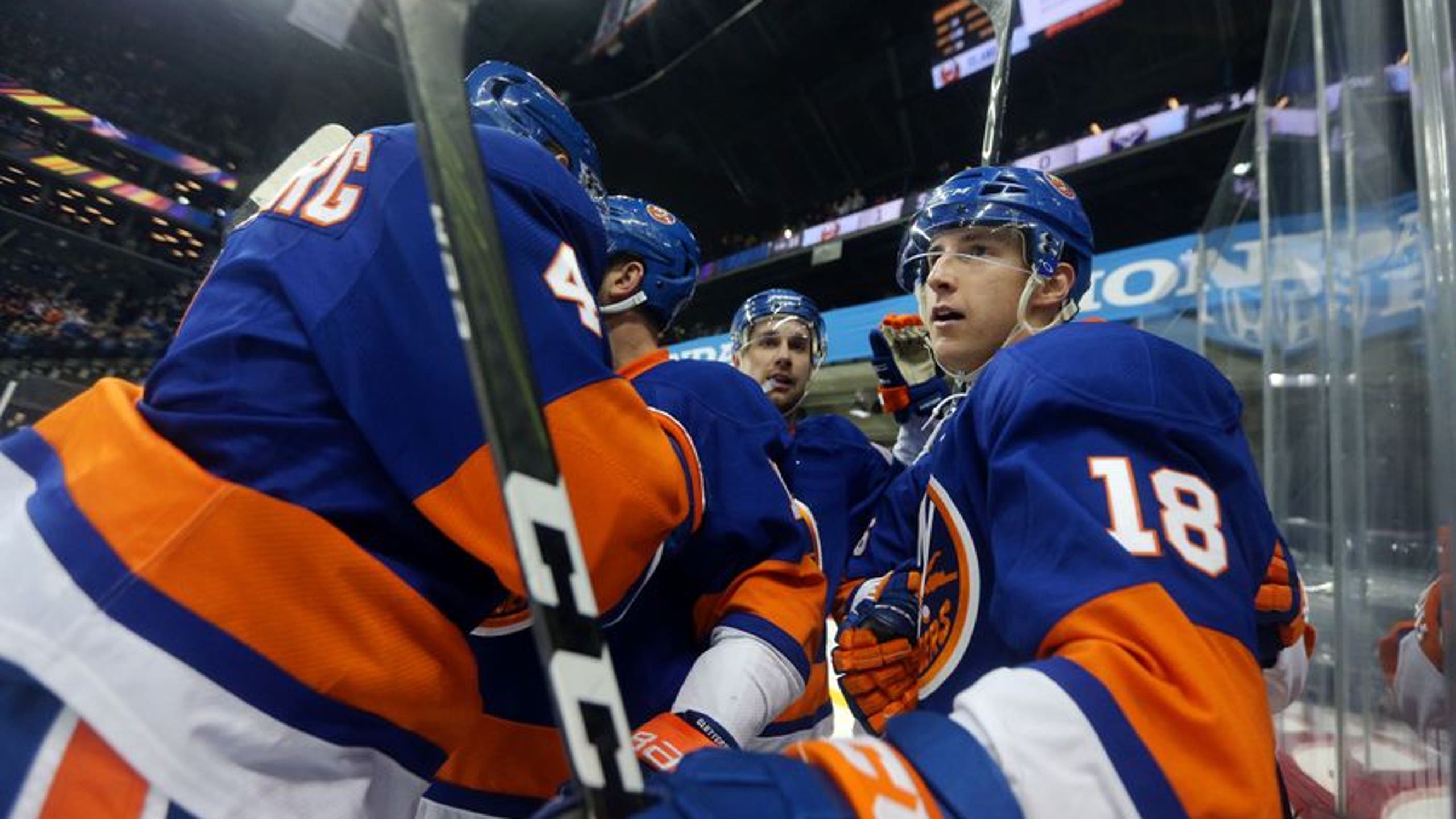 New York Islanders Decimate the Buffalo Sabres
BY Fansided and Michel Anderson/FanSided via Eyes On Isles • December 23, 2016
Dec 23, 2016; Brooklyn, NY, USA; New York Islanders center Ryan Strome (18) celebrates his goal against the Buffalo Sabres with teammates during the second period at Barclays Center. Mandatory Credit: Brad Penner-USA TODAY Sports
The battle of the Eastern Conference basement dwellers ended with a convincing 5-1 victory for the New York Islanders against the Buffalo Sabres.
The Buffalo Sabres are now in last place of the Eastern Conference, thanks to a one-sided 5-1 loss to your New York Islanders.
That's two wins in a row for the Islanders as they head to the holiday break with that five-game losing streak behind them and off the floor of the conference.
This was a game the Islanders should have won. Not because they outclassed their opposition, there's a reason the Sabres and Isles are neck-and-neck in the standings. But the Sabres are awful on the road, they're coming off a back-to-back, and they put in their less than stellar backup.
Like Dan Saraceni said. The Isles won a game they were supposed to win.
It's a long long way to a spot in the playoffs, but two wins in a row pads the old points column with some much-needed equity as the second half of the season is about to begin.
Dec 16, 2016; Buffalo, NY, USA; New York Islanders right wing Ryan Strome (18) celebrates his goal on Buffalo Sabres goalie Robin Lehner (40) with teammates right wing Cal Clutterbuck (15) and defenseman Dennis Seidenberg (4) during the first period at KeyBank Center. Mandatory Credit: Kevin Hoffman-USA TODAY Sports
Dennis Seidenberg
New York Islanders
Dennis Seidenberg did everything tonight. Got pucks to the net. Created offense. Blocked shots in the defensive zone. Drove the attack out of the Islanders defensive zone.
He took a bad penalty that could have cost the Islanders who were only up by one at that point. Thanks to a beauty tip from Anthony Beauvillier in the slot.
Signing Seidenberg in the off-season was a contentious move by Garth Snow, with a ton of the Islanders fan base, including yours truly, who didn't like it. I still don't like it. But I can't argue with results.
With the additional two points, Seidenberg picked up tonight he's now at 12 points on the season and on pace for a record year at 34 points. Who thought that Seidenberg would have a record year when the Isles signed him?
Seidenberg goes out there with a simple task, with a simple aim. Establish defensive zone coverage and push the play to the other end of the rink. And he's been executing it perfectly.
At 35 years-old his ice time is being managed by Jack Capuano, and he still produces. He's getting fifth string defenseman minutes, no power play time and barely a sniff on the penalty kill (he got a whole four seconds tonight).
Dec 23, 2016; Brooklyn, NY, USA; New York Islanders center Ryan Strome (18) scores against Buffalo Sabres goalie Anders Nilsson (31) during the second period at Barclays Center. Mandatory Credit: Brad Penner-USA TODAY Sports
Ryan Strome
New York Islanders
Are we starting to see the old Ryan Strome again? Or is this just a flash in the pan, set to go out at any second now?
Either way, Ryan Strome is a man possessed right now. In his last five games, Ryan Strome has four points. Two coming tonight against the Sabres. Of his 10 points on the season, 40% have come in the last few nights.
So I ask again. Is this the old Ryan Strome?
Strome created the chance. He took the chance he created. And then buried the chance that he created.
It's not something we're used to seeing from Ryan Strome. As evidenced by the ten points in 30 games this season and the 28 points in 75 games from last season. But I'll take it. I'll even celebrate it. Whatever it takes to keep the good times rollin' for Ryan Strome.
Dec 23, 2016; Brooklyn, NY, USA; New York Islanders goalie Thomas Greiss (1) makes a save against the Buffalo Sabres during the third period at Barclays Center. Mandatory Credit: Brad Penner-USA TODAY Sports
Thomas Greiss
New York Islanders
There wasn't ever a question. Thomas Griess was the first star from tonight's games against the Sabres.
For a second game in a row Thomas Greiss made the difference and kept the Islanders in the game. If only the team could have rewarded him with a shutout. If only. But if you ask him he'll tell you that the only thing that matters is the 'W'.
Thanks to outstanding goaltending, once again, the New York Islanders find themselves with another two points in a Mission Impossible style goal to make the playoffs.
I know that Jaroslav Halak is the number one keeper in management's eyes, but I think the time is nigh to simply say that the Islanders have a 1A-1B style tandem. Both are starters, but because only one can play at a time it's shared duties until one is shipped out.
Back in the summer, after a horrid World Cup of Hockey, I wrote that Thomas Greiss' confidence must have been shot. Not because he himself was bad, but because of all the hard work he had put in after stepping in for an injured Jaroslav Halak was undone by a few minutes of play.
Greiss was going to have to prove himself to the team once again. And so he has.
The Islanders now enjoy a nice four-day break with two unlikely back-to-back wins under  their belts, before they welcome the Washington Capitals to the Barclays Center on the 27th of December.
More from Eyes On Isles
This article originally appeared on
---
---