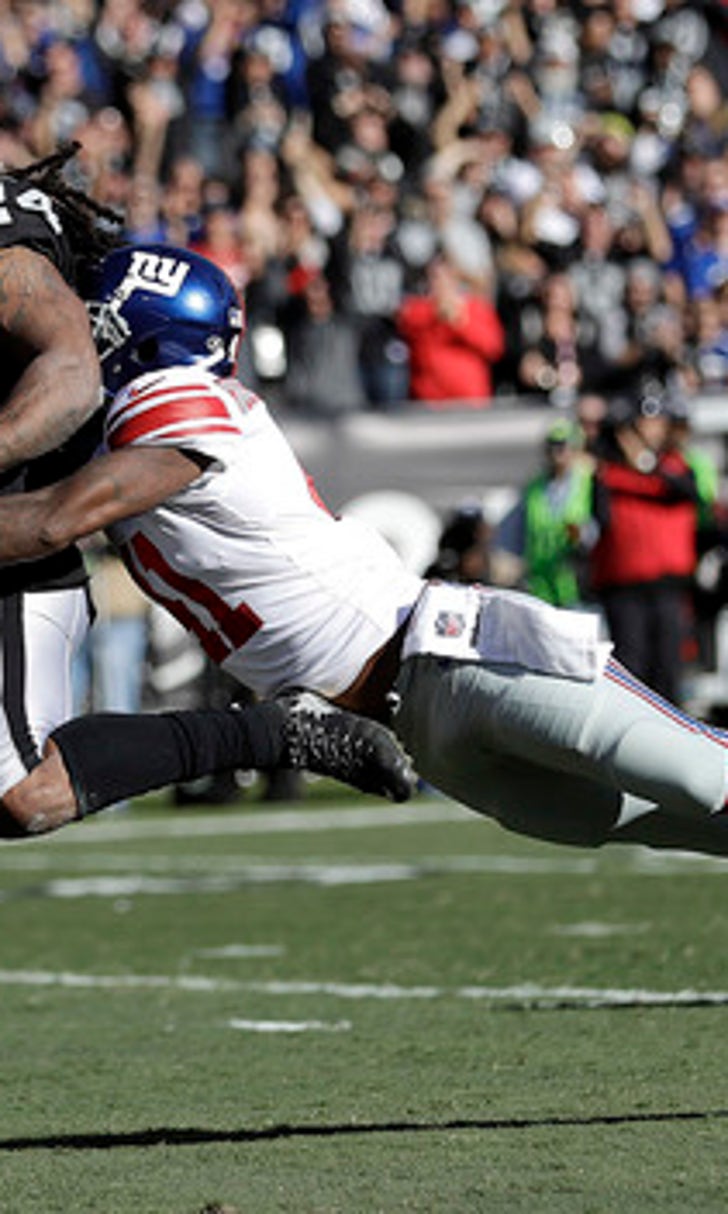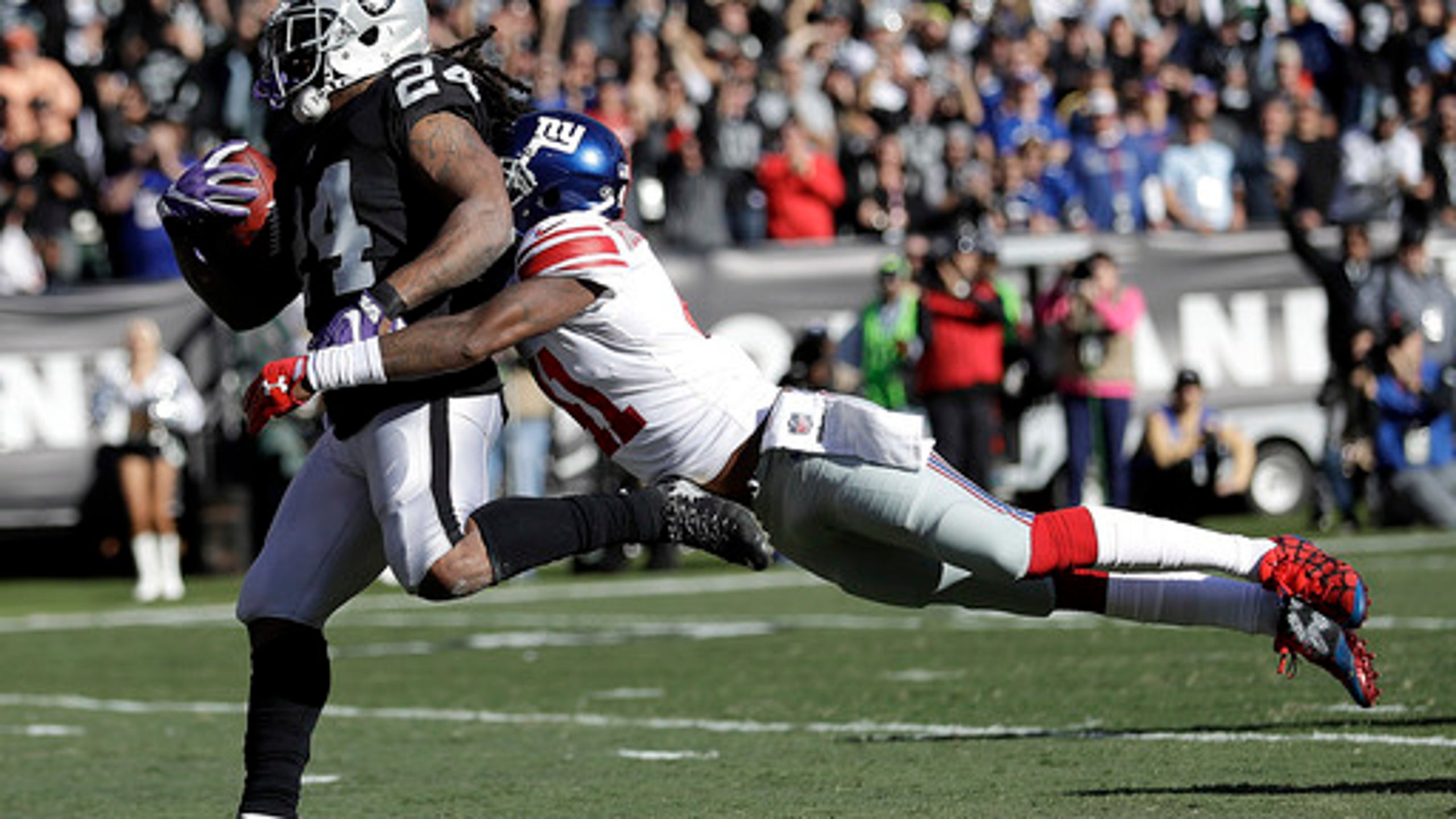 Win over Giants has Raiders back in tie for first place
BY AP • December 4, 2017
OAKLAND, Calif. (AP) The four-game losing streak, change in defensive coordinators and all those early-season struggles are in the past now for the Oakland Raiders.
They head into the stretch run of the season exactly where they hoped to be, even if their record isn't quite as good as they wanted.
The Raiders used a throwback performance from Marshawn Lynch and took advantage of a rusty Geno Smith starting in place of the benched Eli Manning to beat the New York Giants 24-17 on Sunday and move into a three-way tie for first place in the AFC West.
Oakland (6-6) has recovered from a 2-4 start to move into a tie with Kansas City and the Chargers with a round robin remaining in the schedule starting with the Raiders' visit to the Chiefs next week. Kansas City hosts Los Angeles the following week before Oakland ends the season on the road against the Chargers.
''We're in a situation that all of our goals are still right in front of us,'' Carr said. ''It's just right in front of us, it's there. Everything we want to do is right there.''
It took time for the Raiders to pull away from the struggling Giants (2-10). Lynch scored on a 51-yard run on Oakland's first drive on the way to a 101-yard performance that was his most productive since coming out of retirement.
Beast Mode added a 21-yard catch and run on a third-down pass in the fourth quarter that set up a 9-yard TD run by DeAndre Washington that made it 17-7.
That was too much for Smith to overcome after taking over for Manning, who was benched after 210 consecutive regular-season starts. Smith lost two fumbles before throwing a fourth-quarter TD pass to Evan Engram .
Smith finished 21 for 34 for 212 yards.
''I just hate to lose,'' Smith said. ''I don't want to lose at all in anything. I was upset that we lost. I felt like we had some opportunities and we couldn't take advantage of them.''
Here are some other takeaways:
ELI'S DAY
Manning spent the day as a spectator for the first time since Nov. 14, 2004, when he backed up Kurt Warner for the final time of his rookie season. Manning started every game for the Giants after that before getting benched this week . Manning took part in the pregame coin toss, and then watched the game with his helmet off, listening to the play calls and giving advice to Smith between series.
''I knew once we got to today that I'd be a good teammate,'' Manning said. ''I'd try to support all the guys and be ready to play if I was called upon, support Geno, support all the guys, and do what I had to do to. If I saw something then I needed to tell them.''
FILL-INS
With starting receivers Amari Cooper (injury) and Michael Crabtree (suspension) out , the Raiders had to get some help from some lesser-used pass catchers. Tight end Clive Walford surpassed his season total of three receptions for 10 yards, by catching four passes for 57 yards. Cordarrelle Patterson had 97 yards receiving for his second-most productive game. Patterson's 59-yard catch set up a 9-yard TD pass to Johnny Holton .
''Those are some big shoes to fill,'' Holton said. ''Those guys are pretty good receivers. We wanted to win the game. Those guys weren't here so we had to step up.''
SOUNDING OFF
Smith called his former coach Rex Ryan a ''coward'' after Ryan, now an ESPN analyst, criticized the decision to go with Smith during a pregame show.
''I love Geno Smith. Great guy. I just don't want him playing quarterback for me,'' Ryan said.
Smith played for two seasons under Ryan with the New York Jets.
''I did see one of my ex-coaches say he wouldn't want me to be his quarterback. That really upset me,'' Smith said. ''A guy who we saved his job in 2013. We fought our ass off for him both years. For him to come out and say that shows you how much of a coward he is.''
TAKE IT AWAY
The Raiders defense was much more opportunistic for a second straight week after firing defensive coordinator Ken Norton Jr. and replacing him as play-caller with John Pagano. After generating only six takeaways the first 10 games - including two on special teams - Oakland has three the past two weeks, including a pair of strip sacks by Bruce Irvin and Khalil Mack that took scoring opportunities away from the Giants. The Raiders also have eight sacks the past two games after recording just four in the previous four contests.
---
More AP NFL: http://pro32.ap.org and https://twitter.com/AP-NFL
---
---