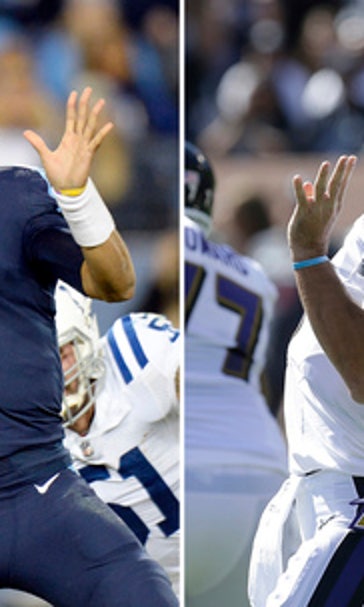 Titans eager to build momentum coming off bye vs. Ravens
November 2, 2017

NASHVILLE, Tenn. (AP) The Tennessee Titans used their bye for a little introspection and realize it's time to start proving exactly what they are this season.
Quarterback Marcus Mariota says the Titans know they haven't accomplished anything yet.
''We want to finish on top,'' Mariota said. ''We want to be in the playoffs. We want to do all those types of things. In order to do that, we'll have to be better on third down as an offense, we'll have to be better in the red zone as an offense. I think guys understand that, and looking back on it, guys did have some time to reflect, and I think going forward we should be better.''
The Titans (4-3) haven't reached the playoffs since 2008, yet they are tied atop the AFC South with two straight at home trying to build some momentum. They went into their bye winning two straight, including a 12-9 overtime win at Cleveland.
It won't be easy Sunday when they revive an old rivalry against the Baltimore Ravens with their first game in Nashville since 2011. The Ravens (4-4) simply dominate in November with an NFL-best 28-11 record since 2008. They also are coming off a 40-0 win over Miami, their second shutout this season , looking for some consistency of their own before their bye.
''It's an important time of the year for sure,'' Ravens coach John Harbaugh said. ''November is kind of where seasons head in one direction or the other, usually. We understand that so we understand the importance of this time of year.''
Here are some things to know about the Ravens and Titans:
HEALTHY QUARTERBACKS: Mariota no longer is on the injury report with the strained left hamstring that kept him in the pocket of his past two games.
The Titans quarterback continued treatment even into the bye last week when he went to Oregon for his brother's birthday.
In his past eight home games, Mariota has 14 touchdowns and only two interceptions with a 106.7 passer rating.
Ravens quarterback Joe Flacco was last seen heading to the locker room dazed and bloodied after a hit by Miami linebacker Kiko Alonso.
Flacco still has a couple of stitches in his ear, but has been cleared from the concussion protocol. Flacco says the hit looked worse than it was and he's ready to go . Flacco has six touchdowns and eight interceptions this season.
BLANK FEELING: The Ravens have already rung up two shutouts this season, tied for second-most in franchise history with the 2006 squad. Baltimore blanked Cincinnati 20-0 in the opener and came up with an encore last week against Miami.
''It shows our potential,'' said middle linebacker C.J. Mosley, the team's leading tackler. ''It just shows that when we put our mind in the right spot and everybody does their job, we can be a shutout-type defense every game.''
The unit, unfortunately, has been hot and cold. In three of their games, the Ravens have allowed a combined 10 points. In the other five: 138 points, or an average of 27.6 per game.
READY TO RUN: The Ravens also have struggled to stop the run giving up 132.8 yards per game, 30th in the NFL. The Titans come in with DeMarco Murray no longer on the injury report after fighting through a hamstring injury before the bye.
Murray and backup Derrick Henry are why Tennessee averages 124.6 yards rushing a game, and now a healthy Mariota won't be limited.
''You know what a threat he can be if he's got any space to run, if he can,'' Titans coach Mike Mularkey said.
COOL COLLINS: Alex Collins ranks ninth in the NFL with 478 yards rushing, and his average of 6 yards a carry is tops in the league. His bold, elusive style has enabled him to jump to the starting spot after opening the season third on the depth chart.
''Alex is doing a great job. Guys who are productive, they always get more opportunities,'' Harbaugh said.
Even more important: Holding onto the football. Collins fumbled twice in his first 25 carries this season, and hasn't fumbled since.
DAVIS TIME: The Titans got an intriguing glimpse of rookie Corey Davis, the first wide receiver drafted at No. 5 overall earlier this year, when he grabbed six passes in the season opener. Now Davis is poised to return after missing five straight games , and he'll be starting barring a setback.
---
AP Sports Writer David Ginsburg in Baltimore contributed to this report.
---
For more NFL coverage: http://www.pro32.ap.org and http://www.twitter.com/AP-NFL .
---
Follow Teresa M. Walker at www.twitter.com/teresamwalker
---
---