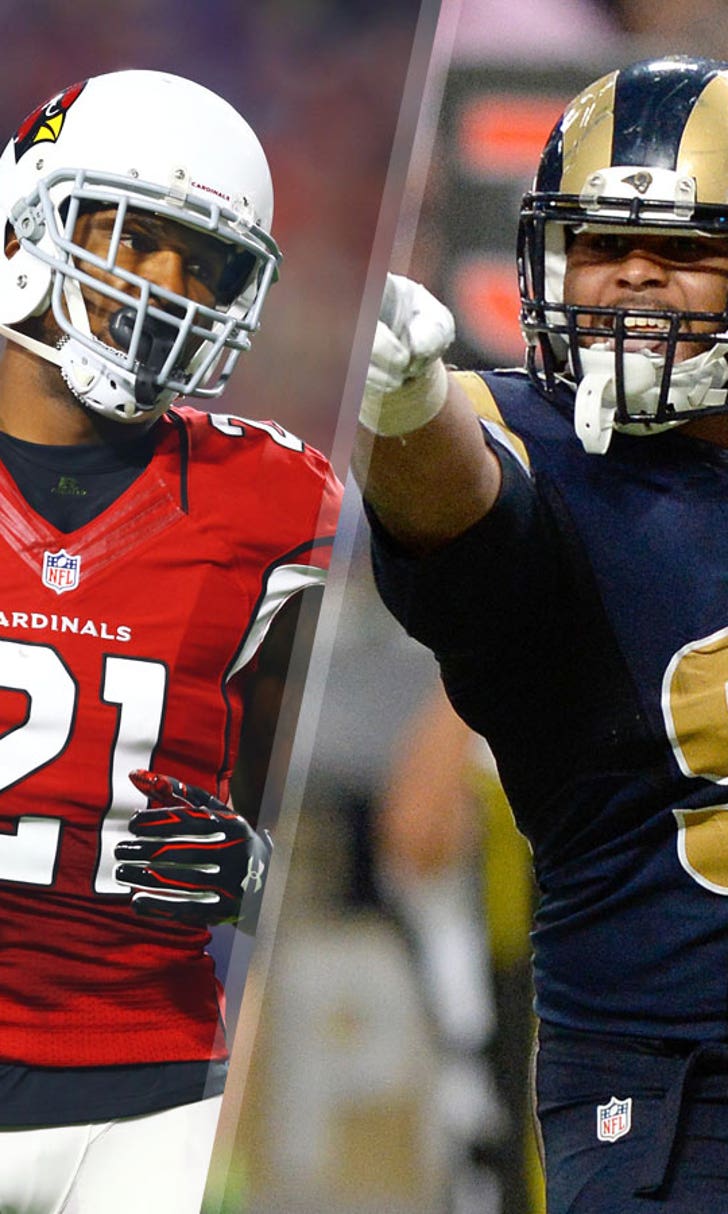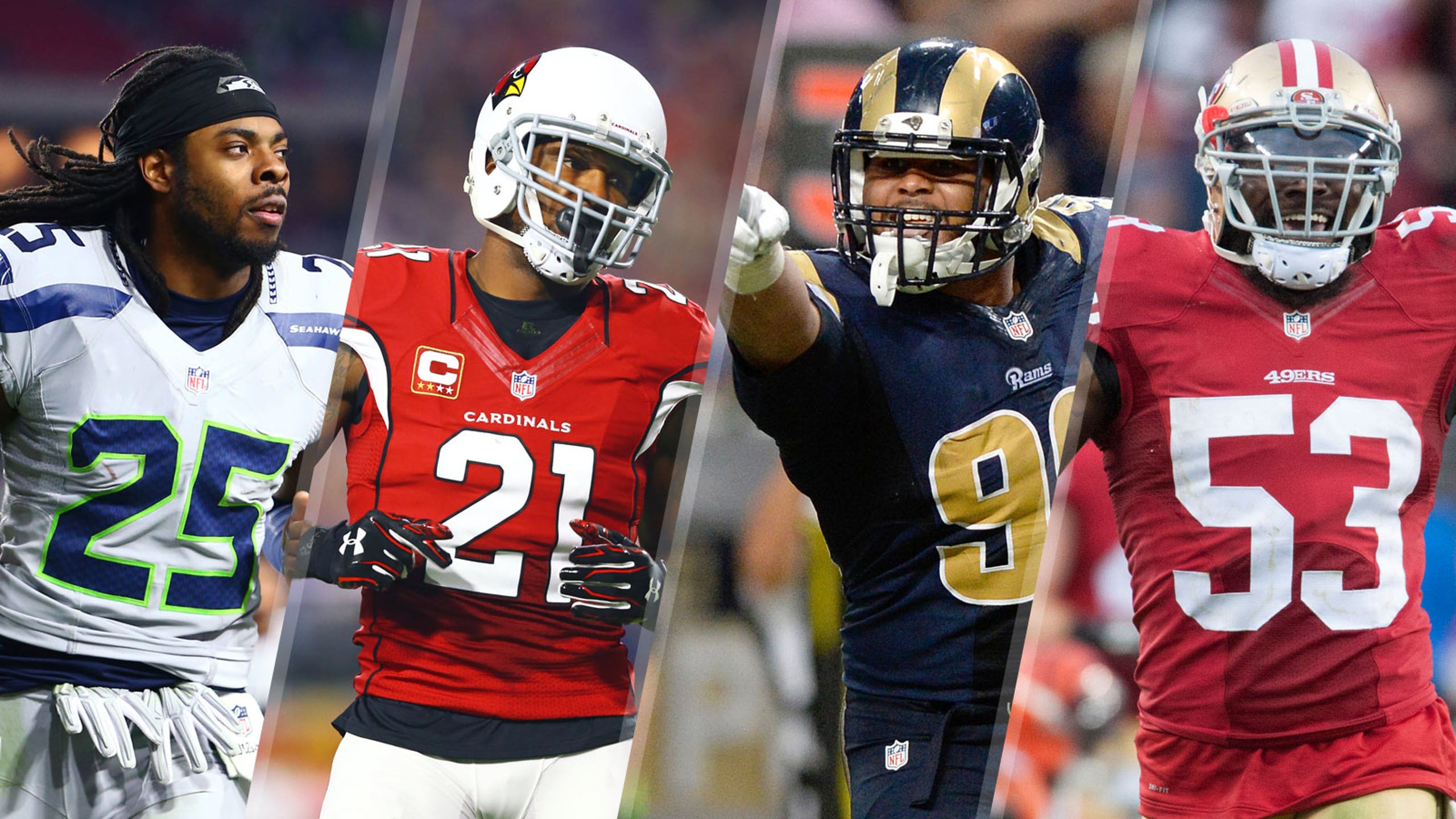 The 2015 All-NFC West team (defense)
BY foxsports • February 3, 2016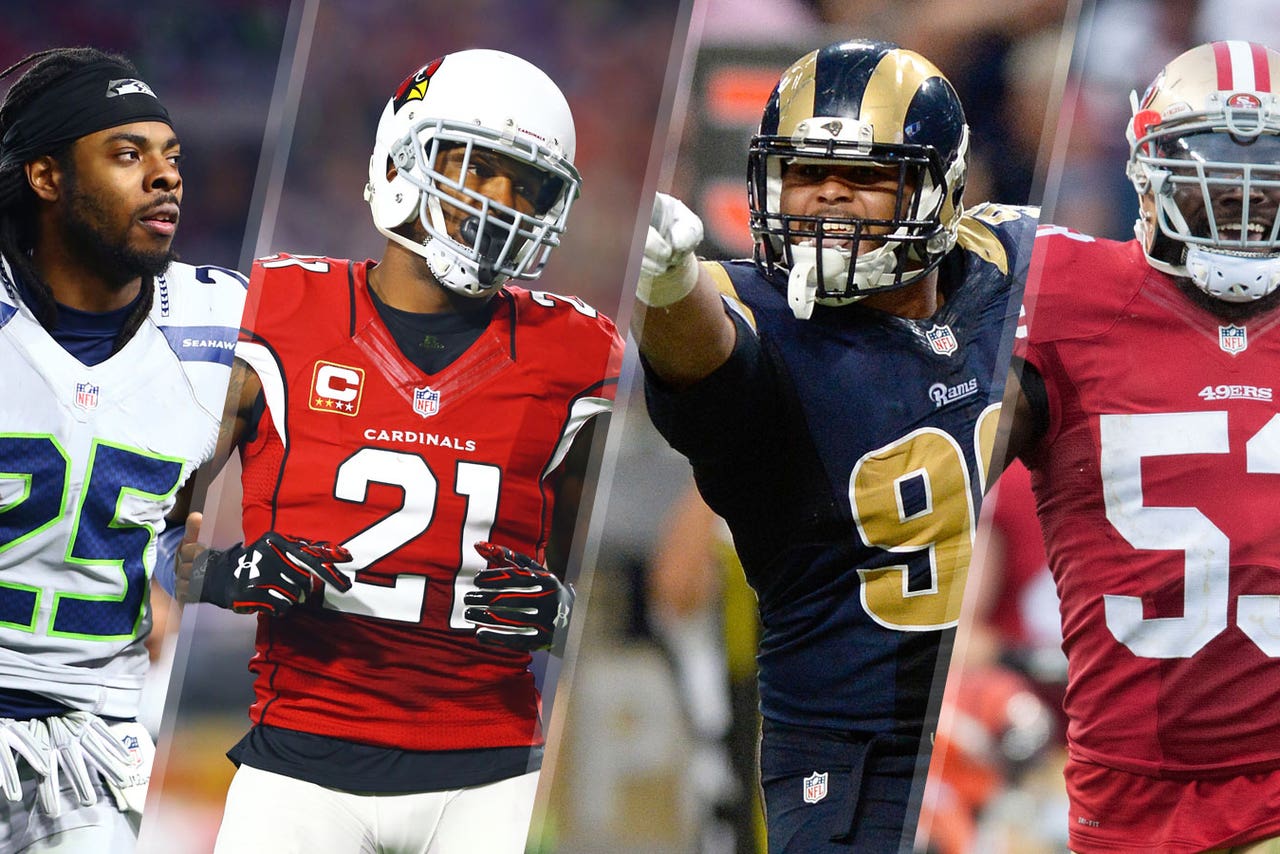 While the Arizona Cardinals won the NFC West behind a powerhouse offense, defense once again carried the division runner-up Seattle Seahawks to their fourth consecutive postseason berth.
So it makes sense that the Seahawks had a dominant presence on the NFC West All-Defensive Team with five players selected, followed by the Cardinals with three players named.
Although Seattle and Arizona comprised the majority of the team, the best defensive player in the division resides elsewhere. 
Defensive end: Michael Bennett
Bennett established a career high with 10 sacks for the Seahawks to earn his first trip to the Pro Bowl, where he was named the game's Defensive MVP. Bennett persevered through a painful toe injury but still played in all 16 games for the fourth consecutive year. The 30-year-old Bennett also was a force against the run and registering a career-best 52 tackles, including 18 for losses. Not only was he an integral part of a defense that allowed the fewest points for the fourth straight season, but Bennett also is a major presence in the locker room.
Defensive end: Calais Campbell
Playing in a 3-4 alignment with the Cardinals hinders the overall numbers of Campbell, who was named to the Pro Bowl and was the cornerstone of a defense that ranked fifth overall and No. 6 against the run. An imposing physical presence at 6-foot-8, 300 pounds, Campbell had moments of sheer dominance, such as a 2 1/2-sack first half against Aaron Rodgers and the Green Bay Packers in a lopsided victory in Week 16. He reached 60 tackles for the fourth time in his eight seasons and started all 16 games for the third time in the past five years.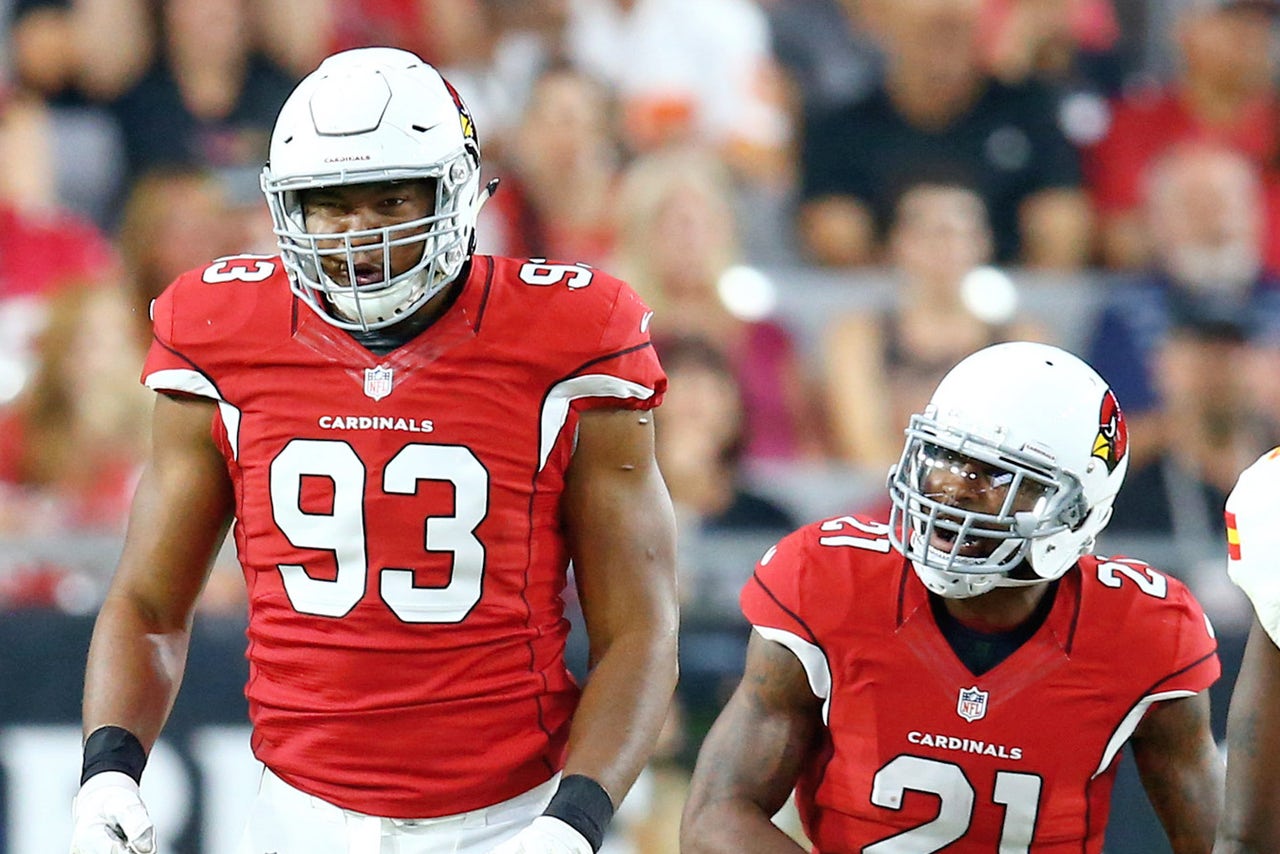 Defensive end Calais Campbell (93) was an integral part of a unit that ranked sixth against the run.
Defensive tackle: Aaron Donald
In just two seasons, Donald is being mentioned in the same breath as Houston Texans superstar J.J. Watt as the top defensive linemen in the league. Donald burst onto the scene as a rookie in 2014 with nine sacks and raised his game to another level this season for the Rams, utilizing his awe-inspiring blend of explosiveness and brute strength to lead all interior linemen with 69 tackles. A Pro Bowl selection after he was picked 13th overall in the 2014 draft, Donald earned All-Pro honors this season while racking up 11 sacks to tie for the league lead at his position. 
Outside linebacker: K.J. Wright
Often overlooked on a Seahawks defense that is known for the Legion of Boom secondary and featured five Pro Bowl selections this season, Wright nonetheless led the unit with 116 tackles, his second straight year with more than 100. Wright He punctuated his season with an outstanding 14-tackle performance in a playoff loss to Carolina. Wright had one of the more noteworthy stats of the season, according to Pro Football Focus. He played a total of 994 snaps and missed only four tackles. 
Outside linebacker: Mark Barron
The Rams' defense absorbed a huge blow when outside linebacker Alec Ogletree, the team's leading tackler in 2013 and 2014, was injured in Week 4. With few options to replace him, the Rams shifted Mark Barron from safety to Ogletree's position and the move was a resounding success. Barron, a 6-foot-2, 214-pounder who did not start the first four games, went on to lead the Rams with a career-high 116 tackles, registering in double digits four times in an eight-game span.
Inside linebacker: NaVorro Bowman
Among the league's best comeback stories, Bowman was one of the few bright spots for the 49ers. His career appeared in jeopardy after a severe knee injury sustained in the 2013 NFC title game forced him to sit out the entire 2014 season. Although Bowman repeatedly said the knee was holding him back early in the season, he had a four-game stretch starting in Week 5 in which he amassed 54 tackles en route to leading the league with 154. It was his fourth straight season with at least 143 tackles.
Seahawks linebacker Bobby Wagner is the second player in franchise history with four straight 100-tackle seasons.
Inside linebacker: Bobby Wagner
A Pro Bowl selection for the second consecutive season, Wagner finished second to Seahawks teammate K.J. Wright with 114 tackles. The former second-round draft pick out of Utah State has notched more than 100 tackles in each of his first four seasons, joining Terry Beeson (1977-80) as the only players in franchise history to record triple-digit tackles four years in a row. Not only did the Seahawks lead the league in fewest points surrendered, they also had the top-ranked rushing defense at 81.5 yards per game.
Cornerback: Patrick Peterson
How consistent is Peterson? He became only the second player in franchise history to be named to the Pro Bowl in each of his first five seasons in helping the Cardinals to a 13-3 record and the NFC West title. Peterson was determined to bounce back from what he termed a sub-par 2014 campaign, when he was diagnosed with diabetes and struggled with his weight. He did just that. According to Pro Football Focus, Peterson allowed the second-lowest completion percentage against him and tied for the league lead for fewest receptions against him with 31.
Cornerback: Richard Sherman
A cursory glance at the stats reveals that the Seahawks' Sherman had the fewest interceptions (two) in his first five seasons, but there was a good reason for that. Quarterbacks barely looked in the direction of Sherman, who took on the added responsibility of shadowing the opposition's No. 1 receiver all over the field as opposed to manning just the left corner in previous seasons. According to Pro Football Focus, Sherman missed only two tackles and surrendered two touchdown passes while tying Patrick Peterson for the league's fifth-best coverage grade.
Cardinals afety Tyrann Mathieu set career highs in tackles and interceptions before a season-ending knee injury in Week 15.
Safety: Tyrann Mathieu
Although technically listed as a safety, Mathieu often lined up in the slot to cover a receiver and was a huge playmaking presence for the Cardinals until suffering a torn ACL in Week 15. Frequently touted as one of the top contenders for Defensive Player of the Year before he was hurt, Mathieu finished his third season with career bests in tackles (89) and interceptions (five). Selected to the All-Pro team at safety, Mathieu was graded as the league's top cornerback by Pro Football Focus.
Safety: Earl Thomas
Thomas joined Seattle teammates Richard Sherman and safety Kam Chancellor as Pro Bowl selections, marking the fifth consecutive year he has been honored. Appearing in all 16 games for the sixth straight season, Thomas matched his career high with five interceptions. While the Seahawks struggled defensively over the first half of the season, Thomas' confidence never wavered and he was among the major reasons that Seattle limited five of its last seven opponents to 13 points or fewer.
---
---