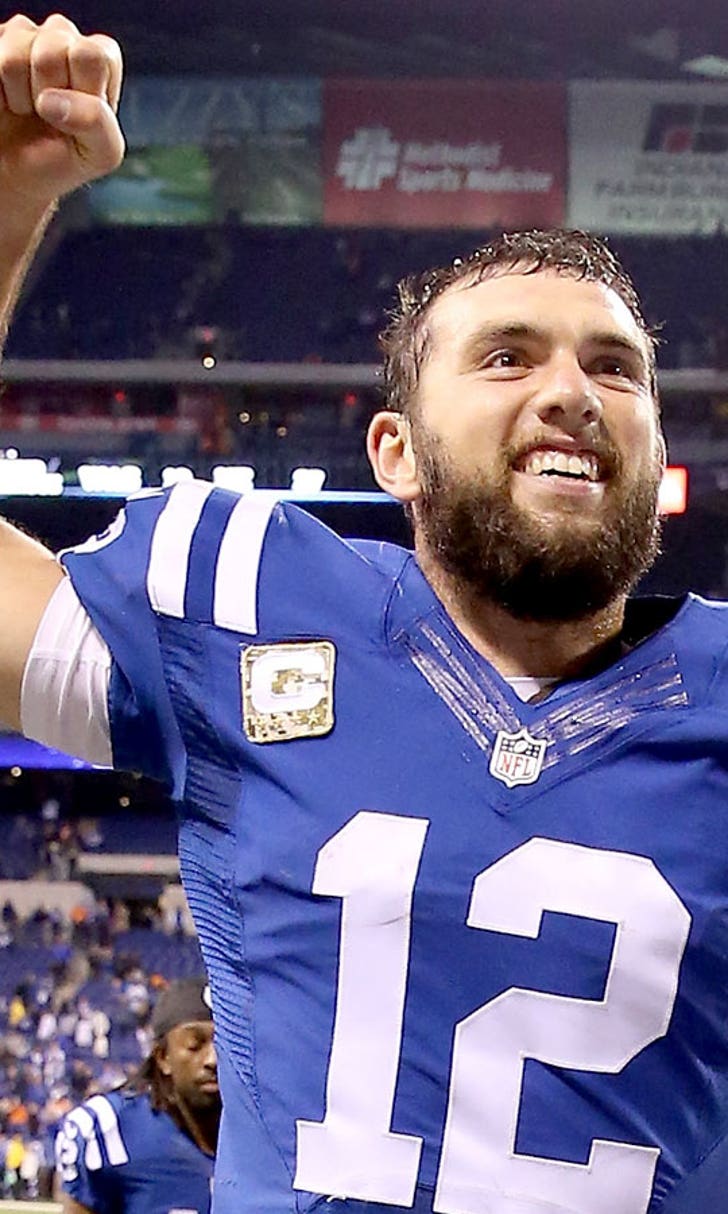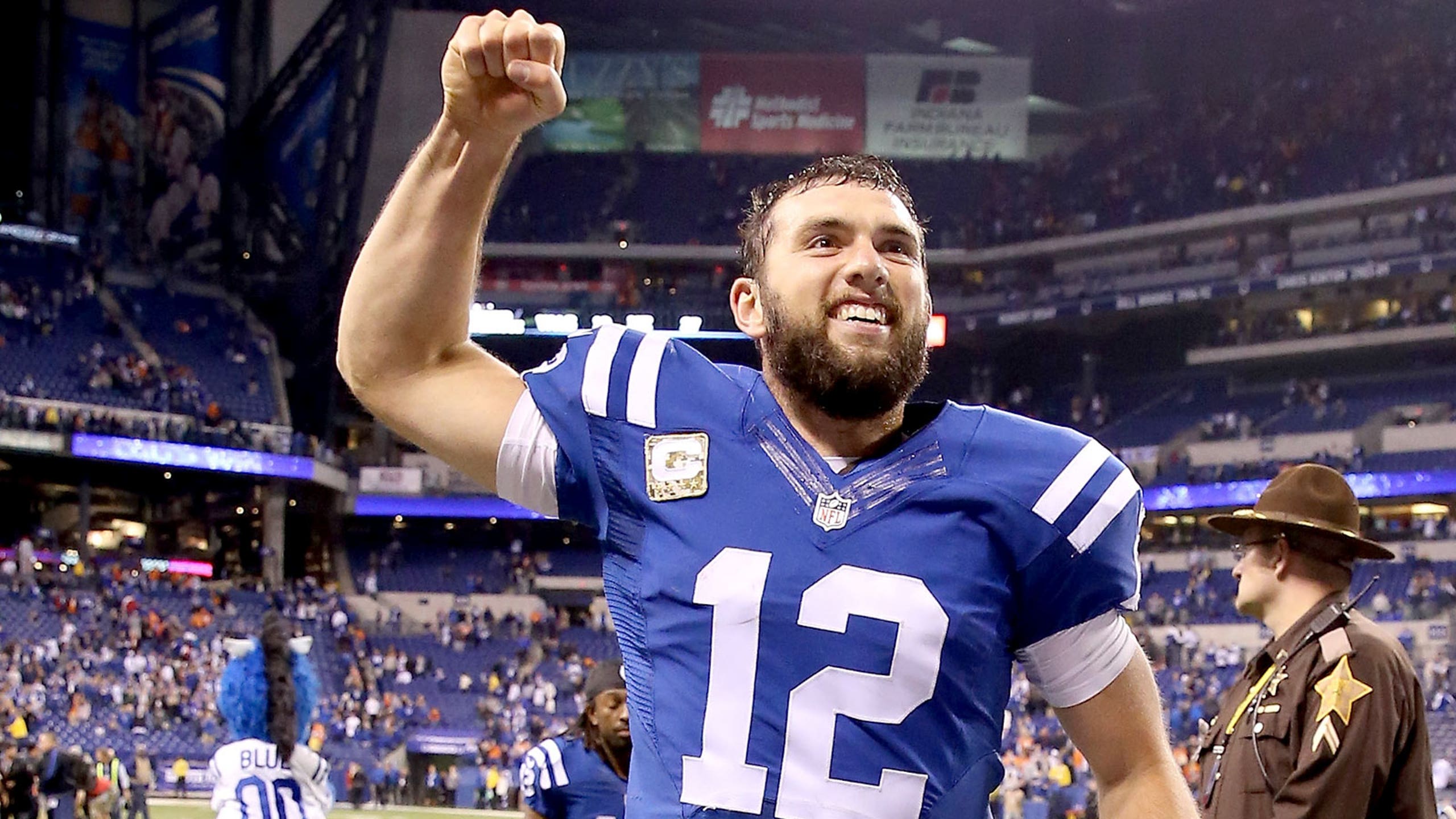 Six Points for Week 9: Colts find their swagger vs. Broncos
BY Mike Garafolo • November 9, 2015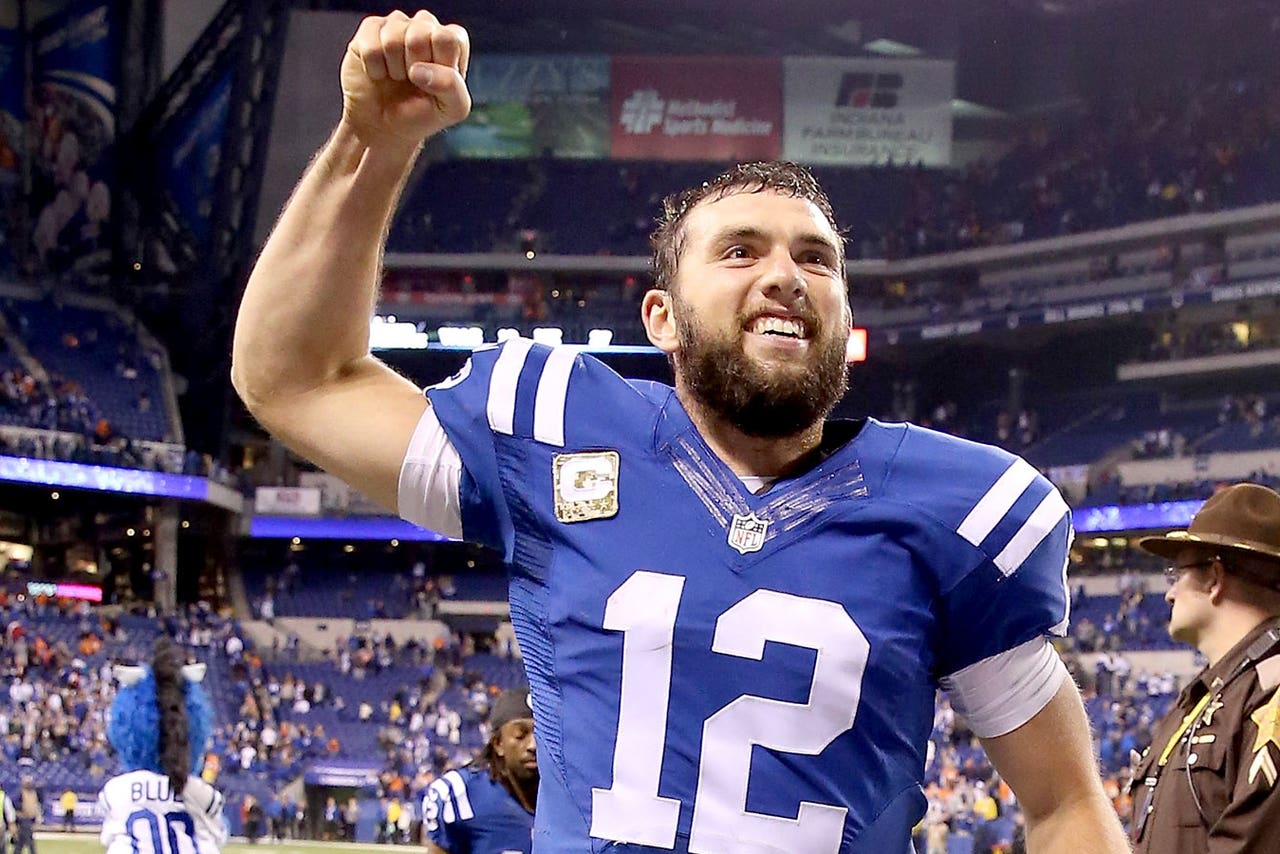 It wasn't the game-winning drive. It was the game-saving drive.
Actually, let's call it the season-saving drive. Or the job-saving drive.
Any and all apply because the Indianapolis Colts were facing an uncertain future after they blew a 17-point lead against the Denver Broncos on Sunday. With the bye week on deck, turmoil swirling around this team and offensive coordinator Pep Hamilton already gone, who knows what team owner Jim Irsay would have done if he'd lost to the Peyton Manning-led Broncos?
That scenario, and the implications of it, were surely swirling around the minds of the Colts' players as they huddled at their own 20-yard line with 4:57 left in the third quarter and the score tied after a Broncos field goal.
"Yeah, we knew what we needed to do there," Colts wide receiver Griff Whalen told FOX Sports by phone from Lucas Oil Stadium after the Colts ended the Broncos' perfect run with a 27-24 victory. "Everybody on the offense was fully confident. We had a really great week of practice and just felt like we could execute and move the ball down against these guys."
That 12-play, 80-yard drive ended in a touchdown that briefly gave the Colts a seven-point lead. The Broncos matched that score and the Colts then went ahead for good on a 55-yard field goal by the 42-year-old right leg of Adam Vinatieri.
But it was that drive in the third quarter that was probably the difference. It ended the Broncos' momentum, gave the Colts confidence back and showed that, despite the negativity swirling around the team, there have been signs the players are still battling for Chuck Pagano.
They did it Week 3 in Tennessee and again the following week against Jacksonville. They did it last Monday in Carolina, even though their comeback attempt ended in a loss.
And they did it again on Sunday to pull a half-game ahead of the Houston Texans and greatly change the narrative heading into the bye.
"We all needed a win," said Andrew Luck, who was 21 for 36 for 252 yards, two touchdowns and, for only the second time this season, no interceptions. "No one feels sorry for you in this league, but it was almost like a one-game playoff in a sense. And we managed to win, which is great."
Luck started that key third-quarter drive with a slant to T.Y. Hilton on third-and-4 that picked up 7 yards. He then got a terrific cut block by running back Ahmad Bradshaw on Broncos defensive end Vance Walker to allow Luck to hit Coby Fleener for 9 yards on the next play.
"He's awesome," Whalen said of Bradshaw, still as tough as they come in this, his ninth season. "One of my favorite guys to watch play."
On third-and-1, Luck rolled right to hit Whalen on an out route for 4 yards and first down. Whalen said the Colts knew that play would work if they got to the line quickly. Broncos corner Bradley Roby was off the line of scrimmage and never had a shot to defend the pass.
Then, the big play.
"As soon as it got called in the huddle," Whalen said, "I knew it was probably coming to me."
It was a wheel route for him against backup linebacker Lerentee McCray. That's a mismatch. It was created when Whalen motioned from out wide toward the slot behind Donte Moncrief. The pass went for 38 yards.
"There are different ways they can play that," Whalen said. "But we felt good about the play, no matter how they matched it up."
Right about then, as the teams flipped the field for the start of the fourth quarter, Luck was pumping up the offense. Whalen noted Luck was "high in energy and spirits all day." A few more of Luck's teammates said he was more vocal than he'd been in recent weeks. Hilton said new offensive coordinator Rob Chudzinkski told the players they had been missing their "swagger." That's a word Pagano also used in his postgame news conference.
That final touchdown drive, which ended with Bradshaw forsaking a blitz pickup in favor of a quick route out of the backfield for an 8-yard touchdown catch, was swagger personified.
Luck and the Colts then displayed some more by running out the final six minutes of the game without giving the Broncos the ball back. That's every coach's dream right there.
An 18-yard pass from Luck to Whalen to convert a third-and-10 with 3:28 to play helped extend that drive, as did two dumb penalties by Denver's Aqib Talib and a holding penalty on linebacker Danny Trevathan on what would've been a field goal. That took away any chance of a miracle comeback for Manning and the Broncos.
Now, as the Colts try to work their own miracle this season, they get to rest physically and regroup mentally. They have only two games left against teams with winning records, so the path to the postseason seems pretty clear. But that means nothing. It's all about whether they finally succeed in the playoffs.
For that, they'll need all the swagger they mustered on Sunday and then some.
NO SYMPATHY FOR HARDY
I reported on FOX NFL Kickoff on Sunday morning that Dallas Cowboys defensive end Greg Hardy was "despondent" on Friday after Deadspin posted pictures of injuries on his ex-girlfriend's body he was alleged to have caused.
Hardy was so dejected that team security and former Cowboy great Charles Haley, now a mentor to a number of players, checked on him. I also mentioned Hardy told Haley he feels like he's not getting support from close friends right now.
Whether it was my word choice or the fact I didn't simply blast Hardy over the allegations and the photos that ensued, several folks tweeted at me to accuse me of trying to drum up sympathy for Hardy. That is not even remotely close to the truth.
The fact is my report was meant to show those who are criticizing Hardy that their sentiments are hitting home, despite his public stance that it's all basically rolling off his back. Those who are angry enough to make their comments in any forum have the right to know Hardy isn't merely brushing them off and, like anyone, he doesn't like hearing people call him names or condemn him.
Does that mean all should be forgiven? No. Does it mean his one tweet from Saturday night in which he stated he regretted the past should be enough to end the criticism? Of course not. Does it mean Hardy is even starting to realize why so many people are upset by his public defiance? No, and that very much remains to be seen.
Our job as journalists is to peel back the curtain and show the inner workings of the NFL. In this case, I had enough sources inside and outside of the Cowboys' organization who corroborated the information to show Hardy's private feelings don't match his public ones. What he does in both areas from here on out will determine whether many deem him worthy of redemption. Some will never allow for that, and that's fine.
And by the way, for those saying Hardy's first reference toward regret for his actions was due to the pictures finally coming to light, that might well be the case. If so, that only further supports Deadspin's decision to post the photos.
The Eagles could tell Hardy wasn't himself on Sunday, which is more evidence he was affected by the criticism.
"He wasn't all that emotional in the game," left tackle Lane Johnson told reporters. "I don't know if the stuff got to him on the news, but he seemed out of it a little bit."
TIME TO RAID THE PANTHERS
In the NFL, success is tough to sustain for a few reasons. One of them is the salary cap. Another is the penchant for teams to fleece the front offices and coaching staffs of successful teams.
The Carolina Panthers could soon suffer through the latter.
At 8-0, their coaches and executives are becoming targets for bigger jobs elsewhere. It starts with defensive coordinator Sean McDermott. His defense didn't have a great game on Sunday, as Carolina let the Green Bay Packers back into the game, but linebacker Thomas Davis sealed the victory with an interception of Aaron Rodgers on fourth-and-goal.
McDermott was in the mix for the New York Jets' head-coaching job this past offseason right up until the day Todd Bowles was hired. At this rate, he'll once again be a hot head-coaching candidate.
Offensive coordinator Mike Shula is an interesting case. When he was the Tampa Bay Buccaneers' offensive coordinator at age 31 in 1996, he was deemed to be on the fast track to becoming an NFL head coach. Almost two decades later, he might finally be a legitimate candidate. Cam Newton is playing outstanding football, so someone on the coaching staff will reap the credit. It might be Shula.
Elsewhere, linebackers coach Al Holcomb is routinely praised by Luke Kuechly for his awareness during games and preparation during the week. Kuechly and Davis lead a group of linebackers that is among the best in the game, thanks in part to Holcomb. Up front, the defensive line has been stellar as well, which should help position coach Eric Washington's prospects. Cornerback Josh Norman's emergence has highlighted the work of assistant head coach/secondary coach Steve Wilks. All three of these guys are budding defensive-coordinator candidates.
Upstairs, assistant general manager Brandon Beane is thought to be Carolina's GM-in-waiting behind Dave Gettleman. Meanwhile, director of college scouting Don Gregory is a longtime scout who has the respect of many around the league.
Listen for these names in the months to come as jobs open around the league.
WHY IT SHOULD BE JOHNNY TIME FOR CLEVELAND
The Browns had a few extra days to rest after their Thursday night loss to the Cincinnati Bengals. After they face the Pittsburgh Steelers on Sunday, they'll have another 15 days to relax thanks to the bye week.
So after Johnny Manziel was rushed into action on a short week last week and played pretty well, why not see what he can do given plenty of time to prepare and to recover? Plus, the Steelers will be without Ben Roethlisberger because of the foot injury he suffered. Based on what the Steelers did without Roethlisberger following his knee injury, that should keep the scoring down. In other words, Manziel won't have to win a shootout.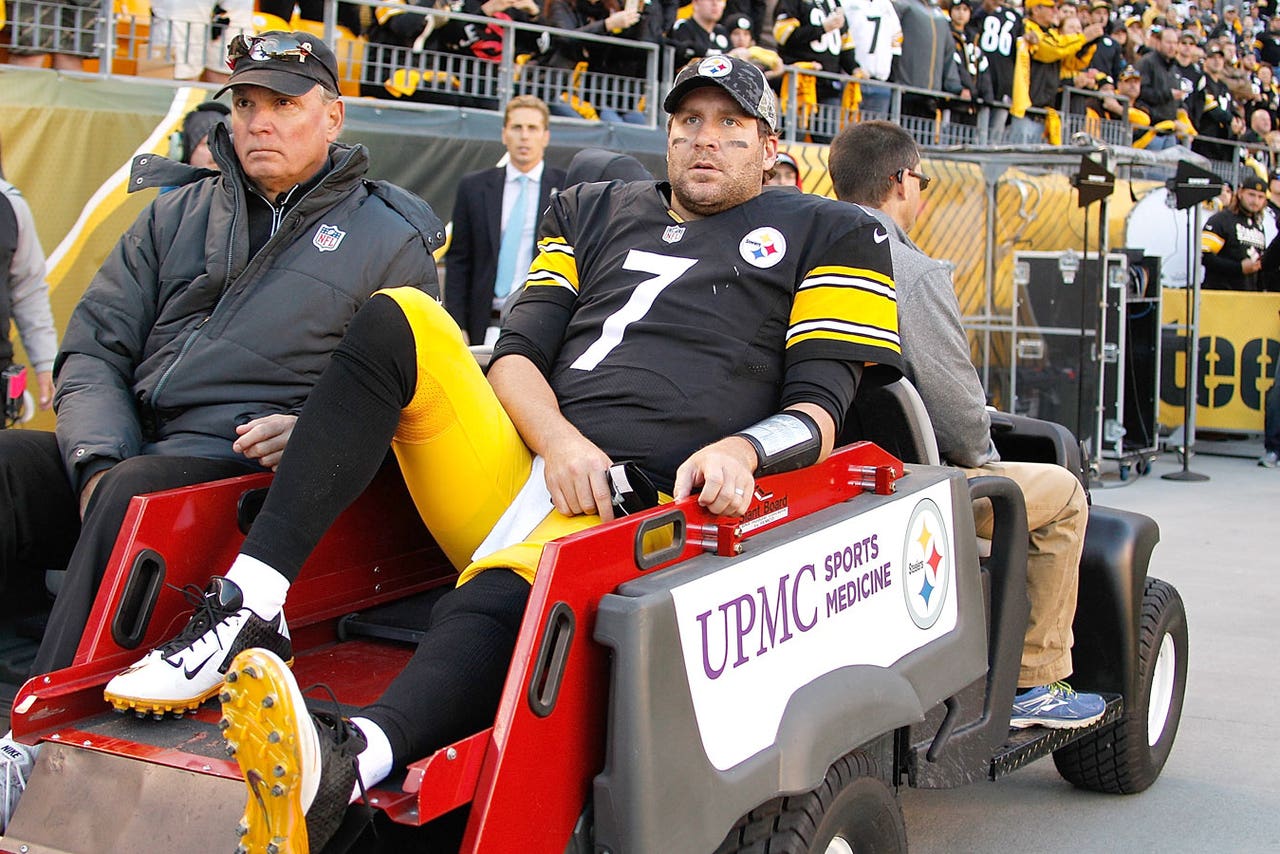 Browns coach Mike Pettine didn't reveal any leans about his quarterback decision yet, but it shouldn't be a surprise to anyone if it was Manziel instead of Josh McCown. The Browns aren't going to the postseason and the schedule is setting up well for Manziel from a preparation and review standpoint. Why not make the move to him now?
STEELERS BATTLING THROUGH MISFORTUNE
Aren't the Rooneys supposed to have the luck of the Irish on their side?
Apparently not. The Steelers continue to face adversity, this time in the form of Roethlisberger's foot injury. The hope is he'll miss only one game and be back after the bye for a post-Thanksgiving matchup with the Seattle Seahawks. But given the way this Steelers season is going, there's always a chance his foot will just fall off.
That was a joke, but think about all the team has had to deal with so far: Roethlisberger's foot and knee injuries, Le'Veon Bell's two-game suspension, Bell's season-ending knee injury, Martavis Bryant's four-game suspension, center Maurkice Pouncey's ankle surgery and ensuing infection that still has him sidelined and left tackle Kelvin Beachum's torn ACL.
On the bright side, they have a pair of phenomenal wide receivers in Antonio Brown (17 catches for 284 yards in Sunday's win over the Oakland Raiders) and Bryant (an outstanding, juking catch-and-run touchdown in the fourth quarter).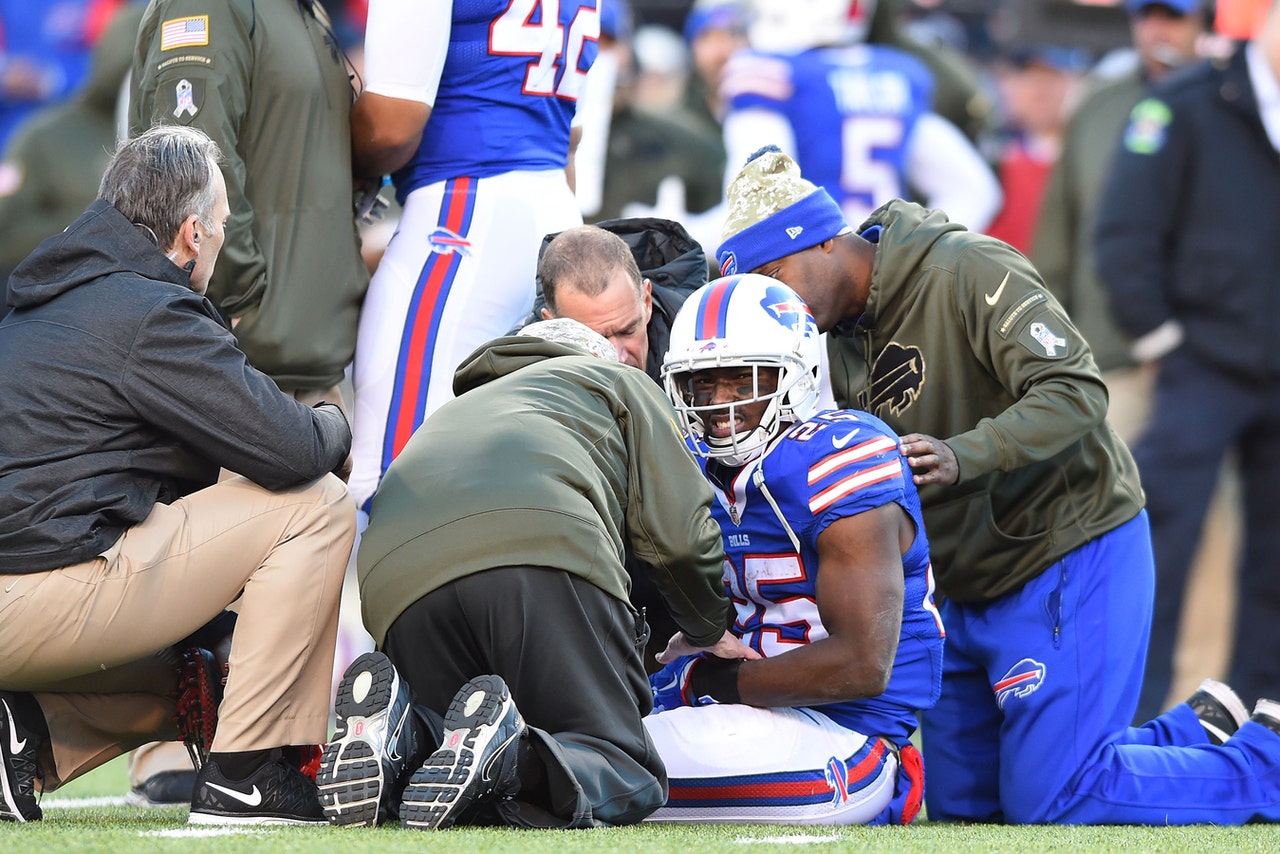 "We're a strong team and a family. Everything isn't going to be perfect," Bryant said by phone Sunday. "All you have to do is stick together."
MCCOY '100 PERCENT' TO FACE THE JETS
LeSean McCoy left Sunday's game against the Miami Dolphins with a shoulder injury. Though there were reports tests could be coming, a source with knowledge of the injury said he will play Thursday against the New York Jets.
"One hundred percent," the source said.
That means Rex Ryan will have one of his top offensive weapons for his first grudge match against his former team.
Elsewhere in the AFC East, the New England Patriots can only hope Dion Lewis' chances of playing again this season are that high. A source said initial tests on Lewis' knee has the Patriots concerned over a lack of stability, though the full extent of the injury won't be known until Monday morning's MRI.
Lewis is on pace for 77 receptions, which would tie Tony Collins (1986) for most in team history. That's provided he's not lost for the season, doesn't miss any time and stays on pace. The Patriots can only hope so.
---
---