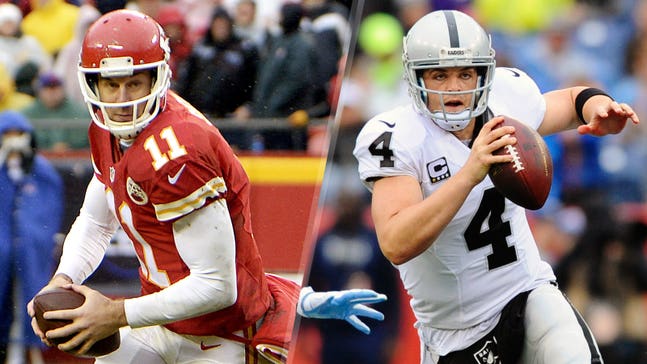 Six Points: Chiefs vs. Raiders
Published
Dec. 4, 2015 8:00 a.m. EST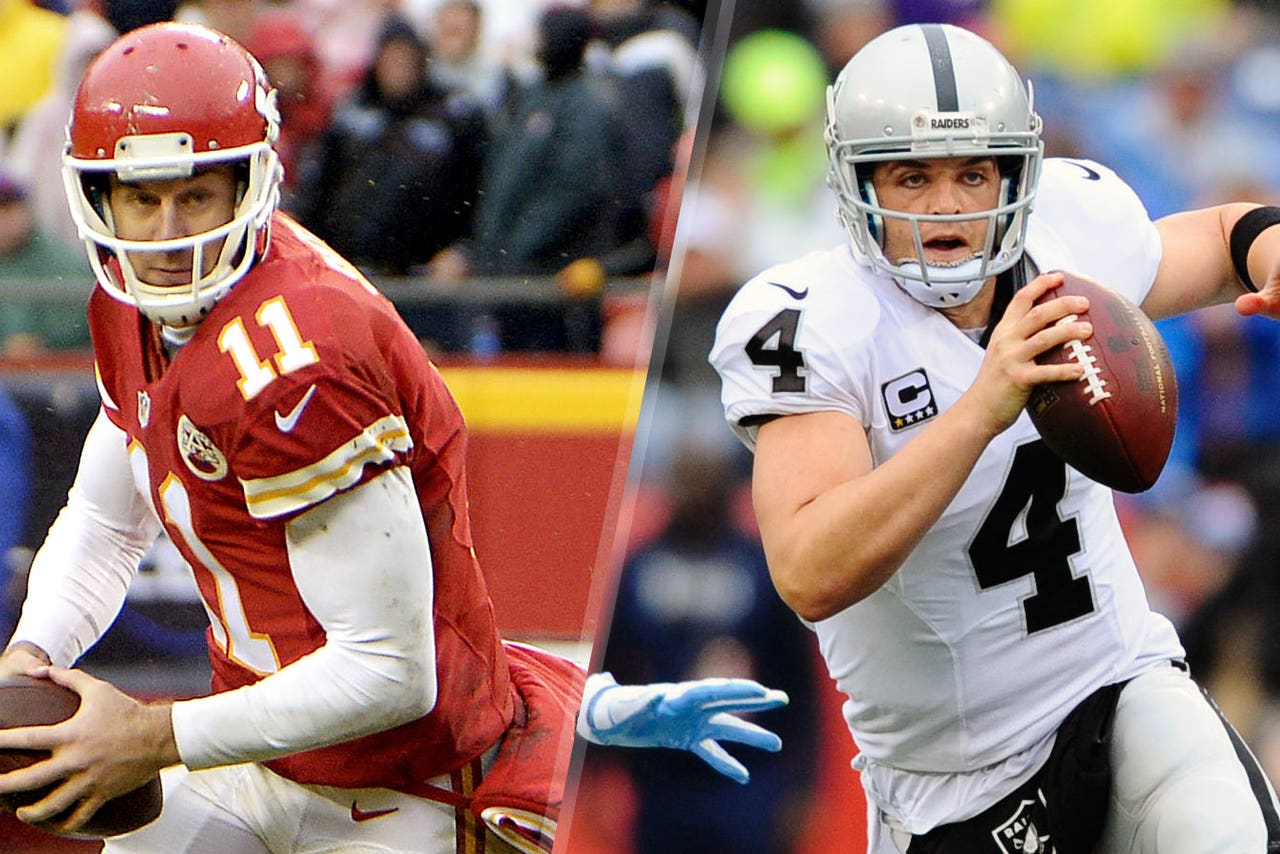 The red-hot Kansas City Chiefs (6-5) head to O.Co. Stadium for their first of two meetings with the Oakland Raiders (5-6) this season. Kickoff is slated for 4:05 p.m. ET.
Only the undefeated Carolina Panthers have a longer current winning streak (11) than the Chiefs (5) do. Credit quarterback Alex Smith and top receiver Jeremy Maclin for finding their stride vs Buffalo in Week 12. Credit their ninth-ranked rushing defense for swarming to the football, too.
But the Chiefs looked just as talented last season when a winless Raiders team knocked them off. With quarterback Derek Carr and receiver Amari Cooper, this year's roster is far more talented. Plus, they might not need to game-plan for star linebacker Justin Houston.
Here are three keys to the game for both the Chiefs and Raiders:
Can you beat the Crowd's Line? Submit your final score prediction below. Good luck!
CHIEFS
1. Cover their star rookie with your star rookie
Cornerback Sean Smith was roasted last weekend by Bills speedster Sammy Watkins (six catches, 158 yards, 2 TD). Cooper is up next; expect the Chiefs to counter with their own rookie sensation, cornerback Marcus Peters. The Washington product has the shiftiness and closing speed needed to hang with Oakland's top wideout. Smith might be better suited on Michael Crabtree.
2. Test the edges in the run game
Oakland released linebackers Ray-Ray Amrstrong and Sio Moore this season. They've lost another linebacker, Aldon Smith, to suspension. That leaves Malcolm Smith as the only regular outside linebacker, and that'll leave their perimeter defense vulnerable on the perimeter. You'll see pitch plays, misdirection, and maybe a Jeremy Maclin reverse or two.
3. Get to Carr without Houston there
K.C. has its own linebacking woes to solve with top pass-rusher Houston (knee) iffy for Sunday. A skeleton crew consisting of Frank Zombo, Dezman Moses, and Dee Ford will have to do if Houston can't go. Defensive coordinator Bob Sutton better dial some exotic blitzes up if that's the case.
RAIDERS
1. Bracket both Travis Kelce and Jeremy Maclin
It'll leave the defense susceptible and in man coverage across the board. It might not even work, given their porous secondary. But the beleaguered Raiders defense can't let Kelce (four catches, 69 yards, TD) and Maclin (nine catches, 160 yards, TD) run roughshod all afternoon. Safety help is a must.
2. Give outside-the-tackles handoffs to someone else
Latavius Murray has looked more ballet dancer than Raiders running back of late. He's averaging more than two yards per carry less (2.4) after Week 10 than he was before it. With 13 runs of two or fewer yards, Murray might be better suited to between-the-tackles work. Give the outside zone carries to a shiftier back like Taiwan Jones.
3. End Alex Smith's mistake-free streak
Smith has attempted a near-historical 283 passes without an interception this season. He'll probably pass Bart Starr (11 attempts away) and could pass Bernie Kosar (25 passes away) for the second-longest pass streak without a pick. Oakland's defense must try everything it can to prevent Smith from doing that. A turnover or two would really help their cause.
---
---