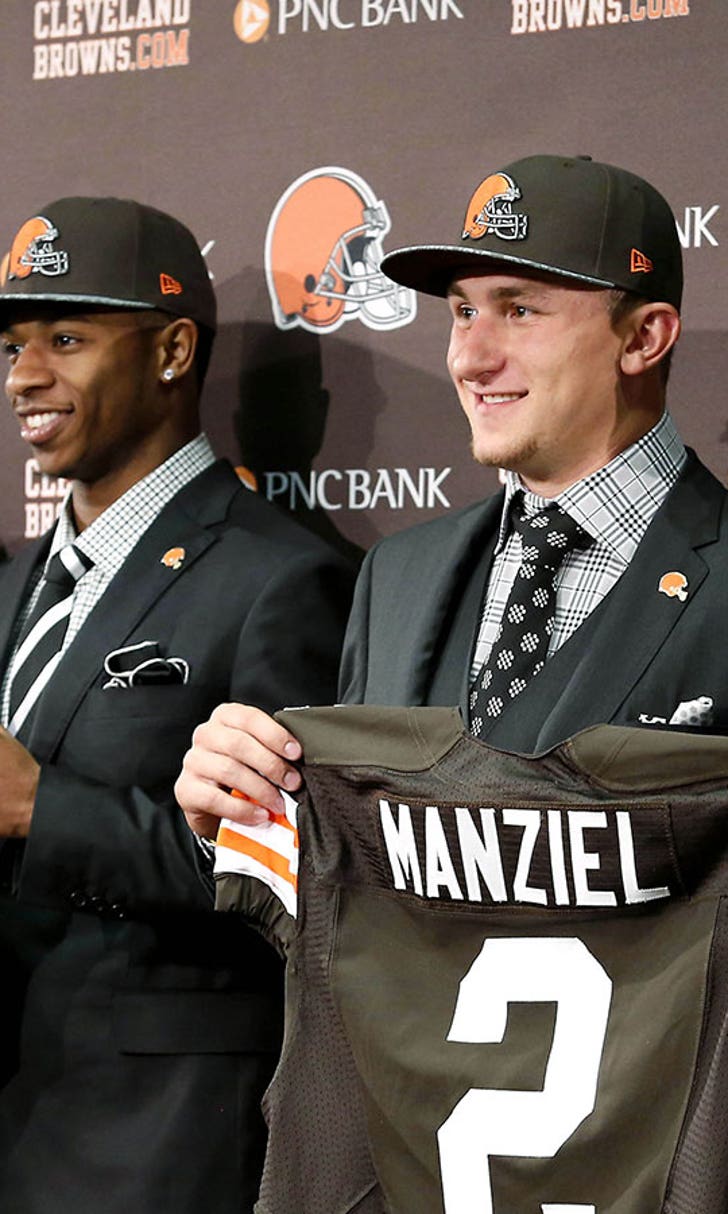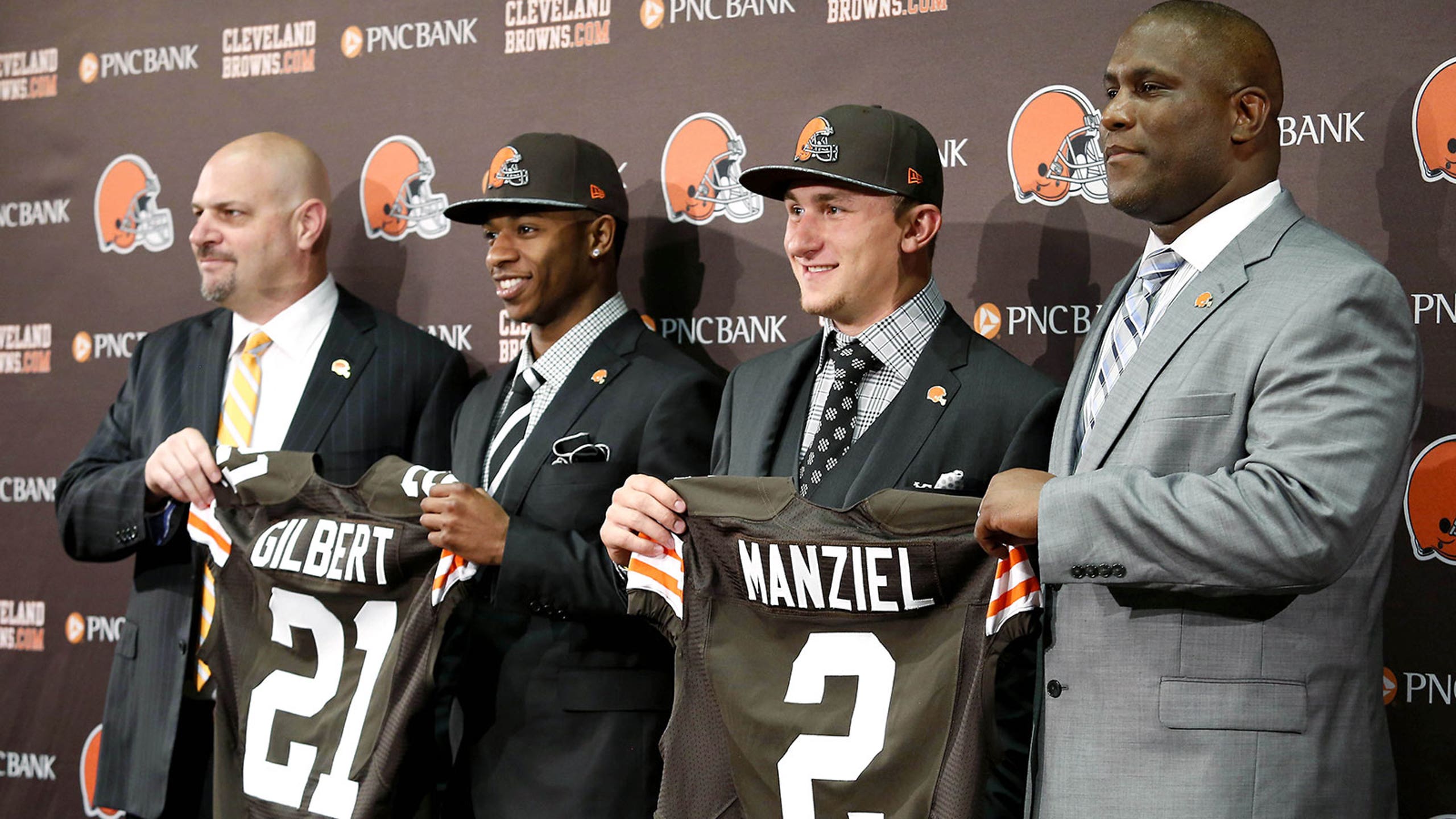 Simply put, I was sucked back in by the draft
BY foxsports • May 13, 2014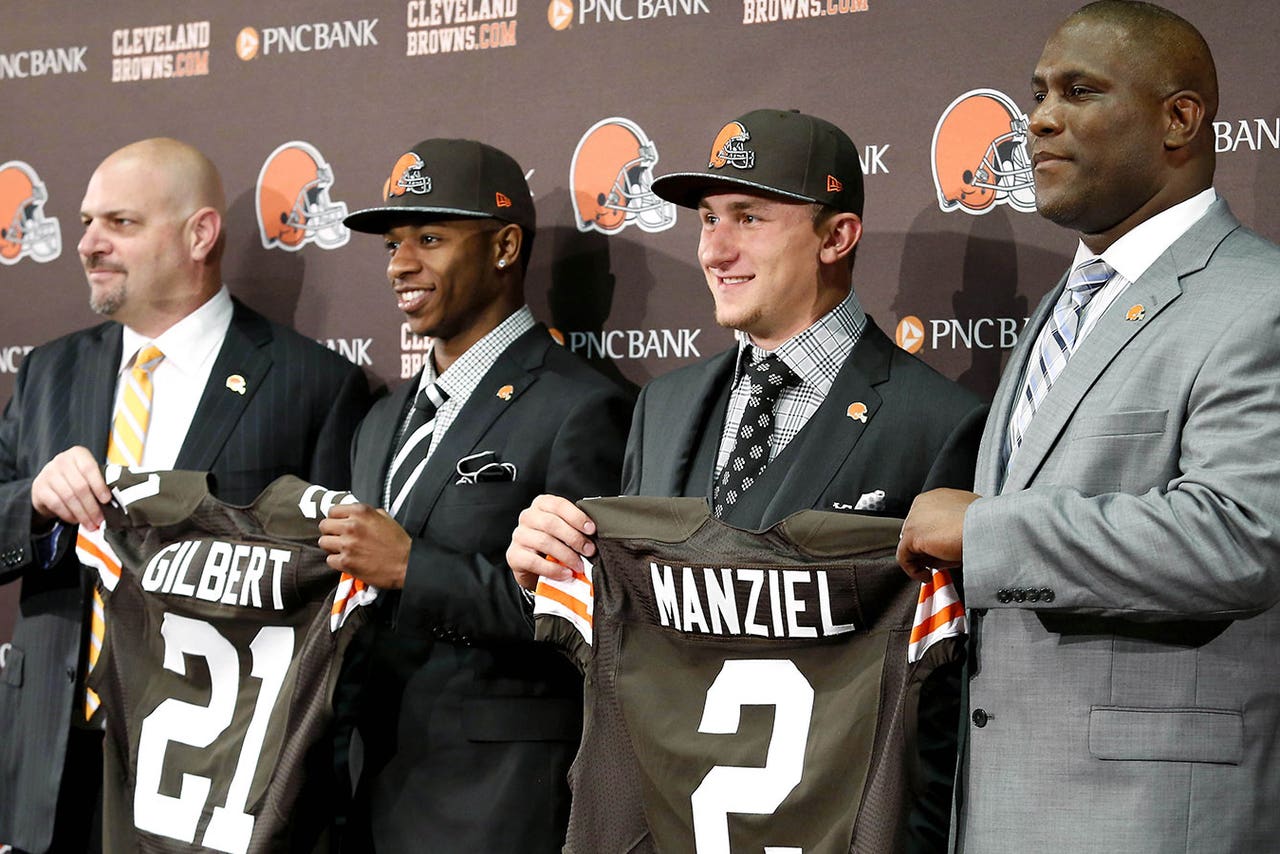 This past week, I think I became a football fan again. 
Typically, as the NFL Draft approaches, I find myself trading barbs via social media with football fans and followers, quipping about the draft being America's quintessential tribute to Communism. This usually doesn't sit well with many die-hard football patriots, who accuse me of blasphemy or of being downright un-American. But occasionally, by the end of our chat, a few folks reluctantly accept the "Comrade" title I've bestowed upon them and see that it's actually the draft that's rather un-American. 
My closing argument might look something like this, in the form of a hypothetical workplace scenario I create for my Twitter opponent(s):
@sfujita55: Hey @SupaBowlWarDawg99, you are one of the absolute best in the world at what you do. And to reward you, we're sending you to ______ (insert perceived hellhole geographic location or perennial dysfunctional organization). Congratulations! And we're also going to cap your earning potential. And restrict you from going anywhere else as long as we possibly can. And if you underperform on the assembly line you'll likely be discarded. And if we fail to provide a competent regime and workplace environment for you and your fellow comrades, too f--king bad. Welcome to the USSR...um, I mean, the NFL.
"But it's okay Comrade," I'd joke, "I went to Berkeley, so you and I are in the same bloc!"
Obviously I was just having a good time with "@SupaBowlWarDawg99" and other like-minded football fanatics. Trolling, if you will. 
But for years, I think a big part of me actually did resent the draft. Political ideology and my flair for the dramatic aside, I probably just resented the idea that so much time and effort (and dollars) were being allocated in an attempt to find someone better than me, and to replace many of my friends and teammates. So perhaps I lashed out at the intrinsically capitalistic, dog-eat-dog nature of the draft, by pointing out some of its more socialistic tendencies. Cognitive dissonance defined, kids.
But this year's draft was different. My typical Berkeleyan rabble-rousing was replaced by rah-rah's and fist pumps. 
And it pains me to admit that I actually contributed to the TV ratings by tuning in from time to time to watch NFL Draft coverage. Yes, I sold out! Hypocrisy at its finest.
The reason for my sudden change of heart? The Cleveland Browns. 
The ups and downs of the Cleveland Browns
I'm now about 18 months removed from playing the game, and naturally, I've continued to follow the sport. Especially the teams I feel most connected to: the Saints, Chiefs and Browns. I pull for my friends, hope they play well and win a lot of games, stay healthy, get big contracts, etc. But I don't know if I've considered myself an actual fan. 
I remember when Browns Head Coach Pat Shurmur informed us on the opening day of training camp in 2012 that team owner Randy Lerner had just sold the club. I thought to myself: There's a whole bunch of dead men walking around here, and everyone knows it. This season might get pretty dismal. But I hadn't thought much about how Browns fans viewed this transaction. 
And when a local beat writer I'd become friendly with after joining the Browns in 2010 gave me a copy of Scott Huler's On Being Brown: What it Means to Be a Cleveland Browns Fan, I read it and thought yeah, yeah, yeah ... every fan thinks they're more dedicated than every other fan.
But after a year and a half of following the Browns from the outside, I've begun to see the roller coaster ride that all Browns fans have experienced over the past few decades. Up and down. Up and down. Up and down.
With new owner Jimmy Haslam sounding staunchly committed to creating long-term stability, you couldn't help but think the perpetual dysfunction and organizational overhauls that had plagued the Browns for so long had ended. But then reports of an FBI/IRS probe regarding Haslam's family business sounded awfully messy, creating a new sense of uncertainty around the team. This issue remains unresolved. 
Scrappy quarterback Brian Hoyer comes off the bench and leads the upstart Browns to three consecutive wins during the 2013 season. When was the last time you saw that happen in Cleveland? But then he suffers a season-ending injury and the Browns lose 10 of their last 11 games.
When Browns team brass decided to trade running back Trent Richardson just a year after making him their top pick in the 2012 draft, I defended the move as a commitment to getting things right by loading up for future drafts. This was a courageous and forward-thinking decision, I argued, with an eye on stability. But just a few short months later, Browns head coach Rob Chudzinski was fired after less than a year on the job. Back to square one.
An exhaustive coaching search to find the right man to "stabilize this organization" turned into a weeks-long train-wreck, as it appeared the Browns head coaching gig was a job no one would touch. I've never seen so many head coaching candidates declare publicly that they were removing their names from consideration for what's typically a highly coveted job.
General Manager Mike Lombardi and CEO Joe Banner, the visionaries behind the Trent Richardson trade and the assumed architects of stability, got fired in February of this year. This happened just over a month after Chudzinski's dismissal, and also right after new head coach Mike Pettine was hired. The timing here left everyone scratching their heads.
Each of these organizational facelifts are the kinds of things that may happen to a club every 5-10 years, if ever. But these all took place during the period of time I've been following the Browns as a non-player -- in just the last 18 months. Can you imagine going through 20, 30, 40 years of this? A lot of Browns fans can.
But what do they always say in Cleveland? Just wait 'til next year. It's gonna be our year.
#Believeland
What transpired in Cleveland on Day 1 of this year's draft was nothing short of exhilarating. I hadn't been this fired up or engrossed in the draft since Dick Vermeil called my Berkeley apartment to tell me I was the 143rd pick of the Kansas City Chiefs in the 2002 NFL Draft. Or perhaps since the L.A. Rams took Eric Dickerson with the second pick of the 1983 NFL Draft. Let the record reflect that if my folks would have let me wear a jheri curl, I would have.
But that first round by the Browns seemed straight out of Kevin Costner's Draft Day (a movie I of course refuse to see because I don't support films about Communism). I was getting text updates from friends and colleagues about trades down and trades up, and about how new Browns GM Ray Farmer was in total command during his first draft at the helm. 
That was when I actually turned on the television to follow the draft coverage in real time! And I was sucked right in. And that's when I saw the Cleveland Browns make the move to draft former Texas A&M quarterback Johnny Manziel. 
This was a move to get excited about. This was the pick that was going to change everything. I might travel out for a few (non-winter) home games in Cleveland this year! I may even reach out to Johnny Football to see if he wants to rent my condo in Crocker Park. Perhaps I could crash at his/my place when visiting, with dibs on his/my sofa. I mean, why not? I like to party. 
Then I caught myself. 
Who is this person fist-pumping in front of the TV on NFL Draft day? 
Was I actually that conflicted when linebacker (and friend) D'Qwell Jackson and the Browns parted ways this offseason? 
Why did I feel relieved when the Browns matched Alex Mack's contract offer sheet from the Jacksonville Jaguars? 
And had I really been so affected by every little up-and-down on that Browns roller-coaster ride these past 18 months. 
Heaven forbid ... Am I a fan?  
Damnit. I think I am.
And who'da thought it would be the NFL Draft, the Cleveland Browns, and JFF that would make me realize that? 
But apparently 24 hours of gleeful optimism and childlike exuberance was too much to ask. Because the following day, news broke that Browns superstar wide receiver Josh Gordon may be facing a year-long suspension for another (alleged) failed drug test. 
Damnit. Are you f--king kidding me?
If this is fandom, I don't know if I have the kind of heart that can sustain like this. 
But it's gonna be okay. 
Just wait 'til next year. It's gonna be our year
That's how we roll in #Believeland.  
---
---