National Football League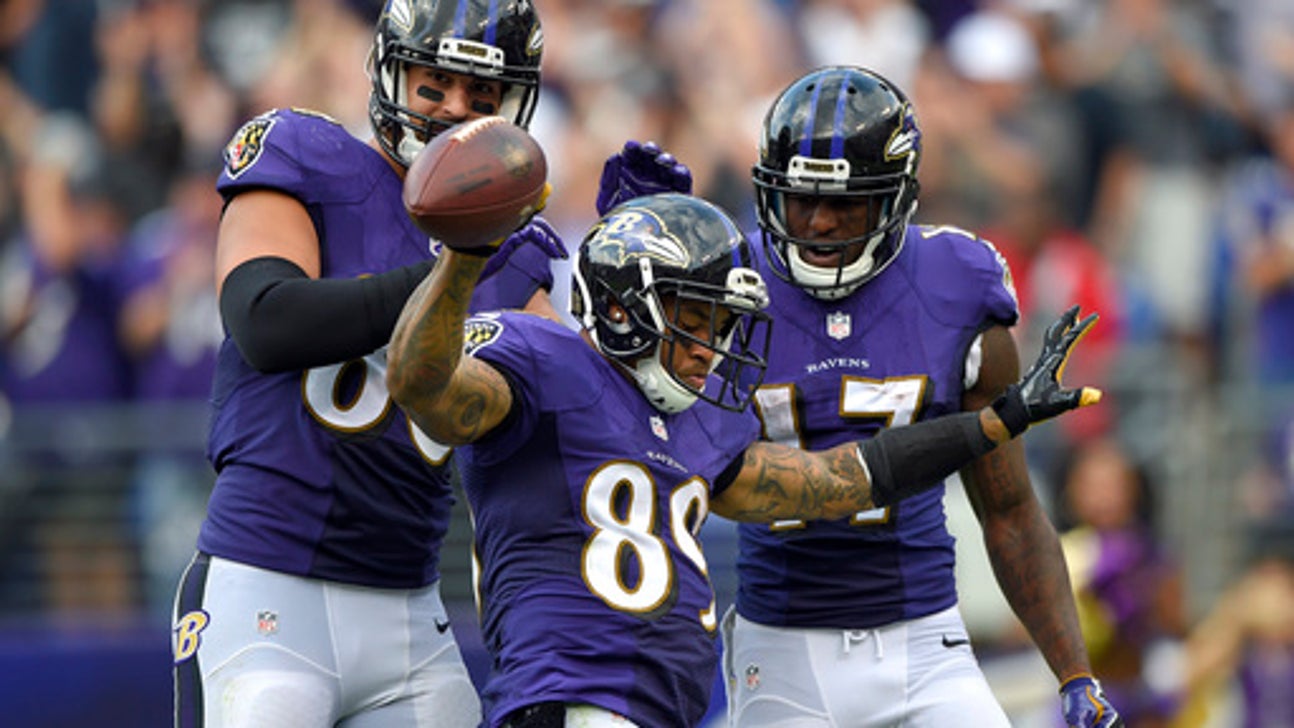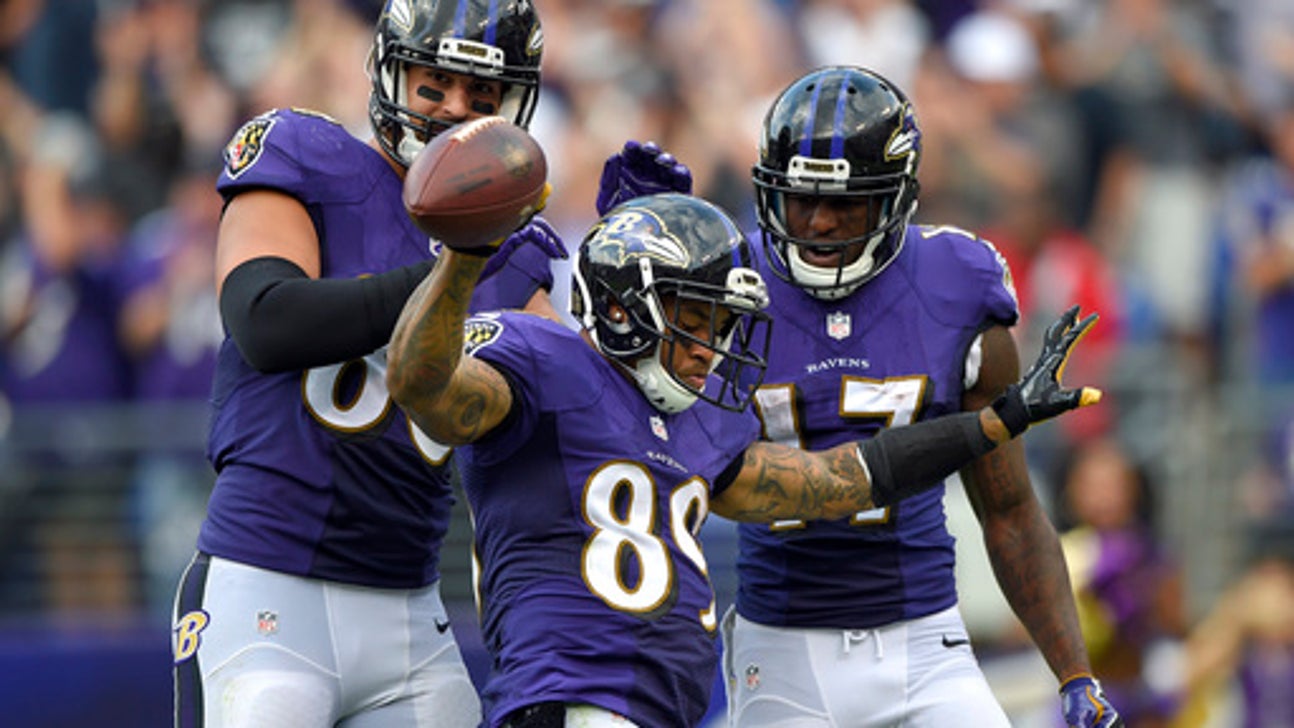 National Football League
Raiders earn another road win at expense of erring Ravens
Published
Oct. 3, 2016 2:50 a.m. ET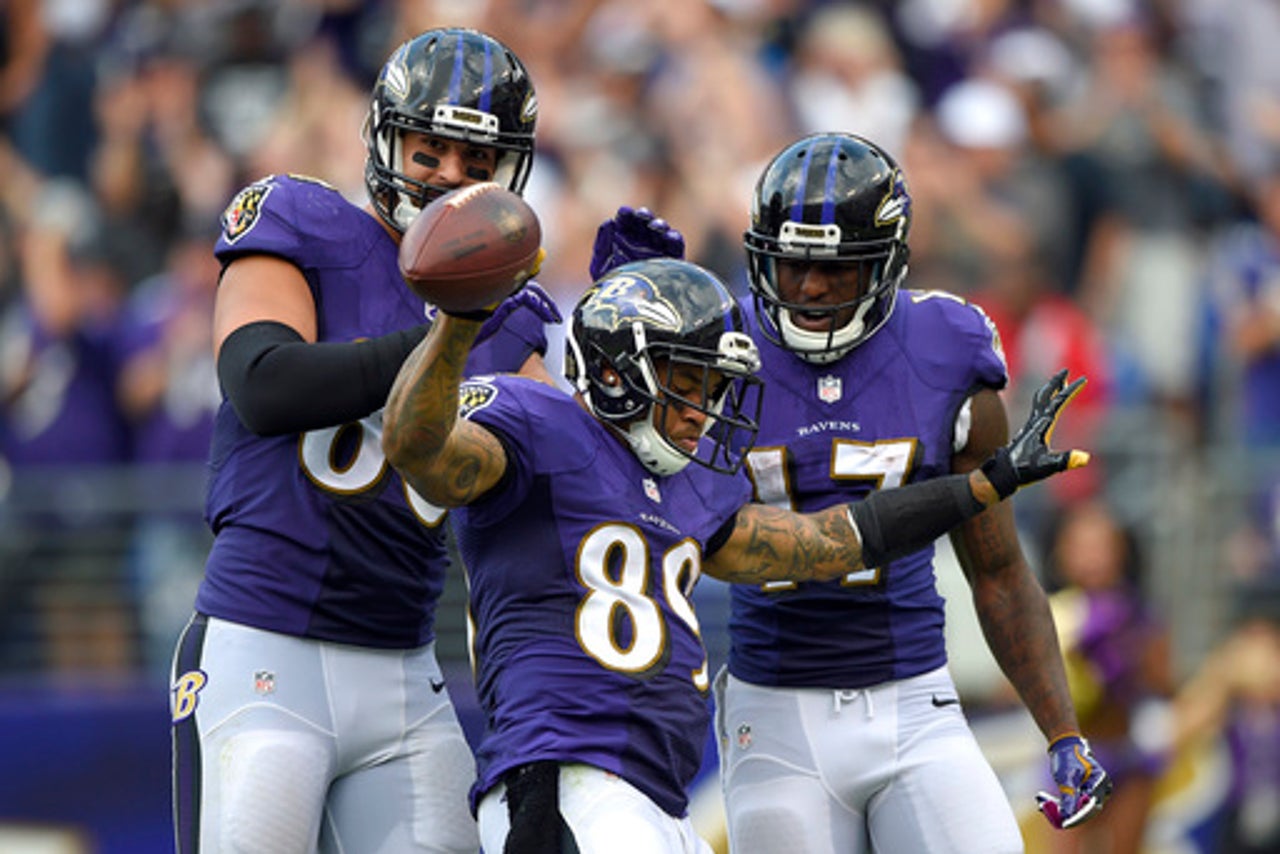 BALTIMORE (AP) Though improved from last year, the Baltimore Ravens still aren't good enough to overcome their own mistakes.
And that is why they're no longer undefeated.
The Oakland Raiders, on the other hand, proved Sunday with their 28-27 win over Baltimore (3-1) that playing on the road is no longer an issue. This much is certain: Derek Carr could probably find Michael Crabtree with a pass if they were on a construction site.
Carr connected with Crabtree on touchdown passes of 5, 13 and 23 yards. The last one, with 2:12 left, enabled Oakland (3-1) to improve to 3-0 on the road for the first time since 2000.
Crabtree's three TDs increased his total with the Raiders to 13 since joining the team prior to last season. He had 14 in the three seasons before that with the 49ers.
Crabtree also now has at least four receptions in 16 straight games, all with the Raiders.
He said his relationship with Carr is the key.
''It's no secret. We keep working hard,'' Crabtree said. ''We keep working together and we have a great rapport. This is a tremendous situation for me. I feel reborn in Oakland.''
Coach Jack Del Rio had nothing but praise for his receiver, who he said reminds him off another special wideout.
''He's been sensational since Day One,'' Said Del Rio. ''I played with a guy named Cris Carter who had exceptional hands. I think Crab has those kind of hands.''
Some are some other things we learned about the Ravens and Raiders in Week 4:
FLAG DAY: The Ravens hurt themselves with 10 penalties for 105 yards. The miscues ranged from five holding calls on the offensive line to taunting by receiver Mike Wallace.
''I think we had holding on 75 percent of our drives,'' quarterback Joe Flacco said. ''Stuff like that is disappointing. It makes it very, very tough to overcome and score points when those kinds of things are happening out there.''
Coach John Harbaugh said: ''What we needed to do was put the pressure on (Oakland) more than on ourselves. You keep the pressure on yourself when you have that many penalties.''
ROAD SHOW: The Raiders long have struggled on the road, but it's possible they've turned the corner after winning at Tennessee and Baltimore in successive weeks.
''There are some things you have to do as a team, and we've embraced that, in terms of traveling and being able to cross time zones,'' Del Rio said.
That will continue to be critical for the Raiders, who must later this month again travel across the country for consecutive road games at Jacksonville and Tampa Bay, both starting at 10 a.m. PT.
''The league likes to put us in that (time) window,'' Del Rio said. ''It will be important that we continue to take care of business, regardless of where we are.''
HEAD WEST: In an effort to get the running game going, the Ravens sat out Justin Forsett and let Terrance West prove he can do the job.
West didn't disappoint. He gained a career-high 113 yards on 21 carries, a robust average of 5.4 yards per attempt.
''We were consistent running the ball in the second half,'' he said. ''I just took advantage of the opportunity.''
DUMERVIL RETURNS: Though the Ravens stumbled down the stretch, the return of linebacker Elvis Dumervil should help in the long run.
Dumervil missed the first three games with a foot injury. Though he saw limited action and did not get credit for a tackle, Dumervil knows better days lie ahead.
''I felt rusty, but I'm going to keep working and we'll get it going,'' he said.
The Ravens could use him at his pass-rushing best. Baltimore did not have a sack on Sunday.
---
This story has been corrected to show the last time Oakland won its first three road games was in 2000, not 2002.
---
AP NFL website: www.pro32.ap.org and www.twitter.com/AP-NFL
---
---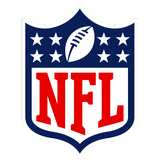 Get more from National Football League
Follow your favorites to get information about games, news and more
---