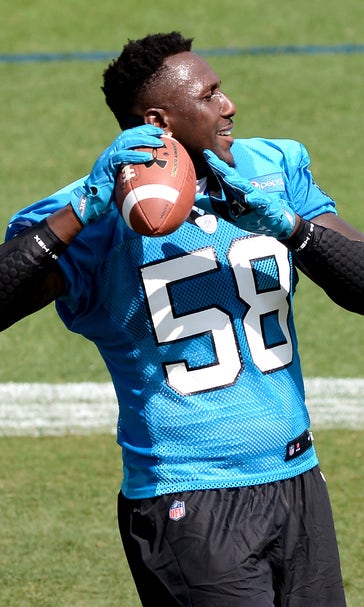 Panthers' Davis wants to keep playing _ if team wants him
August 6, 2018
SPARTANBURG, S.C. (AP) — Linebacker Thomas Davis wants to play for the Panthers beyond this season — if the team will have him back.
The 35-year-old Davis, who is entering his 14th season with Carolina, will be an unrestricted free after this season.
"If the team is willing to have me back, I will be back," Davis said Monday following training camp practice at Wofford College.
Davis, the Panthers' all-time leading tackler, will begin the season serving a four-game NFL-imposed suspension after testing positive for a banned performance-enhancing substance — a blemish on an otherwise stellar NFL career that has included returning from three torn ACLs in the same knee to earn All-Pro in 2015, three Pro Bowls selections (2015-17) and the Walter Payton Man of the Year award.
He doesn't want to end his career serving a suspension during his final season.
"I just look at the way things transpired this offseason and I think back to my legacy and the things I have been able to do as a football player and I don't want to leave on a sour note," Davis said. "You never want to walk away from the game knowing you served a four-game suspension. That is really my mindset right now. So as long as I am able to continue to play football I will do that."
With Davis sitting out the first four games, Shaq Thompson will fill Davis' spot at weak side linebacker and David Mayo is expected to start at strong side linebacker. It's unclear at this point if Davis would be in the starting lineup when he returns.
Davis is allowed to participate in all practices and preseason games, but must step away from the team altogether on Sept. 3. He plans to spend that time staying in shape and watching his sons play youth football.
He also has "a couple of offers" to do some other things during the first four weeks of the season, but would not elaborate on whether those opportunities television-related.
Davis has been a productive player for the Panthers despite suffering the three knee injuries in consecutive seasons — 2009, 2010 and 2011 — which limited him to nine games and threatened to end his career.
But he persevered and followed that up with five straight 100-tackle seasons and three Pro Bowls.
However, his numbers dropped off last year. Davis registered 76 tackles, 2 ½ sacks and no interceptions as Thompson took on a bigger role in the defense.
Panthers coach Ron Rivera did not address Davis' future beyond this season, saying only "Thomas has been a great player for us. And I look forward to Thomas playing for us."
Panthers general manager Marty Hurney was not immediately available for comment.
With his future beyond this season up in the air, Davis said he is enjoying every moment of training camp despite the sweltering heat.
"I come out and embrace it every day, talking trash at a high level every day to Cam (Newton) daily and just coming out and competing and having fun with my teammates," Davis said.
---
---