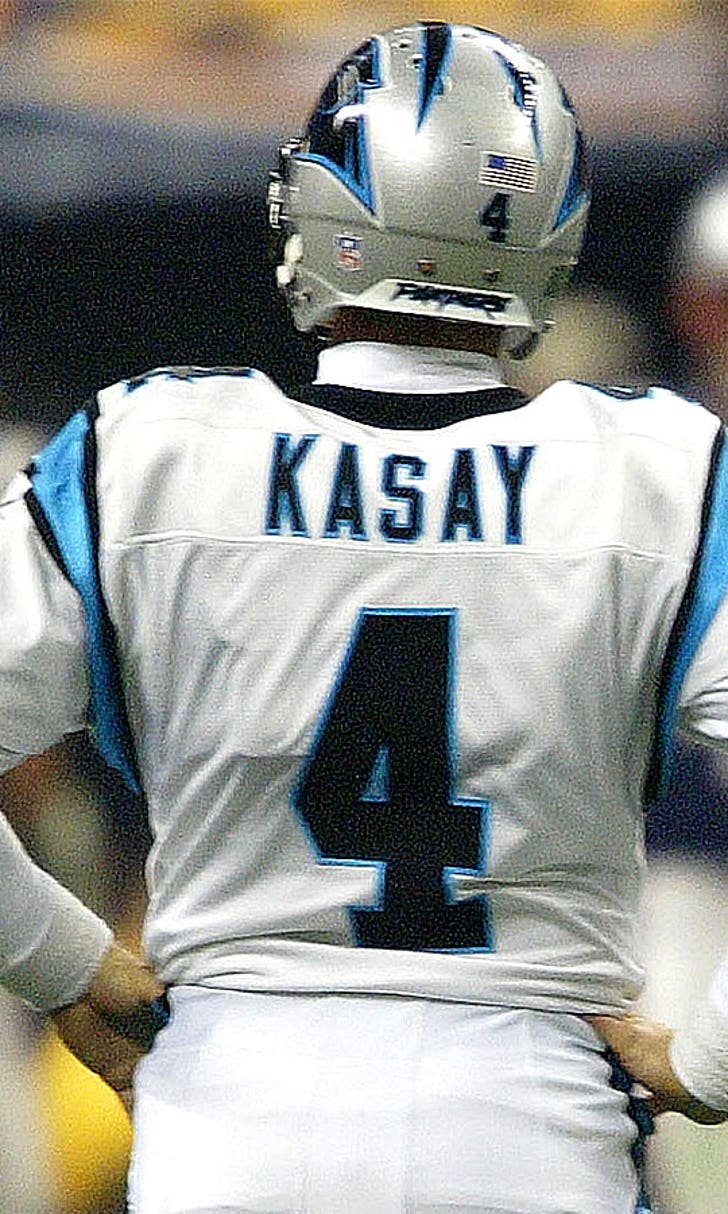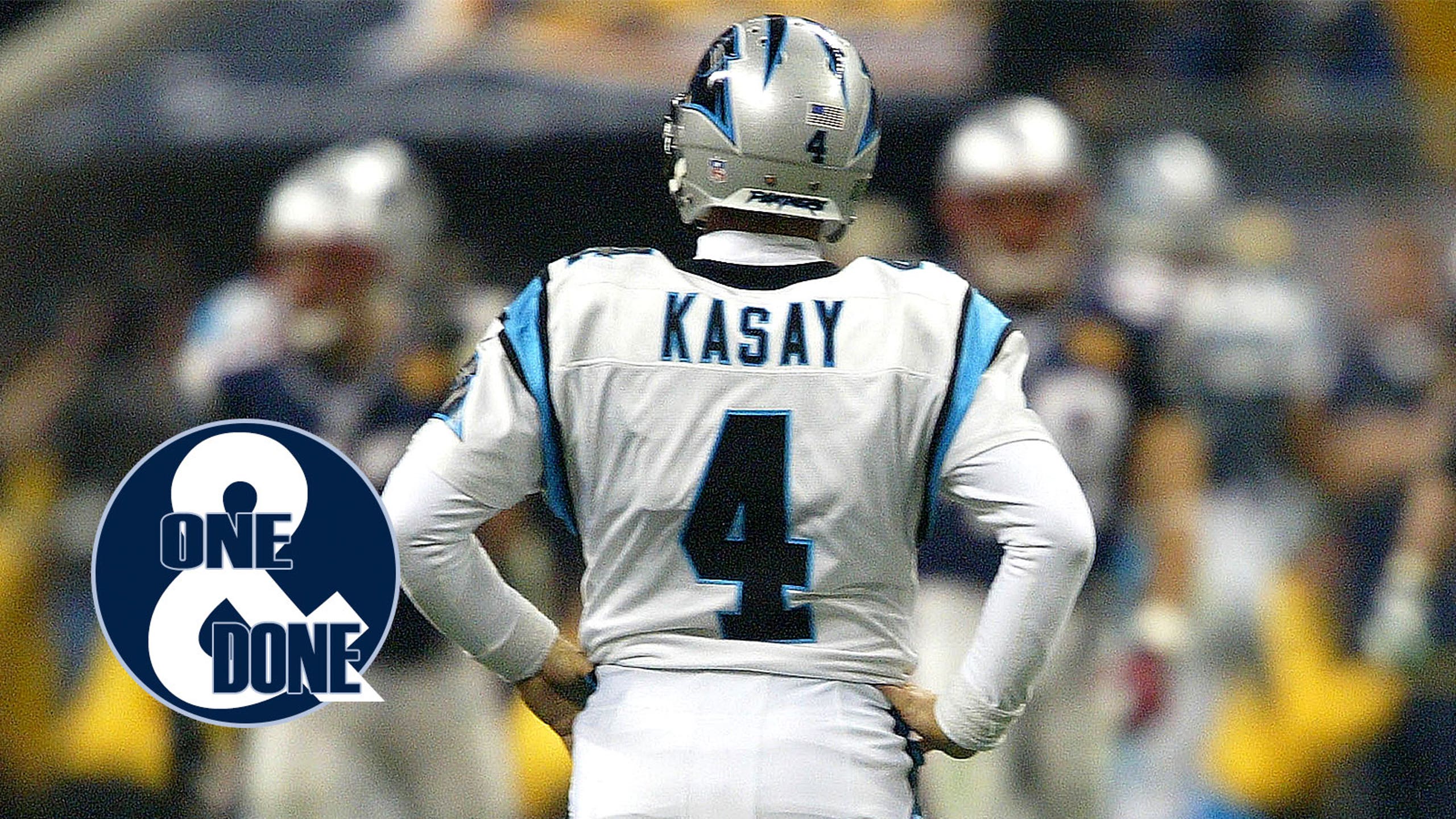 One & Done: John Kasay's errant kickoff lives in Carolina Panthers' infamy
BY Sam Gardner • January 9, 2017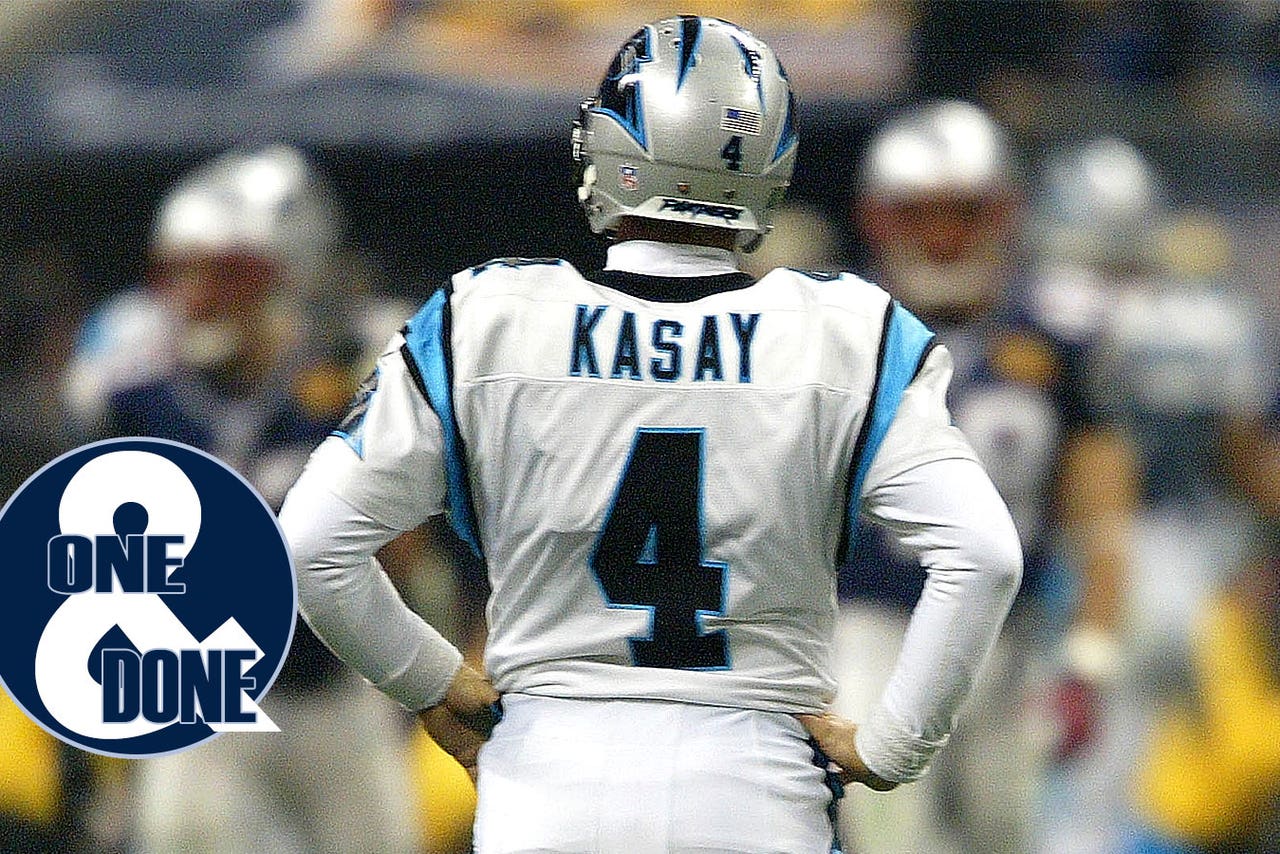 In the world of sports, athletes often dedicate their entire lives to reaching the pinnacle of their profession, but for many, life at the top can be short-lived. Sometimes all a player gets to experience at the highest level is one minute on the court, one trip to the plate, one shot on goal or one checkered flag, but more often than not, that fleeting moment in the spotlight is a story all its own. This is One and Done, a FOX Sports series profiling athletes, their paths to success and the stories behind some of sports' most ephemeral brushes with glory.
Super Bowl XXXVIII is perhaps best remembered for Janet Jackson's halftime wardrobe malfunction, but if you're a Carolina Panthers fan, you likely need no reminder that there was also a football game played that night, and that 12 years ago this week in Houston, the Panthers lost to the New England Patriots in the only other Super Bowl appearance in franchise history.
To this day, the fourth quarter of that game is regarded as one of the most entertaining Super Bowl endings and the loss still pains the Panthers players who saw their title hopes dashed by Adam Vinatieri's game-winning field goal with four seconds left.
There's likely no one from that 2003 Carolina roster who will be pulling harder for the Panthers when they play the Denver Broncos in Super Bowl 50 on Sunday than John Kasay. That's because Kasay, the Panthers' kicker for 16 years, committed arguably the biggest blunder of his career late in the 32-29 loss, and some say the mistake cost Carolina the win.
The game actually started off well enough for Kasay, who booted a 50-yard field goal -- still tied for the third-longest in Super Bowl history -- to cut the Patriots' lead to 14-10 as time expired in the second quarter. The teams then went scoreless in the third quarter before New England took a 21-10 lead on the second play of the wild final period.
On the ensuing drive, the Panthers responded with a 33-yard touchdown run by DeShaun Foster, but rather than send Kasay out for his second extra point of the night, Carolina coach John Fox elected to go for two to put his team within a field goal of the lead. Instead, Jake Delhomme's pass intended for Muhsin Muhammad fell incomplete, leaving the Panthers down six with 12:39 to play.
It appeared New England would extend its lead once again on its next possession, but Tom Brady threw a pick in the end zone with just under 8 minutes left, and four snaps later, Delhomme and Muhammad connected on a Super Bowl-record 85-yard touchdown pass to put Carolina on top. Once again, however, Fox went for two, and again, the try failed as Kasay watched from the sideline.
Over the next four minutes, the Patriots put together a long drive that eventually ended with a Mike Vrabel touchdown catch and a Kevin Faulk two-point conversion to give New England a 29-22 lead. But Carolina fired back and tied the game with a touchdown pass to current Panthers wide receivers coach and former St. Louis Rams Super Bowl hero Ricky Proehl with 1:08 to play.
That's when a nightmare became reality for Kasay, who did something that was virtually unheard of in his two decades as a pro.
In 2003, less than two percent of the more than 2,400 kickoffs during the NFL regular season landed out of bounds, and for his career, Kasay had just 25 out of bounds kickoffs in 972 regular season attempts, with an average distance of 57.2 yards. Kasay struggled at times with accuracy that season -- he missed three field goals and an extra point in a November loss to the Philadelphia Eagles -- but he kept all 74 of his regular season kickoffs in play and had no problems controlling eight kickoffs in the wild-card round, six in the divisional round and three in the NFC title game that postseason.
That mattered little, however, in the Super Bowl, where his fifth kickoff of the night snap-hooked out of bounds, giving the Patriots the ball at the 40-yard line with three timeouts and a little more than a minute to play.
"I just caught it a little late," Kasay said at the time. "I was trying to make a really good kick. I got a little high and a little outside on the ball. We needed a really good kick, and I didn't get it done.
"It's my job to kick it into the end zone," he also added. "You just can't explain those moments."
Though Kasay surely wasn't thinking about it at the time, the mistake was reminiscent of a similar play in December 1998 against the Indianapolis Colts. That wayward kick came with 25 seconds left in the second quarter of a 27-19 loss and put the ball at the 40, allowing Peyton Manning to get close enough for a 47-yard Mike Vanderjagt field goal before the half.
And like Manning before him, Brady had no trouble getting in range for his kicker, Vinatieri, who broke Carolina's heart from 41 yards out after missing two field goals earlier in the night.
"Nobody makes all of them," Patriots coach Bill Belichick said afterward of Vinatieri. "But if you've got to have one kick with everything on the line, he's the one you want kicking it."
Unfortunately, that wasn't true on that particular night of Kasay, an original Panther and arguably the player most synonymous with the franchise since it began play in 1995. And while his out-of-bounds kick certainly wasn't the only reason Carolina lost that night 12 years ago, he'll certainly be glad to finally be off the hook if the Panthers finish the job the second time around.
"That was a big mistake," Patriots receiver Deion Branch said after Super Bowl XXXVIII of Kasay's errant kick. "That was a big part of the game. We're thankful he did that."
PREVIOUS ONE & DONES:
May 5: Mario Andretti
May 12: Dean Morton
May 19: Ross Browner
May 26: Dave Salvian
June 2: Mine That Bird
June 9: Kerwin Bell
June 16: MIchael Campbell
June 23: Tyson Wheeler
June 30: Roe Skidmore
July 7: Steven Hill
July 14: LaMarr Hoyt
July 21: Bernard Quarles
July 28: Matt Tupman
August 4: Kevin Melillo
August 11: Roy Gleason
August 18: Cory Aldridge
August 25: Tom Brown
September 1: Tony Cloninger
September 8: Mike Pantazis
September 15: Wilbur Wood
September 22: Doug Clarey
September 29: Danny Young
October 6: Chad Wiseman
October 13: David Matranga
October 20: Brad Fast
October 27: Zenyatta
November 3: Ohio Northern
November 10: Dave Scholz
November 17: Matt Walsh
November 24: Clint Longley
December 1: Steve O'Neal
December 8: 1985 Miami Dolphins
December 15: 1998 New York Giants
December 22: Ed Podolak
December 29: Scott Skiles
January 5: Bram Kohlhausen
January 12: 1968 New York Jets
January 19: Ricky Proehl
January 26: Mike Boryla
You can follow Sam Gardner on Twitter or email him at samgardnerfox@gmail.com.
---
---