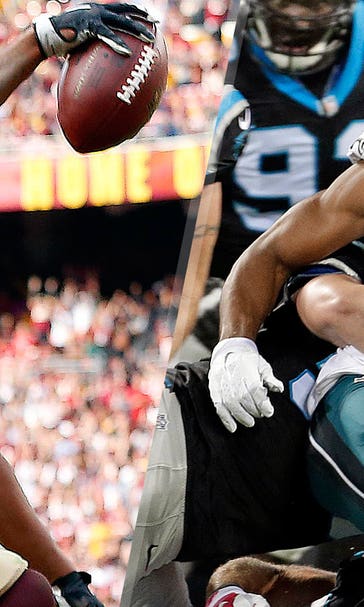 NFC East Stock Market: Week 8
October 27, 2015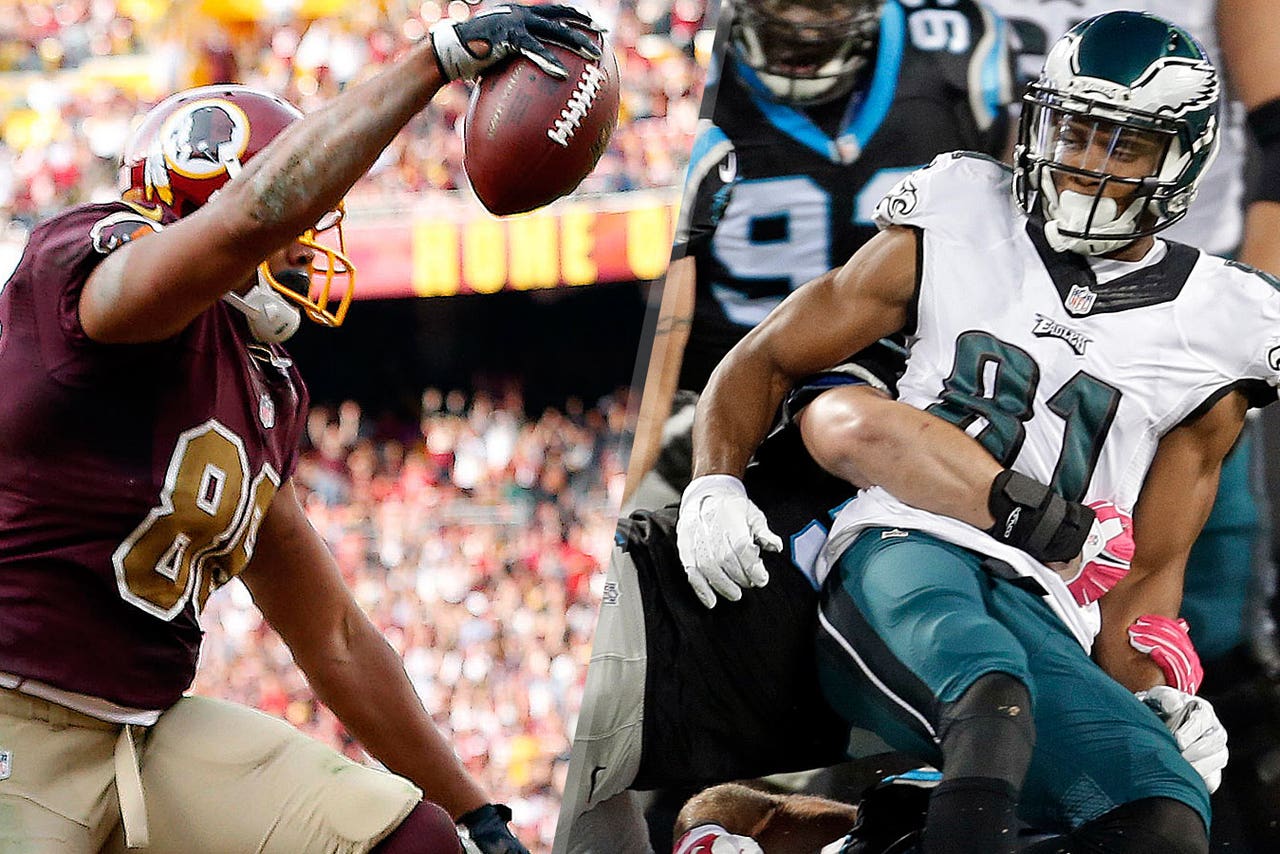 The NFL regular season is more volatile on a week-to-week basis than the Stock Market. One team that lost by several touchdowns the week before can follow up with a blowout victory. Players who are responsible for the blame one week could be responsible for a game-winning play the next.
With Week 7 in the books, let's take a look at three NFC East players who saw their stock rise, and three NFC East players who saw it fall as we look ahead to Week 8.
Three Up
Jordan Reed, tight end, Washington Redskins
The Redskins operate differently on offense when Reed is healthy. Back in action for the first time in two weeks, Reed wasted no time establishing himself as quarterback Kirk Cousins' favorite target on third downs and in the red zone. Reed finished with 76 yards and two touchdowns on 11 receptions -- he was targeted 13 times. Reed also reeled in a 6-yard touchdown with just 24 seconds remaining in the fourth quarter to help the Redskins finalize their biggest comeback in franchise history when they defeated the Tampa Bay Buccaneers 31-30 in Week 7.
Orleans Darkwa, running back, New York Giants
The Giants have been looking for a spark in their running game for a few weeks, and as head coach Tom Coughlin said on Monday, running back Orleans Darkwa provided it. Darkwa finished with a team-high eight carries for 48 yards and a touchdown. He showed impressive balance, burst and pad level on his 15-yard touchdown run -- the first rushing touchdown the Giants have had since Week 3. Darkwa didn't come completely out of nowhere -- he ran for 131 yards and a touchdown on 30 carries in the preseason -- 68 of his 131 yards came after contact. Darkwa may be the team's best option between the tackles, and it won't be surprising to see him used more often on first and second down and in the red zone.
Darren McFadden, running back, Dallas Cowboys
The last time McFadden had a strong offensive line to run behind was in 2011 -- he racked up 1,664 total yards and 10 total touchdowns that season. As an upright runner with the burst to get the absolute most of what's blocked for him, the Cowboys' dominant offensive line is a perfect match for McFadden. In Week 7, he took over for an injured Joseph Randle and never looked back. McFadden racked up 162 total yards and a touchdown on 31 touches, and he had another touchdown called back by penalty. Look for him to operate as the team's new lead back going forward.
Three Down
Jordan Matthews, wide receiver, Philadelphia Eagles
Two more dropped passes in the Eagles' Week 7 loss to the Carolina Panthers have brought Matthews' total to six on the season. Only one wide receiver, Julian Edelman, has more drops than Matthews in the NFL, and he already has one more dropped pass in 2015 than he had during the entire 2014 regular season. A hand injury may be playing some role in Matthews' struggles with drops, but it doesn't explain his inability to create separation and make catches. Matthews was expected to be the team's No. 1 wide receiver, and he hasn't eclipsed the six-catch mark since Week 1.
Rolando McClain, linebacker, Dallas Cowboys
After missing the first four games with a PED suspension, McClain has not been the same dominant inside linebacker that he was during the Cowboys' 2014 regular season run. An offseason knee scope could be playing a role, but McClain has struggled as both a run defender and pass rusher. In two games, McClain has almost as many missed tackles (1) as total quarterback pressures (2). He is being consistently dominated at the point of attack, and the Cowboys' run defense has taken a step back overall since his return to the lineup.
DeMarco Murray, running back, Philadelphia Eagles
In Week 6, the Eagles used power run plays between the tackles -- a staple of what made Murray the NFL's leading rusher in 2014. He responded with his first 100-yard rushing game as an Eagle. In Week 7, head coach Chip Kelly went back to the bread and butter of his own offensive scheme -- stretch and sweep run plays. Murray finished with just 65 rushing yards on 18 carries. Although Murray earns nearly three times as much as backup running back Ryan Mathews, if the Eagles are inclined to stick with their offensive scheme, Mathews is a better fit than Murray.
*All stats on quarterback pressures and missed tackles are courtesy of Pro Football Focus
---
---