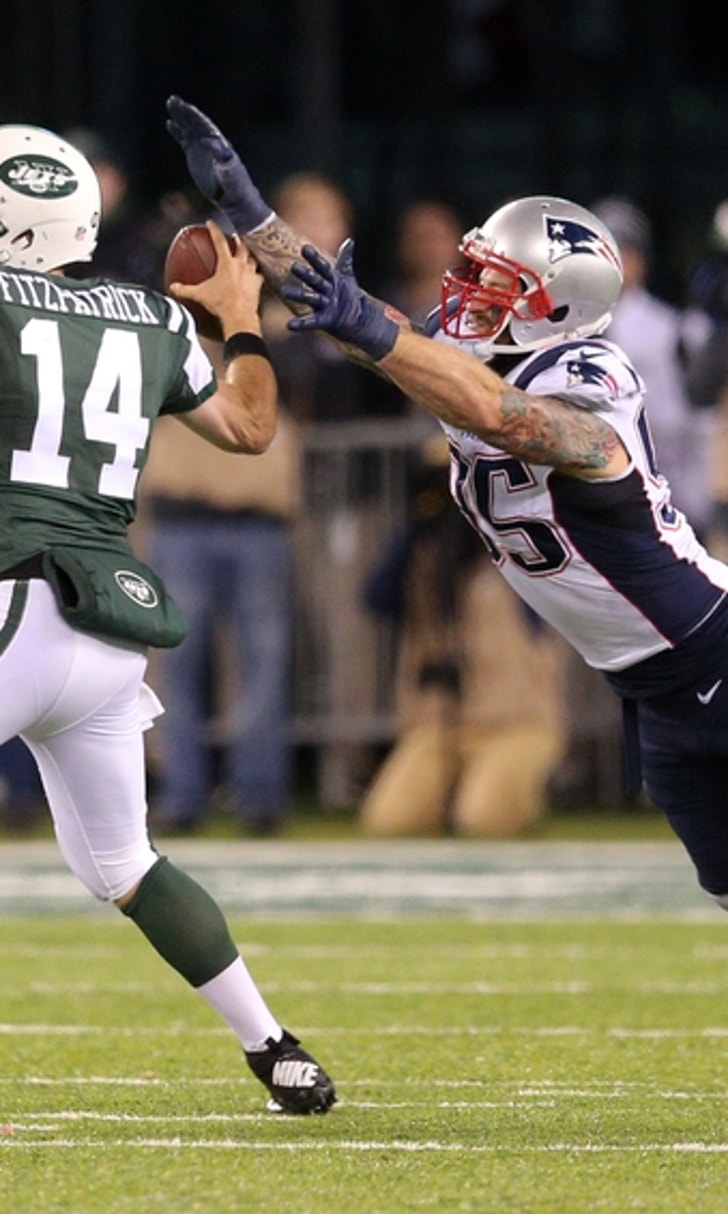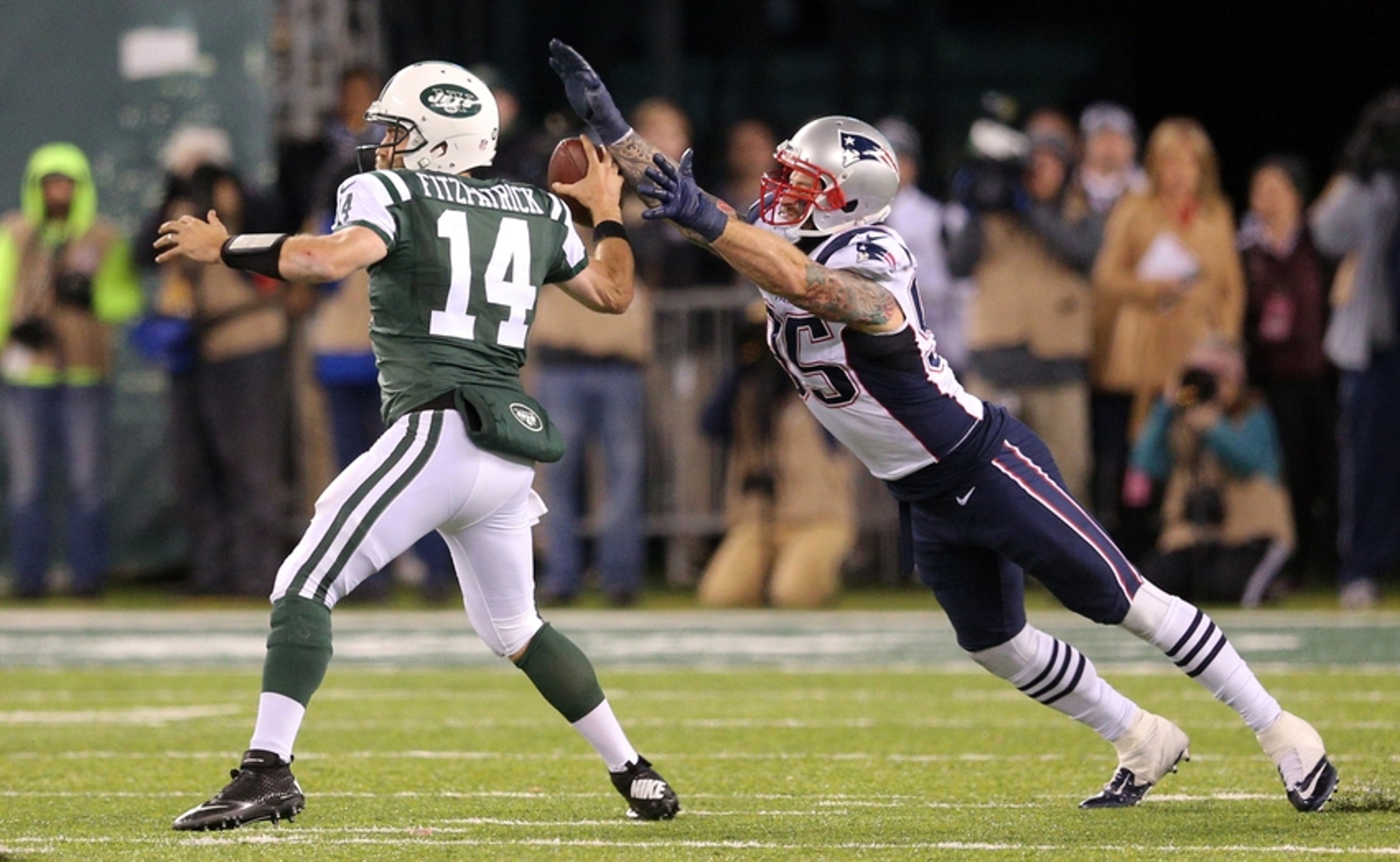 New England Patriots vs New York Jets: 5 Matchups to Watch
BY Fansided and Hal Bent/FanSided via Musket Fire • December 24, 2016
Nov 27, 2016; East Rutherford, NJ, USA; New England Patriots linebacker Jonathan Freeny (55) causes New York Jets quarterback Ryan Fitzpatrick (14) to fumble during the fourth quarter at MetLife Stadium. Mandatory Credit: Brad Penner-USA TODAY Sports
The New England Patriots play their final regular season home game on Christmas Eve as they host the New York Jets on Saturday afternoon.
Unlike earlier in the season when the New England Patriots played the New York Jets, the defense has turned its game around and are coming off strong performances against the Rams, Ravens, and Broncos.
The Jets are coming to the end of a long season. With two four-game losing streaks, New York is already at double-digit losses staring at two games against probable playoff teams in New England and Miami.
The Jets have only beat the underachieving Bills in week two, a huge upset of an undermanned Baltimore team, the Browns, and the 49ers (in overtime). These last two weeks are the team's best hope at salvaging the season by playing the spoiler in the AFC East.  
New York has had horrible quarterback play, bad luck with injuries (starters Nick Mangold, Antonio Allen, Breno Giacomini, Marcus Gilchrist, Ryan Clady, Erin Henderson, and Eric Decker are all on injured reserve) and underachieving veterans. Future Hall-of-Fame cornerback Darrelle Revis has lost a step and starting defensive tackles Muhammad Wilkerson and Sheldon Richardson have both been inconsistent and they were both held out of the first quarter of a game for disciplinary reasons after missing meetings earlier in the year.
More from Musket Fire
With a second-place finish last year the Jets still have talent on both sides of the ball. Running back Bilal Powell has been fantastic the past few weeks and the Patriots' defense will be seeing New York quarterback Bryce Petty for the first time. Young receivers Robby Anderson, Jalin Marshall, and Charone Peake has injected energy and speed into the receiving group.
The Patriots may have won 22-17 in week twelve, but the game was yet another close game in the two teams' recent matchups. Other than the "Butt Fumble game" from four years ago, these two teams always have a close, competitive game.
Let's take a look at the top five match-ups on the field on both sides of the ball on Saturday as two longtime AFC East rivals face-off for the first time in 2016:
Nov 27, 2016; East Rutherford, NJ, USA; New England Patriots wide receiver Malcolm Mitchell (19) scores the game winning touchdown in front of New York Jets cornerback Darrelle Revis (24) during the second half at MetLife Stadium. Mandatory Credit: Robert Deutsch-USA TODAY Sports
Malcolm Mitchell vs Darrelle Revis
Going into the earlier Jets-Patriots game after Thanksgiving, rookie wide receiver Malcolm Mitchell was a bit of an enigma. The rookie wide receiver had fought through injuries but had just nine receptions in the first nine games of the season. The week prior–against the lowly 49ers–Mitchell had has first NFL touchdowns and had four catches for 98 yards (all statistics from Pro-Football-Reference unless otherwise noted).
Mitchell had his coming-out party as he hauled in two touchdowns and had five receptions for 42 yards. Mitchell now has 29 receptions for 372 yards and four touchdowns for the season and has established himself as a reliable target outside the numbers for quarterback Tom Brady.
The Jets have some familiar faces in the secondary this season with 2014 New England Patriots Super Bowl winner and future Hall-of-Famer Darrelle Revis and 2015 New England seventh round draft pick Darryl Roberts (although Roberts has been primarily a special-teams player recently). Revis is likely to be lining up opposite Mitchell on Saturday as rookie Juston Burris will likely draw the quick and shifty Julian Edelman.
Revis has struggled mightily this season. Whether it was Tom Brady stating "Revis winced in pain" during the first match-up, comments about him being out of shape in training camp, word leaking that he "doesn't want to play anymore", or his injured wrist carrying over and preventing him from playing press-man coverage, this is not the player who helped the Patriots win the Super Bowl two years ago.
Revis has been giving receivers a lot of cushion this season and the Patriots and Mitchell exploited it last month. Getting Mitchell involved in the offense (after being shut down most the game by the excellent Denver cornerbacks) early and often could set the tone for getting the offense back on track.
Mitchell played most of the game last week against Denver and contributed with his blocking in the running game. However, he was held to just one catch last week. Against Revis and the Jets, Brady and the Patriots will be expecting more from the rookie.
Dec 18, 2016; Denver, CO, USA; New England Patriots tight end Martellus Bennett (88) reacts as he leaves the field following the win against the Denver Broncos at Sports Authority Field. The Patriots defeated the Broncos 16-3. Mandatory Credit: Ron Chenoy-USA TODAY Sports
Martellus Bennett vs Darron Lee, David Harris
When the New England Patriots first played the Jets, tight end Rob Gronkowski was a non-factor due to injury. However, a big part of the role of Martellus Bennett has been to be "Gronk Insurance" in case of injury. With Gronkowski on injured reserve, Bennett is the only real receiving option at tight end.
Bennett played 79% of the snaps against the Jets in Week 12 and that snap percentage number has risen. Last week he played 89% of the snaps versus the Broncos. Despite battling leg and shoulder injuries much of the season, Bennett has been a solid contributor on offense. He has 50 receptions for 649 yards and five touchdowns through 14 games.
To counter Bennett, the Jets will use a number of options on defense. Usually with Gronkowski  it would be some combination of safety Calvin Pryor and the linebackers. In the previous match-up, Bennett saw a lot of inside linebackers Darron Lee and David Harris in coverage.
Lee is a 22-year-old rookie who the Jets drafted in the first round at 20th overall. Despite his lofty draft position, New York had planned to ease him into the defense. An injury to veteran Erin Henderson shut down his season after just five games and opened up a starting role inside for Lee.
Lee brings size, strength, and much-needed speed to the New York linebackers.  He and third round draft pick Jordan Jenkins (who plays outside linebacker) have been getting much-needed playing time as rookies. Lee–with his physical abilities in coverage–should get most of the coverage responsibility for Bennett this week.
One matchup that quarterback Tom Brady will look to exploit is if New York inside linebacker David Harris is in coverage of Bennett. Brady will show no sympathy for his fellow University of Michigan alumnus if Harris is forced to cover the bigger, quicker Bennett in the open field.
Harris is an excellent tackler and run-defender, but struggles in coverage. Bennett was not a huge part of the offense last week, but did contribute with a 34-yard catch and rumble exploiting Denver's inexperienced inside linebacker Todd Davis in coverage for a huge play.
More of those kinds of plays from Bennett will be important for the offense down the stretch and in the playoffs. This week should be a good test for the Patriots' tight end and present some match-ups he should win in the passing game.
Dec 4, 2016; Foxborough, MA, USA; New England Patriots offensive guard Joe Thuney (62) blocks for New England Patriots quarterback Tom Brady (12) against the Los Angeles Rams during the first half at Gillette Stadium. Mandatory Credit: Winslow Townson-USA TODAY Sports
New England Interior Offensive Line vs Leonard Williams, Sheldon Richardson and Muhammad Wilkerson
After last season and the complete breakdown of the New England offensive line during the season, the Jets no doubt saw their defensive line as their strongest weapon against Tom Brady and the Patriots. The Jets exploited that weak offensive line last year in their week 16 win over the Patriots playing a key role in forcing New England on the road for the AFC Championship game.
This season the Jets are playing for pride, but outside of outstanding second-year defensive end Leonard Williams, the Jets defensive line seems to be playing out the string. In 2015 the Jets were 9th in the NFL in points allowed, 3rd in turnovers, 13th in passing yards allowed, and 2nd overall in rushing yards allowed. This year they are 26th in points allowed, 17th in yards, 21st in passing yards allowed, and 14th in rushing yards allowed.
A big part of that has been the lack of production from defensive ends Sheldon Richardson and Muhammad Wilkerson. The Jets lost defensive tackle Damon Harrison across town to the New York Giants in free agency where he has been strong against the run and showed untapped potential as an interior pass rusher. To replace "Snacks", the Jets signed veteran and former Pittsburgh Steelers tackle Steve McLendon to fill his shoes. McLendon is not a run-stuffer but is second on the team in sacks with 3.5 despite missing the last three games with a hamstring injury.
Other than second-year defensive end Leonard Williams (seven sacks), what was the biggest strength of the Jets defense last year has let them down in 2016. Other than McLendon and Williams, no one else on the Jets' defense has more than 2.5 sacks. The outside pass rush is non-existent and Wilkerson and Richardson have combined for four sacks and been largely lethargic on the field.
One area of improvement for the Patriots in 2016 has been the interior offensive line. Last year the Patriots struggled with the inconsistent duo of left guard Josh Kline and center Bryan Stork  next to rookie right guard Shaq Mason. Mason has another year of seasoning and the return of center David Andrews and rookie left guard Joe Thuney has turned a weak spot of 2015 into a strength in 2016.
Richardson and Wilkerson did little against the Patriots' interior offensive line in week 12 as the Patriots came back from a 10-0 deficit to pull out a 22-17 win. After starting the game with three punts, the Patriots scored on five of seven drives before grinding out the clock to end the game–and one of those non-scoring drives ended in a missed 39-yard field goal.
Of course, Richardson posted an idiotic Snapchat message before last week's blowout loss to the Dolphins which was inappropriate and seemed to indicate that the former first round draft pick was not motivated to play. In any NFL locker room Richardson would be benched at minimum, so the Jets could (and should)leave him behind on Saturday.
Dec 12, 2016; Foxborough, MA, USA; New England Patriots strong safety Patrick Chung (23) reacts after a safety against the Baltimore Ravens during the first half at Gillette Stadium. Mandatory Credit: Bob DeChiara-USA TODAY Sports
Patrick Chung vs Bilal Powell
The New York Jets' offense rebounded in week 14 when starting running back Matt Forte was limited to six snaps and third down back Bilal Powell was forced to carry the load. Carry it he did as Powell rushed for 145 yards and two touchdowns, easily outpacing Forte's best of 100 yards this season.
Powell was a lone bright spot last week against Miami as he rolled to 82 yards rushing on just 16 carries. He added 11 receptions for 78 yards and often seemed to be the only player on offense giving maximum effort. Forte had a few bright moments this season but Powell looked to be a game changer the past two weeks.
For the Jets, the misuse of Powell over the past two seasons (sitting behind Chris Ivory previously) has likely cost them victories. He is showing an ability to pound between the tackles, get outside and make defenders miss, and remain a threat in the passing game.
To defend him, the Patriots will turn to what is traditionally the eighth man in the box, but with their nickel (three cornerbacks) and big nickel (three safeties) packages as their primary defensive looks, they are often lighter in the box to start with than most defenses. That makes undersized strong safety Patrick Chung the seventh man in the box and a key component against opposing rushing attacks.
Chung has an interesting history in New England having been a high draft pick taken with the pick at the top of the second round received from Kansas City for quarterback Matt Cassel. Chung spent four up-and-down seasons in New England primarily playing free safety as the second man back in the cover-two defense. He left in free agency after the 2012 season and signed with former college coach at Oregon, Chip Kelly, in Philadelphia. After another rough season at free safety led to his being cut by the Eagles, Belichick re-signed Chung on the cheap before the 2014 season.
Moved to strong safety (and with New England playing more press-man coverage with a traditional single-high safety with Devin McCourty) Chung surprised in 2014 playing tight coverage of backs and tight ends and strong and sure tackling in the running game. Seen by many as a fluke, he has earned a contract extension and is a key player on defense for the Patriots.
As the Jets rarely employ a tight end on offense for anything other than blocking in the running game, Chung should be busy accounting for Powell on Sunday. Chung will have to prevent big plays with Powell coming out of the backfield as well as keeping him contained in the running game.
With two oft-overlooked players who are now in a key role for their respective teams, the match-up in coverage and in the running game of Patrick Chung on Bilal Powell could be the most entertaining part of Saturday.
Dec 12, 2016; Foxborough, MA, USA; New England Patriots cornerback Logan Ryan (26) during the second half against the Baltimore Ravens at Gillette Stadium. Mandatory Credit: Bob DeChiara-USA TODAY Sports
Malcolm Butler and Logan Ryan vs Brandon Marshall and Quincy Enunwa
Last week the Patriots' secondary once again stepped up after a strong performance slowing down the deep passing attack of Joe Flacco and the Baltimore Ravens. After facing the feisty Steve Smith the previous week, Malcolm Butler had another tough test against the shifty, strong, and explosive Emmanuel Sanders.
Butler shut him down throughout the game (although other cornerbacks would find themselves in coverage of him as well–particularly late in the game as New England backed off and played more of a prevent defense). Per NESN stats, Butler allowed just one completion on three passes his way in coverage for just 21 yards.
Actually, all the New England cornerbacks had strong outings against the Broncos including third cornerback Eric Rowe. Rowe started slow but played better as the game went on and had a key pass breakup in coverage of Demaryius Thomas.
The biggest play of the game was by cornerback Logan Ryan. As Denver was driving early to take the lead, Ryan stepped in front of a pass intended for Sanders and returned it 46 yards into Denver territory. The interception set-up the only touchdown of the game.
The New England secondary has a different match-up this week as the Jets' wide receivers are a group in transition. The Jets clearly miss injured wide receiver Eric Decker who gave them a solid one-two punch at the position. Quincy Enunwa–a solid third option–has had to move up the depth chart and simply does not bring the same consistency.
Enunwa was the biggest threat in the first matchup between these teams burning New England for 5 catches for 109 yards and a touchdown. Brandon Marshall added a touchdown as well early in the game but he was kept from making too many big plays against the Patriots' secondary.
Beyond those two, the Jets struggled to incorporate any other receivers: running backs Matt Forte and Bilal Powell were bottled-up in the passing game and youngsters Robby Anderson (huge fumble in the game) and Jalin Marshall (two receptions for six yards) did little. New York had to go outside the box targeting tight ends four times and a deep pass to C.J. Spiller (who was wide open, dropped the pass, and was cut shortly after the game).    
More from Musket Fire
With Ryan Fitzpatrick on the bench as New York sees what they have in Bryce Petty at quarterback, Marshall has clearly been effected on the stat sheet with the lack of targets his way as Petty has fed the ball to the second-string receivers. Marshall–after a quiet game versus San Francisco–was targeted 11 times versus Miami and had just one reception for the game.
A shutdown performance on the bigger receivers (Marshall and Enunwa) with Eric Rowe and Logan Ryan could free up Malcolm Butler to bully the younger receivers of the Jets and create some key turnovers. This is a key match-up to watch on Saturday as the Bill Belichick defense again attempts to befuddle an inexperienced passing attack.
---
---