Aaron Rodgers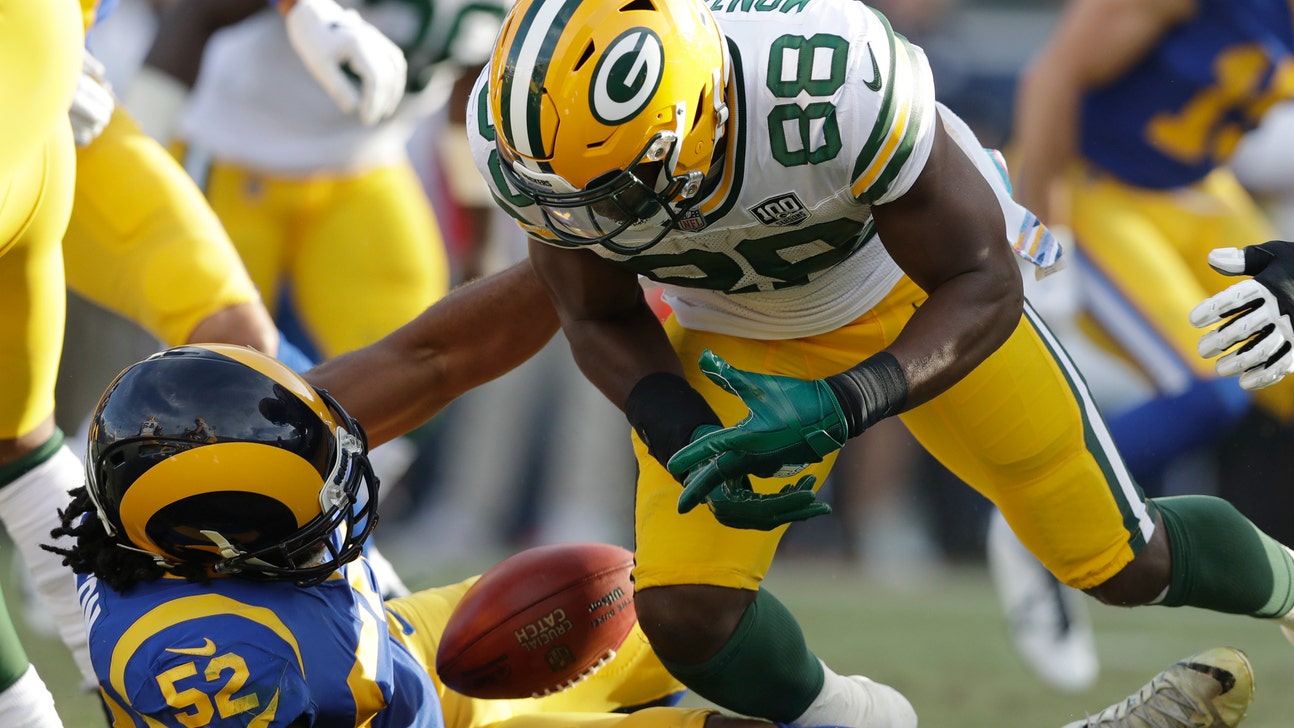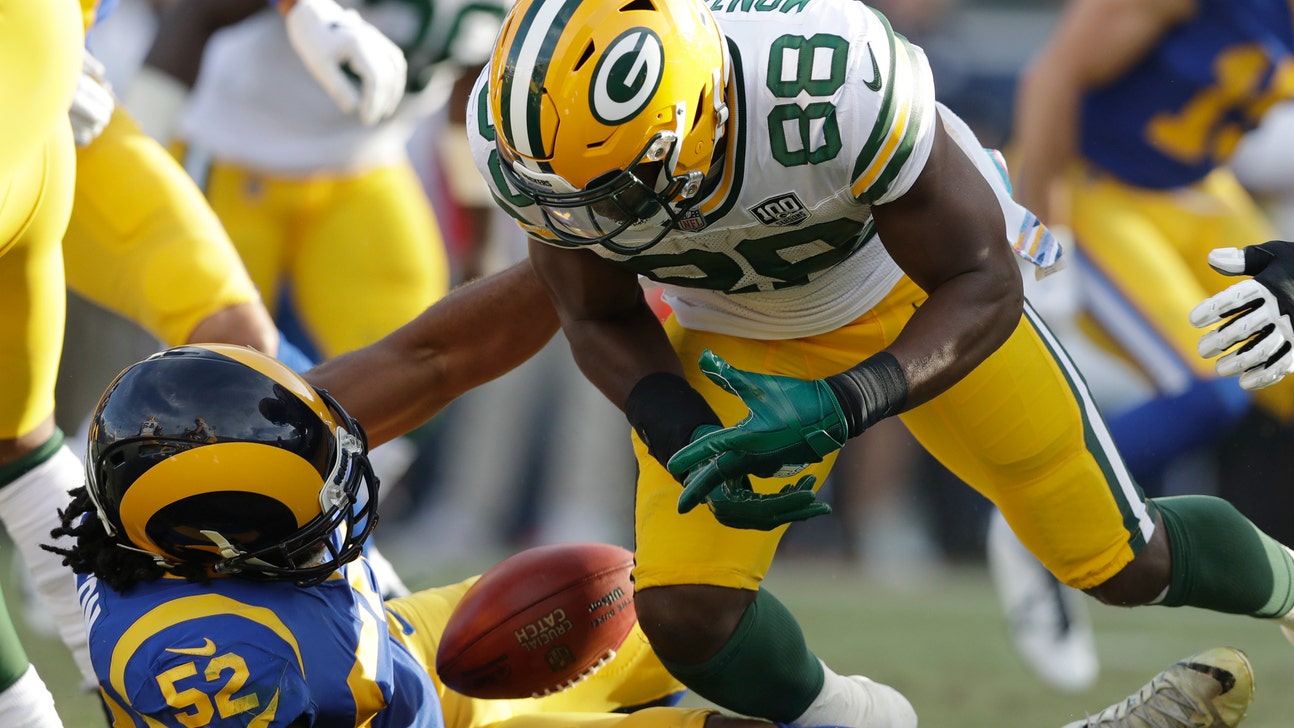 Aaron Rodgers
Montgomery and Gurley both kept Rodgers on the sideline
Updated
Mar. 4, 2020 2:41 p.m. ET
Ty Montgomery gets the Bonehead Award for Week 8 for keeping Aaron Rodgers on the sideline.
Todd Gurley gets the Egghead Award for Week 8 for keeping Aaron Rodgers on the sideline.
Ensuring Green Bay's clutch quarterback stayed off the field after Greg Zuerlein hit a 34-yard field goal with 2:05 left allowed the Los Angeles Rams to remain the league's only unbeaten team with a 29-27 win Sunday.
Rodgers never got a shot at his 22nd career game-winning drive because Montgomery ignored instructions to take a knee for a touchback and instead took the kickoff out of the end zone .
That was a bad move as far as clock management goes, and it quickly turned into a downright destructive decision when linebacker Ramik Wilson blew him up at the 20-yard line, jarring the ball loose and smothering it.
"That play didn't lose the game," Rodgers said, "but it took away an opportunity to win."
Moments later, Gurley, cognizant that a missed extra point would leave Green Bay within striking distance, stopped running with a clear path to the end zone , allowing the Rams to run out the clock and keep Rodgers stewing on the sideline.
"That's the situational awareness we talk about," Rams coach Sean McVay said. "Unselfishness."
Both Gurley and Montgomery had been told exactly what to do in the very situations in which they found themselves.
"Sean told me to remind everyone we don't want to score, just get down if we get a chance to score," Rams quarterback Jared Goff said.
"That's something that we talk about, but Todd probably would have done that on his own," McVay said. "But when we send it in we say, 'All right, this is a situation where if we get the first down we're going down, we don't want to score.' But smart players find a way to just make it happen when it comes down to it."
Gurley said, "We go over this stuff every week. We know what to do in what situations. That's what makes us the team that we are: unselfish players, situation masters."
For the Packers then, that was a selfish player and a situational disaster.
Packers coach Mike McCarthy said Montgomery had been told not to take the ball out of the end zone, leaving Green Bay with the chance to stop the clock twice as Rodgers drove the Packers downfield for a chance to retake the lead.
"The plan there is to stay in the end zone," McCarthy said.
And put the ball back in Rodgers' capable hands, the game on his broad shoulders.
Montgomery left L.A. without talking to reporters but he had plenty to say Monday about his uncertain role and anonymous criticism from a teammate about costing his team a chance to beat the Rams.
Montgomery, now a third-string running back and kick returner, denied the accusations in an NFL.com story in which an unidentified teammate said he had thrown a tantrum when he was taken out of the game on the previous series and "ran it out anyway" because he was upset.
"It's very frustrating that the perception in the media now is no one has my back. I'm insubordinate. I'm a cancer, whatever is out there," Montgomery said, adding that he has gotten threats online.
He said he made a split-second decision to defy his coaches' orders to take a touchback when he caught the kickoff 2 yards deep and worried he might be too close to the goal line to take a knee.
McCarthy gave no indication that the Packers were planning to cut Montgomery, who also said he's unsure of his role on the team with fellow running backs Aaron Jones and Jamaal Williams getting more snaps.
"I don't fully understand what my role is right now, what I'm supposed to be doing," Montgomery said, "how I'm supposed to help this team."
He sure found a way to hurt his team.
Other takeaways from Week 8 included a 22-yard shank that Denver's rookie punter blamed on a blown whistle that apparently came from the stands, a double firing in Cleveland and the Jacksonville Jaguars living it up in London in the wee hours before losing again.
SHRILL SHANK
Colby Wadman might be the second punter replaced in Denver this season. Wadman blamed a whistle on his 22-yard shank that gave Kansas City the ball at the Broncos 32 and led to Kareem Hunt's TD that put the Chiefs ahead 30-14 in the third quarter Sunday.
"He heard a whistle somewhere, but he's got to follow through with the kick," Broncos coach Vance Joseph lamented. "That short field killed us."
Joseph said he didn't hear a whistle.
"I did not but the players heard whistles," Joseph said. "And again, come on! Whatever! Kick the ball!"
Also in that game, the Broncos had a beef with several flags that were thrown — negating three 20-yard-plus gains — and some that weren't — like the ones when the guards were blocking 5 yards downfield only to see Patrick Mahomes throw to a wide-open Travis Kelce.
And then there was linebacker Reggie Ragland's sack of Case Keenum that wasn't flagged even though it was a textbook example of the "body weight" rule that's been such a hubbub this season.
BROWNS BREAKUP
Browns owner Jimmy Haslam thought hiring a high-profile offensive coordinator like Todd Haley would help Hue Jackson.
It did — it helped get him fired .
"Sometimes the best plans do not work out," Haslam said Monday after firing both Jackson and Haley hours apart after the pair's feud went public, threatening to turn a turnaround season into another one of those Cleveland catastrophes.
Jackson won just three of 40 games over two-plus seasons after the Browns (3-5-1) lost their 25th consecutive road game, one shy of the NFL record.
JAGUARS JUSTICE
Jaguars strong safety Barry Church said his arrest, along with that of three teammates, at a London nightclub early Saturday morning was a big misunderstanding.
The Metropolitan Police said in a statement that the four men were arrested on suspicion of fraud by false representation, but did not clarify the details. The Jaguars said in a statement that the players were detained because they did not pay their bill, but would not comment further.
Their 24-18 loss to the Eagles hours later at Wembley Stadium, their home away from home, left last-place the Jaguars at 3-5.
---
---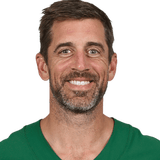 Get more from Aaron Rodgers
Follow your favorites to get information about games, news and more
---