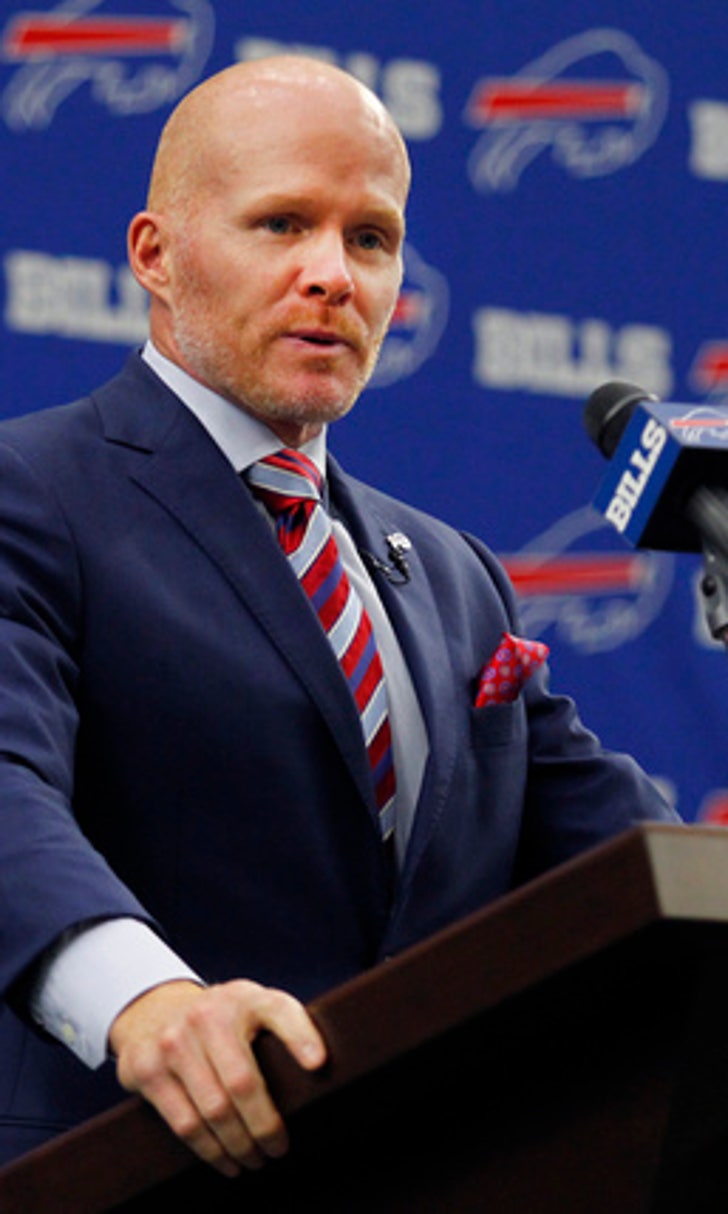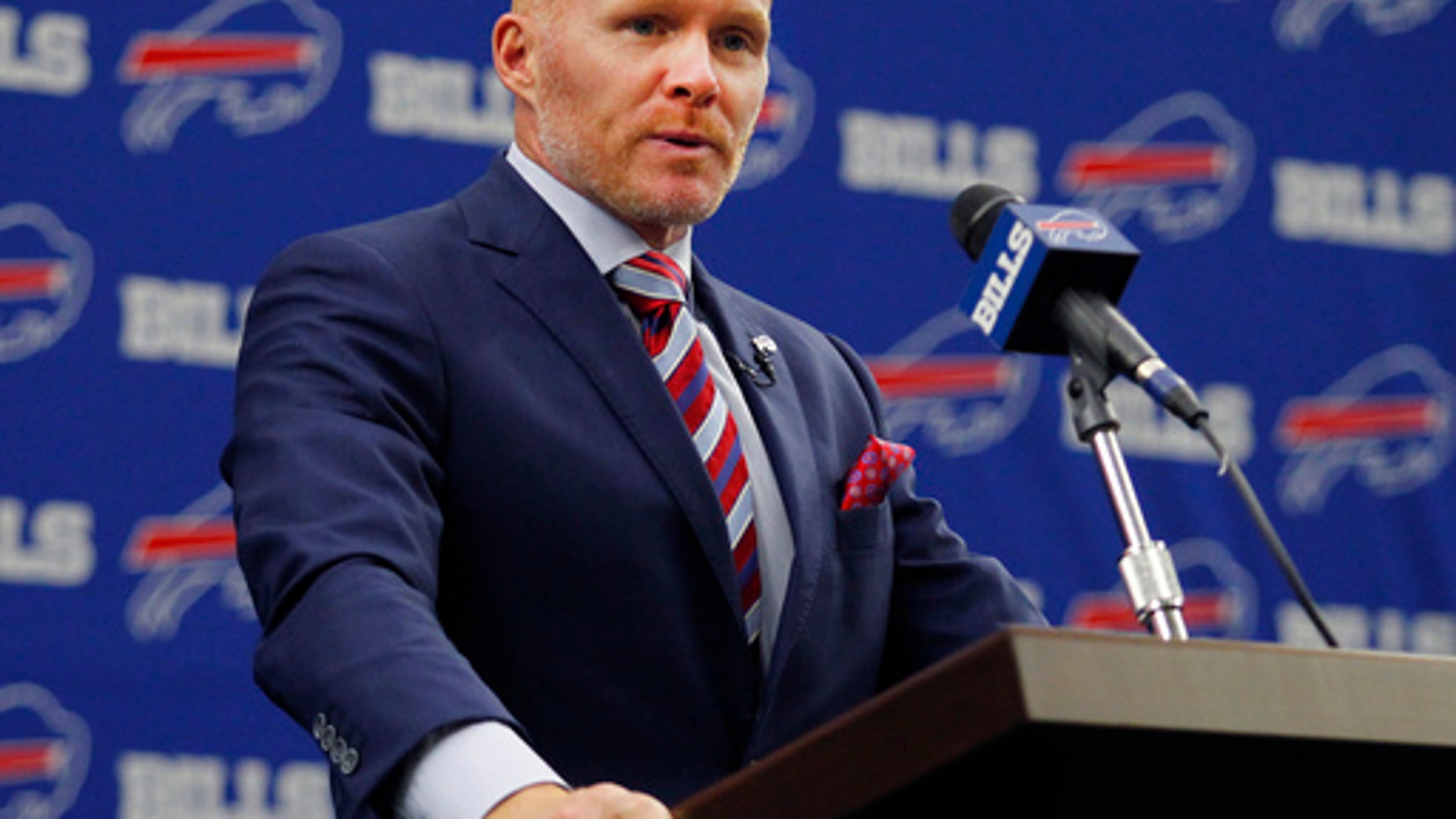 McDermott short on boasts, specifics as Bills new coach
BY AP • January 13, 2017
ORCHARD PARK, N.Y. (AP) The crowd was smaller and the bold promises far fewer on Friday, when Sean McDermott ushered in the post-Rex Ryan era for the Buffalo Bills.
Low key and to the point, McDermott spent much of his inaugural news conference as Buffalo's new coach emphasizing discipline and culture change for a franchise that hasn't made the playoffs in 17 consecutive seasons.
''I understand the expectations that come with the job and I accept that challenge,'' McDermott said. ''I am looking to build a culture of winning, and that starts inside these walls and extends to our community.''
As for promises, the only one the 42-year-old first-time head coach made was a vow to field a competitive team.
That's a significant departure from two years ago, when Ryan arrived in Buffalo to significant fanfare and boasted of his intention to build the Bills into bullies in front of a crowded fieldhouse. Ryan fell short of delivering on his big talk and was fired a week before Buffalo closed the season 7-9 .
Hired on Wednesday , McDermott has 18 seasons of NFL experience, including the past six as the Carolina Panthers' defensive coordinator. He spent his first 12 years in Philadelphia, where he mentored under head coach Andy Reid and the late defensive coordinator Jim Johnson.
McDermott is leaning on his experience, noting he's familiar with rebuilding defenses. That was the case in Carolina, where his defense jumped from being ranked 28th in his first season to 10th in 2012.
He's also leaning on his experiences in being an assistant on two teams that reached the Super Bowl but lost: in 2005 with Philadelphia and in 2015 with Carolina.
''I know what that looks like and smells like and tastes like,'' McDermott said, referring to Super Bowl-contending teams. ''I feel extremely confident with my ability to lead this franchise moving forward.''
The Bills' playoff drought is the longest active streak among North America's four professional sports and is tied for fifth-longest in NFL history.
McDermott becomes the 20th coach in franchise history and 10th since Wade Phillips last led the Bills to the playoffs during the 1999 season. The list includes interim coaches such as Anthony Lynn, the offensive coordinator who replaced Ryan.
The closest McDermott came to echoing Ryan was by accident.
Ryan opened his news conference by tapping the microphone and saying: ''Is this thing on, because it's getting ready to be on.''
For McDermott, his microphone wasn't turned on when attempting to answer his question, and he politely asked: ''Is this on?''
The comparisons between Ryan and McDermott weren't lost on Bills owner Terry Pegula in discussing what impressed him about his new coach.
Pegula noted he was seeking someone ''who could manage and enhance the culture and demeanor of our team on the field.''
In two years under Ryan, the Bills were criticized for lacking discipline. Personal foul penalties were an issue, and players even got involved in a pre-game on-field shoving match with Patriots players and coaches before Buffalo's 16-0 win at New England on Oct. 2.
''He is a smart, thorough, decisive, faith-based winner,'' Pegula said.
Hall of Fame quarterback Jim Kelly was among several former Bills in attendance, and said he's taking a wait-and-see approach to McDermott.
''From what I hear, this guy's a no-nonsense guy and, to be honest with you, I think that's maybe what we need,'' Kelly told The Associated Press. ''We will find out. I've had that positive vibe before. And this time, I'm going into it with more of a question mark. We shall see.''
McDermott was noncommittal in addressing his most pressing issues, including the makeup of a roster that features 24 players eligible to become free agents in March. And he provided little insight regarding the status of quarterback Tyrod Taylor , whose future is also uncertain.
''Let's not get ahead of ourselves,'' McDermott said, noting he had a brief meeting with the second-year starter about 10 minutes before the news conference. ''There'll be a time for that.''
Not much time, actually.
The Bills have until mid-March to determine whether to pay Taylor $30 million or opt out of the five-year contract extension he signed in August.
McDermott is already beginning to assemble his staff.
The Bills reached deals to hire former Minnesota Vikings head coach Leslie Frazier (defensive coordinator), Juan Castillo (offensive line/run game coordinator) and Bob Babich (linebackers coach). McDermott worked with Frazier and Castillo in Philadelphia.
McDermott retained special teams coordinator Danny Crossman.
The focus is on who McDermott will hire to oversee Buffalo's offense, which has led the NFL in rushing in each of the past two seasons. Lynn was a candidate for Buffalo's job but has also interviewed for other openings including with the Los Angeles Chargers.
---
For more NFL coverage: www.pro32.ap.org and http://twitter.com/AP-NFL
---
---