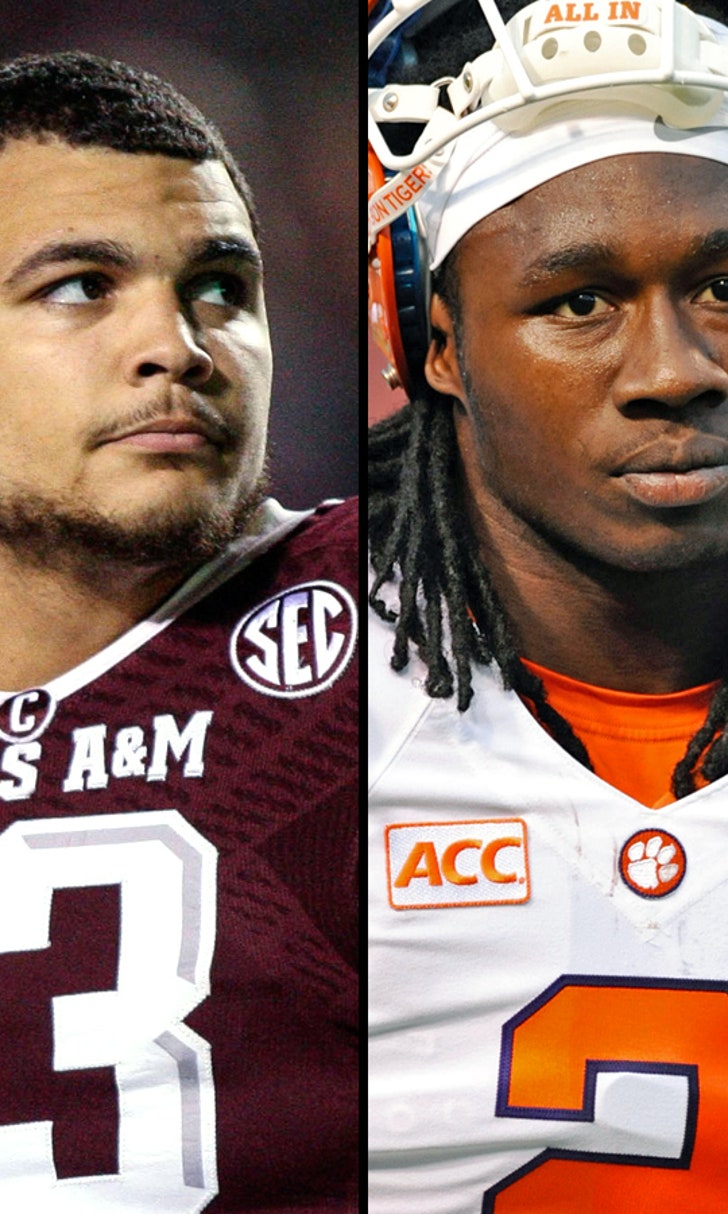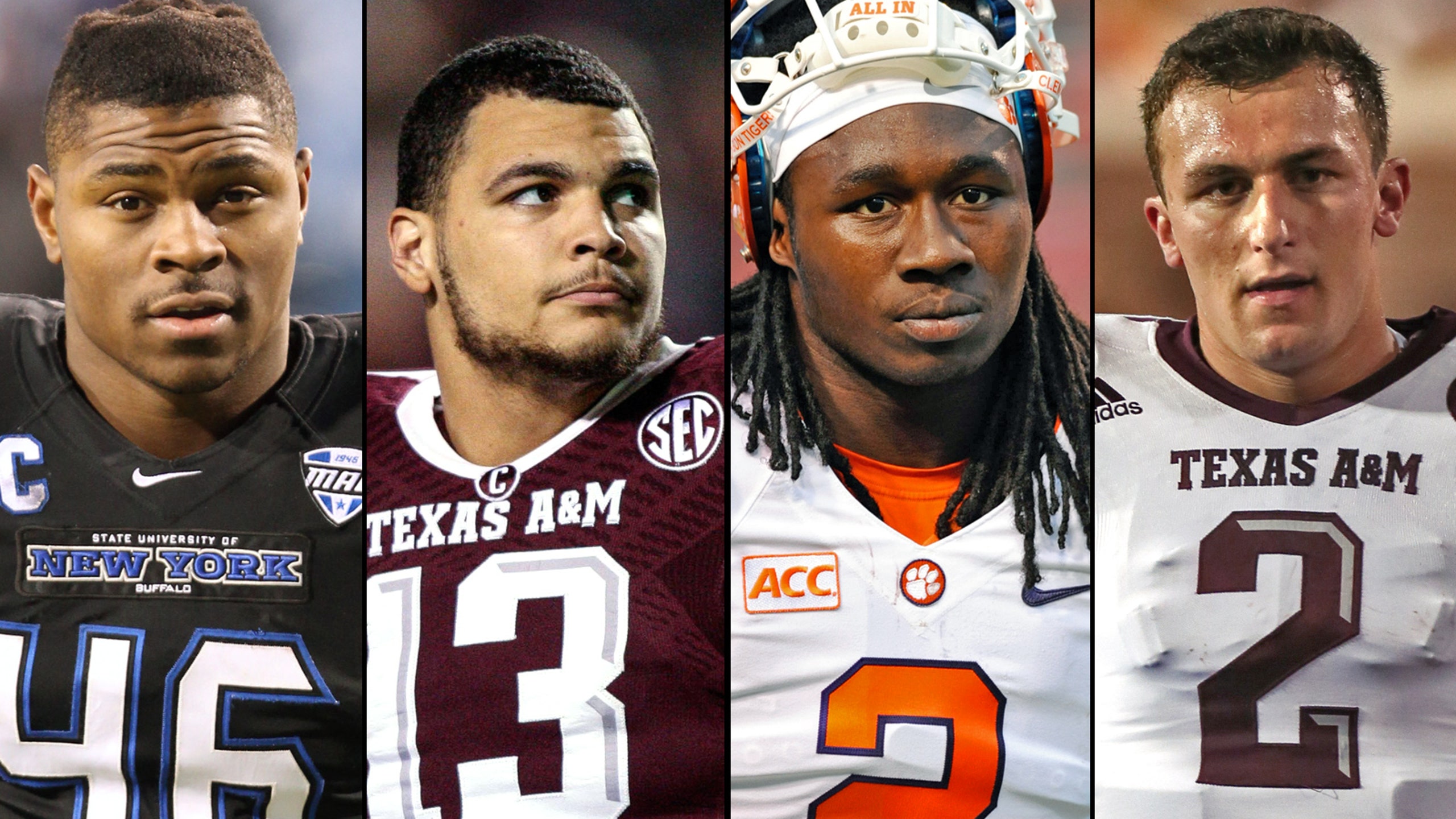 Klatt it again: Who's going where in Joel's latest NFL mock draft?
BY foxsports • April 22, 2014
1.    Houston Texans: Jadeveon Clowney DE, South Carolina -- The Texans desperately need a QB, but there is not a QB that is a standout No. 1 overall selection, so I expect Houston to take the best overall player and hope that JJ Watt can mentor Clowney into an All-Pro. | Watch highlights
2.    St. Louis Rams: Jake Matthews, OT, Texas A&M -- Protecting Sam Bradford and drafting a No. 1 WR are the immediate goals for the Rams, and this is the perfect time to pick up the most NFL-ready left tackle in the draft. Matthews is more consistent than Auburn'€™s Greg Robinson and he will fit nicely in St. Louis. | Watch highlights
3.    Jacksonville Jaguars: Johnny Manziel, QB, Texas A&M -- I like the direction Jacksonville is heading with head coach Gus Bradley and now they can grab the face of their franchise in Manziel. He will help put butts in the seats and above all else, when the chips are in the middle of the table, I want him on my team! | Watch highlights
4.    Cleveland Browns: Blake Bortles, QB, UCF -- No surprise here, since the Browns have to solidify the quarterback position. Bortles is a winner, and with his strong arm and competitive personality, he has passed Louisville'€™s Teddy Bridgewater as my No. 2 QB. Cleveland doesn'€™t have a culture of winning, but that shouldn'€™t scare Bortles, who won a BCS bowl game at UCF. | Watch highlights
5.    Oakland Raiders: Sammy Watkins, WR, Clemson -- The Raiders have done a wonderful job spending money on the defensive side of the ball, and now they can get Matt Schaub, Darren McFadden and Maurice Jones-Drew the help they need on the outside. Watkins is the best of a very deep WR class in the 2014 NFL Draft. | Watch highlights
6.    Atlanta Falcons: Anthony Barr, LB, UCLA -- Getting to the quarterback is the name of the game in today'€™s NFL and Atlanta was terrible at that last season, recording the third-fewest sacks in the NFL at 32. Barr has played only two seasons of defense, which means he has a much higher upside than Buffalo'€™s Khalil Mack, who is more of a finished product. With some development, Barr could potentially be a defensive player of the year candidate within 5-6 years. | Watch highlights
7.    Tampa Bay Buccaneers: Greg Robinson, OT, Auburn -- Lovie Smith will bring an entirely new culture to the table in Tampa, and the Bucs did a very good job in free agency. However, they need help on the offensive line immediately, having given up 47 sacks in 2013. Robinson is physical and very athletic, but this is a project because he was not asked to do much in the run-oriented offense of Gus Malzahn at Auburn. | Watch highlights
8.    Minnesota Vikings: Teddy Bridgewater, QB, Louisville -- Bridgewater has fallen on some draft boards during the evaluation period, but I still believe he is the most NFL-ready QB available in the draft. He makes great decisions in the red zone and was taught the game extremely well by OC Shawn Watson in the West Coast system. That pro-style education should pay dividends quickly for the Vikings. | Watch highlights
9.    Buffalo Bills: Khalil Mack, LB, Buffalo -- Some consider Mack the best defensive prospect in this draft. He is very talented and plays with great instincts and explosiveness. With Texas A&M'€™s Mike Evans on the board and a heavy need for a WR, it will be a difficult selection, but there is no way the Bills can pass on Mack at No. 9. | Watch highlights
10.  Detroit Lions: Justin Gilbert, CB, Oklahoma State -- The Lions are just OK at defending the pass, and with Aaron Rodgers and Jay Cutler in the division, solidifying the secondary and upgrading the special teams is a no brainer. Gilbert is extremely talented, and his ability to return kicks puts him ahead of Michigan State'€™s Darqueze Dennard as the top corner in the draft. | Watch highlights
11.  Tennessee Titans: Ha Ha Clinton-Dix, S, Alabama -- I know that Tennessee needs help on the outside at WR and passing on Mike Evans would not be an easy thing to do, However, they also need help at safety. Clinton-Dix is a playmaker and could be one of the better safeties in the NFL in just a couple of years. | Watch highlights
12.  New York Giants: Taylor Lewan, OT, Michigan -- Running the football is a Tom Coughlin staple, and finishing 29th in the NFL last season won'€™t sit easy with the two-time Super Bowl champ. Lewan impressed with his size and athleticism at the Combine and protecting Eli Manning after his offseason ankle surgery is of the utmost importance. | Watch highlights
13.  St. Louis Rams: Mike Evans, WR, Texas A&M -- This will be the steal of the draft if Evans falls to the Rams at No. 13, which is their second pick of the first round. Sam Bradford needs a true No. 1 target and Evans is just that. As one scout told me, '€œThere is a reason that Johnny Manziel could throw seemingly with his eyes closed at times.'€ Look for trade action here if Evans is still available! | Watch highlights
14.  Chicago Bears: Aaron Donald, DT, Pittsburgh -- Chicago struck gold in the draft last year by solidifying the offensive line with Pro Bowl alternate Kyle Long and RT Jordan Mills, who started 15 games. This year they can get the premier interior defensive lineman in Aaron Donald, who is, pound for pound, the best athlete in the draft. Donald is a threat to get to the QB from the interior, which is extremely rare. | Watch highlights
15.  Pittsburgh Steelers: Darqueze Dennard, CB, Michigan State -- The normally stingy pass defense for Pittsburgh took a bit of a slip in 2013, finishing ninth in the NFL at just over 221 yards per game. However, in the two previous seasons the Steelers were tops in the league in this category and they will have a chance to get one of the best cover corners available here with Dennard. He was the leader of the best pass defense in the country in 2013 and will fit nicely with some aging stars in the Steelers'€™ secondary. | Watch highlights
16.  Dallas Cowboys: Calvin Pryor, S, Louisville -- Finishing 30th in the NFL in any defensive category is not good, but when it'€™s pass defense you are not going to be an elite team. Dallas needs help in several areas, but they need it most in the secondary and Pryor is a terrific player with a well-rounded game. He is physical and downhill in the run game and can hold his own in coverage deep or in the slot. His versatility is exactly what the Cowboys need. | Watch highlights
17.  Baltimore Ravens: Marqise Lee, WR, USC -- In 2013, the Ravens didn'€™t select an offensive player until the fourth round, when they took Harvard fullback Kyle Juszczyk. Joe Flacco lost some offensive weapons and then had the worst season of his career, completing only 59 percent of his passes and throwing 22 interceptions. Getting an outside threat who can provide heavy production is paramount in this draft and Lee fits the bill. | Watch highlights
18.  New York Jets: Odell Beckham, WR, LSU -- Jeremy Kerley led the Jets with 43 catches in 2013. To give some context, new Jet WR Eric Decker led the 2011 Denver Broncos with 44 catches and that was with Tim Tebow starting 11 games. So, the Jets have to find some more help on the outside and this draft is the perfect place with a deep core of quality pass catchers. Beckham is dangerous with the ball and can create his own space with terrific speed out of his breaks. | Watch highlights
19.  Miami Dolphins: Xavier Su'€™a-Filo, OG, UCLA -- The Dolphins will need to find at least three offensive linemen during the offseason, and they can get one right here. The Dolphins surrendered 58 sacks last season, including 23 in the fourth quarter alone, both totals good for last in the league. Su'€™a-Filo is athletic and has a rare combination of quickness and power that allows him to be effective as a run blocker or pass protector.
20.  Arizona Cardinals: Zack Martin, OT, Notre Dame -- This will be a very interesting pick, because Arizona has to find some young depth at defensive end and outside linebacker, along with a young quarterback  who can learn from Carson Palmer for the next couple of years. I could see them drafting Fresno State QB Derek Carr or Auburn DE Dee Ford here, but they also need help on the offensive line and Martin is a quality player who can handle both the speed and power rush. | Watch highlights
21.  Green Bay Packers: Eric Ebron, TE, North Carolina -- The defense has to play better, but Ebron is a top-15 caliber player who could slide to Green Bay based on the needs ahead of them. If Ebron is there, it would be a great fit. Another weapon for Aaron Rodgers should scare the rest of the NFC North.
22.  Philadelphia Eagles: Brandin Cooks, WR, Oregon State -- Chip Kelly has a good thing going in Philadelphia, but now that DeSean Jackson is no longer there the Eagles need to find another threat who can stretch the field and provide big plays. Cooks runs clean routes and can stretch the field from the slot. | Watch highlights
23.  Kansas City Chiefs: C.J. Mosley, LB, Alabama -- The Chiefs don'€™t need a linebacker, but seeing Mosley on the board this late will be too enticing. Finding defenders who can play in space and take away the short throws over the middle is a must when facing the Broncos twice a season. Mosley adds tremendous depth to an already stout LB corps.
24.  Cincinnati Bengals: Timmy Jernigan, DT, Florida State -- Pairing Jernigan with Geno Atkins would provide one of the most dynamic defensive line interiors in the league. Jernigan has some red flags stemming from his performance in the BCS National Championship Game against Auburn, but his ability to play both the nose and the 3-technique is very enticing. | Watch highlights
25.  San Diego Chargers: Bradley Roby, CB, Ohio State -- The Chargers have to find some players on the outside of their defense, and that is being magnified by the fact that they have to play Peyton Manning twice. Roby is tough and unafraid to fill in the run, but his above-average speed and length are what merit a first-round selection.
26.  Cleveland Browns: David Yankey, OG, Stanford -- With Blake Bortles selected at No. 4, the Browns have to find a way to provide him with solid protection, allowing him the ability to learn without getting demoralized. Yankey is a quality run blocker who is underrated as a pass protector, and he has played in the most intricate, pro-style offense in college football at Stanford.
28.  Carolina Panthers: Jarvis Landry, WR, LSU -- Cam Newton must be staying up at night wondering who he is going to throw to next year. To say Carolina needs a wide receiver is an understatement, and Jarvis Landry or Kelvin Benjamin fit perfectly. I would go with Landry, because he has quality hands in traffic and the Panthers need a reliable target, while Benjamin has had trouble with drops in the past. | Watch highlights
29.  New England Patriots: Jace Amaro, TE, Texas Tech -- It was clear New England and Tom Brady were missing a flex tight end last year. Gronk is a question mark due to health, but the Patriots have to find a replacement for Aaron Hernandez, who often played in the slot. That is exactly what Amaro can do with smooth routes and quality hands for a 6-foot-5, 260-pound TE. | Watch highlights
30.  San Francisco 49ers: Ra'€™Shede Hageman -- Justin Smith isn't going to play forever, so getting younger on the defensive line would be a smart move for San Francisco. Hageman was terrific in Mobile, Ala., at the Senior Bowl, and his physicality would be a great fit in the aggressive 49ers defense.  
31.  Denver Broncos: Ryan Shazier, LB, Ohio State -- The Broncos addressed every level of their defense in free agency except linebacker and Shazier is a good replacement option for the departed Wesley Woodyard. Shazier has good range with above-average explosiveness. The most immersive part of his game is his intelligence, as you rarely find him out of position. That should be looked on very favorably in Denver. | Watch highlights
32.  Seattle Seahawks: Austin Seferian-Jenkins, TE, Washington -- With Seferian-Jenkins'€™ foot injury, he will undoubtedly fall in the draft. However, Seattle needs more weapons around Russell Wilson, and with the Mackey Award winner available here it would be a great fit. Plus, he played for former Pete Carroll assistant Steve Sarkisian, so no team will have a more complete picture of what Seferian-Jenkins can do than Seattle. | Watch highlights
---
---