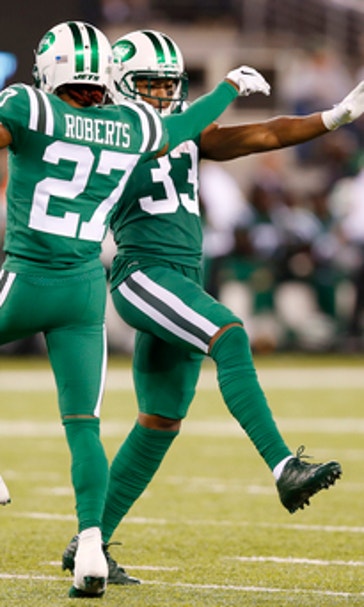 Jets' dancing defense a social media hit with smooth moves
November 4, 2017

NEW YORK (AP) The New York Jets' dancing defense is an opponent-smashing hit.
Playing under the bright lights of MetLife Stadium - just a few miles across the Hudson River from Broadway - Demario Davis, Jamal Adams, Darron Lee and the rest of the Jets' D shook off their previous fourth-quarter struggles with some serious dance moves.
During a commercial break with 13:01 remaining Thursday night, Lil Uzi Vert's ''444+222'' blared from the stadium's public address system. With the Buffalo Bills setting up at their own 9 and waiting for the game to resume, all 11 of the Jets' defensive players on the field turned the turf into a green-and-white dance floor .
There was lots of arm waving, hip shaking and big-time bouncing - with many of the remaining fans in the stands getting into it, too. Linebacker Jordan Jenkins was by far the most reserved of the Jets players, simply bobbing his head at one point.
''Just realized I was the only one not dancing,'' Jenkins tweeted .
For a squad that had blown fourth-quarter leads in each of its last two games, the Jets were plenty loose this time around. And, five plays later, Jenkins forced a fumble that Davis recovered. It led to Matt Forte's touchdown that put New York up 31-7.
The Bills ended up scoring two late TDs to make it a 34-21 final, but the defense was able to dance the night away.
Video of the impromptu groove session drew over 172,000 views - and counting - on Instagram 12 hours after the team posted it. The Jets' Twitter post of the video had almost 2,500 retweets and over 4,600 likes.
It also spawned (hash)JetsDanceToAnything, with hundreds of creative Twitter users synching the video to other songs, including Queen's ''Bohemian Rhapsody ,'' Prince's ''Kiss ,'' Barry White's ''You're The First, the Last, My Everything ,'' the Peanuts theme and a Bar Mitzvah-style song .
---
For more NFL coverage: http://www.pro32.ap.org and http://www.twitter.com/AP-NFL
---
---