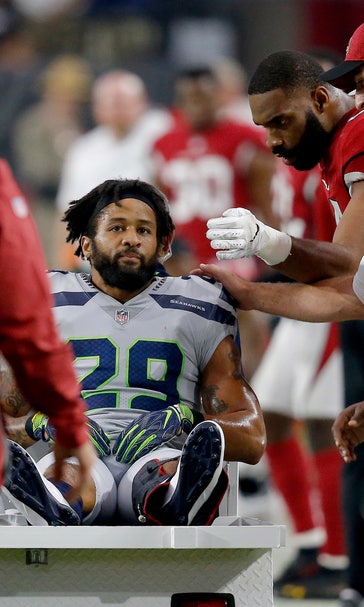 Injuries mar Seattle win, Arizona's Rosen sharp in loss
October 1, 2018
GLENDALE, Ariz. (AP) — The Seattle Seahawks got a victory but lost an embittered Earl Thomas with a fractured leg.
The Arizona Cardinals remained winless but had to be encouraged with the performance of rookie quarterback Josh Rosen in his first start.
It was a mixed bag for both teams but the Seahawks came away with the victory Sunday when Sebastian Janikowski, after two earlier misses, kicked a 52-yard field goal as time expired for a 20-17 victory over the Cardinals, who fell to 0-4 for the first time since 1986, two years before the franchise moved from St. Louis.
"We ran the ball for over 170 yards, which is fantastic," Seattle coach Pete Carroll said. "Mike Davis ran like crazy. He gave us a great effort on a day when Chris (Carson) couldn't go."
Thomas sustained a lower left leg fracture while defending what turned out to be the game-tying touchdown pass from Rosen to Chad Williams in the fourth quarter.
Obviously frustrated, Thomas made an obscene gesture toward the Seattle side of the field as he was carted off.
Thomas had been embroiled in a contract squabble with the Seahawks, skipping some practices to show his ire. His teammates understood his frustration.
"It's an unfortunate part of the business," Seattle linebacker Bobby Wagner said. "If he doesn't come back, he's not a team guy. If he does come back, he gets hurt and they say he shouldn't have come back. It's a crazy business that we're in."
Rosen, meanwhile, was impressive in his starting debut, completing 15 of 27 passes for 180 yards and a touchdown with no interception. He had several passes dropped.
"I thought he played fantastic," said teammate Larry Fitzgerald, who uncharacteristically dropped a couple. "I didn't do him any justice by making plays for him, but I think he stuck in there and made some wonderful plays, some great throws."
Here are some things to consider from Seattle's victory over Arizona.
ROSEN'S DAY
Rosen said he had a couple of scrambles out of the backfield "that kind of got me in the flow of the game a little bit in the sense of like, 'I belong here."
He said he felt more comfortable as the game went on and was at his most effective completing three big passes leading to his 22-yard TD toss to Chad Williams to tie the game at 17-17.
"Again, his poise showed up," coach Steve Wilks said. "... Total control over that whole drive."
INJURED SEAHAWKS
Thomas wasn't the only Seattle player to be injured.
Rookie tight end Will Dissly was carted off in the first quarter with a patellar tendon injury.
"There's nothing we can do but send love to them and build them up and all that," Seattle coach Pete Carroll said. "The bittersweet is so obvious. That's how we're feeling about it."
DAVIS RUNS WILD
Through the first three games this season, Davis had three carries for three yards.
With Collins unable to play on Sunday, Davis ran wild, gaining 101 yards in 21 attempts, including TD runs of 20 and one yards.
"Mike Davis stepped up in a huge, huge way," Seahawks quarterback Russell Wilson said. "He was the star of the game, I think, just making so many plays. He's an explosive player. He works the right way. He's a professional. He comes in ready."
After his TDs, Davis did a celebration that included him waking from a slumber.
"I just feel like I have been slept on ever since I came into the NFL," he said. "It is just a reminder that I will wake them up one day."
JOHNSON'S PROGRESS
Finally, David Johnson began to look like David Johnson.
The Arizona running back topped 100 yards from scrimmage. He rushed for 71 yards in 22 attempts, including a 21-yard run, and caught three for 41 yards, including a 30-yard screen pass on Arizona's game-tying TD drive.
But Johnson gave himself poor grades.
"I don't know about the other guys, but I'm very disappointed in myself," he said. "I had a lot of mental errors, man, and I didn't do enough to help out the team."
KICKING WOES
Jankowski and Dawson are two of the most experienced kickers in the business, but they each missed twice.
"No excuses," Dawson said. "I go out there whenever I'm told to go out there, and it's my job to put the ball through the posts. And twice today, I didn't do that."
Dawson missed a 45-yarder that would have given Arizona the lead with 1:50 to play. Seattle drove downfield, with no timeouts, to set up Janikowski's winning kick.
---
---