Indianapolis vs. Dallas: Why Dallas Cowboys will win out and make a playoff run
BY foxsports • December 18, 2014
Dallas is in first place in the NFC East, and if the Cowboys win their two remaining regular-season games, they'll be punching their ticket to the playoffs. It's clear that this isn't the Dallas team from years past that doesn't deliver in December. The Cowboys are 2-0 this month and have shown grit and mental toughness all season, going 7-0 on the road while every other team in the league has at least two losses away from home.
Their bell cows aren't cows at all, rather bulls who are wrecking shop. Dez Bryant, Tony Romo, DeMarco Murray and Dallas' offensive line are playing at an elite level, and the Cowboys are likely to ride them into the playoffs.
It's unclear how well, or if, Murray will be able to play this weekend against the Colts following a minor surgery on his hand, and right tackle Doug Free and right guard Zack Martin also missed practice time this week, but the Cowboys are hoping they'll all be able to play and that their beastly run game doesn't skip a beat.
The Colts are banged up too, especially on offense, with guards Hugh Thornton and Joe Reitz and receivers Reggie Wayne and T.Y. Hilton battling injuries. Given that the Colts have been unable to start fast in games this season, the Cowboys can make Chuck Pagano second-guess his decision not to rest starters if they can jump out early with a physical brand of football.
Bryant has snagged a league-best 13 touchdown catches and is coming off one of his best performances of the season last week against Philadelphia. Romo's outstanding .693 completion percentage is second only to Drew Brees' .700 among all quarterbacks who've attempted more than 150 passes, and his 110.4 passer rating is second only to Aaron Rodgers' 111.2.
But the success of Romo, Bryant and the entire team is intimately connected with the success of Murray and the ground game. The Cowboys are 9-0 in 2014 when Murray gets 24-plus carries, and 1-4 when he gets 23 or fewer, with all four of those losses coming at home. If Murray can't shoulder the load, or play at all, those carries will go to Joseph Randle and Lance Dunbar.
Romo always has been a much more effective passer when he's not asked to carry the team: Over the course of his career, he has thrown 139 touchdowns to only 46 interceptions when the Cowboys rush for 100-plus yards (94 and 60 when they do not).
Simply put, Dallas' ability to run the ball successfully has been the key to their success this season and it will be the key to unlocking the door to the playoffs that has been locked for four straight years.
Let's break down some tape and see how the run game and a couple of other facets of the Cowboys' game can give them an edge heading into their game against the Colts and moving forward toward the postseason.
Let the stars shine
Murray gets showered with praise by media and fans for his excellence. Rightfully so — he's a star. But the key to Dallas' success in the run game has been the stellar play of their overgrown people-movers up front. The offensive linemen are straight-up beasts and are the real stars in Dallas. The game plan for Dallas moving forward toward the playoffs should be quite simple: trust their stars in the trenches and be persistent with the run.
Murray had 31 carries in the Cowboys' victory last week when they demoralized the Eagles as they held the ball for a whopping 41:55.
Seeing Andrew Luck on the sideline for all but 18 minutes in this game would be an idyllic scene for the Cowboys and, given Indianapolis' average rush defense, it may not be out of the question.
Only seven defenses have allowed more yards per rush than Indianapolis' 4.3. Especially on the road, the Colts have struggled with the run. They've allowed 27 rushes of 10 or more yards and eight rushing touchdowns, which ranks them 27th and 28th in each of those categories when they've played away from home.
Look for the Cowboys to establish and sustain the run game against Indy with plays like those drawn up here, but when you watch this game be sure to appreciate the sheer dominance of the Cowboys' offensive line. Check this out.
Take note of the original line of scrimmage in this next photo (blue line) and where the defensive line is before the snap (yellow dotted line).
In the next photo you can see that Murray is at the line of scrimmage and there isn't anyone in front of him. The offensive line is simply dominating the men across from them on this play — they've already moved the defensive line at least 2 yards down the field and created a huge pocket for Murray to hit.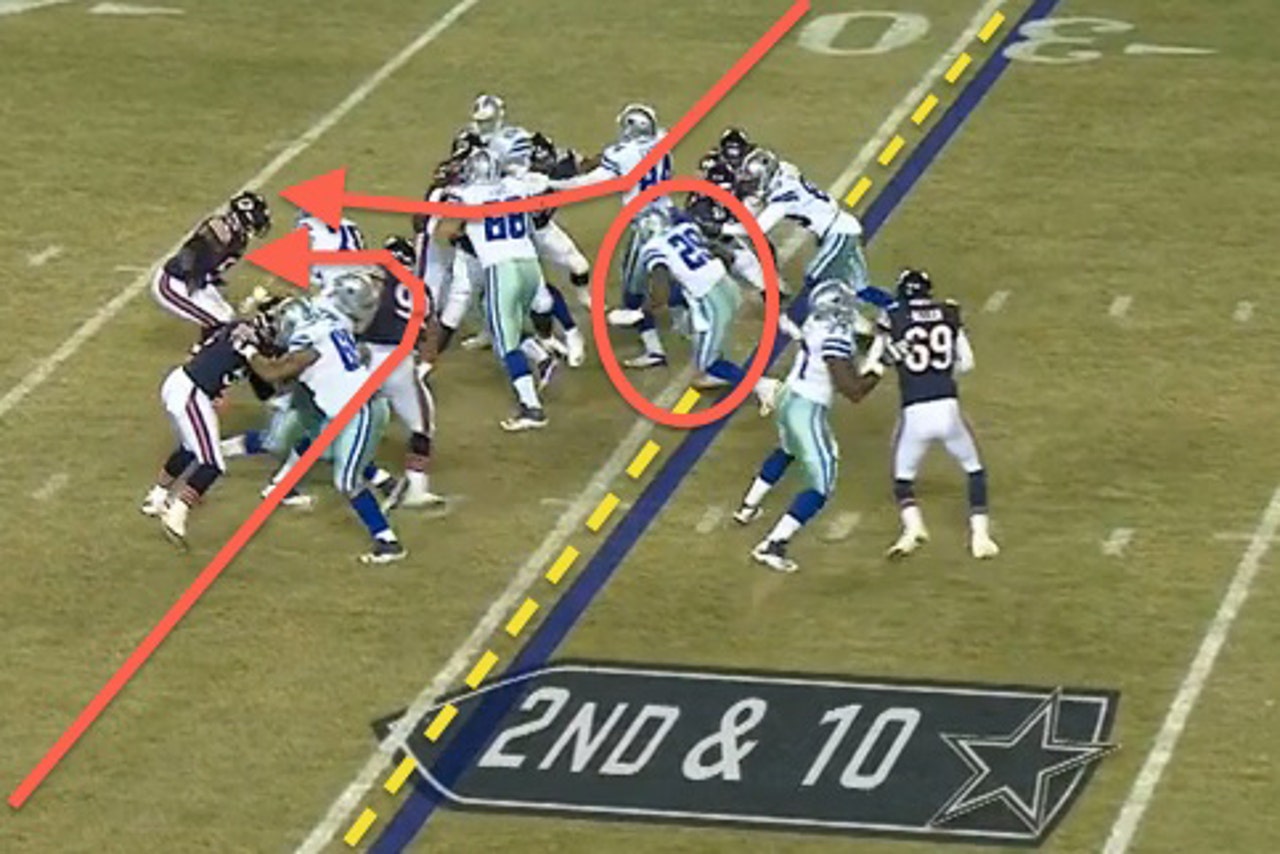 In the final photo you can see that Murray runs 6 yards on this play before a defender lays a hand on him. This is the type of play that the opponents' defensive coaches would use after the game to show what an embarrassment the unit was to their team. It's also the type of play that Dallas' other upcoming opponents will see on tape and realize that they'd better buckle their chinstraps, because Dallas' run game is elite for many more reasons than Murray alone.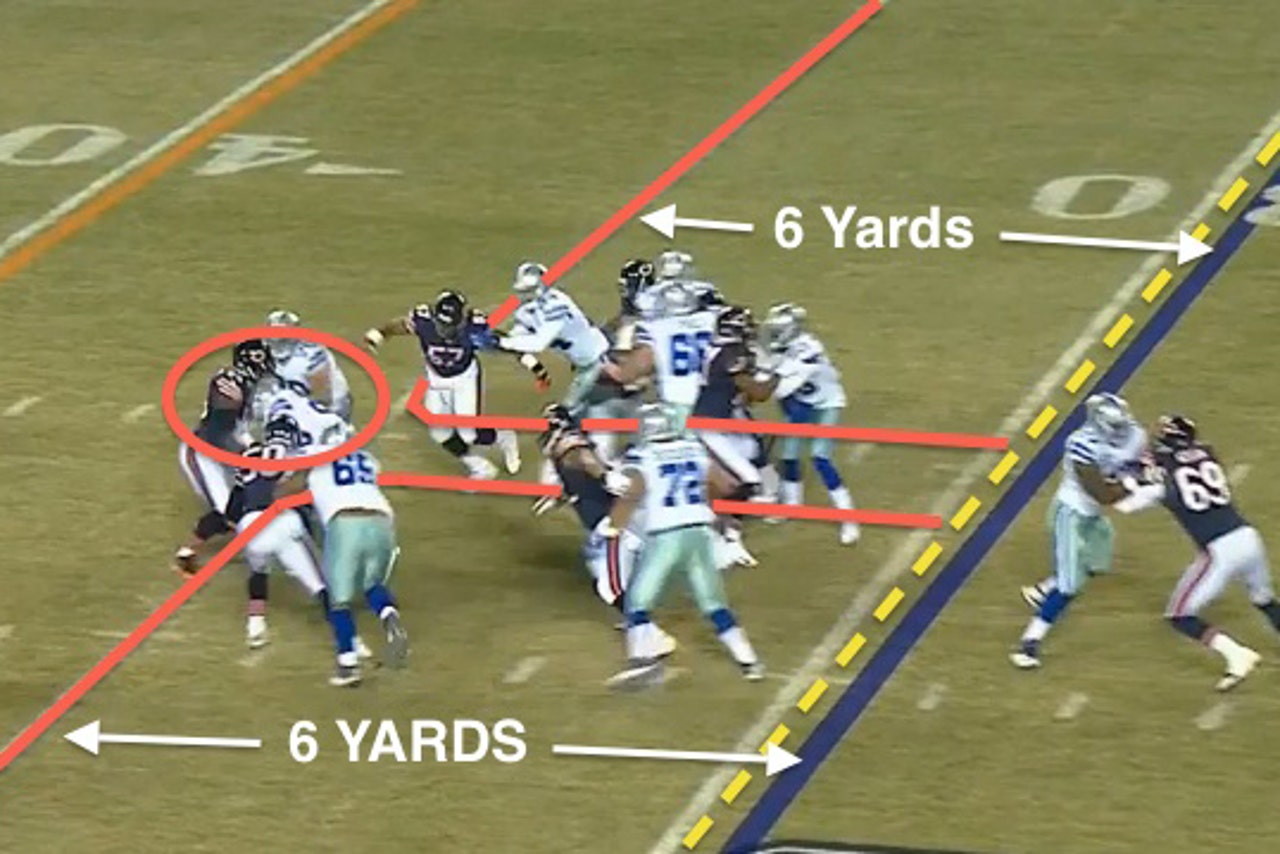 Dish it to Dez:
Indianapolis has a high-pressure defense that has racked up 36 sacks, tying for 10th in the league. The Colts blitz on an eyebrow-raising 40 percent of pass plays, second most behind only St. Louis (44.9). That means Bryant likely will face a lot of man-to-man coverage, and that has meant disaster for the Cowboys' opponents this season.
Romo and Bryant both are among the league's best performers when defenses blitz the Cowboys. Romo has the league's fourth highest completion percentage (.685), third highest passer rating (121.8) and second-most touchdowns (13) when passing against the blitz. Bryant has the third-most yards (452), is tied for the second-most receptions (32) and has more touchdowns (9) than any other receiver when running routes against blitzes.
Bryant looked unstoppable last week, and I believe that when he and Romo are in sync he may be just that. He finished with six receptions for 114 yards and three touchdowns against the Eagles. If Romo's line gives him time when the Colts blitz, we could see another huge day for Bryant. And remember, opponents often are forced to bring an extra defender into the box when Dallas' run game gets rolling, so Bryant will get man-to-man coverage even when the defense isn't blitzing. Romo should toss it up to Bryant any time he recognizes that he's facing man coverage because the two are in sync and slaying it right now.
Here's a look at Bryant at his best:
Takeaways:
Dallas is second in the NFL in time of possession in large part due to its dominant run game on offense, but also because its defense has been one of the NFL's best at stealing possessions in games. Dallas has 24 takeaways (10 fumbles, 14 interceptions), which rank fifth in the league.
The Cowboys will face an offense led by Luck, who has thrown for more yards (4,492) and touchdowns (38) than any other quarterback. As great as he has played, though, he has shown vulnerability. Luck has thrown 14 interceptions, trailing only Jay Cutler (18) and Blake Bortles (17).
Of the the Cowboys' 14 interceptions this season, 10 have come from defenders at the center of their defense — linebackers or safeties — who excel in zone drops. Linebacker Bruce Carter leads the way with three picks, and a big reason is his ability to read quarterbacks well when playing zone or the rover in Cover 1.
Here's a look at one of his picks when Dallas was playing Cover 1 with Carter as the rover roaming free.
Dallas defenders playing man coverage in Cover 1 with a rover know that they must maintain outside leverage and use their help — a low hole (rover) and high hole safety. Both are circled here.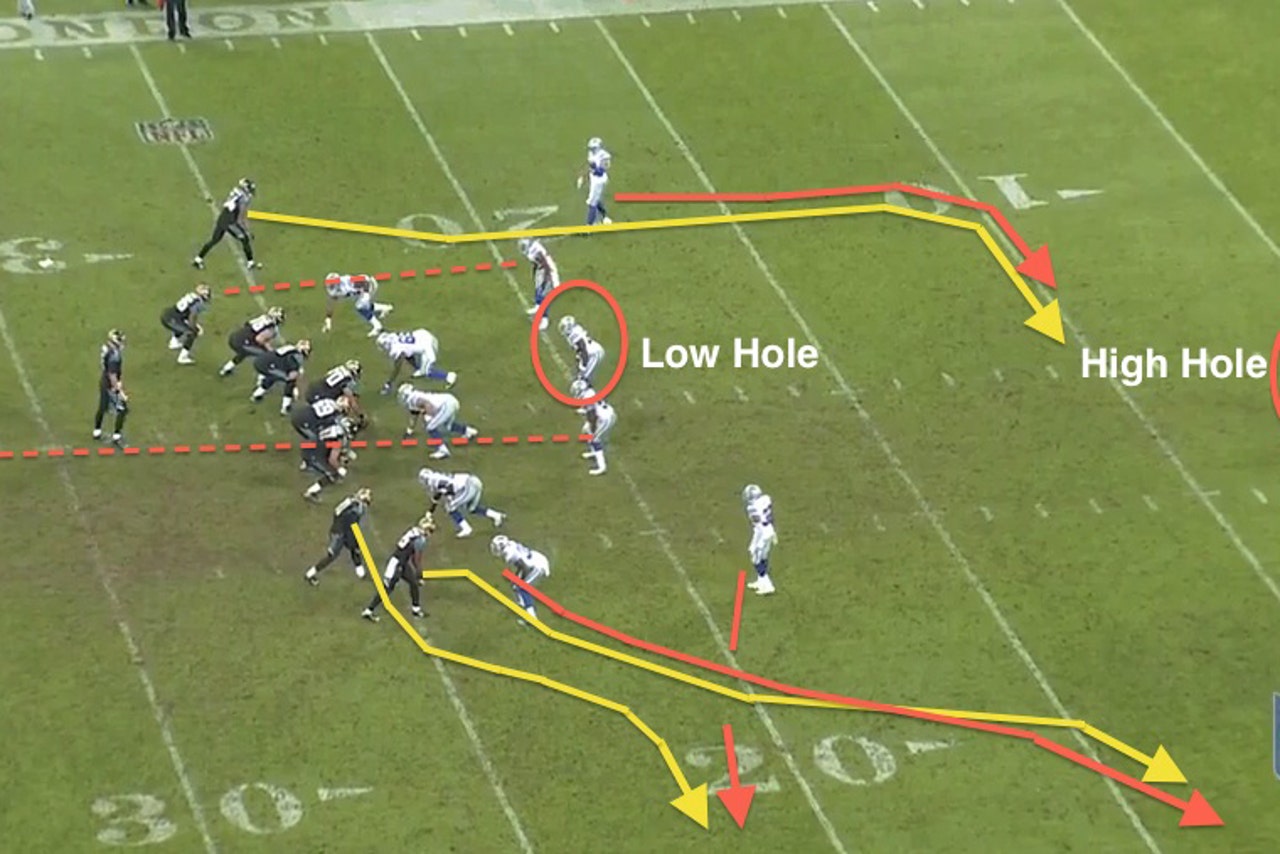 Carter (circled) immediately gets depth while keeping his eyes on the quarterback to see his intentions. His pre-snap keys told him that there was only one threat to his right, so he opened his hips to that side of the field based on the quarterback's stare.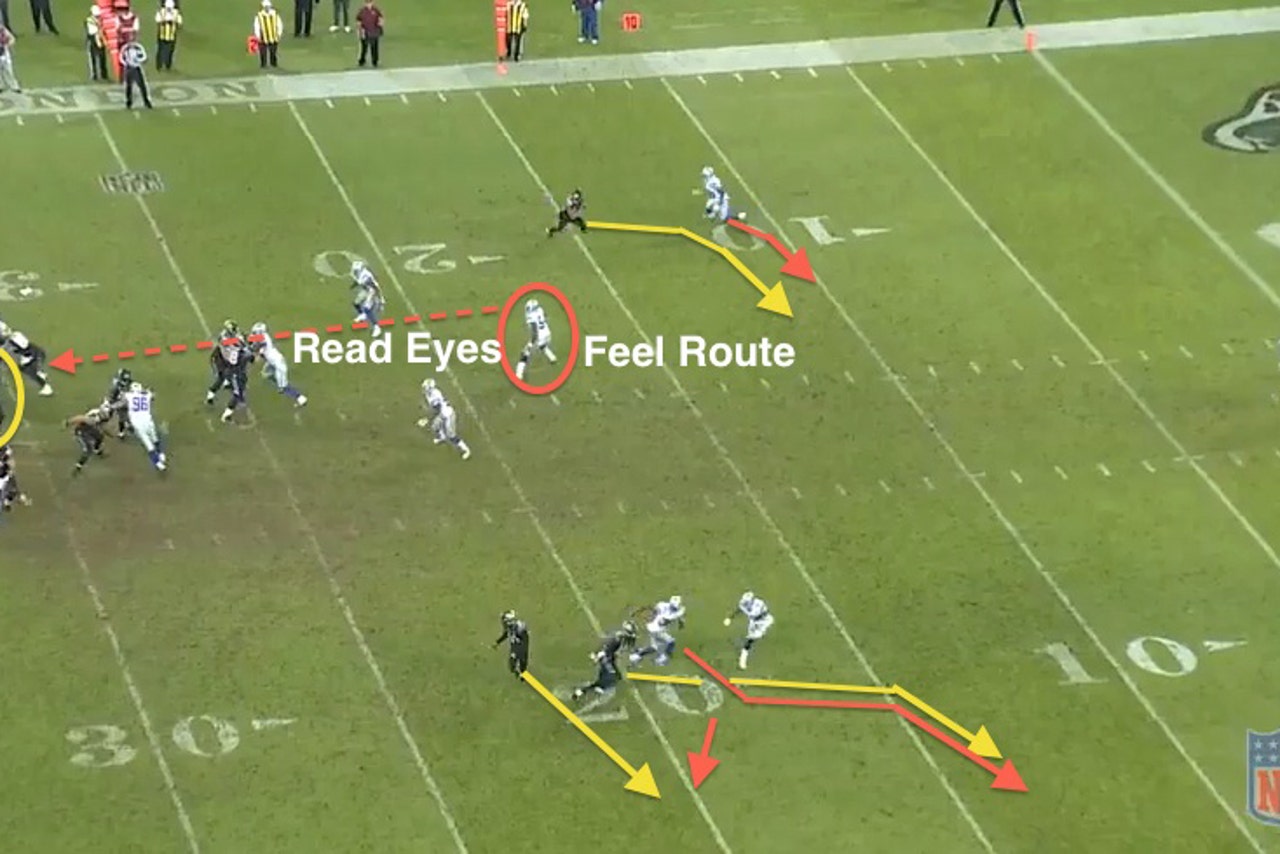 When Carter sees the quarterback wind up to throw to the middle of the field after seeing him stare the single receiver down, he flips his hips to the inside of the field, knowing that it must be a deep in-cutting route. All of the other coverage defenders were in good position with outside leverage on their responsibility. Carter's ability to read the quarterback while getting depth in his drop allowed him to leap for this impressive interception.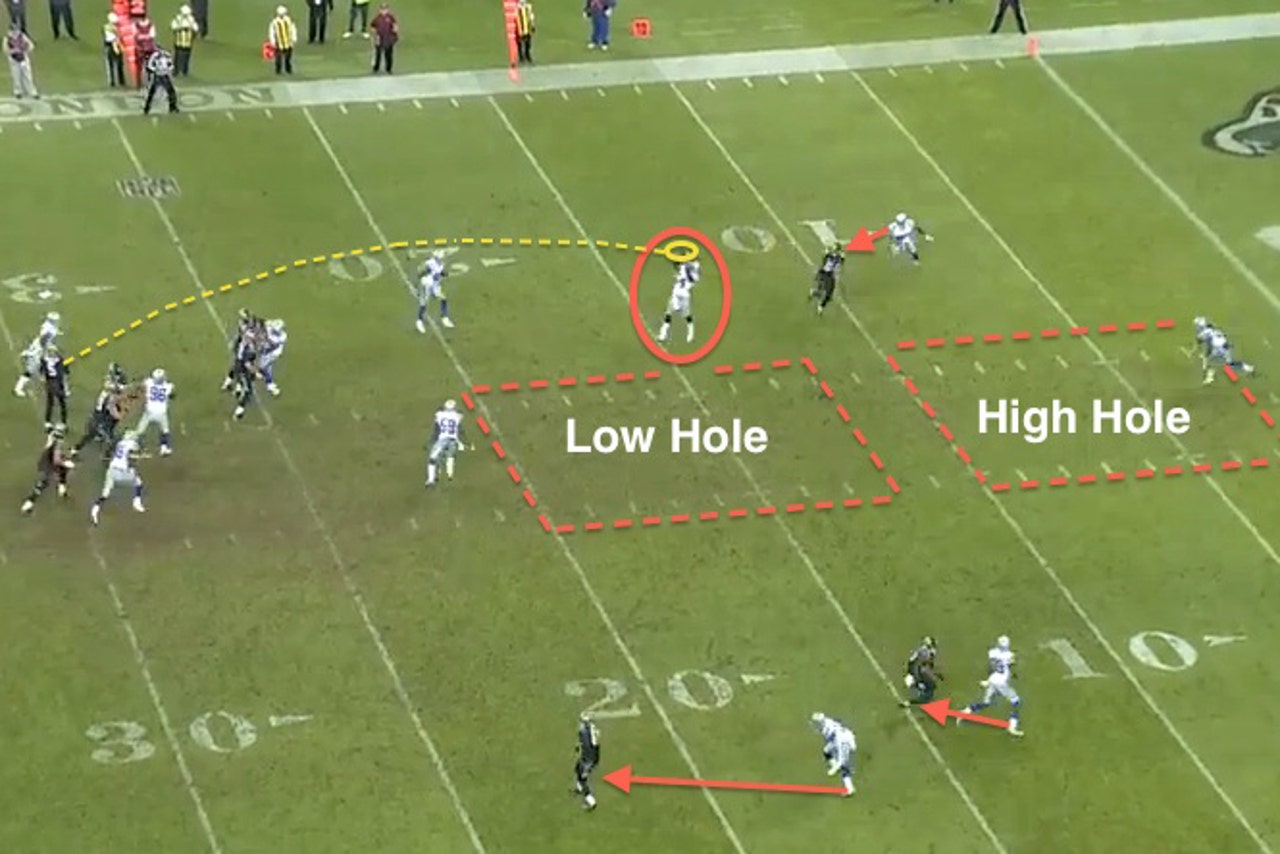 If the Cowboys can exploit this weakness in the high-powered Colts offense and win the turnover battle, they'll likely corral the Colts in Sunday's showdown.
Indianapolis already has locked up the AFC South and is headed to the playoffs. Some speculated that it would be in the best interests of the team if head coach Chuck Pagano rested his starters in their final two regular-season games. Pagano, however, has declared that they will do what they've done the past two seasons when they earned playoff spots: play to win.
If the Cowboys' offense continues to dominate on the ground and feed Bryant when he gets man coverage, while the defense continues to create turnovers, Dallas should roll past the Colts and Redskins in their next two games and carry momentum into the playoffs.
---
---