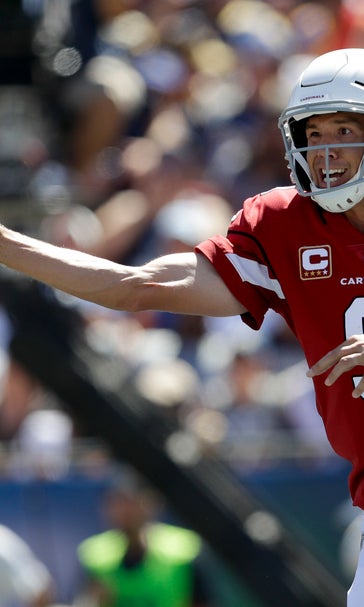 'Frustrated' Bradford looks to turn around Arizona's offense
September 19, 2018
TEMPE, Ariz. (AP) — The Arizona Cardinals' offense has been dreadful by any measure and Sam Bradford knows that, as the quarterback, he takes the lion's share of the blame.
"I think as a quarterback, you always take ownership of the offense," Bradford said after practice Wednesday. "To be honest, I don't really pay attention to what's being said outside this building. I just know however I do it, I've got to figure out a way to get this offense going. Find ways to make plays, find ways to get us going, and that's how I've tried to approach it this week."
The offensive statistics of the winless Cardinals through two games are the worst in the NFL.
The team has scored one touchdown, a short run by David Johnson in the season-opening 24-6 home loss to Washington. Last week, in a 34-0 drubbing by the Rams in Los Angeles, Bradford completed 17 of 27 passes but for only 90 yards. Through his first two games as Arizona's quarterback, he has completed 37 of 61 for 243 yards with no TDs and two interceptions. That's a passer rating of 55.6.
The Cardinals didn't get past midfield against the Rams until the next-to-last play of the game.
"You put so much time in in the offseason, in training camp, during the regular season, during practice, during your film study that you want to go out and you want to play well," Bradford said, "and when you don't, I think it's very frustrating just given the amount of time and the amount of effort that you put into it.
"So it's definitely been a frustrating two weeks but I think you look at it as a challenge, look at it as a way to find a solution , to keep battling, to keep competing and find a way to get better."
Not that a fix will be easy. Next up is a Sunday home game against Khalil Mack and the Chicago Bears.
This kind of start to a season naturally triggered speculation from the grumbling Arizona fan base that rookie Josh Rosen should take over at quarterback. That isn't happening, yet anyway.
"Sam, right now, is the quarterback, as I've stated before," coach Steve Wilks said. "I don't think it's just the quarterback position. I think we have some issues across the board in all three phases, and we're working on those issues. I think we've done a great job of trying to correct those issues, starting with trying to simplify things with the game plan, allowing guys to play fast. That's what I saw today. Guys executing, doing the little things right. So no, Sam's the guy."
Bradford has had some problems with accuracy, usually a strong point of his game. Asked if he's playing cautiously because he's coming off yet another knee injury, he said, "I don't believe so. I would say, 'No,' to that."
The Cardinals have scaled back the game plan and simplified things offensively.
The idea, Bradford said, is to "just make sure that the plays that we have in the game plan everyone's comfortable with versus multiple looks. Just really feel like we own the plays that are in the game that week as opposed to having so many calls on the sheet that maybe we know them but we're not owning them the way that we should.
"I think the thought is just allow everyone to go out there and play faster, simplify everything a little bit and hopefully it shows up in the speed in which we play."
And they've got to keep giving the ball to Johnson, who has yet to break the big plays that were his trademark two years ago, before a wrist injury wiped out virtually all of last season.
"I think with Dave, if you give him enough opportunities he's eventually going to make a play," Bradford said. "I think it's just staying committed to finding ways to get him the ball."
Notes: TE Jermaine Gresham (Achilles) and DE Markus Golden (knee) participated fully in practice Wednesday, increasing the likelihood that both will make their season debut Sunday. Both are coming off surgery. ... WR Larry Fitzgerald (hamstring) didn't practice but is expected to play, Wilks said. ... The Cardinals signed LB Joe Walker off Philadelphia's practice squad. He played in 12 games, three as a starter, with the Eagles last season, accumulating 13 tackles.
---
---