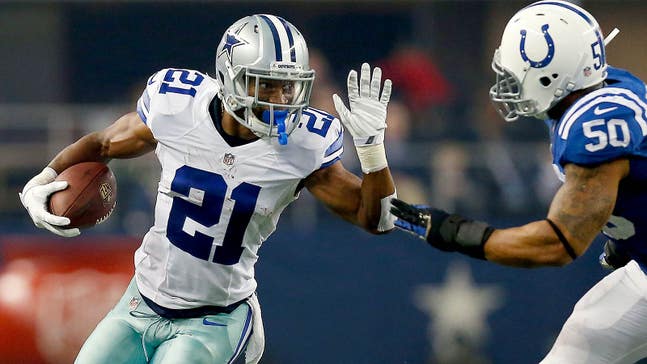 Front Office Insider: Crowded Cowboys' backfield has front-runner emerging
Published
May. 28, 2015 2:05 p.m. EDT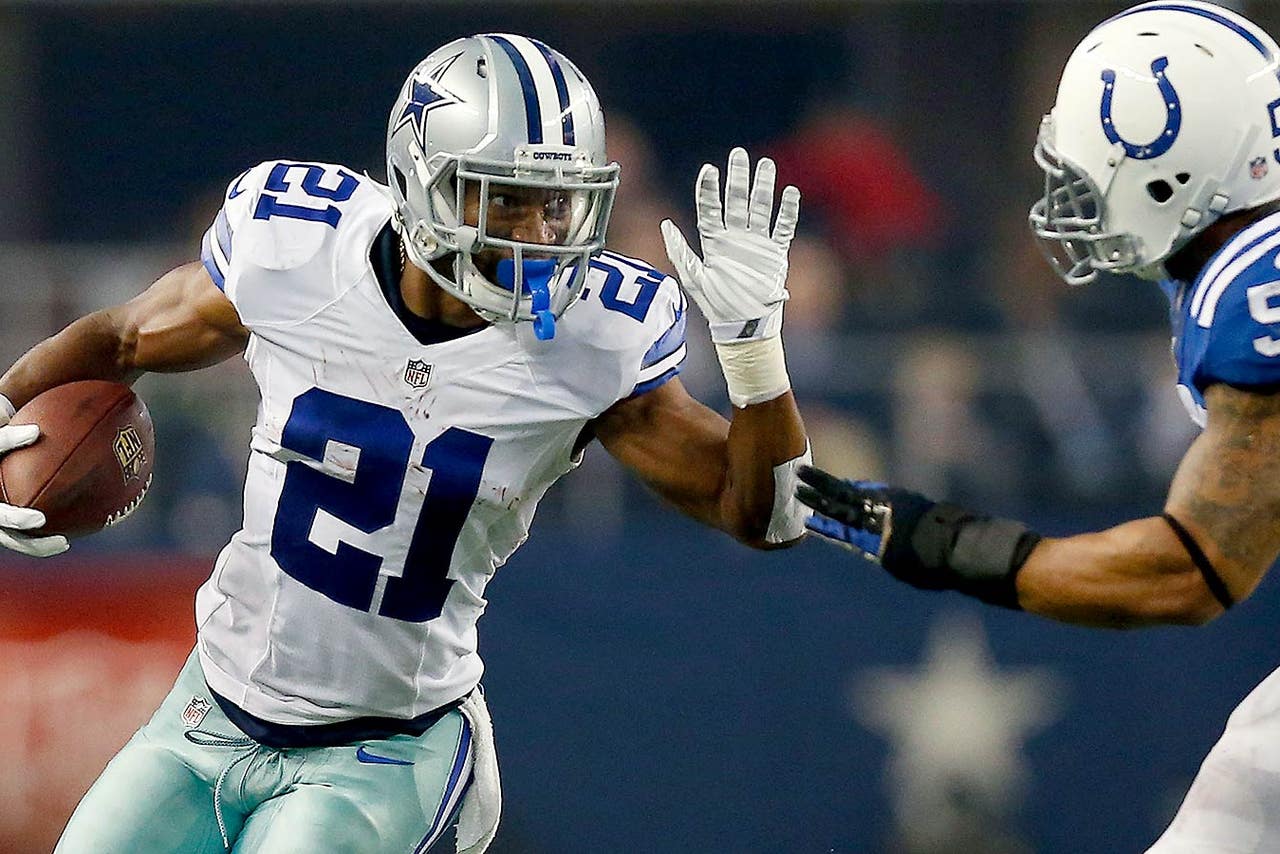 The Dallas Cowboys had their best rushing season in team history in 2014. Joseph Randle had an up-close-and-personal view of it.
This season, the third-year running back is competing with a host of others for the starting job DeMarco Murray (who is now an Eagle) left behind.
Randle, 23, reportedly took first-team reps at Valley Ranch during the first week of organized team activities.
Despite Randle owning the primary backup duties last season, the Cowboys also added veteran Darren McFadden and have Lance Dunbar and Ryan Williams on the roster.
Randle's ability to put his foot in the ground and get up field could allow him to be a more natural fit in the Cowboys' zone-blocking scheme.  
In fact, the situation is set up for the six-foot, 210-pound running back to succeed. Randle displayed tremendous burst last season, averaging 6.7 yards on just 51 carries last season.
One source close to Randle points out the running back has just 117 touches in two seasons in the NFL, and doesn't have much wear and tear from college, either. After splitting carries with Kendall Hunter at Oklahoma State, Randle left early and sat behind Murray for two years. The time allowed him to learn how NFL blocking schemes work, polish pass protection skills and find space in opposing defense's out of the backfield.
"[Randle] is a very talented runner, but I could see Dallas turning into how Denver was a decade ago when it didn't really matter who was running the ball," one NFC scout told FOXSports.com. "The Cowboys offensive line does a great job of coming off the ball and sealing off defenders, creating big holes to run through."
With the current running backs on the roster, it shows that the Cowboys think the same thing. Unless, Dallas adds a veteran, the starting running back is currently on the roster. The Cowboys worked out Ben Tate and Felix Jones last week, however. Neither was immediately offered a contract.
The question with Randle has never been about talent, but rather if he can continue to earn the organization's trust off the field.
Since last October, Randle had been arrested twice in investigations involving shoplifting, domestic violence and marijuana. All charges were dropped in the second case, but the league could still suspend him as they conduct independent investigations when players are accused of such acts.
"I think Joe's grown a lot since what's happened last year and embraced this opportunity that he has in front of him," tight end Jason Witten told FOXSportsSouthwest.com earlier this month.
Running behind arguably the league's best offensive line, the opportunity might not ever get better.
Source: Seahawks CB Lane likely to begin on PUP
Seattle Seahawks head coach Pete Carroll noted that cornerback Jeremy Lane has "another concern" with his broken wrist on Tuesday.
Lane sustained a compound fracture to his wrist and a torn ACL on the same play during the Super Bowl. Lane shattered multiple bones in his wrist and the complicated injury has required multiple procedures. Four months removed from the injuries, Carroll said on Tuesday that Lane could be ready by training camp, but one source believes that's a bit optimistic.
Lane will most likely begin on the physically unable to perform list, which will make him unavailable until Week 7.
With Lane sidelined, a battle at the Seattle's nickel cornerback position will be heating up this summer.
Redskins rookie RB is garnering some buzz
Washington Redskins running back Matt Jones has gained some buzz since general manager Scot McCloughan compared the rookie's punishing running style to Seahawks running back Marshawn Lynch.
Jones, a 6-foot-2, 231-pound power back from University of Florida, is a north-south runner who is not afraid of contact. Despite testing well at the NFL Combine, Jones was the eighth player selected at his position, going 95th overall to Washington.
Jones flew under the radar, one source points out, during the draft process because Florida didn't have a lot of continuity on the offensive side of the ball during his career. Those changes in schemes and coordinators played a role in stunting Jones and the entire to some degree.
Jones, who could be Alfred Morris's primary backup, will help a Redskins' offense that ranked 30th in third down conversions in 2014. Also, his running style will be welcomed as he will navigate behind an offensive line that promises to be better under the tutelage of Bill Callahan.
Lions DT makes significant strides
Second-year Detroit Lions defensive coordinator Teryl Austin's unit will take on a new look this season.
After allowing Ndamukong Suh and Nick Fairley to depart in free agency, the Lions traded for Haloti Ngata and signed Tyrunn Walker. But it is last year's fifth-round pick defensive tackle Caraun Reid, who has been generating some attention at Lions OTAs.
"I think he's done a tremendous job just in terms of his approach to it," head coach Jim Caldwell told reporters on Wednesday. "He looks good, increased his strength, his lean muscle has gone up, I mean, the whole gamut. So, hopefully we'll see that translate when we get an opportunity to go out there and go after it."
Reid, who played four years at Princeton, has taken full advantage of his first NFL offseason. In fact, Reid even spent time training with Suh this offseason. The time spent with the veteran certainly looks to have proven itself worthy.
Lions president Tom Lewand shut down rumors, via the Detroit Free-Press, that the team is looking to acquire another defensive tackle. Reid's growth into his sophomore season could be a big reason why.
---
---