Atlanta Falcons
Atlanta Falcons
For Falcons star Jones, the only stat that matters is wins
Updated
Mar. 4, 2020 11:36 p.m. ET

FLOWERY BRANCH, Ga. (AP) Julio Jones is on pace for one of the greatest receiving years in NFL history.
Don't bother asking him about it, though.
For Jones, the only stat that matters is winning - and his Atlanta Falcons have slumped over the past month, losing three of four games after a 5-0 start.
Yet it's impossible to ignore the personal quest Jones is on, having already hauled in 80 passes to give him a realistic shot at taking down Marvin Harrison's single-season record of 143 receptions. That Harrison's mark, set in 2002, is 14 more catches than anyone in NFL history makes Jones' pursuit even more impressive.
''Those numbers don't mean anything to me,'' Jones insisted Thursday. ''If we're not winning, what good are those numbers?''
From all accounts, Jones' work ethic is just as impressive as his obvious physical assets. His teammates say he sets a tone in the locker room with his willingness to put in just as many hours as everyone else, to shy away from any favorable treatment or attention.
New coach Dan Quinn knew Jones was a special player.
He didn't realize how much the receiver meant to the Falcons off the field.
''The thing that people on the outside don't know is what kind of teammate he is and why he's held in such high regard inside this building,'' Quinn said. ''It's because of the way he works. He's got this unbelievable work ethic that carries over into everything he does. In meetings, he's locked in. On the field, he's locked in. I think it's a pretty rare guy that has the ability to stay locked in for long periods of time.''
Jones, who has 1,029 yards receiving and six touchdowns, keeps posting eye-popping numbers even though every defense knows he's going to get the bulk of the throws. He's already been targeted 119 times by Matt Ryan - nearly twice as many as the next-highest total on the team, running back Devonta Freeman with 62. Among those who play receiver, Jones has been targeted more than everyone else combined.
While the drop-off from Jones to all the others has been especially jarring for Roddy White, the leading receiver in team history, offensive coordinator Kyle Shanahan makes no apologies for focusing the passing game on essentially one player. The 34-year-old White has only 17 receptions, by far the worst season of his career.
''I don't think about balancing out the passes,'' Shananan conceded. ''I think about trying to get the ball to Julio for the most part.''
Who can blame him? Jones is only 26 and in the prime of his career. At 6-foot-4 and 220 pounds, he not only towers over just about everyone trying to defend him, but can outrun most of them. The only drawback early in his career was a knack for getting injured, but he's missed only one game the last two seasons.
A year ago, Jones set career highs with 104 receptions and 1,593 yards. He figures to go right on past those benchmarks with several weeks to spare.
''What problems doesn't he present?'' said Falcons safety Ricardo Allen, who is thankful he only has to defend Jones in practice. ''He's big, he's tall, he's fast. He's smarter than most people. I think he's just the full package. When he goes for the ball, there are not many people who attack the ball or break out of their routes like him.''
Then again, there are receivers with similar skills. To Shanahan, the intangibles are what make his guy stand apart.
''He's fearless,'' the coordinator said. ''He doesn't mind the physicality of the game. I think he's one of the best blocking receivers around. You've seen him on picks (against the Falcons), looking like a cyborg going down the field making tackles.''
Indeed, Jones' most impressive play of the season might have had nothing to do with catching the ball.
Heck, it didn't even count.
Against Tampa Bay, Kwon Alexander intercepted a pass 5 yards deep in the end zone and took off the other way. Jones sprinted after him, finally chasing down the linebacker at Atlanta's 12-yard line, running more than 90 yards to make the tackle. The play was nullified by an offside penalty on the Buccaneers.
''He clearly saw the flag was thrown,'' Allen said. ''But the thing he was putting out: You're not going to take the ball from us and go score. You're not going to do that. He didn't have to do that. He could've saved his energy. He could've sat back and watched. But that's just the type of person he is. When he comes to practice, he's running full speed like it's the fourth quarter of the championship game.''
For Jones, a championship is all that matters. Everyone else can marvel at the numbers.
''I didn't know about that,'' Jones said when told of Harrison's record.
Breaking into a smile, he added, ''But thank you for letting me know.''
---
AP NFL website: www.pro32.ap.org and www.twitter.com/AP-NFL
---
Follow Paul Newberry on Twitter at www.twitter.com/pnewberry1963 . His work can be found at http://bigstory.ap.org/content/paul-newberry
---
---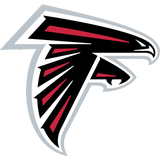 Get more from Atlanta Falcons
Follow your favorites to get information about games, news and more
---