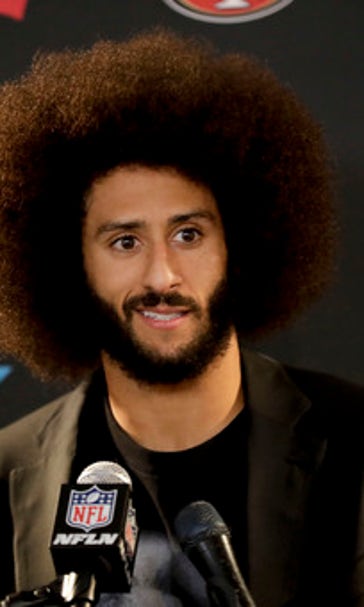 Column: NFL still riding high, despite issues
October 16, 2017

The narratives themselves are easy enough to craft. Anyone searching for signs the NFL is in trouble doesn't need to look far to document the league's woes.
Television ratings are up and down, in a league long accustomed to them being only up. In Los Angeles, the Chargers can't even fill a small soccer stadium.
An emerging group of parents don't want their kids to play football because of the dangers. Head injuries remain a vexing problem, and there is a growing realization that only so much can be done to protect players in what has always been a violent game.
And, of course, there's a revolt brewing among some fans - and one president - who dislike football players not standing during the national anthem.
NFL owners have a lot to talk about when they get together Tuesday at their annual fall meeting. The league faces the kind of challenges - some self-inflicted - that could potentially put a crimp in the NFL's innate ability to extract as much money from fans as possible.
At the top of the list are the protests during the national anthem, and there doesn't seem to be an easy solution. On Sunday a handful of San Francisco 49ers took a knee in Washington, a week after the same action in Indianapolis led to Vice President Mike Pence walking out of the game.
Owners are split and conflicted, with the 49ers Jed York indicating he would support kneelers and Dallas Cowboys owner Jerry Jones threatening to bench anyone who doesn't stand. Owners are so uncertain about what to do that they've invited members of the players' union to the meeting to see if there is some common ground.
But the NFL is the NFL. There are billions of reasons the league has been the dominant sports brand in the country for decades now.
And, despite all of these issues, it's not going anywhere soon.
Evidence of that was delivered in Sunday's TV ratings, which for CBS were the highest of the season. Sunday Night Football on NBC was also up 21 percent from the same night a year ago.
Franchises continue to print money, thanks largely to huge TV contracts. Forbes estimates the Cowboys are worth $4.2 billion, the most valuable sports franchise in the world. Even the long suffering Tampa Bay franchise is worth $1.8 billion.
And anyone concerned about long term health of league should remember there's a $750 million pot of gold the Raiders will be collecting just to move to Vegas. Tourism officials in Las Vegas are betting big on the future of the NFL, and these are people who aren't used to losing.
Yes, the NFL has issues. But most are solvable.
That includes a product on the field that is at times unwatchable. It also includes a lack of big name stars at a time when Tom Brady is aging, while the injured Aaron Rodgers, J.J. Watt and Odell Beckham Jr. will probably only be in commercials, not on the field, for the rest of the season.
And now it includes a grievance filed by former 49ers quarterback Colin Kaepernick that alleges collusion on the part of owners because no team has signed him following his protests during the national anthem.
In the middle of it all is commissioner Roger Goodell, who so far has navigated his way through NFL minefields to serve 11 years. Owners are reportedly negotiating a contract extension that would keep him in place through 2024.
Goodell has walked tightropes before, including Brady's suspension and the Ray Rice domestic violence issue. He's been able to handle a number of messy situations while also managing to assuage the egos of 32 wealthy owners to keep the league thriving.
Almost every issue facing the NFL right now is fixable - except for, perhaps, one. The long-term health of players is always going to be at risk because of the very nature of the sport, and there might come a day when the supply of good players starts to dwindle because not enough kids play football growing up.
But that's 20 years or more down the road, and that's a world most find hard to imagine. With a chance at riches and stardom, enough kids will shrug off the consequences for a chance to play the game.
Meanwhile, Goodell will survive because of one thing - he's good at what he does best, which is to help the league continue make a lot of money.
And as long as the money keeps rolling in, the NFL will be just fine, too.
----
Tim Dahlberg is a national sports columnist for The Associated Press. Write to him at tdahlberg(at)ap.org or http://twitter.com/timdahlberg
---
---