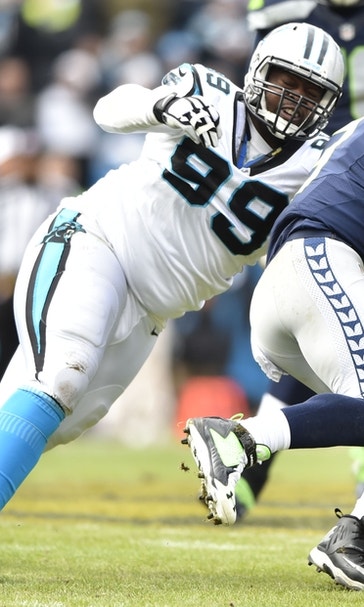 Carolina Panthers: Most Important Defensive Free Agents
December 31, 2016

Fansided, Raphael Garcia/FanSided via NFL Spin Zone
The Carolina Panthers have a number of valuable names on their list of  unrestricted free agents heading into this offseason.
With one game remaining in the 2016 season, the Carolina Panthers are looking head towards the offseason and game planning for next year. One of the items on the "to-do" list is dealing with a number of important unrestricted free agents on the roster.
Even though the Panthers have nearly $62 million in cap space, both sides of the ball will be impacted by necessary moves. Let's take a look at some of the more important individuals included in the list of unrestricted free agents for the Carolina Panthers defense.
Kawann Short is perhaps the biggest name that's listed as an unrestricted free agent across the entire roster. True, his numbers are down after a standout 2015 season, but he's an attractive addition to any defensive line. The Panthers attempted to lock him into a long-term deal heading into the 2016 season but were unable to do so.
It will be interesting to see how they handle this situation. Panthers general manager Dave Gettleman is willing to invest in a strong defensive line, but he's also shown a willingness to let talented individuals walk if he believes that position can be filled through other options.
More from NFL Spin Zone
However, Charles Johnson is another free agent that the Panthers may look to keep on the roster. He restructured his deal before the 2016 year as he took less money to remain a Panther. At 30 years old, he may not have the same space for growth as Short, but he's certain to draw interest from teams around the league. Both of these men are valuable players for the Panthers defense. However, the expectation is that the front office is more invested in keeping Short rather than Johnson for the long term.
Mario Addison picked the perfect year to put up career-best statistics. He's having a great season which will make him a compelling piece for this Panthers defensive line. If either Johnson or Short leaves the team, you can expect the front office to make a move to create a long-term deal for Addison. At 29 years old, he has some space to improve and has shown the steady grown with production to do so. In the last three seasons, he's earned a combined 21 sacks after getting just 3.5 in his first three seasons combined.
A.J. Klein is yet another player that will hit the open market out of Carolina to watch. While his statistical outputs are not as high as any of the Panthers starting linebackers, he's done a great job filling in for Luke Kuechly, who has missed time due to concussions. Kuechly is the star of this defense, but having a viable backup with familiarity to the team's play style is a valuable commodity. Klein's worth as a free agent may be improving as questions begin to start surrounding the long-term health of Kuechly going forward.
The Panthers defense needs to find a way to return to the strong play that pushed this team to a 15-1 record in 2015. With this season over it's time to look at which of these free agents are worth keeping around as consistency is a major part of a successful unit on either side of the ball.
---
---