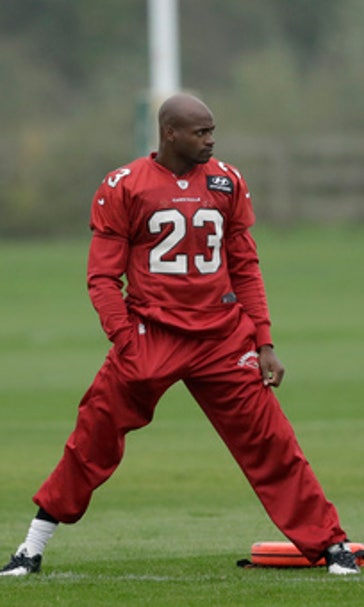 Cardinals' Fitzgerald: Peterson and I chasing same thing
October 19, 2017

SUNBURY-ON-THAMES, England (AP) Larry Fitzgerald wasn't surprised to see Adrian Peterson silence his doubters in the running back's first game with the Arizona Cardinals.
As a fellow veteran still chasing his first Super Bowl ring, Fitzgerald knows exactly what's driving Peterson to excel at this stage of his career.
''Obviously he would love to be on a championship team. Him and I are pretty much chasing the same things,'' Fitzgerald said Thursday in London ahead of the Cardinals' game against the Los Angeles Rams on Sunday.
While many were surprised to see Peterson shrug off his short and unsuccessful stint with the New Orleans Saints by putting up 134 yards and two touchdowns in his Cardinals debut, Fitzgerald had expected it from his old friend.
''AD's always had a chip on his shoulder, that's just part of nature,'' Fitzgerald said. ''He feeds off any negativity, anything people say, this or that. He just feeds off of it. I think him and I are very similar in that regard.''
Fitzgerald also put up his best game of the season in the win over Tampa Bay last Sunday, finishing with 10 catches for 138 yards and a touchdown. And the veteran wide receiver credited Peterson with giving the entire team a massive lift.
''That kind of excitement the offensive line shows when they're out there blocking for him, it's different,'' Fitzgerald said. ''When you have a running back who's going to the Hall of Fame ... it gets everybody excited, it gets everybody energized. He really set the tone early, and was a catalyst for us being able to start fast and being able to finish the game. The more involved he is early, the more we can keep their offense off the field and try to tire out that tenacious defense.''
The Rams have their own running threat in Todd Gurley, though, and Cardinals safety Tyrann Mathieu knows both defenses will have their hands full at Twickenham.
''He's running with a lot of confidence and a lot of aggression,'' Mathieu said of Gurley. ''The plan is to tackle him, if I get a chance to. But it has to be a group effort. He's playing extremely well right now.''
Mathieu's form has been questioned at times this season, especially after the Cardinals' loss to the Dallas Cowboys when they gave up 21 points in the second half. Mathieu was one of the best safeties in the league in 2015 but has just one sack and one interception so far this season.
He said he's trying to focus more on being consistent than on making big plays.
''I'm not really worried about splash plays, or how my stat sheet may look right now. Because in the end (of the season), I feel like I'm going to have five or more interceptions, I'm going to have 80 or more tackles,'' Mathieu said. ''The splash plays will come, I just have to stay more consistent in critical situations.''
---
For more NFL coverage: http://www.pro32.ap.org and http://www.twitter.com/AP-NFL
---
---