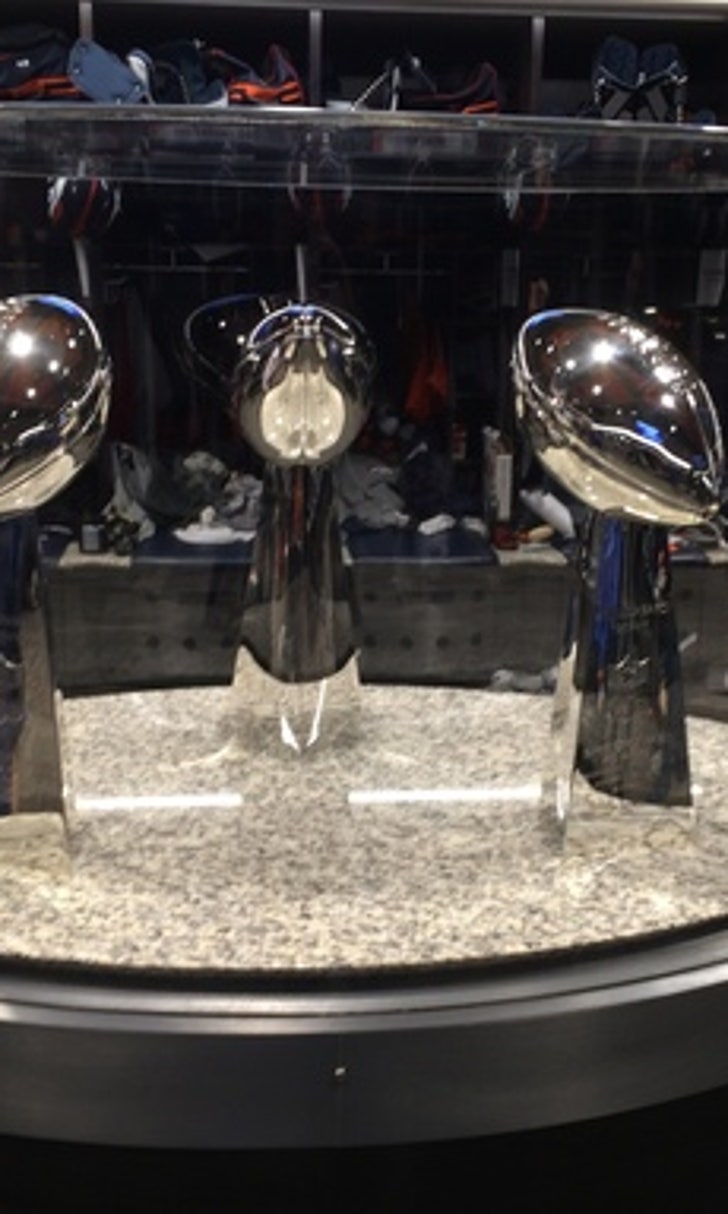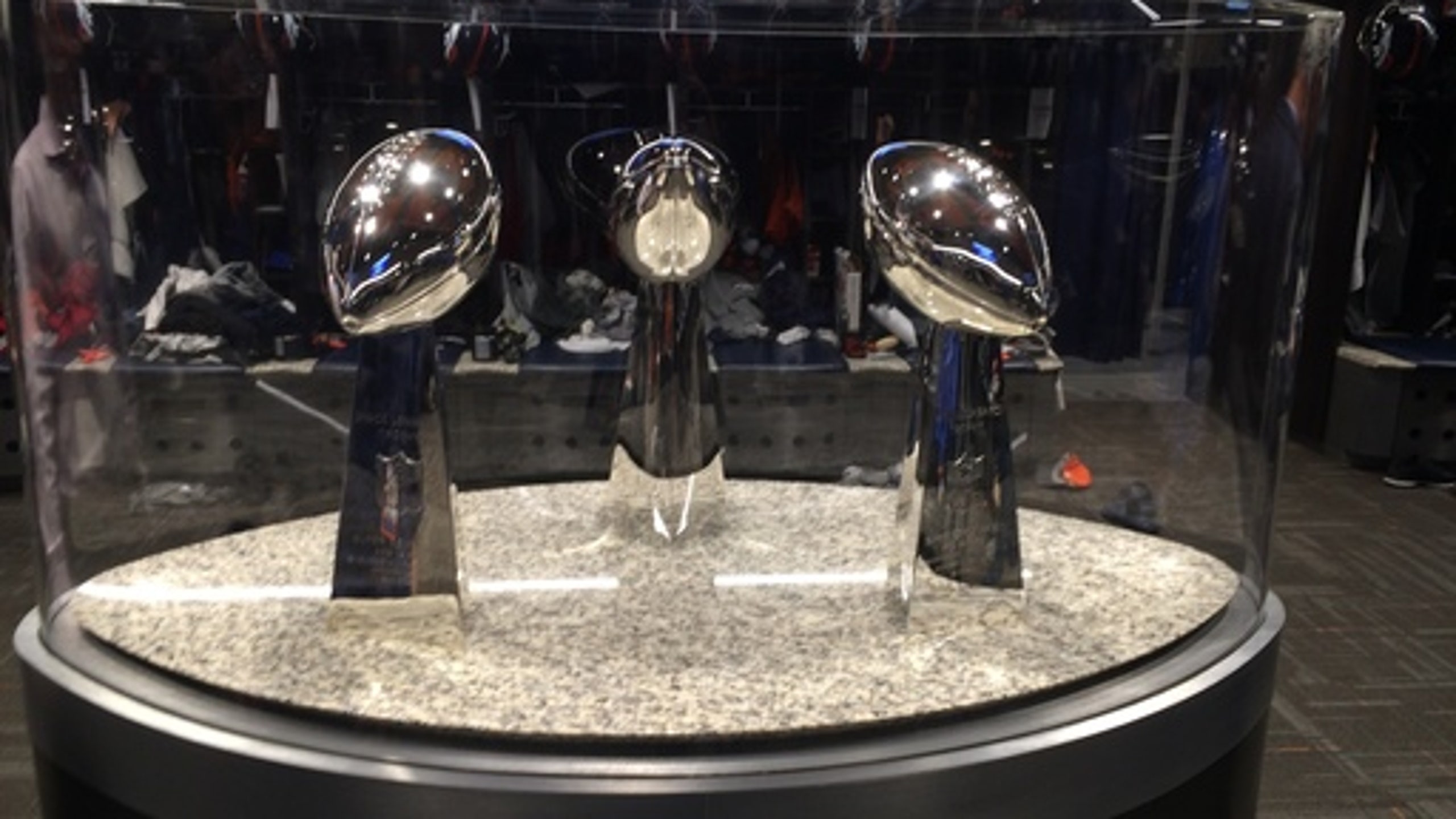 Broncos get friendly reminder of what it's all about
BY foxsports • November 23, 2016
ENGLEWOOD, Colo. (AP) The Denver Broncos got a not-so-subtle reminder of what the next two months are all about Wednesday when they found the franchise's three Super Bowl trophies gleaming in a newly installed trophy case in the middle of their locker room.
''Not that we need a reminder, but it's cool to see them in there,'' quarterback Trevor Siemian said. ''And that's the goal, right? That's what we're all working for.''
Oh, and Peyton Manning dropped by practice with his toddler twins to say hi.
''It was good to see him,'' Siemian said. ''I told him, `I know you've got some shorts on under there. Come join us.' But he wasn't having it.''
It's up to Siemian this time around to run the Broncos' ball-control offense that complements Denver's dazzling defense. He's going to need a lift, though, to comply with coach Gary Kubiak's plea to play big down the stretch .
Ty Sambrailo, Andy Janovich, A.J. Derby and Marlon Brown all aim to give him just such a boost.
In advance of the Sunday night showdown between the Broncos (7-3) and Chiefs (7-3), Sambrailo, an oft-injured second-year pro, has replaced Donald Stephenson at right tackle. Kubiak said he's willing to rotate guards, too, as he tries to fortify his porous O-line.
Janovich has ditched the cumbersome club he wore since breaking his right hand against Houston on Oct. 24. With it, defenses didn't have to cover the rookie fullback in the flat, although he did make a sensational one-handed grab at New Orleans.
Opponents will have to once again respect Janovich's versatility, and he'll be better able to block for Devontae Booker and Kapri Bibbs, who have struggled to get Denver's ground game going in C.J. Anderson's absence.
The Broncos put in a claim for Ronnie Hillman, whom they cut in August, after he was waived by the Vikings this week. But the San Diego Chargers got him instead.
''Ronnie knew all our stuff,'' Kubiak said, ''so we thought it was worth a shot.''
The Broncos did add Brown, whose 6-foot-5, 215-pound frame could give them the presence they sorely need in the middle of the field. Brown, a fourth-year pro who played in 40 games with the Ravens, was waived by the Broncos in August so he could get take care of his bad back. Now healthy, he's expected to contribute both on special teams and from scrimmage.
''He was super impressive when he was here in camp, I remember that,'' Siemian said. ''It's good to get him in here.''
The Broncos have been unable to clear the safety out of the box all season, with their tight ends either staying in and helping protect Siemian or dropping passes when they do go out on routes. Derby, acquired from New England in a trade last month, is primed for a bigger role over the final six weeks.
Siemian might get his biggest boost from Denver's dominant defense returning to full strength .
Cornerback Aqib Talib (back) and run stuffer Derek Wolfe (right elbow) are back, giving the Broncos their healthiest lineup since DeMarcus Ware broke his right forearm in Week 2.
Denver's defense carried the Broncos down the stretch last year when Manning and Brock Osweiler were running the wheezing offense. It's also what has kept them in the playoff hunt this season.
Siemian has been dealing with a sprained left shoulder ever since he was driven into the turf in Tampa in Week 4. He received another cortisone shot last week.
The break ''was really good physically, but mentally it was good to step back, get a breather,'' Siemian said.
Kubiak has praised Siemian's toughness, but his passer rating of 85.0 ranks 12th in the AFC, and Kubiak said it's time for the first-year starter to step up his game.
Oddly, Kubiak was unaware of the team putting the Super Bowl trophies in the locker room. Reporters informed him players had been sharing snapshots of the Lombardi trophies on social media before practice.
''Well, it's good that there's some in this building,'' Kubiak said. ''Those things don't do you any good right now. It's a new year, new battle. I think this team's really excited, coaches, organization, everybody. We're there. Six weeks to play, a lot of big football games to play in.''
Wolfe, however, said the shiny trophies were a stark reminder that hit home for plenty of players.
''Everybody gets caught up in their own (business) day to day,'' Wolfe said. ''That's the main goal.''
---
For more NFL coverage: http://www.pro32.ap.org and http://www.twitter.com/AP-NFL
---
Follow Arnie Melendrez Stapleton on Twitter: http://twitter.com/arniestapleton
---
---