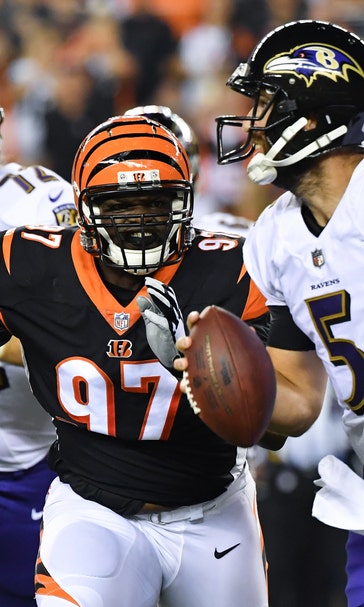 Are Raiders that bad? Are Dolphins that good? They meet next
September 22, 2018
There have been some classic games between the Oakland Raiders and Miami Dolphins. While Sunday's meeting doesn't carry the weight of a playoff contest between two powers, it certainly brings plenty of intrigue.
Such as: Are the Dolphins (2-0) really good, and are the Raiders (0-2) pretty bad?
The answers will come over the next few weeks, but this could be a strong indicator of where each team is headed in 2018.
Miami has been winning the field position battle, is tied for the NFL lead with five interceptions — the Dolphins had nine all last year — and has allowed only seven points in four red-zone possessions by opponents. Healthy QB Ryan Tannehill is 9-1 in his past 10 starts; he missed the 2017 season with a knee injury.
Meanwhile, the Raiders are allowing 5.7 yards per rush, worst in the league. They are tied for last with only one takeaway and have all of two sacks. Did someone say they miss Khalil Mack?
Yet the key could be when Oakland has the ball and whether it can generate anything against a defense that plays most everybody who suits up.
"The addition of (DE Robert) Quinn is huge," says Raiders coach Jon Gruden, whose return to the sideline had Raiders fans all giddy before the Mack trade and the two defeats.
"He has given them supreme effort opposite Cameron Wake. And they have a very good unit inside that can generate pressure as well. It's a combination of new players, new energy and the scheme. It's fun to watch them."
Maybe not for Derek Carr, the quarterback who has to face them.
The weekend began Thursday night with Cleveland's first win in 635 days, a 21-17 home victory over the New York Jets.
The No. 1 overall pick Baker Mayfield replaced injured starter Tyrod Taylor and sparked the Browns (1-1-1) , who got two 1-yard touchdown runs from Carlos Hyde in their first win since Dec. 24, 2016. And so ends Cleveland's 19-game winless streak, the NFL's second-longest since the 1970 AFL-NFL merger. The Jets are 1-2.
Indianapolis (1-1) at Philadelphia (1-1)
One of several games with tasty matchups.
The Super Bowl champions get back Carson Wentz, whose major knee injury last December led to Nick Foles taking over at quarterback — and winning the title. Wentz is healthy, which means he'll play.
"It's been a long time coming," Wentz says. "It's been quite the grind of an offseason. There's a lot of excitement, a lot of built-up almost anxiety over when it was going to be."
It will be against the offensive coordinator, Frank Reich, who had a big role in Wentz's quick development. Reich now coaches the Colts, who have their own star QB back from injury, Andrew Luck.
Luck has thrown a TD pass in 25 consecutive games, the league's longest active streak.
The Colts are one win from 300 since moving to Indianapolis in 1984.
New England (1-1) at Detroit (0-2)
Matt Patricia spent 14 seasons working for Bill Belichick in New England. Rarely did he deal with what has gone on the past two weeks with the Lions. They have looked inept at times, Matthew Stafford has little protection and has thrown a league-high five picks. Detroit is 30th in rushing defense, which must make defensive guru Patricia cringe.
Belichick is 14-8 against former assistants. New England is 45-6 after losing a game since 2003 and didn't lose two straight in 2016 or 2017. It fell at Jacksonville last Sunday.
Denver (2-0) at Baltimore (1-1)
One more spicy matchup, this one on the defensive side.
Led by Von Miller , the Broncos seem to have rekindled the Orange Crush. He leads the NFL with four sacks, a rate that would give him a record 32. Don't bet against him.
Denver has allowed only five third-down conversions in 22 tries, the best rate (22.7 percent) in the NFL.
The Ravens rank second on D, no surprise there. But they'll likely be missing three-time Pro Bowl LB C.J. Mosley (knee).
New Orleans (1-1) at Atlanta (1-1)
In perhaps the toughest division, both of these 2017 playoff teams have been way too inconsistent so far.
The Saints opened with two home games, losing to Tampa Bay and getting lucky to beat Cleveland. The defense was awful in the opener, the offense struggled last week.
Still, they have Drew Brees, looking for his fourth straight road game with a passer rating over 100. WR Michael Thomas has 28 catches, an NFL record for the first two games of a season.
Atlanta's up-and-down nature has been partly caused by injuries, particularly on defense. That's never a good way to approach a matchup with Brees.
New York Giants (0-2) at Houston (0-2)
The most watchable thing here — if you like defenses creaming quarterbacks — is whether Eli Manning or Deshaun Watson can escape the rush. Watson, who has terrific agility, already has gone down seven times, and he's not come close to the sensational showings he made as a rookie before tearing up his knee.
Even worse, Manning has been sacked eight times and there haven't been a handful of pass plays on which he didn't feel pressure. Now, he gets to see J.J. Watt and Jadeveon Clowney close up, with a new center, John Greco, to boot.
Dallas (1-1) at Seattle (0-2)
More sack time coming.
In years past, Seattle's defense would be knocking down quarterbacks. This version of the Seahawks has three sacks as the unit is rebuilt.
Meanwhile, Russell Wilson has gone down 12 times, and considering his escapability, that's scary in Seattle. Dallas barely let Manning breathe last week, has nine sacks from eight players and faces possibly a bigger sieve of a blocking unit this week.
Los Angeles Chargers (1-1) at Los Angeles Rams (2-0)
Remember when LA had no teams? Now, both figure to be contenders in their divisions. Indeed, the Rams have the most talent of any roster and are off to a powerful start.
This could be a shootout. Since Week 11 of last season, the Chargers are tops in offense, averaging 436.9 yards per game. Philip Rivers has thrown three or more TD passes and has a passer rating over 100 in three straight regular-season games, and has plenty of weapons.
So does Rams QB Jared Goff, particularly 2017 Offensive Player of the Year Todd Gurley. The fourth-year RB is off to another brilliant start.
It's the first meeting between two Los Angeles NFL teams since Nov. 13, 1994, when the Raiders defeated the Rams 20-17.
Cincinnati (2-0) at Carolina (1-1)
Wait, the Bengals are unbeaten? Here's a real chance to prove they are legit.
Cincinnati can get after the passer and will force Cam Newton to be creative. The Bengals are well rested — they beat Baltimore on a Thursday night in Week 2 — and DT Geno Atkins has looked super, getting three sacks and plenty of pressures.
But second-year running back Joe Mixon is sidelined, and Carolina has its own dangerous RB from the 2017 draft in Christian McCaffrey. He tied WR Steve Smith's franchise record with 14 receptions vs. the Falcons.
Carolina has won six straight at home.
Tennessee (1-1) at Jacksonville (2-0)
Jacksonville being 2-0 is no shock and the Jaguars could seize early control of the AFC South here. They showed plenty of moxie in beating New England last Sunday and hope to have top RB Leonard Fournette healthy. They haven't been 3-0 in 14 years.
Even though the Jags won the division in 2017, they were swept by Tennessee, helping the Titans earn a wild card. Tennessee has been very protective of its passer, whether Marcus Mariota or former Jaguar Blaine Gabbert; opponents have one sack. Getting Mariota back from an elbow injury is critical.
San Francisco (1-1) at Kansas City (2-0)
It's not that the Chiefs have won two straight, it's how they did it.
First-time starter Patrick Mahomes came out firing and hasn't let up. He has an NFL-record 10 TD passes through the first two games and has not thrown an interception. Mahomes had six TD passes at Pittsburgh, making him the youngest player in NFL history to accomplish that. Travis Kelce, Tyreek Hill and Sammy Watkins all have 100-yard receiving games this season.
San Francisco ranks 25th in pass defense and might not have the talent to get in a scoring free-for-all.
Buffalo (0-2) at Minnesota (1-0-1)
The betting line was so high, above 16 points all week, that it sent fans and bettors scrambling for precedent.
Buffalo once was an even bigger underdog at 17½ points against Miami in 1985. The Dolphins won 28-0.
And 80 teams have been 16-point or more underdogs. Five of those actually won.
For the Bills to even come close, they need to give raw rookie QB Josh Allen time to throw, and find a run defense.
Minnesota comes off a depressing 29-29 tie at Green Bay in which the Vikings made a solid comeback, but then couldn't kick the ball straight enough to win. Daniel Carson is gone, replaced by veteran Dan Bailey, who was sensational with Dallas before getting hurt.
Green Bay (1-0-1) at Washington (1-1)
A gimpy Aaron Rodgers remains a prime threat, and he has loads of talent to catch the ball in Davante Adams, Randall Cobb, Geronimo Allison and tight end Jimmy Graham. The pass defense is far too charitable, but rookie CB Josh Jackson recovered a blocked punt for a TD vs. Minnesota.
Alex Smith, the top overall draft pick in 2005 when Rodgers went 24th, now is in Washington. He has a defense ranked No. 1 against the pass, so an aerial contest with A-Rod might not develop.
Pittsburgh (0-1-1) at Tampa Bay (2-0), Monday night
With the Bucs on a roll and Ryan Fitzpatrick demolishing defenses, Pittsburgh could be in trouble. The Steelers have displayed little tackling skill and give up lots of big plays. They rank 30th against the run, a very un-Curtain number.
Their offense hasn't been troubled much by star RB Le'Veon Bell's holdout thanks to James Conner. This also has the makings of a high-scoring showcase, especially if Ben Roethlisberger can limit his team's turnovers.
Chicago (1-1) at Arizona (0-2)
The Cardinals and Bears are the only founding members of the NFL still in existence. While Chicago seems to have found its way with Mack and a defense that leads the league with 10 sacks, Arizona is foundering. The Cardinals didn't cross midfield vs. the Rams until the next-to-last play. Sam Bradford has not thrown a TD pass, has been intercepted twice and has a 55.6 passer rating.
---
---