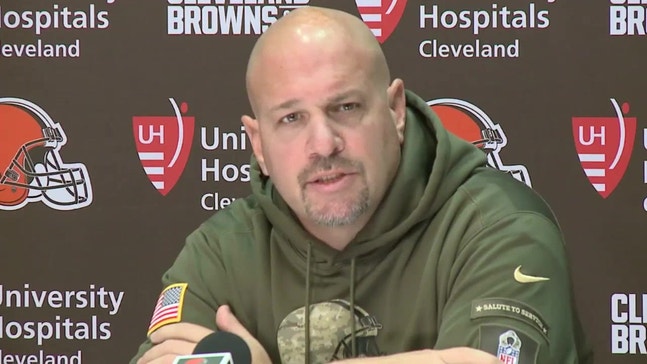 Amid losses, Browns on edge as offseason changes loom
Updated
Mar. 4, 2020 9:55 p.m. EST

BEREA, Ohio (AP) The pain of losing and the prospect of more change has the Browns on edge - and divided.
One day after Cleveland's worst loss in 10 years, coach Mike Pettine said a seven-game losing streak during a season spiraling downward quickly has frayed nerves in and around the team's facility.
With upheaval on the horizon, players, coaches and executives are uneasy.
''When you have the record that we have, if there's not tension in the building, there's a problem,'' Pettine said. ''That's what losing does to you. When you're paid to be successful, when you're paid to win in a bottom-line business and we're not, of course there's going to be tension.''
The Browns (2-10) were throttled 37-3 on Sunday by the Cincinnati Bengals. The game ended with FirstEnergy Stadium nearly empty as disgruntled Cleveland fans streamed toward exits long before time expired, an unwelcome sight for owner Jimmy Haslam and general manager Ray Farmer, whose roster moves have mostly backfired.
The blowout raised more questions about the franchise's direction, and Pettine, who is just 2-15 in his last 17 games, said there's not complete agreement on what should be done to fix things.
''If you're going to be successful, your building has to be unified,'' he said. ''That's where the plan starts, and that to me hopefully will drive what changes need to be made. Sometimes you fall into the trap of let's just make change.''
Pettine said the team should make sure changes are going to get things headed in the right direction. But it's difficult for the team's decision-makers to be unified with the losses mounting, he said.
''I just think it's human nature,'' Pettine said. ''When things don't go well, everybody has a tendency to kind of bunker in and get into that mode.
''I think we all want what's best for the Cleveland Browns. I think we all have ideas on how to get it done, and we need to be collaborative and we need to make sure that we're picking the best ideas and pushing those agendas moving forward,'' he said. ''I can't sit here and say, `Absolutely, we're all on board, 100 percent.'''
As the team regrouped following the lopsided loss, Pettine was not ready to name his starting quarterback for this week against San Francisco. Pettine is debating whether to stick with Austin Davis, who made his first start against Cincinnati, or go back to Johnny Manziel, recently benched two games for off-field issues.
Manziel spent his 23rd birthday on Sunday as the backup to Davis, who passed for 230 yards and did all he could despite losing two wide receivers with injuries and having no running game against one of the NFL's best defenses.
Pettine will meet with his offensive staff before making another switch. Due to injuries and Manziel's demotion, the Browns have already changed QBs five times this season.
After he passed for 372 yards against Pittsburgh last month, Manziel was elevated to starter for the final six games. But he spent part of the team's bye week partying in Texas after telling Pettine and others he wouldn't be a distraction and was dropped to third string.
When he disciplined Manziel, Pettine said the 23-year-old had violated the team's trust.
Manziel has shown development while going 1-2 in three starts, but his antics have made it challenging to assess him as a future quarterback.
Pettine said he already has a good feel for the second-year QB's potential, and the final four games may not provide much more information.
''Now it depends on how those games go,'' he said. ''We have to make sure that we support our quarterback. We've got to be playing well around our quarterback. Four games, that's a quarter of a season, that's a good chunk of time. We already have a sense of where he is from a football standpoint, that he's done some good things and he showed progress from a year ago. That's been encouraging.''
---
NOTES: The Browns placed starting LG Joel Bitonio on injured reserve with a new ankle injury sustained Sunday. Bitonio missed two games with a sprained ankle. ... Pettine said WR Travis Benjamin (shoulder) is day-to-day and X-rays on WR Marlon Moore (ribs) were negative.
---
AP NFL website: www.pro32.ap.org and AP NFL Twitter feed: http://twitter.com/AP-NFL
---
---