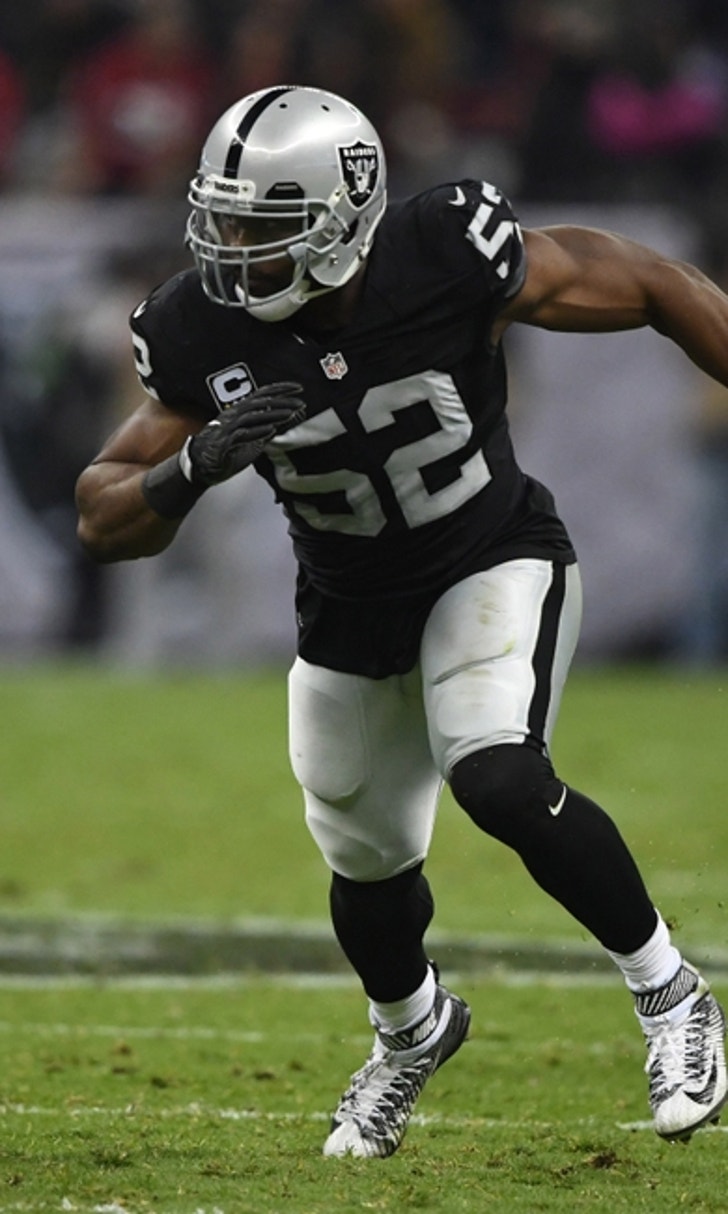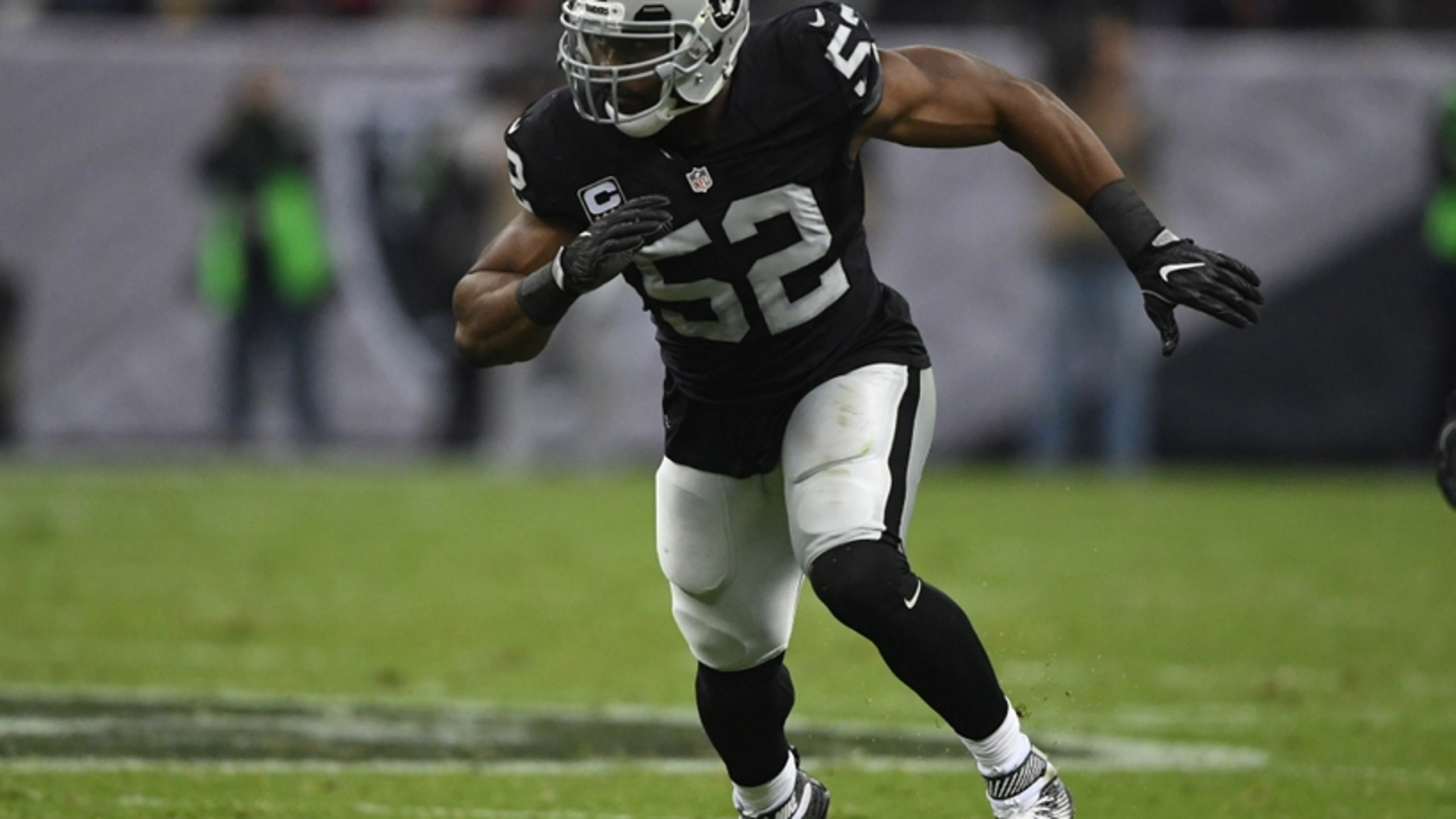 5 hottest defensive players in the NFL right now
BY Fansided and Russell S. Baxter/Fansided • December 14, 2016
A year ago, the Denver Broncos rode a hot defense to a Super Bowl title. Here are 5 performers currently making life rough on opposing offenses.
Never underestimate what a great defensive unit can do for an NFL team.
In 2015, the Denver Broncos played three postseason games and their offense managed only four touchdowns in 12 quarters. Tight end Owen Daniels had two scores, as did running back C.J. Anderson.
And that was enough for Gary Kubiak's team to walk away with a Super Bowl 50 title.
Earlier, we took a look at who we felt were the league's five hottest offensive players at the moment. Here, we believe in equal time.
5. SS Eric Weddle, Baltimore Ravens
A year ago, the Baltimore Ravens suffered through their first losing season under the guidance of head coach John Harbaugh.
There reasons for the 5-11 showing were multiple and injuries played a big part in the disappointing showing. For example, a once-proud defense just wasn't itself despite some of the numbers. The Ravens finished eighth in the league in fewest yards allowed and were 10th against the pass. So how on earth did the club give up 30 touchdown passes last season?
The other issue was that Harbaugh's usually-opportunistic team managed an NFL-low six interceptions. But 2016 free-agent pick Eric Weddle has helped change that in a big way. Following Baltimore's four-game midseason losing streak, the three-time Pro Bowler has helped his club rebound with four wins in six contests.
Over that span, the 31-year-old pro has racked up 35 tackles, three interceptions, one sack and six passes defensed. In Monday night's 30-23 loss at New England, Weddle totaled a game-high 11 stops and had a sack and a pick at the expense of Patriots quarterback Tom Brady.
At 7-6, the Ravens' defense may need to up its game a little more if they are to grab a playoff berth. Weddle has had few problems with that these days.
Nov 13, 2016; Tampa, FL, USA; Tampa Bay Buccaneers cornerback Brent Grimes (24) reacts with cornerback Vernon Hargreaves (28) against the Chicago Bears at Raymond James Stadium. The Buccaneers won 36-10. Mandatory Credit: Aaron Doster-USA TODAY Sports
4. CB Brent Grimes, Tampa Bay Buccaneers
When we say hot, don't be confused by thinking we're simply looking for defensive plays with gaudy sack and interception numbers. And that's not to say you can't have both.
One of the rising teams in the league at the moment, the Tampa Bay Buccaneers are an impressive 7-2 in their last nine games. The continued development of second-year quarterback Jameis Winston has been a major reason. So has the play of a defense that hasn't been perfect the last two-plus months.
Let's go back to the team's 1-3 start. The Bucs gave up at least 24 points in each contest and two or more scores through the air in each game. It's been a somewhat different story since, although both Oakland's Derek Carr and Atlanta's Matt Ryan each threw four touchdown passes in a five-day span from Weeks 8-9.
Now Dirk Koetter's squad is riding a five-game winning streak. They haven't allowed a touchdown in two of their last three games. The same club that allowed a combined 73 points in those losses to the Raiders and Falcons have allowed a combined 64 points in their last five outings.
Veteran cornerback Brent Grimes has been a key part of the defensive resurgence. In Tampa Bay's last nine contests, he's totaled 21 tackles, three interceptions, one forced fumble and 12 passes defensed. When the team was allowing at least two touchdown passes in each of their first four games, Grimes failed to pick off a pass.
For the season, Pro Football Focus ranks Grimes at the 11th-best player at his position. He was an ideal offseason addition due to his relationship with Mike Smith, the former Atlanta Falcons head coach now Buccaneers' defensive coordinator. Can this team close the deal and grab a playoff spot for the first time since 2007. The crafty cornerback will have a say in the matter.
Nov 20, 2016; East Rutherford, NJ, USA; New York Giants safety Landon Collins (21) reacts after making a game-ending interception against the Chicago Bears during the fourth quarter at MetLife Stadium. Mandatory Credit: Brad Penner-USA TODAY Sports
3. SS Landon Collins, New York Giants
He has seemingly been everywhere for the improved New York Giants defense this season.
A year ago, Big Blue was singing the blue. No team allowed more yards per game and more yards through the air in 2015. The club also ranked 24th in the league against the run. This was a club that surrendered 442 points, the third-highest total in the NFL.
Things have certainly changed. One reason has been the high-priced free agent additions of defensive end Olivier Vernon, defensive tackle Damon Harrison and cornerback Janoris Jenkins this offseason. All have played at an extremely efficient level.
But one of the league's hottest defenders and the Giants' leading tackler with 100 total stops is of the home-grown variety. Former University of Alabama safety Landon Collins was a second-round pick in 2015. He's enjoyed a sensational year and is certainly a candidate for NFL Defensive Player of the Year honors.
You will recall that Ben McAdoo's team opened the season with two wins, then dropped three games in a row. Since then, the Giants are a blistering 7-1 in their last eight contests. Over that span, Collins has been electric. He's amassed 63 tackles, a pair of sacks, five interceptions (1 touchdown) and 10 passes defensed.
The NFL's worst defense from a year ago now ranks 14th overall in terms of fewest yards per game allowed. New York has surrendered only 13 touchdown passes in as many games. And the second-year pro has really set the tone for a unit that was an embarrassment a season ago. It will be fascinating to see just how long Collins can continue his torrid play.
Dec 11, 2016; Los Angeles, CA, USA; Atlanta Falcons outside linebacker Vic Beasley (44) scores on a 21-yard fumble recovery in the third quarter of the game against the Los Angeles Rams at Los Angeles Memorial Coliseum. Mandatory Credit: Jayne Kamin-Oncea-USA TODAY Sports
2. OLB Vic Beasley, Atlanta Falcons
We're stating the obvious. Sack is a four-letter word. Sacks has also been a four-letter word for the Atlanta Falcons in recent seasons.
How about a few recent examples? In 2015, Dan Quinn's club totaled an NFL-low 19 sacks – barely outdistancing NFL Defensive Player of the Year J.J. Watt (17.5). One year earlier, the Falcons dropped opposing quarterbacks 22 times. That was tied with Houston…as in Kansas City Chiefs outside linebacker Justin Houston.
You get the picture. Last season at defensive end, then-rookie Vic Beasley suffered through the expected growing pains. He still managed to lead Atlanta in sacks…with four.
On Sunday at the Los Angeles Coliseum, the eighth overall pick in the 2015 draft had three sacks of Rams quarterback Jared Goff, one resulting in a strip and fumble return for a touchdown (we won't discuss his end zone antics at the moment).
This offseason, Beasley made the move to outside linebacker. After totaling one QB trap in the team's first four games, the former Clemson Tigers' standout has been very steady. In his last nine contests, he amassed 20 tackles, 12.5 sacks and six forced fumbles. Beasley totaled two or more sacks in four of those nine outings.
The promising defender now leads the NFL with 13.5 sacks. With 5.5 more quarterback traps in his last three games, he will equal the Falcons' total of 19 sacks all by himself. That doesn't say much for the Atlanta defenses of recent seasons. But trying to slow down Beasley as of late has proved to be an exercise in futility for opposing blockers.
Nov 6, 2016; Oakland, CA, USA; Oakland Raiders defensive end Khalil Mack (52) points towards the crowd after a defensive stop against the Denver Broncos in the third quarter at Oakland Coliseum. The Raiders defeated the Broncos 30-20. Mandatory Credit: Cary Edmondson-USA TODAY Sports
1. DE Khalil Mack, Oakland Raiders
Was he bored?
Yes, we are just kidding. But after a very low-key start to the season, Oakland's Khalil Mack is alive and quite dangerous. That is, if you're an opposing quarterback.
It's not been a great year for the Silver and Black when it comes to defense. Even with such talented offseason additions such as outside linebacker Bruce Irvin, cornerback Sean Smith and ball-hawking free-safety Reggie Nelson. We are 14 weeks into the season and only the San Francisco 49ers and Cleveland Browns are giving up more total yards per game. Those clubs have combined to win one game.
Jack Del Rio's team has 10 victories. They can wrap up their first playoff berth since 2002 this weekend if they can knock off the San Diego Chargers.
Fortunately for Del Rio and defensive coordinator Ken Norton Jr., 2015 multi-faceted Khalil Mack was already a member of the club and not an offseason acquisition. But you may not have been able to tell at the beginning of the season. The three-year pro totaled a paltry one sack in the team's first five contests. This was a performer who finished second in the league with 15 sacks the previous season and earned All-Pro accolades at both defensive end and outside linebacker.
It's been a totally different story ever since. In Oakland's last eight outings, Mack has consistently returned to opposing backfields. The three-year pro has amassed 10 sacks, five forced fumbles and returned a Cam Newton interception for a score. He has racked up 39 tackles over that span and has at least one sack in each of those contests. They call it a streak.
We saw Denver Broncos outside linebacker Von Miller raise his game a few notches in the 2015 playoffs. Are we about to see a similar performance from Mack? He could be a major force if and when the Raiders wrap up a postseason berth. And as of late, no team has been able to slow him down.
More from FanSided
This article originally appeared on
---
---