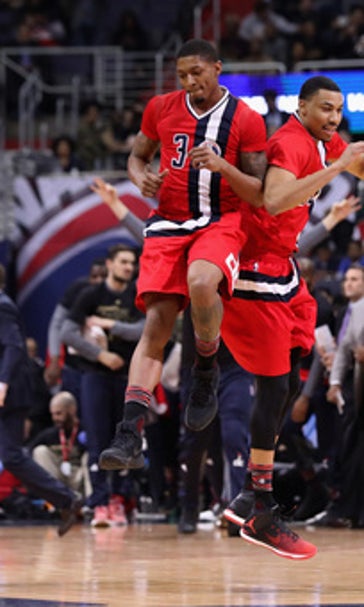 Thunder miss 24 consecutive shots, lose to Wizards 120-98 (Feb 13, 2017)
February 14, 2017

WASHINGTON (AP) Russell Westbrook offered one explanation for how it could possibly be that the Oklahoma City Thunder would miss 24 consecutive shots - yes, 24! - and trail by 34 points - yes, 34! - against the Washington Wizards.
Westbrook's assessment? ''We just didn't play hard.''
Not surprisingly, John Wall, Bradley Beal and the streaking Wizards chose to view things a tad differently after they shut down Westbrook, limiting the NBA's leading scorer to 17 points, and the rest of the Thunder for a stunningly easy 120-98 victory Monday night.
''From me guarding him, to the other four guys on the court,'' said Wall, who had 15 points and 14 assists, ''we did a great job of just making him see bodies and trying to challenge him at the rim without fouling.''
Beal, who scored 22 points, and joined Otto Porter in spending some time covering Westbrook, too, declared: ''He wasn't comfortable.''
As for the overall defensive effort against the Thunder - they shot 35.4 percent; the starters were 0 for 13 on 3s - Beal described it this way: ''Forcing them to take shots that we wanted them to take. ... We just kept baiting them, and they just kept falling for it.''
The Wizards led 67-54 at halftime, which arrived after OKC had missed 11 shots in a row. The game was essentially over in the third, when Thunder coach Billy Donovan tried calling three early timeouts that did nothing to get his team going.
It was 91-57 after a 3 by Porter with 6:20 left in the third, and Westbrook took a seat at the end of his team's bench and did not return.
''The focus was to stop Westbrook. Obviously, if you cut the head, the body will fall with that team,'' said Wizards forward Markieff Morris, who scored 23 points.
Westbrook entered averaging 31.2 points, 10.6 rebounds and 10.2 assists. But he equaled his second-lowest scoring total of the season on 5-for-19 shooting and added only four rebounds and four assists. He missed nine straight field-goal attempts during that eye-opening drought when the Thunder were being outscored 32-5 from the second quarter to the third.
''I mean, he's human. He can have a tough night,'' said Thunder guard Victor Oladipo, who was 0 for 3 on 3s and scored six points. ''But the rest of us - we've got to step up and play.''
Maybe Westbrook and Co. were simply spent, physically and emotionally. They beat LeBron James and defending champion Cleveland on Thursday, then lost to former teammate Kevin Durant and Golden State on Saturday.
''I don't know if I'd use the word `hangover,' but I think I made the comment before the game - someone asked me about the emotional part, and I was worried about it. I was,'' Donovan said. ''We talked about it, and we were not at the level that I've seen our guys at.''
Didn't help that the Wizards were terrific from the outset on the way to their 19th victory in their past 20 home games, and 10th win in their past 11 games overall. With Wall directing the show, Washington opened 9 for 9, capped by Morris' 3 that made it 22-6 after all of 3 1/2 minutes.
TIP-INS
Thunder: Westbrook's season low for points is 14, in a victory over Miami in November.
Wizards: Beal's first 3 gave him a career high for makes from behind the arc in a season, 139, with 28 games remaining.
BEAL'S DEAL
Beal shot 7 for 8, drawing this compliment from Wizards coach Scott Brooks: ''Certain guys, you can just see it. Once it leaves his hand, you know it's going in. I don't even know if he hit rim on any of his shots.''
UP NEXT
Thunder: Host New York on Wednesday.
Wizards: At Indiana on Thursday.
---
Follow Howard Fendrich on Twitter at http://twitter.com/HowardFendrich
---
---