National Basketball Association
National Basketball Association
Thunder-Clippers Preview
Updated
Mar. 4, 2020 11:46 p.m. ET

The Oklahoma City Thunder remain ahead of the Los Angeles Clippers, partly because they've been a whole lot healthier.
Doc Rivers wishes that still wasn't the case with his Clippers about to see a lot more of the Thunder.
Blake Griffin could be joined in street clothes by fellow starting forward Luc Richard Mbah a Moute on Wednesday night at Staples Center for Los Angeles' first matchup with Oklahoma City in 2016 and the first of three this month.
These teams are in a bit of a bubble for the 3-4 spots in the Western Conference. The Thunder have a 2 1/2-game lead on the Clippers for the No. 3 seed - and potentially avoiding Golden State in the West semifinals. Oklahoma City (42-18) is 8 1/2 behind second-place San Antonio, and Los Angeles (39-20) is four ahead of fifth-place Memphis.
On the surface, the potential absence of Mbah a Moute might not seem like a big deal considering he's not among the Clippers' top eight scorers or rebounders.
Don't tell that to Chris Paul.
"People look at the boxscore and don't really see how valuable he is to our team," Paul said. "We really need him."
Rivers said he didn't think they would have him for this game after Mbah a Moute suffered a left eye laceration in Monday's 105-95 win over Brooklyn. That absence could be problematic considering he's helped limit Kevin Durant to 34 points on 13-of-35 shooting the last two times they faced each other.
The most recent contest came Dec. 21, though Durant got the best of the Clippers by hitting a jumper with 5.8 seconds left and blocking Paul's potential game-winner as time expired in a 100-99 victory.
Rivers was asked Monday if he liked facing a team of the Thunder's caliber three times late in the season, including next Wednesday and March 31 in Oklahoma City.
"I'm not even sure," he said. "If you're at full strength, yeah for sure. But we're really not, so I'd rather play those teams when we're ready."
Rivers' son, Austin, could return after missing 10 games with a fractured hand, but the Clippers remain short-handed and the Thunder continue at full strength. Oklahoma City's top six scorers have a combined nine player games missed due to injury, compared to 53 for Los Angeles.
The depth of the healthy Thunder was on display Monday in a 131-116 win in Sacramento. Their 64 bench points were a season high, with Enes Kanter scoring 23 and Dion Waiters 22.
Oklahoma City is 38-3 when its reserves score at least 30.
''A lot of times our bench doesn't get this kind of scoring opportunity,'' coach Billy Donovan said. ''The second unit with Kevin in there was really moving the ball."
Durant got to watch the final six minutes after scoring 27 for the Thunder, who had lost four of five.
''It's been an up-and-down roller coaster the last couple of weeks, so it was nice to chill and coast to a victory,'' Durant said.
He was in part referencing Saturday's 121-118 loss to the Warriors, decided on Stephen Curry's 32-footer with 0.6 seconds left in overtime. Oklahoma City visits Golden State on Thursday but won't overlook Los Angeles, which is 23-7 since Christmas despite losing Griffin that day.
"I love where we're at," Rivers said. "I love the way we've played overall. We've played through a lot of adversity this year."
Paul has stepped up with averages of 26.1 points and 11.4 assists in the last seven games. He scored 32 against Oklahoma City in December while Russell Westbrook had 33.
Westbrook had his ninth triple-double Monday with 20 points despite only eight field-goal attempts. The Thunder are 22-3 when he attempts 17 or fewer.
---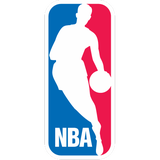 Get more from National Basketball Association
Follow your favorites to get information about games, news and more
---