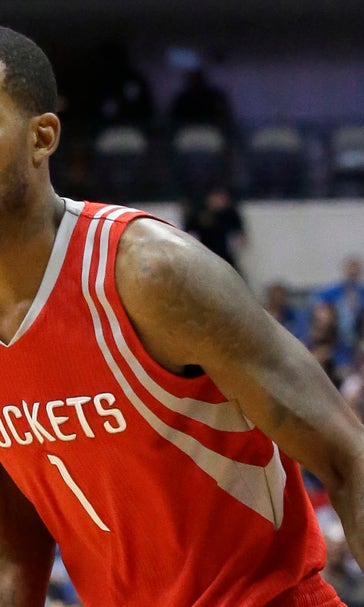 Rockets try to confront Mavericks' Mejri at locker room
December 28, 2016

Sports Illustrated, SI Wire/Sports Illustrated
Houston Rockets forward Trevor Ariza waitied outside the locker room after Tuesday's game against the Dallas Mavericks after center Salah Mejri allegedly made a derogatory comment about Ariza's wife and children, according to multiple media outlets.
The comment was made between the third and fourth quarters of Houston's 123–107 victory over Dallas. Ariza exchanged words with Mejri in the game and received a technical for the exchange. It was Ariza's second technical, which led to a game ejection.
After the game, Ariza was joined by teammates Patrick Beverley, James Harden, and Eric Gordon as they waited for Mejri outside the Dallas locker room. The Dallas Police Department was also outside the Mavericks locker room as part of their regular security detail.
Ariza and the rest of the Rockets left the building without incident.
"He was swearing and bulls---," Mejri said. "Ask him. He's out there. Ask him." Majri denied saying anything about Ariza's family.
"I don't know what they were on tonight," Harden said about the Mavericks. "That other team was tripping tonight. They were disrespectful, were unprofessional players and coaches. I don't know what was their problem, but I think that got us going. They wanted to throw a little cheap shot and just woke us up a little bit, and it was over from there."
The game featured eight technical fouls, two flagrant fouls against the Mavericks and Ariza's ejection.
The teams do not face each other the rest of the regular season. The Mavericks lost all four meetings against Houston this season. 
- Scooby Axson
---
---