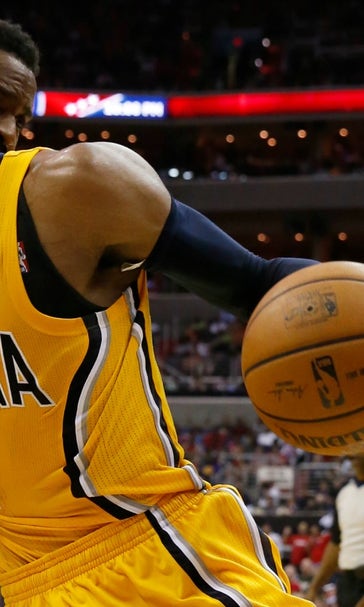 Paul George scores 39 points to lead Pacers past Wizards
May 11, 2014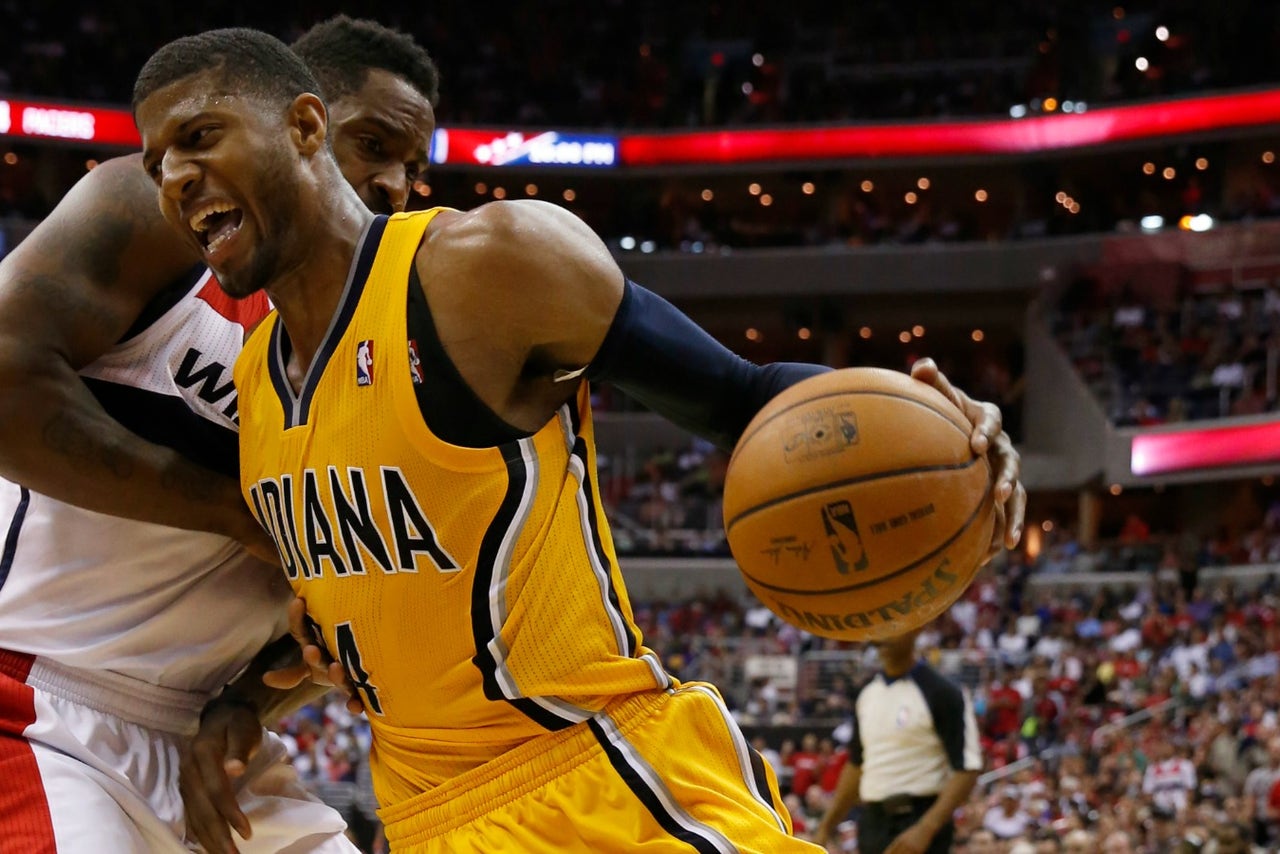 Paul George forced Indiana Pacers coach Frank Vogel to leave him on the court.
George took -- and made -- the key shots, to the tune of a career playoff-high 39 points. He grabbed rebounds, 12 in all. He guarded the Wizards' most dangerous scorer. When there was a loose ball, it was George diving to the floor to collect it.
In sum, the tireless George willed the up-and-down Pacers within one victory of a return trip to the Eastern Conference finals, playing every second of the final three quarters as Indiana erased a 19-point deficit to beat Washington 95-92 on Sunday night.
"I kept wanting to try to get him a rest, and he kept saying, `No,'" Vogel said. "And usually I'll override that, but he kept making big shots, too."
Roy Hibbert had 17 points and nine rebounds, continuing his recent surge after a poor-as-can-be, zero-point, zero-rebound showing in Game 1. He responded with 28 points in Game 2, then 14 in Game 3, before helping Indiana win its third consecutive game Sunday, when Hibbert said he got a motivational boost from what he called a heckling fan.
"He woke me up," Hibbert said. "He said I was tired. He was saying a lot of obscenities. I'm a God-fearing man, so I'm not going to go ahead and say what he was saying."
After dropping Game 1, the Pacers have won three in a row to go up 3-1 and can close out the best-of-seven series at home Tuesday night. Only eight teams in NBA history have blown that lead.
"We've got a chance to make something happen," said Washington's Bradley Beal, who was hounded at the defensive end by George and worked hard to get his 20 points.
Beal might be right, but Washington better figure out how to limit George, who averaged 14.5 points in Games 1 and 2, but ramped that up with 23 Friday.
And he was not about to let Vogel put him on the sideline down the stretch Sunday.
In all, George played 46 minutes, and he scored 28 points after halftime.
"I already had it in my head that I was pretty much going to go the whole distance," George said. "There was a moment where I was pretty gassed, but that second wind kicked in."
The Wizards were up 17 at halftime, then made it 57-38 on Nene's basket to open the third quarter.
But Washington showed a propensity this season for blowing double-digit leads -- the Wizards lost 11 games after being up by at least 10 points -- and again fell apart.
"We never panicked," Pacers forward David West said.
George's 3 with five minutes left made it 85-79, and another 30 seconds later made it 85-82, giving him seven from beyond the arc, matching a franchise postseason mark held by Reggie Miller and Chuck Person.
George also helped the Pacers limit the Wizards to one field goal over the final seven minutes.
John Wall gave Washington its last lead at 91-90 with about 2 minutes to go. George pushed Indiana back in front with two foul shots, and the Pacers forced a shot-clock violation. Hibbert made a 12-foot turnaround hook shot with 1:02 remaining to put the Pacers up 94-91, and sprinted down the court, his arms spread, his smile wide.
Left all alone, Wall passed up an open 3-pointer, instead sending the ball to Beal, who missed a 3 try with under 50 seconds left.
"That's what the play was for, and I made the right decision," Wall said.
The Pacers are playing much more like the team that pushed the Miami Heat to seven games in last season's conference finals, and the one that earned the No. 1 seeding by going 46-13 at the start of this season. They're looking less like the bunch that went 10-13 down the stretch this year, then needed seven games to sneak past Atlanta in the first round.
"We go through ups and downs, and highs and lows," said Hibbert, who scored two points before halftime, 15 after.
What's clear is this: When Paul is at his best, the Pacers are, too.
"Paul is Paul. You know that you're going to get 150 percent every time he's on the court," Hill said. "He knows he's the go-to guy on this team."
NOTES: George's previous postseason career best was 30 points. . . . Wizards coach Randy Wittman likes to call his trio of not-yet-retired reserves -- Andre Miller, 38; Al Harrington, 34; Drew Gooden, 32 -- the "AARP group," but they helped produce a 32-2 bench scoring edge for the hosts. 
---
---